American Express has announced the upcoming changes to their redemption options on American express Platinum travel card on May 9th 2017 and now their new redemption options are ready to go live from June 9th 2017 onwards. In meantime, some of the card members were offered 2:1 redemption as direct cash credit to the statement, however, such deviations seems to be out by now. Here are the changes happening and my views on it.
New Redemption Options on American Express Travel Card:
#1 Spice Jet Vouchers:
As per my conversation with one of Amex exec, it seems that Indigo has stopped its voucher business and so Amex is forced to go for a new partner which is SpiceJet. No idea how far its true but its good to hear that redemption value holds same in this case. But hey, who wants to fly on Spicejet?! Amex cardholders are mostly elite and are in Metro cities which means, if you fly Spicejet, you have to sacrifice your travel experience by taking old terminals in Mumbai/Delhi.
I'm an investor in Spicejet (few shares) and its not a bad airline to ignore, infact their connectivity is expected to increase post PM's UDAN Scheme but its just that its not in par with Amex card holder standards.
Effective reward rate on 4L spend: 7.5% (joining fee not included)
#2 American Express Domestic Travel
Amex has come up with a new Travel website for India and it is – www.amexindiatravel.com (cleartrip clone)
Its a typical clone site of the original Cleartrip with only Hotels and flight bookings enabled. I even see its allowing to enter coupon code, but unsure if it would really work. Cleartrip is running the back-end operations for many such loyalty based partner redemption sites. Even HDFC is using cleartrip system for bookings on Regalia/Diners portals as i mentioned in this article.
Well, this redemption option is really a good move which now gives flexibility for you to fly on any airline and you're no longer limited to single airline as before. But this comes at 1% loss in reward rate, however, these are revenue tickets which will get you JPMiles if you choose to redeem with Jet Airways. This may compensate the 1% loss in reward rate to certain extent.
Also, for hotel booking, its wise to redeem it only on hotel chains which doesn't accept coupons on most sites (or) when the rates are in par with other OTA's.
Effective reward rate on 4L spend: 6.5% (joining fee not included)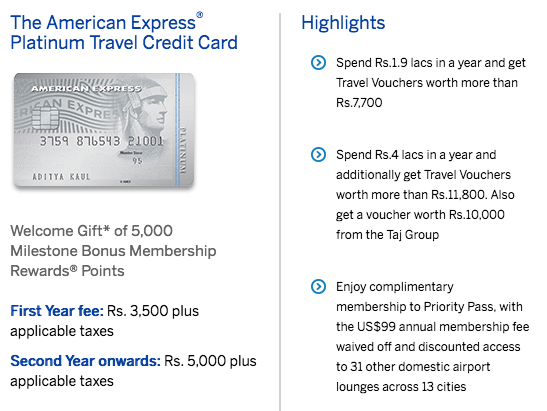 Final Words:
So if you were very happy with redeeming your points on Indigo airlines and got used to it, you may still continue to do so by redeeming your points on Amex travel portal. Hence, there is no reason to panic. With the reward rate we get on this card, its still one of the best travel credit card you can have in India.
So what's your view on the new redemption options – Happy or Unhappy? Do share your thoughts in comments below.