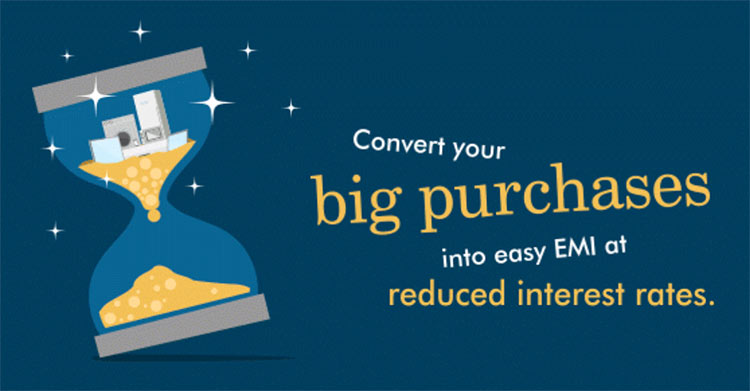 American Express has a new type of offer on EMI conversions for those who are interested (and also for those who are not interested in EMI's). Here are the offer details,
Offer Details
| | |
| --- | --- |
| Offer | Get 5,000 Bonus Membership Rewards® points on EMI conversions |
| Eligible on | Purchases worth ₹25,000 or more (upto 6 times) |
| Charges | Interest at 16% p.a. + 2% processing fees |
| Offer Period | 23 March 2021 to 23 April 2021 |
| Fulfilment | on or before July 23, 2021 |
The Numbers
If you convert 25K INR to EMI for 3 months at 16% p.a., below are the numbers you should know:
Processing Fee (2%) = 500(fee)+90(GST) = 590 INR
Finance Charges = 671(Interest)+120(GST) = 791 INR
Out of Pocket spend: 1381 INR
On other hand, value of 5000 Reward points is 1850 INR to 2900 INR via Gold collection or maybe even better on Marriott redemptions
So if you know how to redeem the points for better value, this offer can save you anywhere between 500 INR to 1600 INR. So for those who need more Amex MR points in kitty, it makes sense to take the EMI offer.
Note: You can do upto 6 such EMI transactions and get upto maximum of 30,000 MR points through this offer. The same has been verified with Amex support.
However, remember that a similar offer has been rolled out for EMI's taken on Amazon, Flipkart, etc for which the limit is max. 5K during the offer period.
Update: There is another EMI Offer
There are basically two EMI offers, as below:
(a) For the 30k points offer:
The offer is applicable for all
EMI conversion request has to be made after purchase has been completed.
EMI request has to be made through IFORM. Please check your email for the link.
Max of 6 transactions can be converted to EMI at a time resulting in 6*5000 = 30K MR points
(b) For the 5k points offer on Amazon/ Flipkart:
The offer is applicable only if it saved to card in Amex online account
Applicable only on select merchants
The purchase has to be completed using EMI as option, unlike the previous offer
Only 1 purchase transaction can earn points, resulting in max. 5K MR points
Bottomline
Reward Points on EMI conversion is a pretty good idea compared to gift cards which used to be the case previously, as Amex used tos end out 250/500 Flipkart gift card for EMI conversions.
So this is the first time to see bonus points on EMI's. Hope to see more such offers from American Express that gives the ability to earn >10K points, like this one.
What's your thoughts on the new AmEx EMI offer? Feel free to share your thoughts in the comments below.