This is a review by one of our reader Bhavye Goel who holds multiple Kotak Credit Cards in his family.

After my hunt for the best grocery card in India ie. Kotak Essentia Platinum Credit Card I started searching for a card which could yield me returns on my dining spends as this was the area where I was spending a lot too.
I wanted something which could give me rewards from those small solo meals to grand family dinners and a card which would work at every food joint which accepts card be it a roadside dhaba or a fine dining restaurant and not just partner restaurants of HDFC/AXIS or ICICI for which generally we have a card in our family always like credit or debit.
There were two cards which had the potential to serve my purpose one was Kotak Feast Gold Credit Card and other one was Kotak Delight Platinum Credit Card.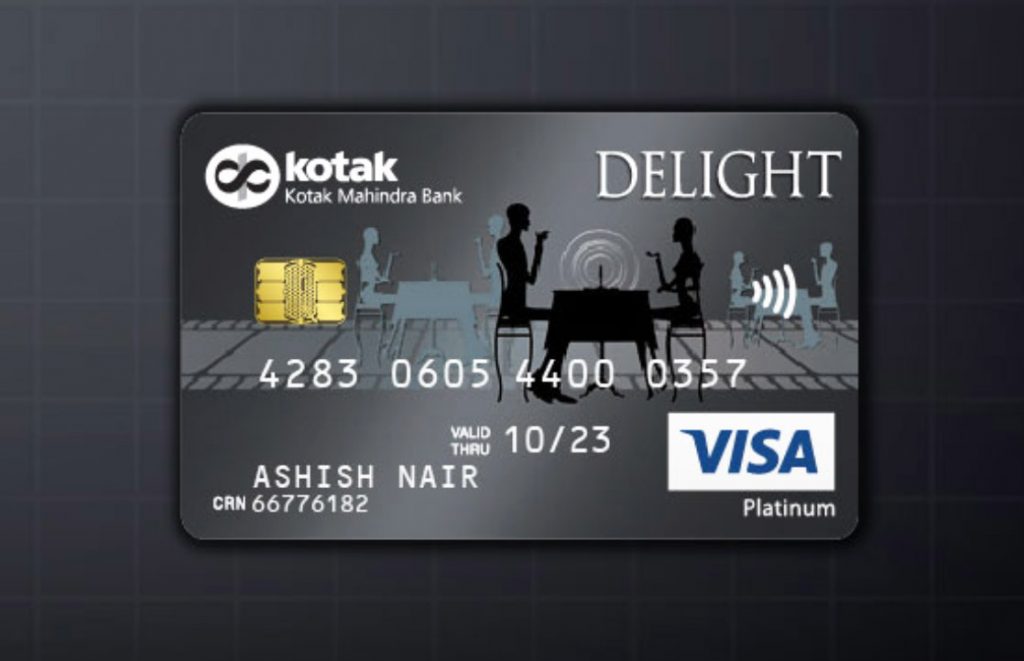 But after seeing too many conditions in Feast Card like that only first five Dining and Entertainment transactions will be eligible for cashback I rejected it because my spends were usually limited from Rs. 100-200 for my lunch in office hours.
Finally I applied for Kotak Delight Platinum Credit Card on my father's behalf as according to the manager only one card is given per CRN. Though he was misinformed as now I have two cards on my CRN.

Joining Fees

Joining fees: Rs 1999 + GST
Welcome Offer: 2 BookMyShow vouchers worth 200 each on first swipe if you apply online directly with Kotak.
Annual fees: Rs 299 + GST (2nd year onwards non-waiverable)
Add on card fees: Rs 249 + GST
Application Process
The application process was smooth as we had applied through the branch because there was no welcome offer at that time which is running currently on Kotak Cards and the branch staff collected all the documents from my home and got the form filled and signed.
It was the first Credit Card in my father's name but he had a credit history because of the car loan. Here's how the card looks like (greyish),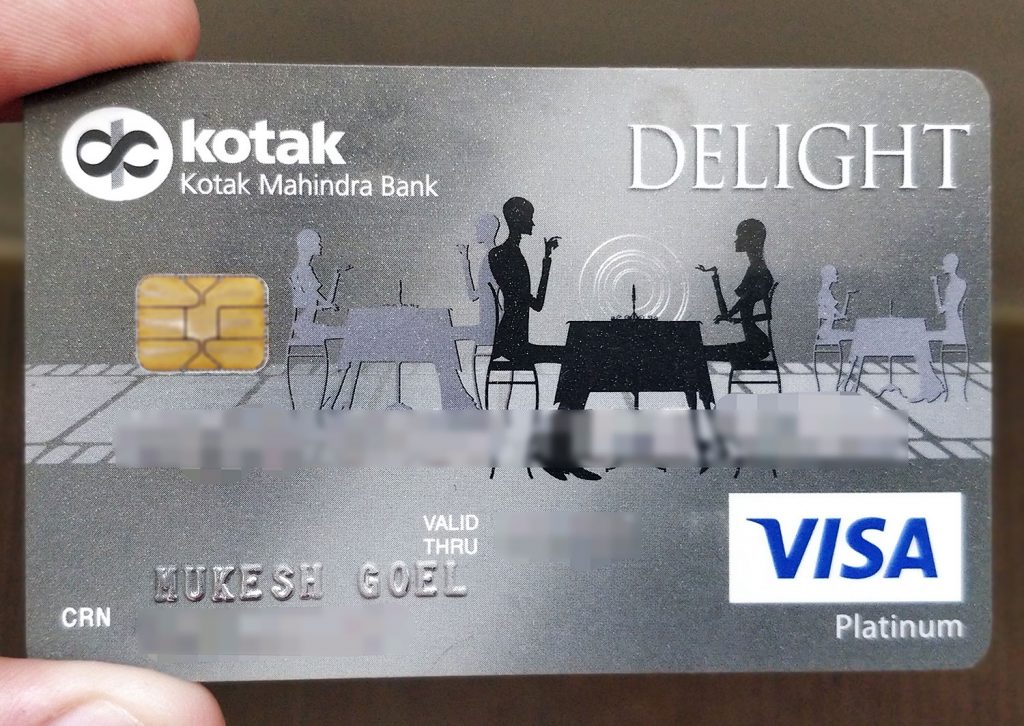 Credit Limit: The card was delivered in around 10 days and I was surprised to see a meagre credit limit of Rs.15,000 for a person who was maintaining an Ace savings account with Kotak Mahindra Bank and balance always hovering in 7 digits.
The thing that was more funny about this limit was that we were unable to even use the benefits of this card because of the cashback condition which I have mentioned below. Our multiple limit enhancement requests to customer care and even to the branch manager were turned down by asking us to wait for 6 months for the limit to be reviewed.

Rewards

10% Cash-Back on Dining. (Coffee Shops | Fast food joints| Pizza joint | Pubs | Restaurants)
10% Cash-Back on Movies (Movie Theatres | Plays)
Maximum transaction size: Rs. 4,000/txn
Maximum Cash-back: Rs. 600/month
Milestone Benefit: Spend Rs. 1,25,000 every 6 months and get 4 free PVR tickets Or Rs.750 cashback.
A maximum Cash-back of Rs. 600 including both Dining & Entertainment transactions will be given in a monthly billing cycle. Maximum transaction size is Rs. 4,000 to be eligible for cashback. So better split your dining bills which are greater than 4000 and swipe the card twice to be eligible for the cashback.
Cash-back for a particular billing cycle will be credited in the next month billing cycle. I am attaching a statement screenshot of the same. Redemption is totally hassle-free.

Cashback Condition: The only deal breaker about this card is that you have to spend Rs.10,000 per month on categories other than restaurant and entertainment within the same billing cycle to get the 10% cashback. To fulfill this condition I generally load online wallets. If someone has a card which gives 1-2% on wallet loads then this means a loss of 100-200 per month.
But still it gives a decent benefit to me even if you factor this loss it gives around 7% cashback at non partner restaurants. Here's a quick look into my statement.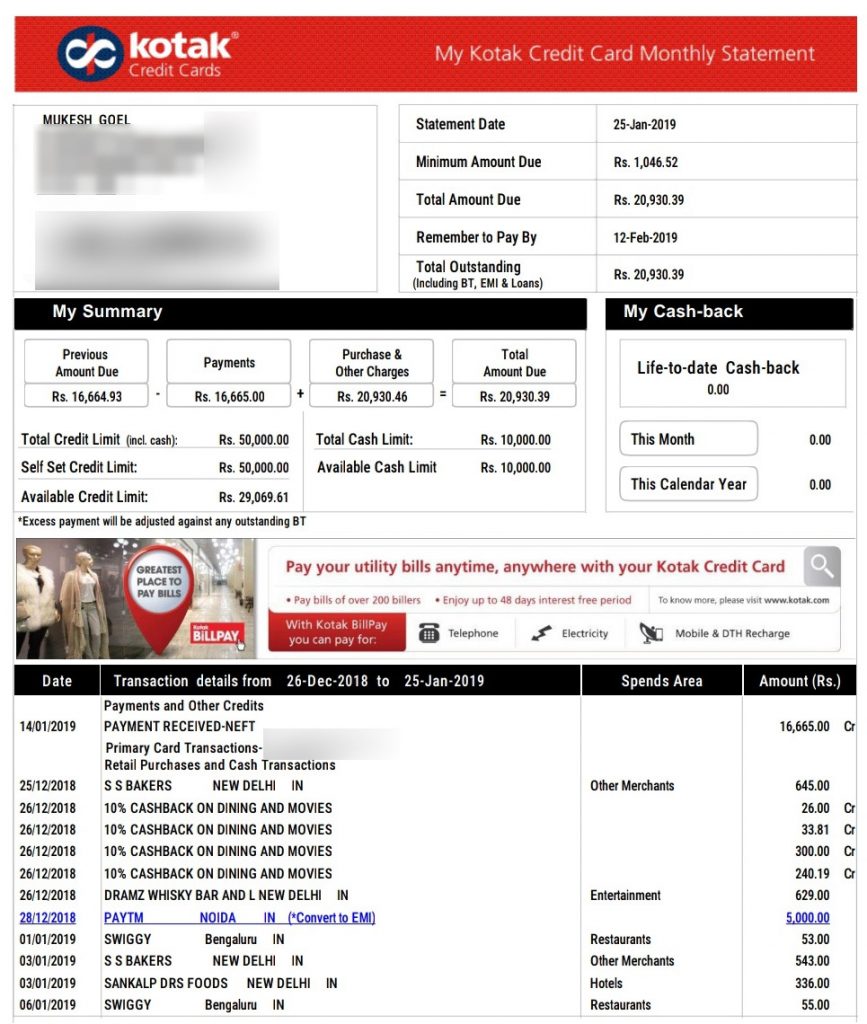 Bottomline
Cardexpert Rating: 3.8/5 [yasr_overall_rating]
This card is good if you spend approx. Rs 6000 per month on eating out and you dont have to think about partner restaurants only. I am saving almost Rs.500-600 per month using this card, which is about Rs.7200 a year.
Though sometimes merchant category at touristy places is wrongly set as Hotels/Grocery and hence no cashback. but mostly it works.

The good news is, It works on Online food delivery portals like Swiggy and Zomato too. So whenever there is no wallet offer going on them I use this card and get a sweet 10% cashback. 🙂
Do you have Kotak Delight Platinum Credit Card? Feel free to share your thoughts & experiences in the comments below.