This is a review by one of our reader Bhavye Goel who holds couple of Kotak Credit Cards in his family.

It was in 2017 when I started research to start my journey into the world of credit cards and ultimately landed on this blog. So here it is me presenting to you all my first review for this great community.
I am starting with one of the most underrated card of Kotak Mahindra Bank which is ideal for I think everyone here, Kotak Essentia Platinum Credit Card. As per my knowledge this is the best grocery credit card in India. For anyone living even in tier 2 or tier 3 cities this will be highly beneficial.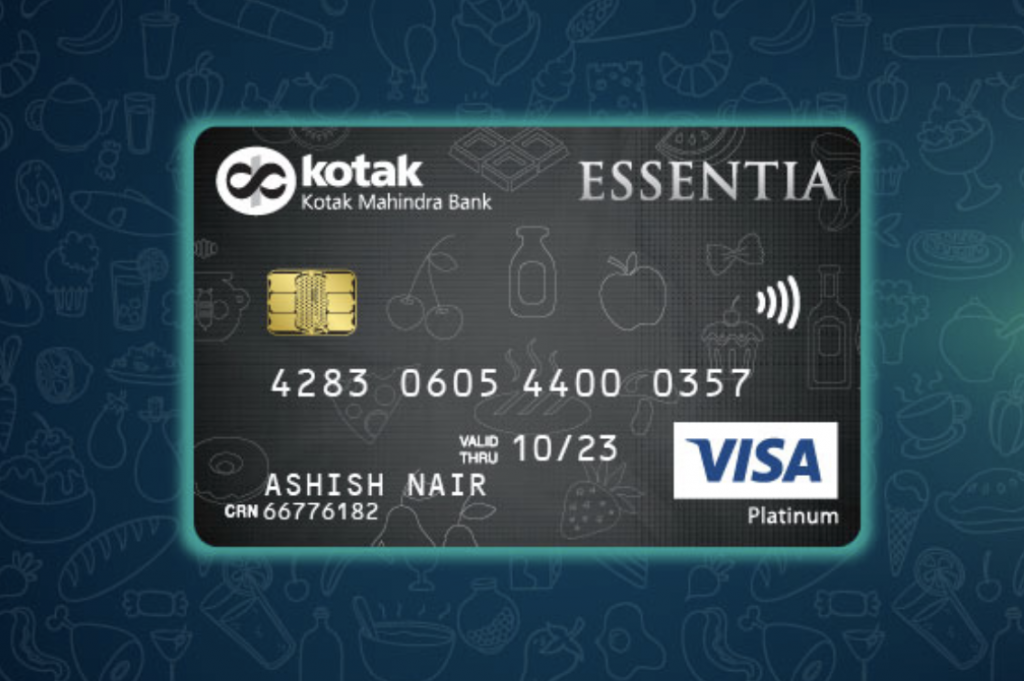 I was holding a Kotak Savings account since last 3 years and opened it due to 6% ROI on savings balance. Majority of their cards are very low in rewards and everyone I know around are having one of those only due to lack of research and awareness among the card holders in India.
This was my third credit card after SBI Simply Click and HDFC Bharat Cashback card as my spend areas were limited to Amazon, fuel and grocery.

After going through all the cards in Kotak's stable I narrowed down on three cards which I am holding right now, two of them in my name and third one on my father's behalf which I will be reviewing soon after this.
Joining Fees

Joining fees: Rs 1499 + GST
Welcome Offer: 2 BookMyShow vouchers worth 200 each on first swipe if you apply online directly with Kotak.
Annual fees: Rs 749 + GST (2nd year onwards non-waiverable)
Add on card fees: Rs 249 + GST
Application process was simple and all online for me because of a good CIBIL score and savings account relationship with Kotak. After applying, card was delivered to me in 10 days.
The limit was not generous though, but was close to my SBI card. The card looks like this,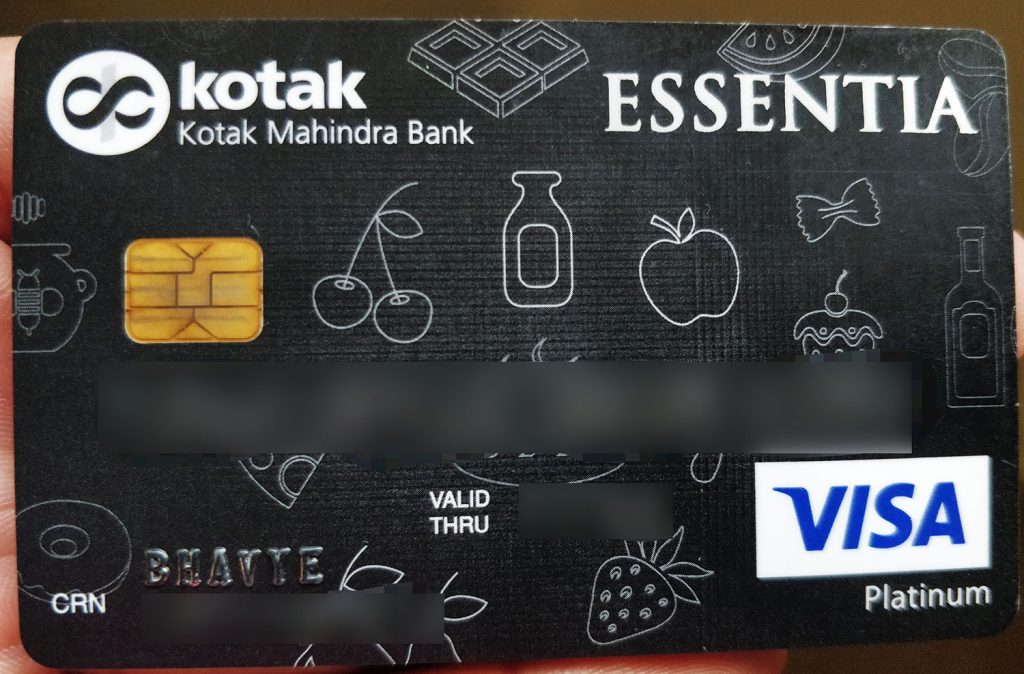 Rewards
10 saving points on every Rs 100 you spend on Departmental & Grocery store spends (Reward Rate: 10%)
Minimum spends: Rs.1500 and Maximum Spends: Rs.4000 per transaction.
Maximum saving points for grocery per month is capped at 500 Points.
1 saving points on every Rs 250 you spend at other categories without any restrictions. (Reward Rate: 0.4%)
1 Saving point = Rs. 1
Milestone Benefit: Spend Rs. 1,25,000 every 6 months and get 6 free PVR tickets (or) 1200 Reward Points.
So if you use the card to spend Rs.1,25,000 in six months the total reward value comes out to be ~1.4% (0.4% of regular + ~1% as milestone benefit) if redeemed as cashback.
Redemption Options
Cash | Airline tickets | Air Miles | Movie Tickets | Mobile Recharge | Branded Merchandise
Double Dipping

Big Bazaar: Use this card to load money in Big Bazaar future pay wallet in multiples of 1500 per day and get a maximum of 75 cashback in the wallet and 10% savings from Kotak.

PayZapp: Till last month PayZapp wallet was giving 25% cashback to a maximum of Rs. 250 on Big Basket and I used to checkout through Payzapp and used my essentia card to pay. Keep in mind that loading Payzapp wallet would not give 10% savings.

Big Basket: Big Basket is running an offer of 10% instant discount on Kotak Cards every wednesday which can be clubbed with this card easily to get 20% discount.
Here's a quick look into my statement.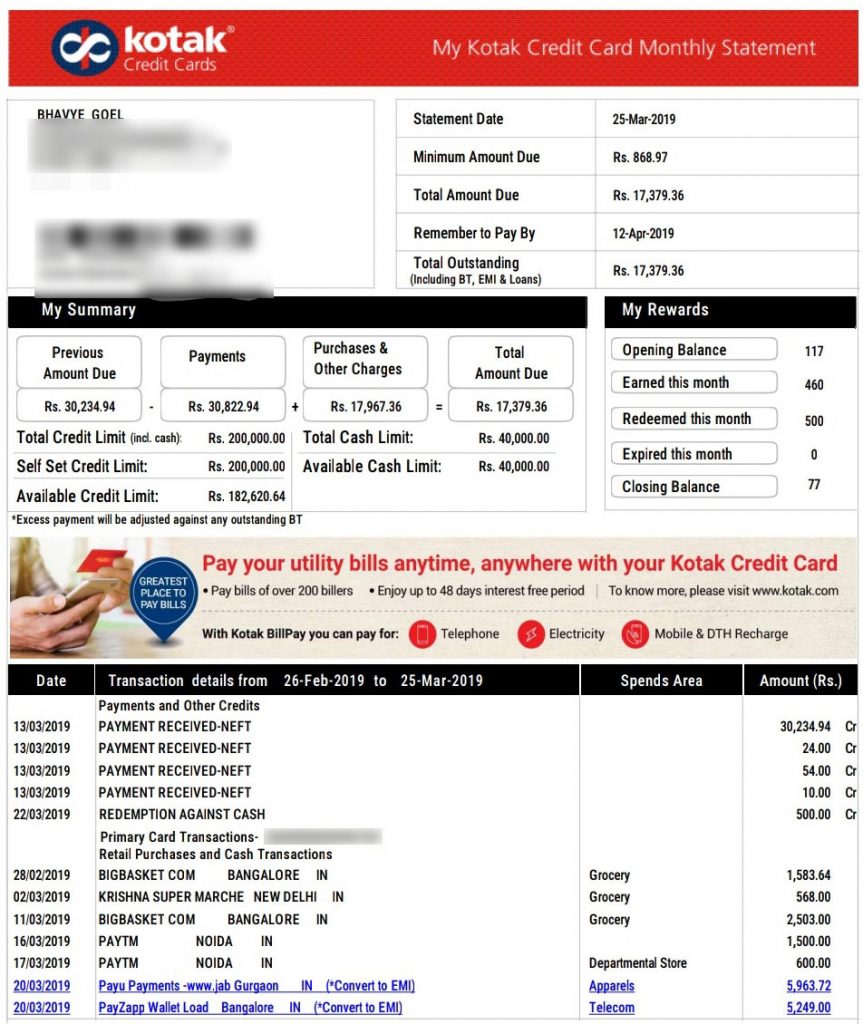 Bottomline
Cardexpert Rating: 3.8/5 [yasr_overall_rating]

This card is good if you spend approx. Rs.6,000 per month on groceries and prefer to buy from big and local grocery and department stores in your city. And good thing about it is, we get 10% even on Online departmental/grocery stores like Grofers, Big Basket etc.
I am saving almost Rs.500-600 per month using this card, which is about Rs.6,000 a year, which is a very decent amount. Even if you factor in the joining fee, returns are close to 8% or so. Further, paying credit card bills via CRED gives you extra rewards as well.
So this is just one of the ways how even a very basic and not so popular credit card can get you very good return on spends.
What say? Feel free to share your thoughts in the comments below.