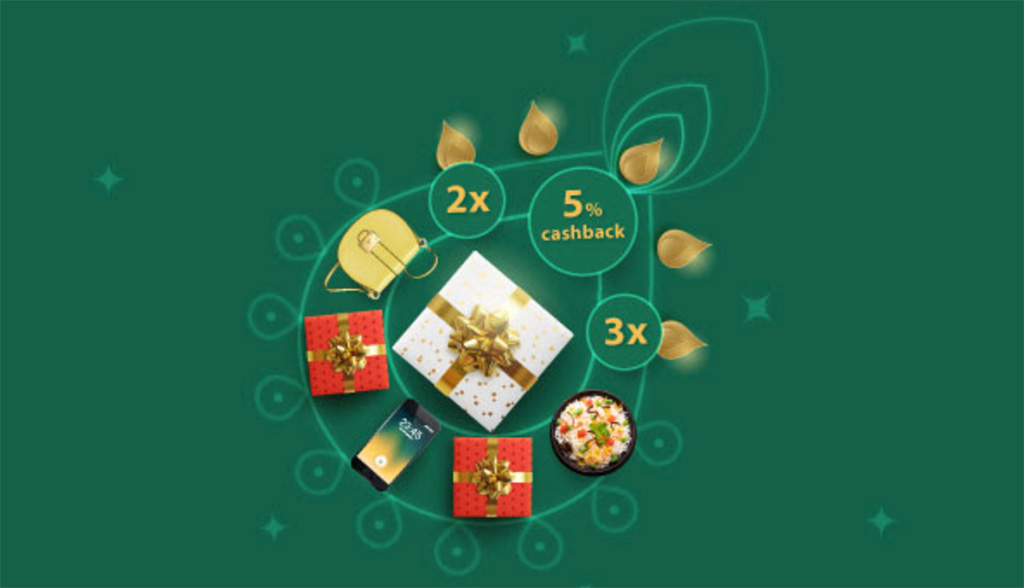 Next to Amex Diwali offer, IndusInd's Diwali offer is one of the lucrative ones in the industry as they usually come up with 2X/3X/5X promos every year with different spend level targets for each.
The promo is purely Points based and that is good because Indusind allows you to convert the points to cash.
Here's the IndusInd Rewardz Festival offer for 2020 which is similar to the offers received in the past, except that they've now removed the 4X. Here's everything you need to know,
Offer Details
Offer period: 15th Oct, 2020 to 20th Nov, 2020
Target A: Spend X to Get 2X Reward Points
Target B: Spend Y to Get 3X Reward Points
Spend Type: Online only
Also, Get 5% on select partners after reaching Target A (refer T&C for partners list)
Max. Points: Dynamic (regular points not included in this Cap)
Excluded Cards: IndusInd Bank Corporate Cards, IndusInd Bank Classic Credit Card, IndusInd Bank Gold Credit Card, InterMiles IndusInd Bank Odyssey Credit Card, InterMiles IndusInd Bank Voyage Credit Card and Credit Cards issued after September 30, 2020.
Also not applicable on Credit Cards with the assigned credit limit of below INR 30000.
Excluded Spend Types: Insurance Premium, government taxes, bill payments and payment of fee towards school or educational program or spends done on our partner brands.
Reward Points earned by registered Cardholders for spends above the assigned credit limit during the Program Period will not be forfeited, in case the spends are over and above the credit limit.
Fulfilment: 31st Jan 2021
To Enroll: You should have registered via SMS (JOIN to 5676757) or clicked the personalised link received on email before 20th Oct 2020.
Above T&C is fine and is more or less same to what they used to do before, except that now only online spends are considered.
But well, the problem is the targets and the max. cap. Here's a look at the targets one of the cardholder received.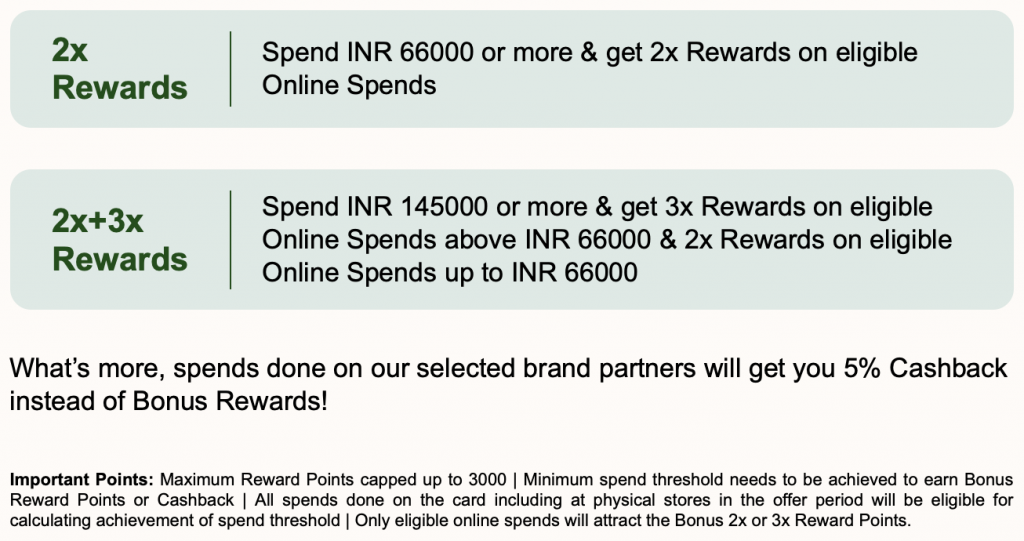 If your eyes are in good condition to read the tiny lines, the max cap is just just 3000, compared to 15,000 (in 2019) and 20,000 (in 2018) that they used to do before.
That aside, in my case they didn't even allow me to avail 3X points as the max cap (6K for me) is reached before that, if I use IndusInd Iconia weekends alone.
Amex Offer
If you have Amex variant of IndusInd credit cards, you've this additional benefit apart from the above offer:

This too is getting worse year on year!
Bottom line
Overall, this IndusInd Rewardz festival is becoming less of a festival and more of "work". I mean who wants to go through those 10 pages in T&C just to avail 3K points?
Even-though the potential return on spend is decent 4% (against 7% last year) in my case. It makes sense to lower the return on spend but lowering the max. cap to one third along with it isn't fair.
So the 2020 version of IndusInd Rewards festival is very much diluted compared to how it used to be in the past as mentioned above.
However, its still a very good offer to avail just incase you're not eligible for Amex 2020 Diwali offer.
How about your targets and max cap? Feel free to share your thoughts in the comments below.