Post JetAirways shutdown, one of the major revenue stream for JetPrivilege is through their co-brand credit card partnership. Just incase if you don't know, every-time you earn JPMiles, JetPrivilege is also as happy as you, as they earn money for every JPMiles they give you.
But due to the bad news of Jet, almost everyone including me swapped JetAirways JetPrivilege credit cards, primarily because they attract a renewal fee & inability to redeem JPMiles for a better value.
And that must have affected the revenue seriously, so much so that they've now come up with 2X and 3X JPMiles offers with select credit card issuers to boost the spends on the credit cards. Here are the offer details,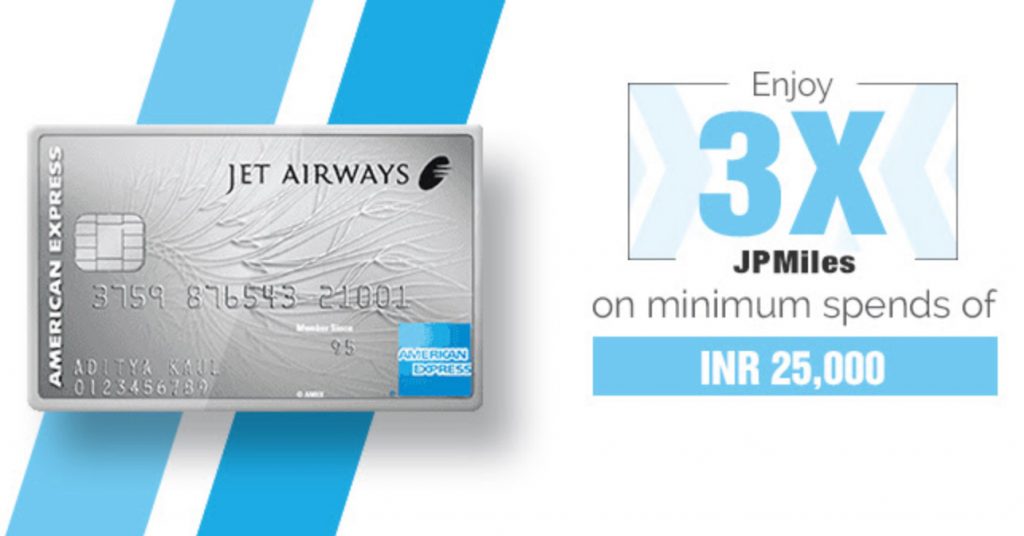 Amex – 3X JPMiles Offer
Offer: Earn 3X JPMiles on Amex Jet cards [ Get 24 JPMiles for every Rs.150 spend. That's 16K JPMiles for every 1L spend. ]
Spend Criteria: Minimum spends of INR 25,000
Potential Reward Rate: 2.7% to 8%
Offer validity: 1st August till 31st Aug 2019
Bonus JPMiles will be credited by October 31, 2019.
ICICI – 2X JPMiles Offer
Offer: Earn 2X JPMiles on ICICI Jet cards [ Get 10 JPMiles for every Rs.100 spend (domestic), 14 JPMiles for every Rs.100 spend (International). That's 10K JPMiles for every 1L spend (domestic) ]
Potential Reward Rate: 1.7% to 5%
Offer validity: 1st August till 30th September 2019
To Join: SMS "Fly JP No XXXX" to 5676766
HDFC – 50% more JPMiles
Get 50% more JPMiles for spends done on HDFC Jet cards. Min. spend amount applicable, differs based on card variant.
Potential Reward Rate: Upto 4%
Offer validity: 17th July till 16th Aug 2019
Bonus JPMiles would be posted after 90 working days of campaign end date.
Note on Potential reward rate: Its calculated by assuming 17Ps/JPMiles (for Amazon voucher) as minimum and 50Ps/JPMile (approx. Etihad redemptions) as maximum.
Bottomline
As you see above, the Amex offer is simply amazing, thanks to Amex for grabbing such a deal. Lucky are those who still hold Amex Jet cards as you could get a really cool reward rate on the credit card spends.
But for most of us, this makes no difference as we're out of the Jet cards ecosystem.
Its good to see that JetPrivilege is taking efforts to help us earn more JPMiles but what's most important is giving better value for those JPMiles. I hope they enable partner award redemptions sometime soon.
What's your take on the new attempts that JetPrivilege is taking? Feel free to share your thoughts in the comments below.