MMTDOUBLEBLACK membership is the most premium offering from MakeMyTrip which also includes complimentary MMTBLACK membership (Invitation only). The membership takes care of any cancellation in travel plans, if you are a frequent flier. Even if you fly 3-4 times a year, this membership can pay back in one way or other.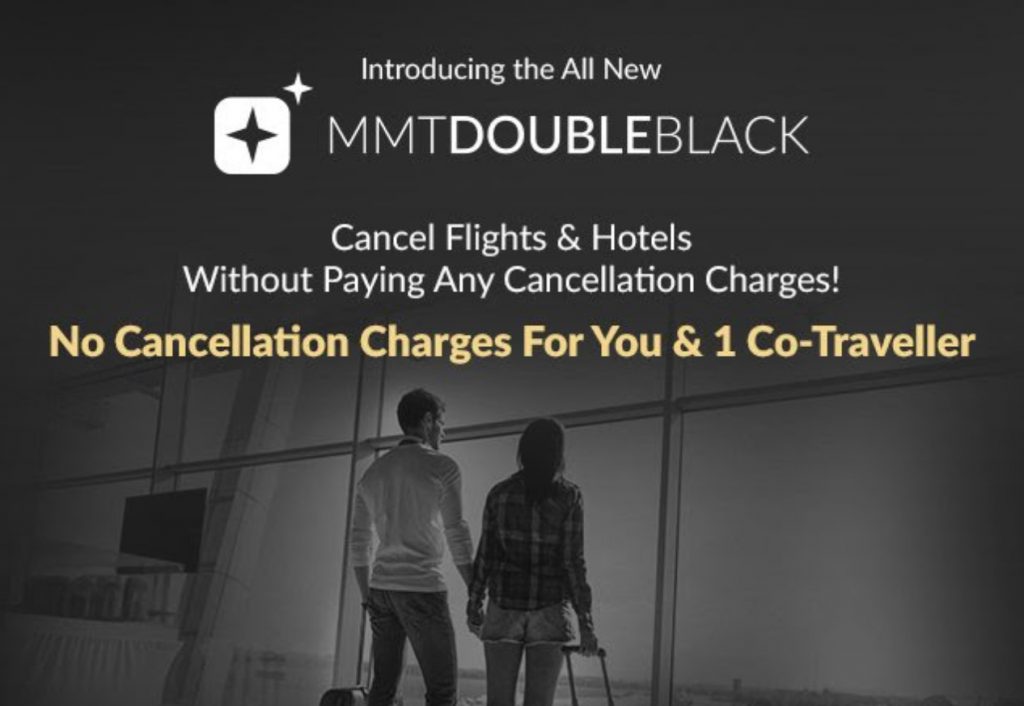 My Journey
I received complimentary MMTDOUBLEBLACK membership for first year via MMT ICICI Visa Signature Credit Card.
Annual fee for this membership is 1499/- per year (since launch).
At times it is offered at 999/- as a limited period offer, if you hold any of their partner credit cards (For Citibank Ultima/ Prestige cardholders it was offered sometime back with 100% cashback as a limited time offer).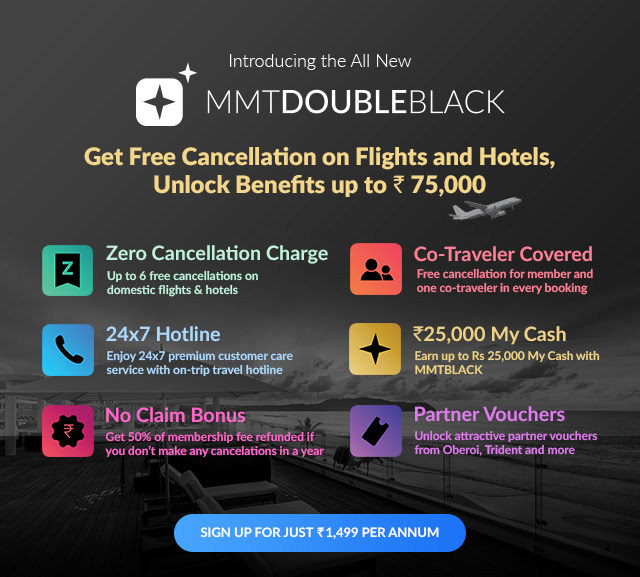 Pros:
It covers any 2 domestic flights + any 2 domestic hotel cancellations (Member has to be a traveler to claim benefit)
Annual membership covers Member + 1 co-traveler (For 2 flight cancellations)
It also covers 2 Hotel cancellations (separate booking). Though this is nothing extraordinary considering most of the hotels have refundable bookings now days. Still non- refundable bookings are cheaper sometimes and can have an advantage here
Cancellation can be done upto 24 hours prior to Flight departure/ Hotel check in
My Cash can be used without any restrictions to make bookings or even claim vouchers and will never expire
If no cancellation is done in whole year, 50% of booking amount is refunded to My Cash wallet as Bonus (This feature was not available in maiden edition and was welcome addition just few months back)
Cons:
On cancellation, booking amount is refunded as MMT My Cash wallet only
Even if you book multiple hotel rooms at once, only 1 room is eligible for refund per booking if cancelled.
Refunded My Cash can't be transferred to bank/ credit card/ debit card
Multicity flight booking is not eligible
Booking has to be in Economy class only. Business/ Premium economy is not eligible
Last minute (under 24 hrs) cancellation will not result in any benefit from this membership
Bottomline
Unlike MMTBLACK membership which once enrolled remains active for lifetime, MMTDOUBLEBLACK membership has to be renewed every year based upon the requirement of the customer.
Also the new edition upgrade of giving 50% bonus as My Cash, if no claims are made in the year is well thought out.
What's your thoughts on MMTDoubleBlack membership? Feel free to share your experiences in the comments below.