Below article maybe outdated, kindly check the Millennia credit card review for latest info.
India's largest credit card issuer, HDFC Bank today has launched series of cards: Credit/Debit/ Prepaid/EasyEMI cards in partnership with MasterCard, targeting the millennials of India, the segment that account for 34% of India's population. Here's a look into all of them: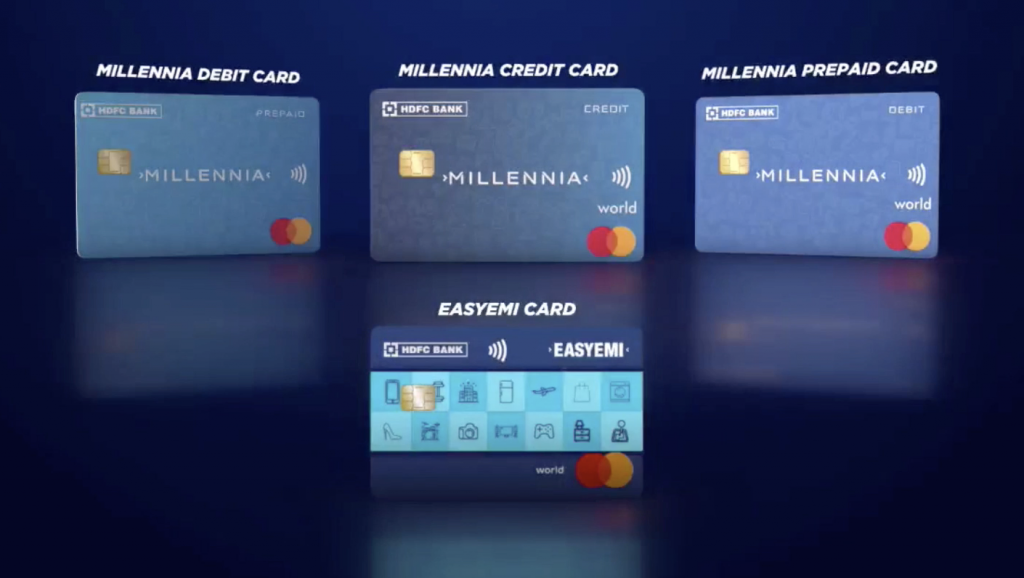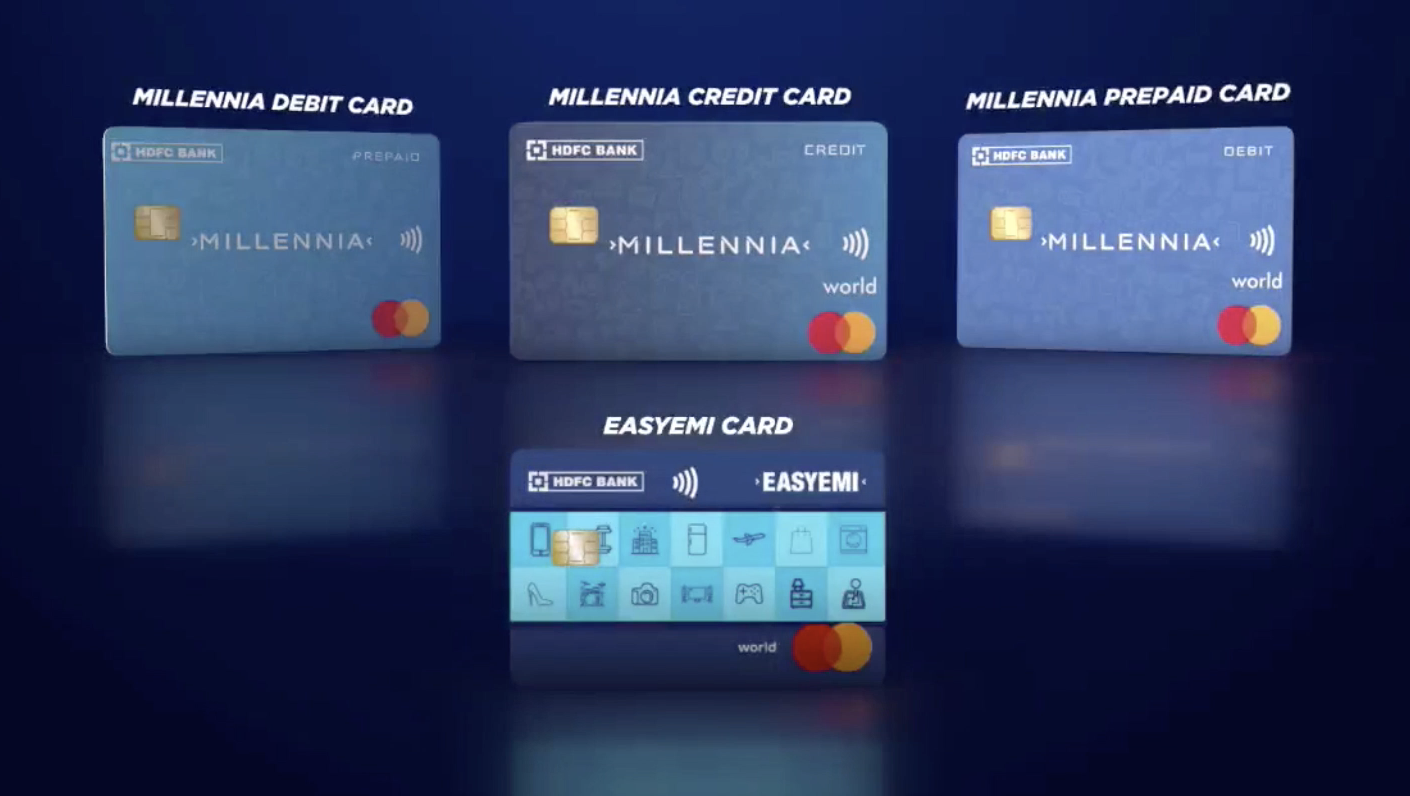 These are basically the cards for beginners with similar benefits across all card types (Credit/Debit/Prepaid/EasyEMI) and are tuned towards the lifestyle of Millennials. A quick look at the features of credit & debit cards are here: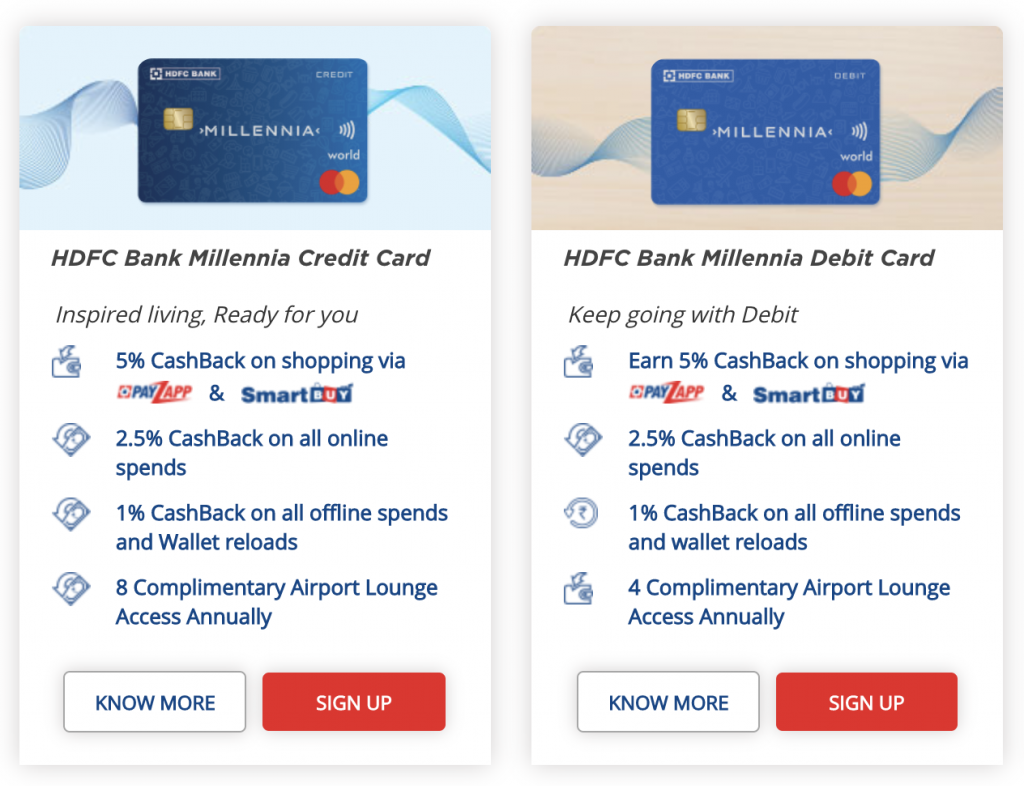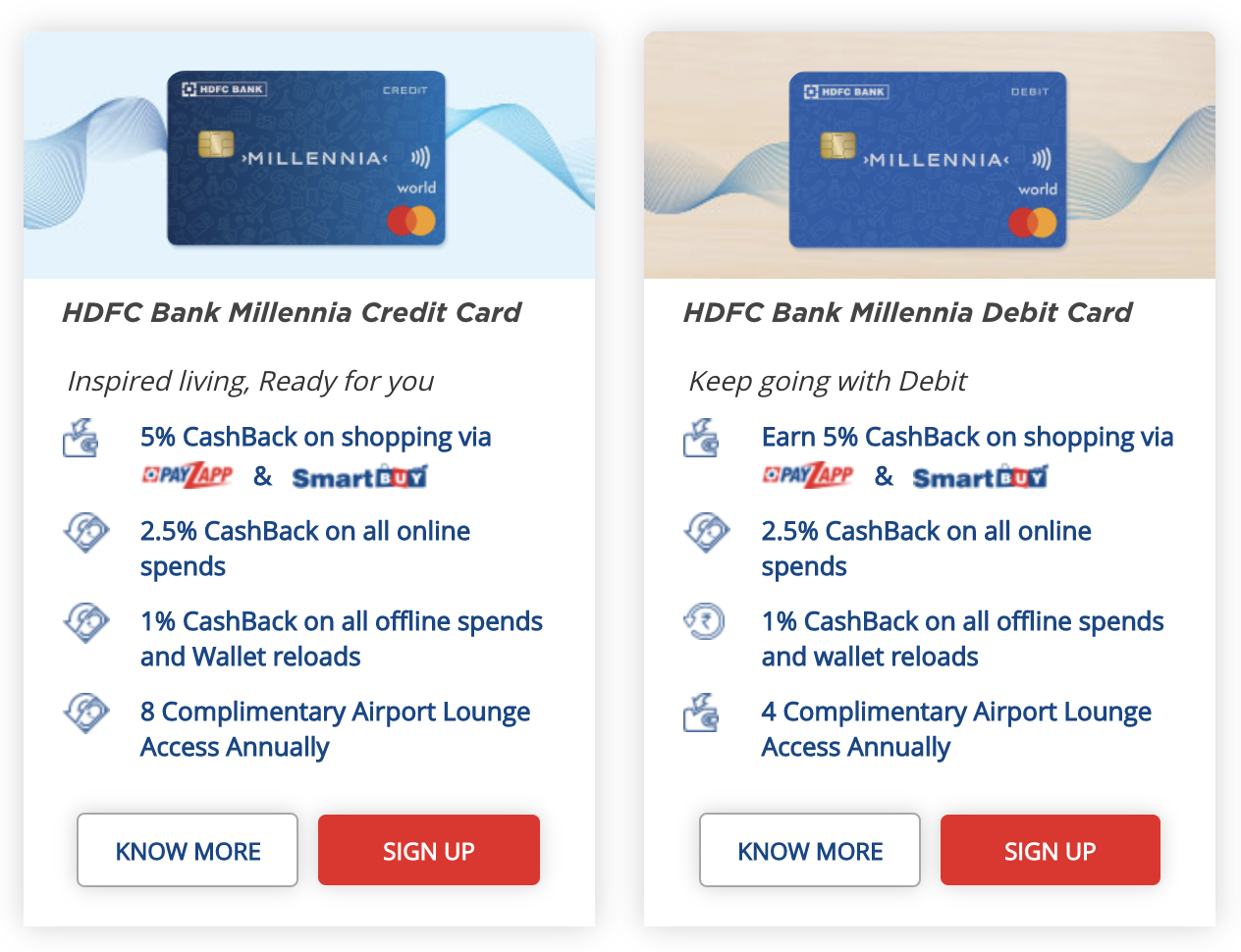 For more details, visit the bank site here
Millennia Credit Card – Overview:
Let's look at credit card benefits/features alone for now,
Fee: Rs.1000+GST (waived off if you spend ₹30,000 and above in the first 90 days)
Renewal membership fee will be waived off if you spend ₹1,00,000 and above in the first year
Launch offer of ₹1000 worth gift vouchers on spends of ₹1,00,000 and above in each calendar quarter for first year only.
5% CashBack on Amazon, Flipkart, Flight & Hotel bookings on shopping via PayZapp and SmartBuy (minimum transaction size of ₹2000)
2.5% CashBack on all online spends (minimum transaction size of ₹2000)
1% CashBack on all offline spends and Wallet reloads (Minimum transaction size of ₹100)
8 Complimentary Domestic Airport Lounge access annually
1% Fuel surcharge waiver
Worth it?
With good minimalistic design & 2.5% cashback on Online Spends (txn: >2k INR) that simply replaces most other cashback cards in the industry.
But hey, the upper cap is "Rs.750 per month" for this category. That's about Rs.30k monthly spend which is bit low but still good for most "regular" credit card users.
So it all looks good for now, we will know how this actually works in reality soon.
Bottomline
That's a decent value proposition for this segment except that the small upper caps disappoints a bit. If you're holding HDFC Bank's super premium cards like Infinia or Diners Black, this may not interest you.
But for those who're holding Regalia First or other lower end cards and need better returns on online spend, this would serve as a good upgrade.
Remember, this cannot actually be directly compared with Regalia range of cards, as Millennia cards don't have international lounge access benefit. But if you've multiple other bank cards which gives you Intl lounge access benefit and unable to upgrade to HDFC super premium cards, this would be a perfect fit.
What's your take on HDFC Millennia Credit Card? Feel free to share your thoughts in the comments below.