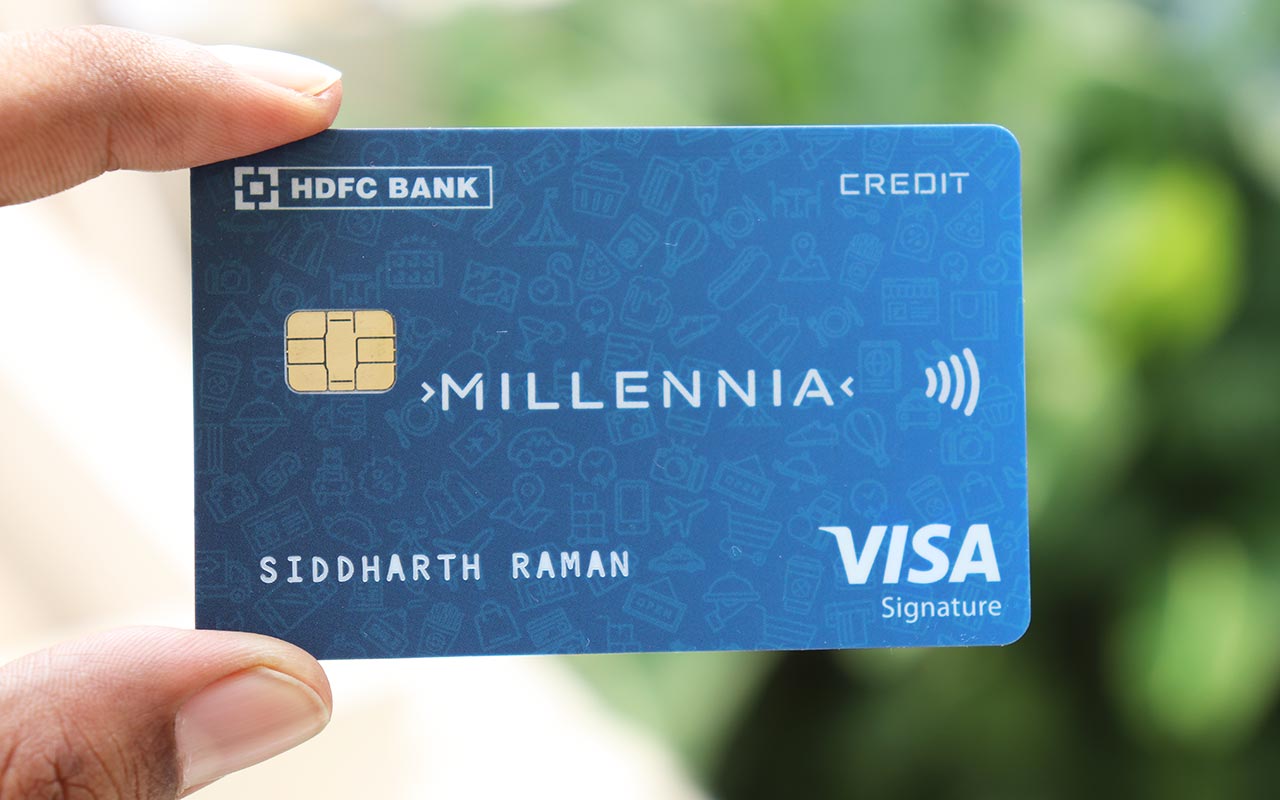 Update: HDFC has re-launched the Millennia product by relaxing the restrictions and limits – It's now lot better. Please find the updated review below.
HDFC Bank few years back came up with Millennia series of credit/debit/prepaid cards for Millennials, targeting customers who're new to credit cards. And here we're going to see a detailed review of one of those products: HDFC Millennia Credit Card.
Overview
| | |
| --- | --- |
| Type | Entry-level Credit Card |
| Reward Rate | 1% – 5% |
| Annual Fee | 1,000 INR+GST (usually issued free) |
| Best for | Online & shopping spends |
| USP | Quarterly Milestone Benefit |
With so many entry-level credit cards flooding in India here's HDFC with their optimized Millennia credit card trying to do their best for the segment.
Joining Fees
| | |
| --- | --- |
| Joining Fee | INR 1,000+GST |
| Joining Fee Waiver | Spend INR 50,000 & above in the first 90 days |
| Welcome Benefit | 1,000 Reward Points |
| Renewal Fee | INR 1,000+GST |
| Renewal Fee Waiver | INR 1,00,000 in a year |
The joining/renewal fee waiver conditions are pretty good for the card of this range. Note that HDFC usually gives most credit cards as First Year Free, especially if you're upgrading from other HDFC cards.
Reward Points
| Txn Type | Cashback % | Max. Cap / cycle |
| --- | --- | --- |
| Select Merchants | 5% | 1000 |
| Off-line / Wallet Spends | 1% | 1000 |
Select merchants: Amazon, BookMyShow, Cult.fit, Flipkart, Myntra, Sony LIV, Swiggy, Tata CLiQ, Uber & Zomato
Points Validity: 2 Years
The rules are okayish, as we get decent return on spend. Yet, I wish these rules were set quarterly or half yearly rather than monthly so that those who do seasonal shopping gets the maximum benefit as well.
Note that this is the only HDFC credit card that gives rewards for wallet loads at the moment, which is good.
But you don't earn these points in real-time. Instead you get points added in bulk by beginning of every month.
While industry demands instant earning/redeeming, HDFC takes opposite route. This is like going back to stone age, hmmm!
Reward Redemptions
1 CashPoint = INR 1 (for stmt credit)
1 CashPoint = INR 0.30 (for flight/hotel redemption)
Redemption requirement: Min. of 500 Points (for stmt credit)
Redeeming for statement credit is indeed the best way to maximize the benefit on the Millennia credit card.
Milestone Rewards
Rs. 1000 Gift Voucher on spends of Rs. 1 Lakh in a calendar quarter
That's a pretty good lift of 1% on reward rate, meaning you'll get at-least 2% on all your spends if you can spend 1L every quarter.
Also, fortunately the fulfilment of this reward is also pretty fast than expected. On testing, it came within ~1 week of completing the transaction.

Coming to the redemption of this benefit, they have quite a list of brands as below, but as always Amazon voucher is the best among the options and it was available for instant redemption post which you'll get an email with the voucher details like this.
Variants
Speaking of HDFC Millennia, you should also know the different variants of Millennia, meaning the different card networks on which the card is issued. Millennia is issued on:
Visa (Signature)
Mastercard (World)
Diners Club
These days its interesting to see entry level cards like HDFC Millennia & Axis ACE on Visa Signature variant, as you get additional platform benefits as well.
HDFC may likely rotate the variant from time to time to keep them in a specific ratio. It may also differ based on sourcing medium, for ex, most card members are getting "Diners Millennia" if the upgrade was done via net-banking.
Generally you can't choose the variant but if you're facing issues in acceptance like with Diners, you may request bank to get it changed to your desired card network stating the reason.
Design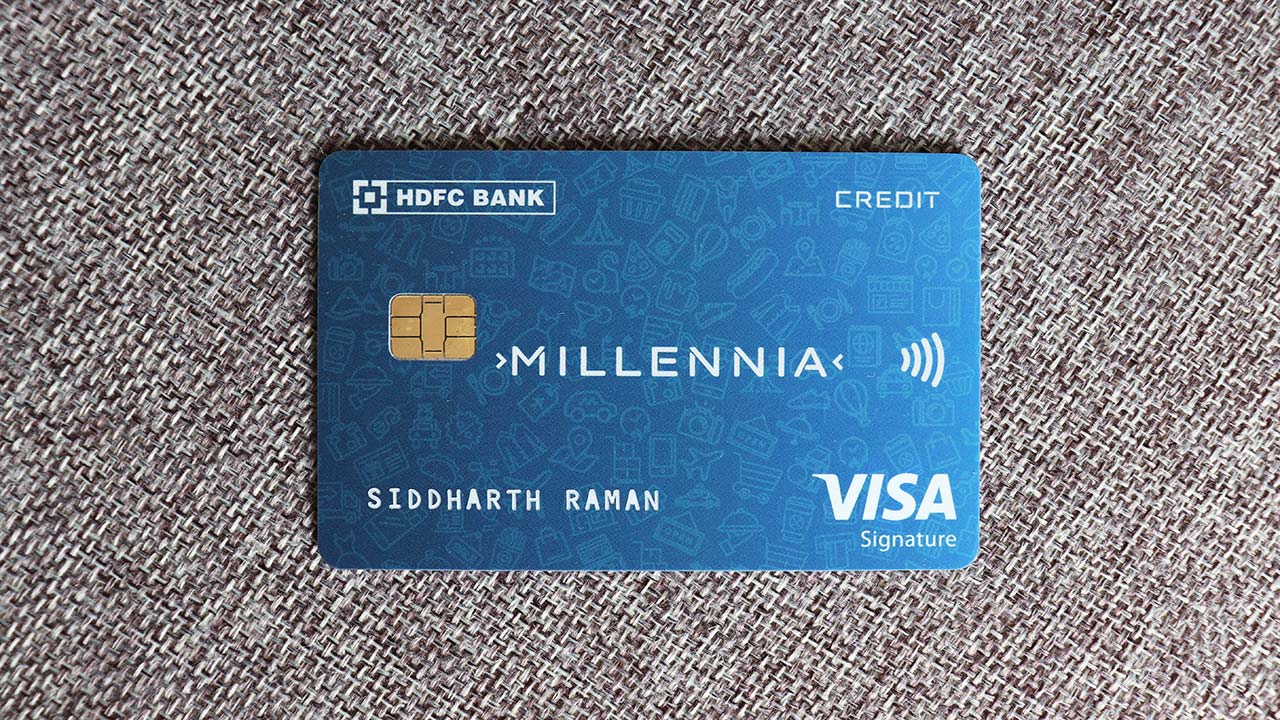 If you're new to credit cards you would be surprised to see a neat and clean minimalistic design without the card details embossed on front of the card, except your name.
I recently got this card (as an add-on) and it looks pretty good in hand. The colour is bright and good. It's a nice, cool & formal design.
On a quick comparison, HDFC Millennia debit card which has similar design with minor change in the colour gradient looks better.
Just incase if you're wondering, not to worry, the card details are at the back.
Airport Lounge access
Domestic: 2 complimentary access/quarter
Network: MasterCard, Visa or Diners
These days lounge access is limited to only few lounges on entry-level cards like Millennia. Speaking of HDFC, even premium cards like Regalia has limited access. So donot expect access to all lounges with this card.
If lounge access is your concern you've to choose the variant based on the cards/networks that the lounge you visit gives access to.
Golf Benefit
Complimentary Golf Games: 4/Year
Complimentary Golf Lessons: 12/Year (1/month)
This is a Mastercard World benefit and not the feature of the product per se, still good enough. However, note that this is applicable only if your Millennia Credit Card is issued on Mastercard network.
Note that if you're on Visa platform, you may instead enjoy the Buy1Get1 offer with bookmyshow.
HDFC Benefits
Apart from the features and benefits of the card there are certain benefits that you would enjoy by being with HDFC Bank. They are,
Higher Credit Limit: HDFC is one of the few banks in the country that can give extra-ordinary credit limits.
Merchant Offers: HDFC is known for good merchant offers, for example their tie-up with Apple is quite strong and you get good discounts because of that.
Upgrade Offers: If your usage on HDFC credit card is good, they will be happy to upgrade you to the next premium credit card, usually for first year free.
Premium Banking: If you've premium credit cards with HDFC, you'll get an invite to open a complimentary premium banking account with them. For ex, Regalia cardholders usually get inviteed for Classic program.
These are some of the wonderful unique benefits which you generally don't get with other banks in India.
Bottomline
If you're new to the credit cards ecosystem, HDFC Millennia is definitely a must have credit card in your wallet. You get lounge access, good rewards and get access to HDFC merchant offers.
Even if you intend to upgrade from lower end HDFC cards like HDFC Moneyback card, Millennia is a very good option in terms of rewards and benefits.
Do you hold HDFC Millennia Credit Card? Feel free to share your thoughts in the comments below.