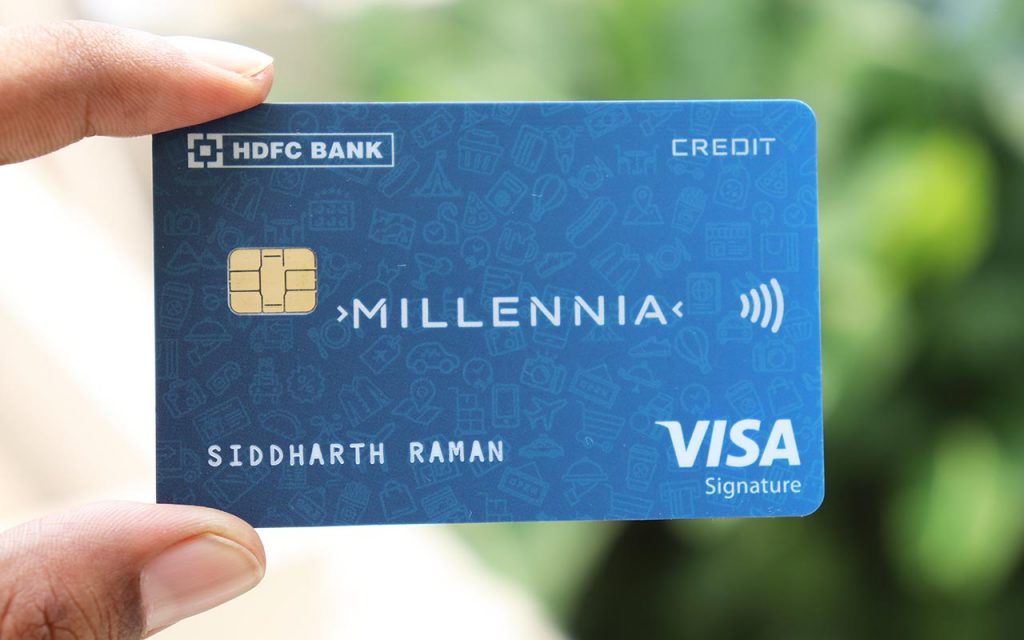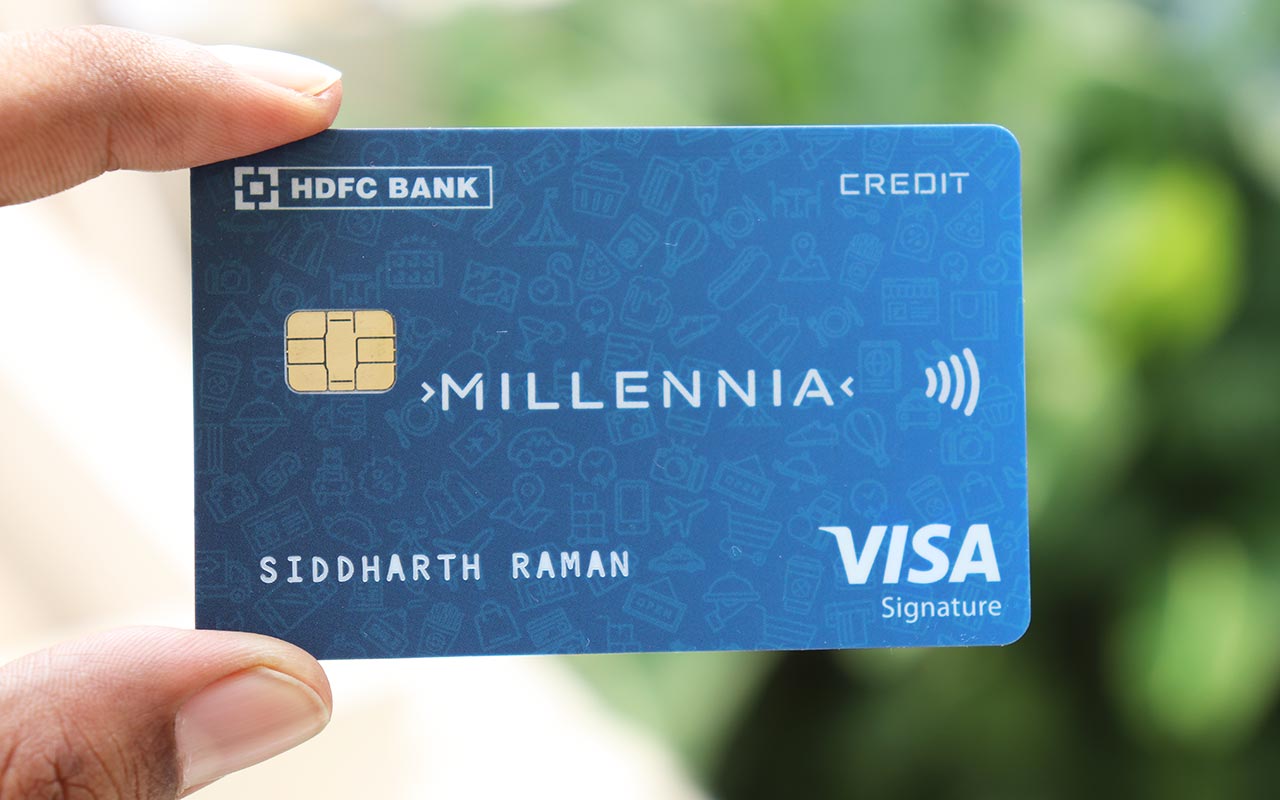 Update: HDFC has re-launched the Millennia product by relaxing the restrictions and limits. Do check out this article for details: HDFC Bank re-launches Millennia credit card
HDFC Bank last year launched Millennia series of credit/debit/prepaid cards for Millennials and here we're going to see a very detailed review of the HDFC Millennia Credit Card.
Joining Fees
| | |
| --- | --- |
| Joining Fee | INR 1,000+GST |
| Joining Fee Waiver | Spend INR 30,000 & above in the first 90 days |
| Welcome Benefit | 1,000 Reward Points |
| Renewal Fee | INR 1,000+GST |
| Renewal Fee Waiver | INR 1,00,000 in a year |
Launch Offer: INR 1000 worth gift vouchers on spends of INR 1,00,000 and above in each calendar quarter (first year only).
Launch/activation offer keeps changing with HDFC Bank, so check with the bank about the same while applying.
That aside, the joining/renewal fee waiver conditions are pretty good for the card of this range.
Note that HDFC usually gives most credit cards as First Year Free if you're upgrading, and now during Diwali it seems they're back with the Lifetime Free cards as well.
Reward Points
| Txn Type | Cashback % | Max. Cap / Month | Min. Txn |
| --- | --- | --- | --- |
| Payzapp / Smartbuy | 5% | 750 | 2000 |
| Online Spends | 2.5% | 750 | 2000 |
| Off-line / Wallet Spends | 1% | 750 | 100 |
The rules are okayish, as we get decent return on spend. Yet, I wish these rules were set quarterly or half yearly rather than monthly so that those who do seasonal shopping gets the maximum benefit as well.
Note that this is the only HDFC credit card that gives rewards for wallet loads at the moment, which is good.
But you don't earn these points in real-time. Instead you get points added in bulk by beginning of every month.
While industry demands instant earning/redeeming, HDFC takes opposite route. This is like going back to stone age, hmmm!
Reward Redemptions
1 CashPoint = INR 1 (for stmt credit)
1 CashPoint = INR 0.30 (for flight/hotel redemption)
Redemption requirement: Min. of 2500 Points (for stmt credit)
If you've followed all above rules to earn the rewards now you've another check-point to pass, as the minimum points required to redeem your points for statement credit is set to: 2500 reward points.
With this rule in place, combined with validity of points, hardly ~10% of the customers could actually redeem the points.
Now you know why you're getting an "Upgrade" offer on net-banking from Clubmiles or other premium cards to Millennia!
Quarterly Rewards

As a part of launch offer you get Rs.1K voucher every quarter on spending 1L. Fortunately fulfilment of this reward is pretty fast than expected. It came within ~2 weeks of completing the transaction.
For the rewards, they have quite a list of brands as below, but as always Amazon voucher is the best and it was available for instant redemption.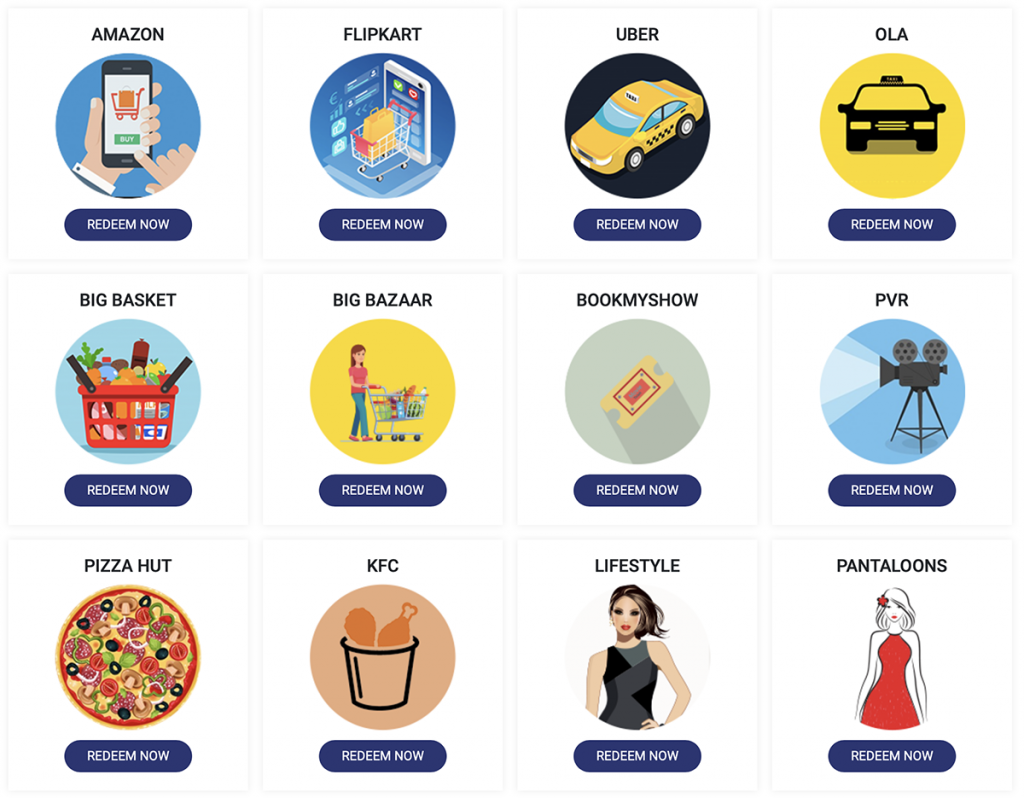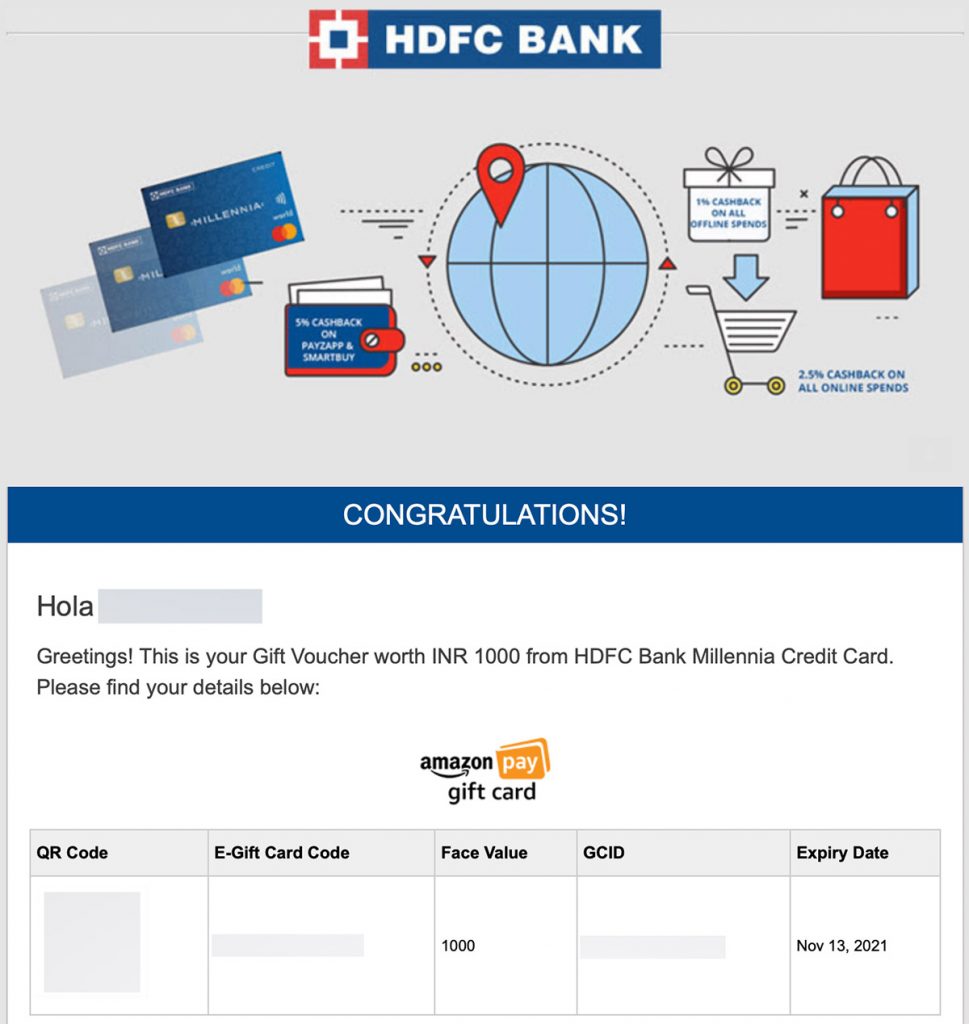 Variants
Speaking of HDFC Millennia, you should also know the different variants of millennia, meaning the different card networks on which the card is issued.
Millennia is issued on Visa Signature, Mastercard World & Diners Club platforms.
These days its interesting to see entry level cards like HDFC Millennia & Axis ACE on Visa Signature variant, as you get additional platform benefits as well.
HDFC may likely rotate the variant from time to time to keep them in a specific ratio. It may also differ based on sourcing medium, for ex, most card members are getting "Diners Millennia" if the upgrade was done via net-banking.
Generally you can't choose the variant but if you're facing issues in acceptance like with Diners, you may request bank to get it changed to your desired card network stating the reason.
Design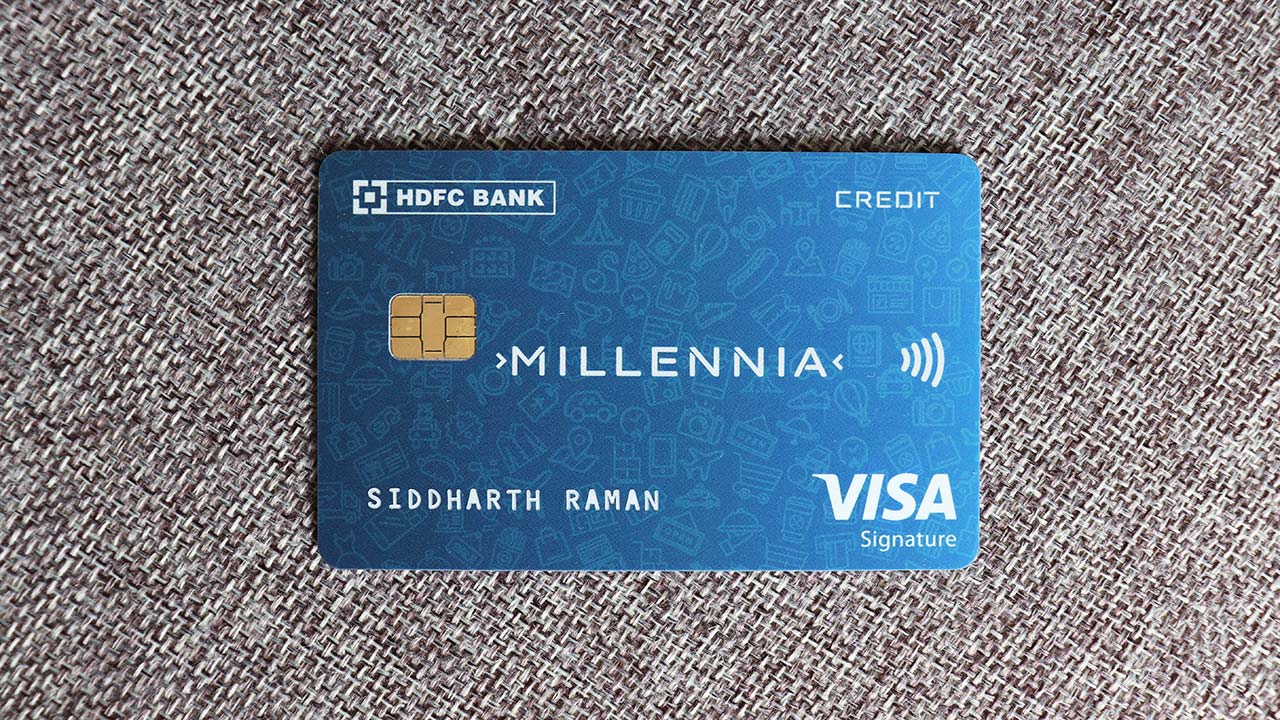 If you're new to credit cards you would be surprised to see a neat and clean minimalistic design without the card details embossed on front of the card, except your name.
I recently got this card (as an add-on) and it looks pretty good in hand. The colour is bright and good in outdoors and bit dull in the indoors.
It's a nice, cool & formal design, yet it could have been slightly better I feel. Infact HDFC Millennia debit card which has similar design with minor change in the colour gradient looks better in my opinion.
Just incase if you're wondering, not to worry, the card details are at the back.
Airport Lounge access
Domestic: 2 complimentary access/quarter
Network: MasterCard, visa or diners
These days lounge access is limited to only few lounges on entry-level cards like Millennia. Axis Bank does mention the same transparently but I doubt whether HDFC does it.
So the old concept of having "Mastercard" for better lounge access don't really apply all the time.
Hence, if lounge access is your concern you've to choose the variant based on the cards/networks that the lounge you visit gives access to.
Bottomline
Cardexpert Rating: 3.5/5 [yasr_overall_rating]
I've mixed opinion on this card as the verdict depends on what one is looking for from the product. I would broadly categorise it in 3 different segments as below:
If you're looking for rewards, you would be disappointed with too many rules. So in that case, HDFC Millennia is not for you. Better go for the newly launched Axis ACE credit card or even Amex MRCC which is currently issued as First Year Free.
If you're a seasonal shopper, like shopping during the festive season, its a very good product as you could save pretty well on Festive promos alone. Also HDFC merchant offers are decent all through the year.
If you intend to upgrade from HDFC Moneyback card, Millennia is definitely a very good option in terms of rewards and benefits.
Overall a good product for someone who is new to credit cards. You get lounge access, good rewards and get access to HDFC merchant offers.
Yet, all I wish is fewer t&c for earning/redeeming rewards and liberal max. cap, which could have made this a "WOW" product.
Do you hold HDFC Millennia Credit Card? Feel free to share your thoughts in the comments below.
Side Note: HDFC rolled out another round of credit limit enhancement offer this Oct 2020, do check whether you're eligible for the same.