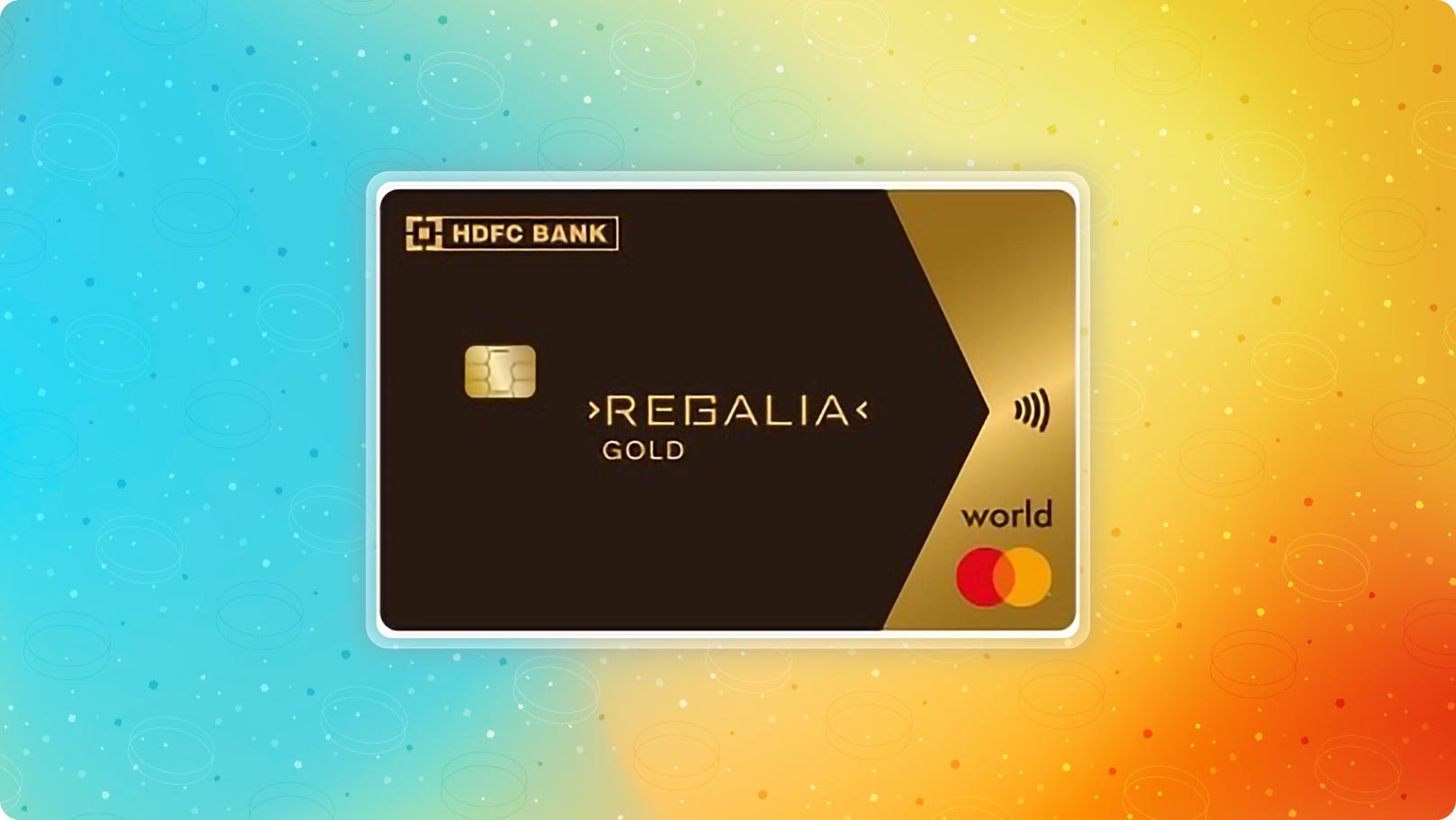 HDFC Bank has recently come up with a new lifestyle credit card for the premium segment under the name Regalia Gold Credit Card. It's no wonder that HDFC Bank is once again taking advantage of the "Regalia" brand which is known in the industry for its decade long fame.
HDFC Regalia Gold Credit Card stands above Regalia & Regalia First and is one of the best premium credit card to hold at the moment. Here's everything you need to know.
Overview
| | |
| --- | --- |
| Type | Premium Credit Card |
| Reward Rate | 1.3% – 13.2% |
| Annual Fee | 2,500 INR + GST |
| Best for | Airport lounge access |
| USP | Priority Pass for Add-on cards & milestone benefits |
At this fee point, HDFC Bank's Regalia Gold Credit Card is fully loaded with travel benefits and rewards.
Do note that Regalia Gold Credit Card is different from Regalia & Regalia First Credit Cards which were devalued recently.
Even-though it's been a while since Regalia Gold Credit Card was launched, it never felt like a card to hold until recently when the bank devalued the lounge access benefits on other Regalia variants.
Joining Fees
| | |
| --- | --- |
| Joining Fee | 2,500 INR + GST (Issued as FYF at times) |
| Welcome Benefit | 2,500 INR voucher (on paid cards) |
| Renewal Fee | 2,500 INR + GST |
| Renewal Benefit | Nil |
| Renewal Fee waiver | On spending >4 Lakhs |
While renewal fee waiver is easy to hit for most holding this card, I wish they had a renewal benefit as well on paid cards.
Nevertheless, HDFC Bank's Regalia Gold Credit Card is undoubtedly the best lifestyle credit card in the segment for what it offers.

Membership Benefits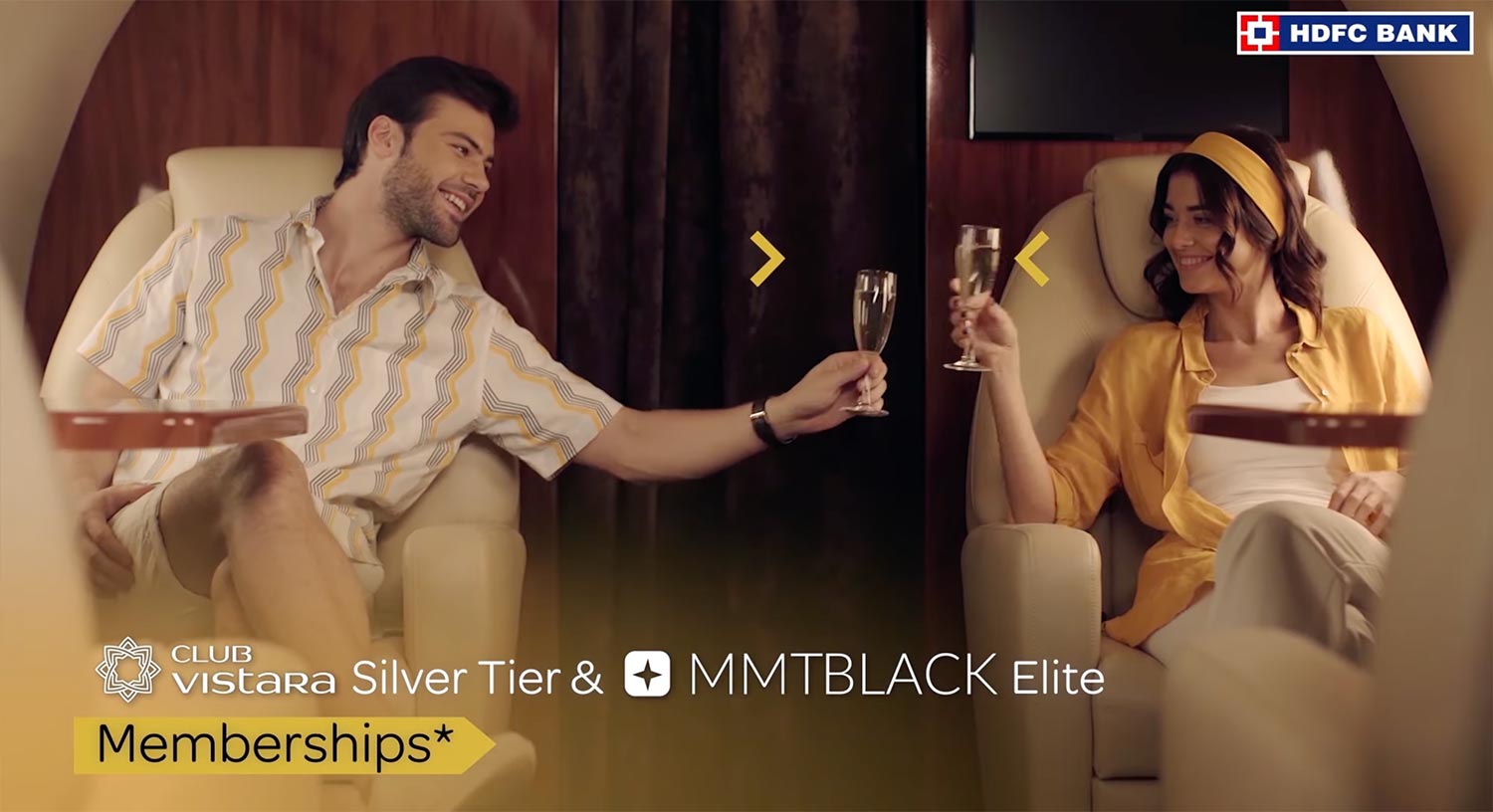 Club Vistara – Silver Tier
MMT Black Elite Membership
Above memberships are provided as a part of welcome benefit for the first year but it doesn't "seem to" renew every year.
Looking at the memberships, I wonder who's using MMT Black these days, but Club Vistara Silver Tier is certainly a good one to hold as it gives one upgrade voucher, priority check-in, increased 5Kg baggage allowance and more.
Note that you would need to spend 1L INR in the first 90 days of card issuance for the membership benefits to be activated.
Benefits will be unlocked within 48 hours on achievement of the spend criteria. This applies to all milestone benefits as well which we'll see shortly.
Rewards
| SPEND TYPE | Reward Points | REWARD RATE (POINTS TRANSFER) |
| --- | --- | --- |
| Regular Spends | 4 / 150 INR | ~1.3% |
| Accelerated Spends (5X) | 20 / 150 INR | ~6.6% |
| Smartbuy Flights / Vouchers (5X) | 20 / 150 INR | ~6.6% |
| Smartbuy Hotels (10X) | 40 / 150 INR | ~13.2% |
Brands for Accelerated Spends: Marks & Spencer, Myntra, Nykaa & Reliance Digital. Capping: 5000 Reward Points/month
Smartbuy Cap: 4000 RP's monthly / 2000 RP's daily
Grocery Reward Capping: 2000 reward points in a month for grocery purchases.
No rewards on fuel, wallet, rent and tax payments.
The regular rewards on the card is quite low for the segment and so the accelerated rewards are not exciting either.
But that's decent for this segment and the milestone benefits are there to boost the overall reward rate.
Milestone Benefits
| SPEND REQUIREMENT | MILESTONE BENEFIT | Voucher Type |
| --- | --- | --- |
| 1.5 Lakhs per Qtr | 1,500 INR | Brand Vouchers |
| 5 Lakhs | 5,000 INR | Flight Vouchers |
| 7.5 Lakhs | 5,000 INR | Flight Vouchers |
Vouchers Brands: Marriott, Myntra, Marks & Spencer or Reliance Digital
Flight Voucher is meant for "one" flight as per the t&c.
Quarterly spends are calculated every "Calendar" Quarter
I'm happy to see that HDFC Bank is moving to Quarterly milestone system which I've been hoping to see for many years, as monthly milestones are quite taxing to the mind.
So assuming you're able to spend 7.5L with required Quarterly spends, the milestone reward rate would be 2.1% on top of 1.3% regular reward rate, hence giving a net reward rate of 3.4% which looks quite lucrative on paper.
However, remember that these are flight/brand vouchers and not regular reward points, so it might be tricky to enjoy the full reward rate as per the calculations, as you would need to "effectively" redeem these vouchers on "time".
Redemption
There are multiple options to redeem rewards, as below:
Flights / hotel bookings: 1 RP = Rs 0.5 (via Smartbuy portal)
Airmiles conversion: 1RP = upto 0.5 airmiles (via Smartbuy portal)
Exclusive Gold Catalogue: 1 RP = Rs 0.65 on premium brand vouchers (via Smartbuy portal)
Statement Credit: 1 RP = Rs 0.20 (never do it)
Exclusive Gold catalogue redemption looks good with better value and it includes products from premium brands such as Apple, Samsung, Bose, etc.
However, note that accumulating points on Regalia Gold is not easy as the regular earn rate of the card (excluding milestone benefit) is quite low.
Airport Lounge Access
| ACCESS TYPE | ACCESS VIA | ACCESS LIMIT |
| --- | --- | --- |
| Domestic | Visa / Mastercard | 12/Year |
| International (Primary) | Priority Pass | 6/yr (shared) |
| International (Add-on) | Priority Pass | 6/yr (shared) |
For domestic access, 12 visits a year without any quarterly limits are more than enough for most.
For international access, each add-on card gets a separate priority pass card.
HDFC Bank Regalia Gold Credit Card is an amazing card for family travellers as you can get Add-on cards for your family members which allows access not only to domestic airport lounges but also international lounges.
Do note that the list of domestic lounges eligible for Regalia Gold is better than other Regalia variants and is now in par with Infinia.
If you're looking for the lounge access benefit only for primary cardholder and if you're okay to be on the Diners Club network (relatively less acceptance), then you might as well explore the HDFC Marriott Bonvoy Credit Card.
You can apply for Priority Pass for self and add-on members once you complete minimum 4 retail transactions on your HDFC Bank Regalia Gold Credit Card.
Airport Transfers
2 complimentary airport transfers per Quarter
Requirement: flight tickets must be booked via Regalia Gold Smartbuy portal
You can generate 1 voucher per flight booking on smartbuy portal and upto 2 vouchers in a quarter.
The voucher appears to be a 300 INR Uber gift card which can be used for airport pick / drop journey.
Airport transfer benefit is one of the most important benefit on the card in my opinion but it's quite surprising to see that HDFC neither promotes this benefit nor lists the benefit on the main HDFC portal due to which the Imperia support says "It's Smartbuy benefit and so call them". Hmm!
I tried to call Smartbuy Support to check more details on this but went on a long hold and couldn't connect with any. But fortunately they confirmed the benefit on email after writing to Smartbuy email support.
Forex Markup Fee
Forex Markup Fee: 2%+GST = 2.36%
Reward rate on Intl. Spends: 1.3% (same as domestic)
Net gain: ~1% (loss)
Net gain: ~1% (gain) if we include milestone benefit as well.
So, HDFC Regalia Gold credit card is OKAY for international spends depending on how much you spend on the card. Yet, there is no substantial gain.
However, you may as well activate Global Value program to get additional 1% cashback on international spends.
Eligibility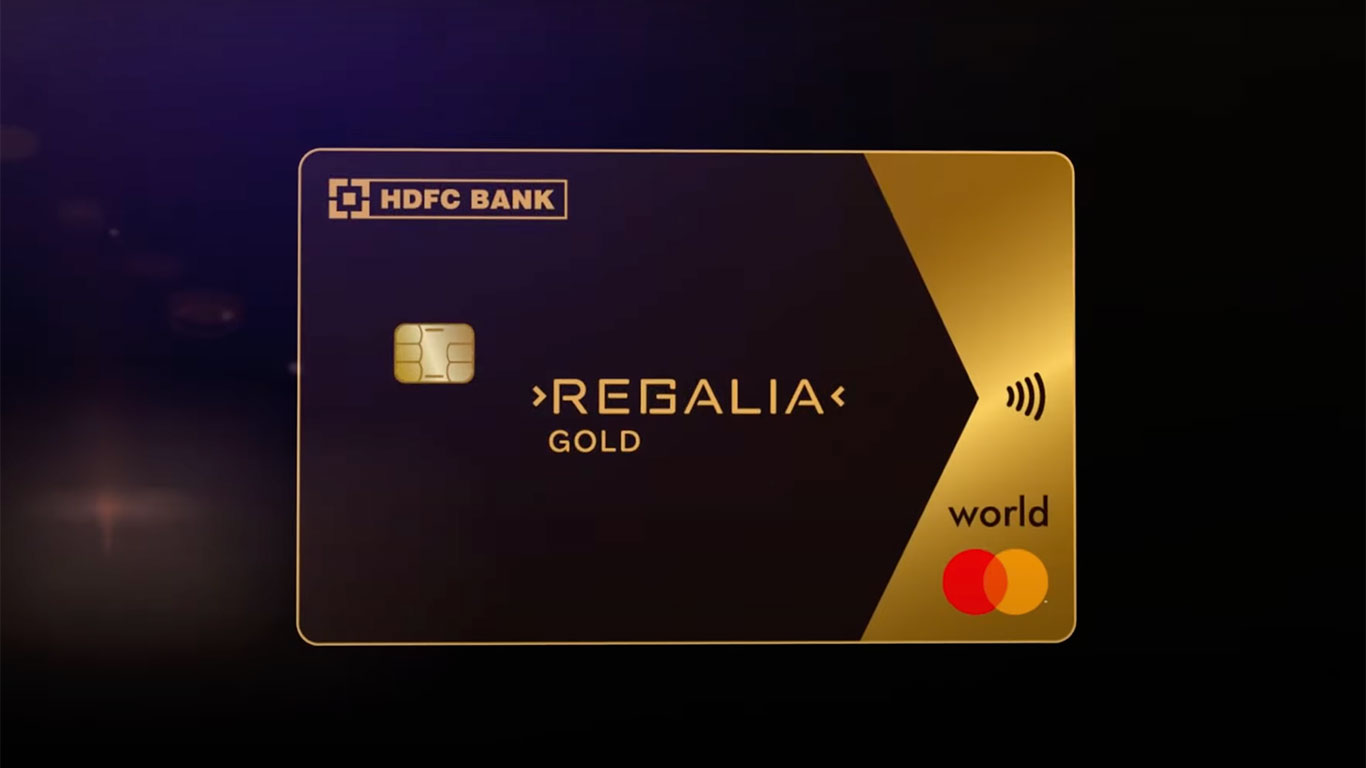 Income: >1L INR per month (or) 12L per annum for self employed
Upgrade: ~3 Lakh credit limit on existing HDFC Bank Credit Card
Upgrade offers were rolled out recently for most of the existing LTF Regalia & Regalia First Cardholders.
Should you upgrade? If you're holding other Regalia variants, then it's the right time to move on to Regalia Gold Credit Card as this gives access to superior lounge access benefit, better reward rate, airport transfers and other benefits.
If you're afraid of loosing the LTF benefit, remember that lifetime free credit cards are designed to be devalued. If you're new here, you may need to read this old truth about lifetime free cards for more gyaan.
How to Apply?
The easiest way to apply for an HDFC Bank's credit card is by applying online, you may use this link to apply.
You may as well apply offline from the branch but offline applications takes more time than online applications, for all the known reasons.

Bottomline
Overall HDFC Bank's Regalia Gold Credit Card is a decently rewarding Credit Card in the segment and can be used as a family travel card as this is the only card that gives Priority Pass for add-on card holders too officially at this fee point.
While the card is loaded with many benefits, the challenge is that you'll need to keep few things in mind (redemption/expiry of vouchers, etc) to make sure you're availing all the benefits as expected.
Have you taken the Regalia Gold Credit Card recently? Feel free to share your thoughts in the comments below.