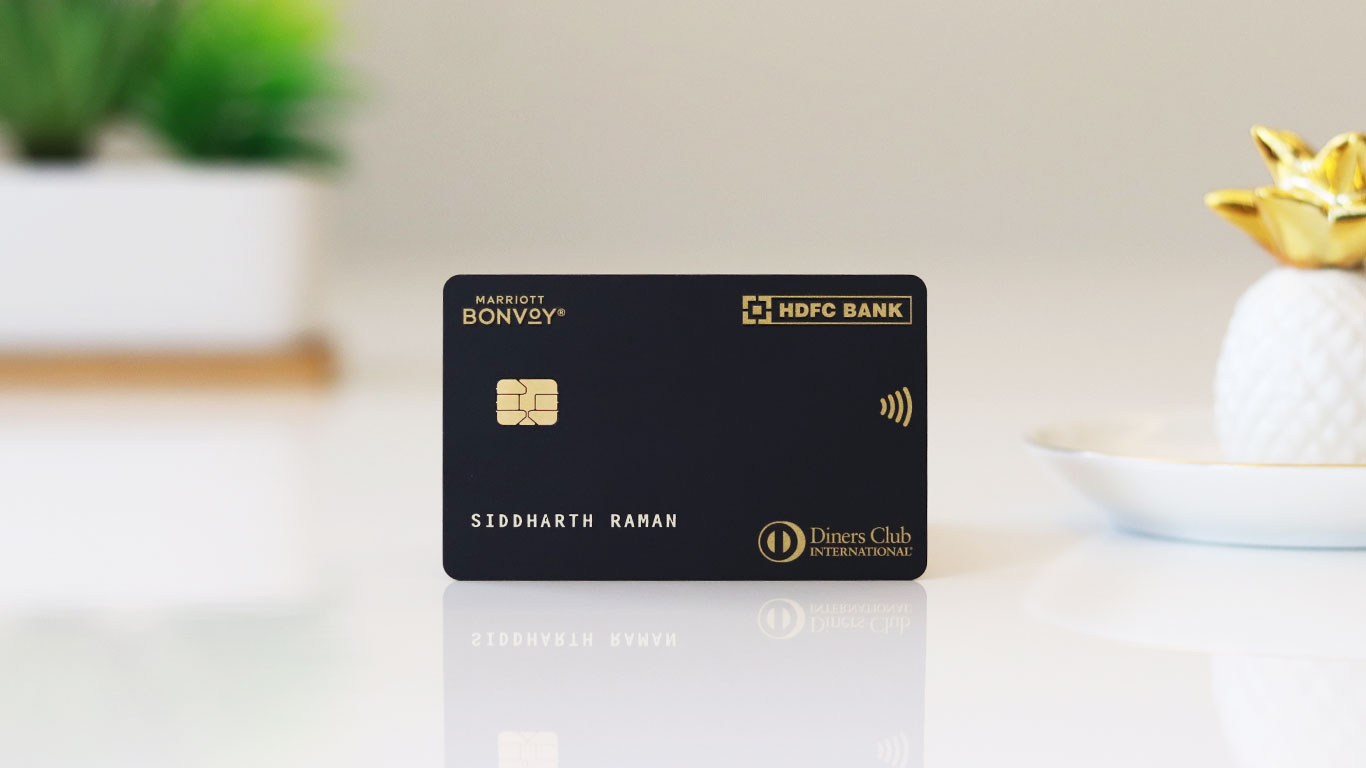 Marriott has finally stepped into Indian Credit Card space through HDFC Bank on Diners Club network and launched HDFC Bank Marriott Bonvoy Credit Card, a semi-premium co-brand travel credit card.
As you might have seen the highlights of the card under the launch article, here's the detailed review of the Marriott Bonvoy Credit Card,
Overview
| | |
| --- | --- |
| Type | Co-brand Travel Credit Card |
| Reward Rate | ~2% |
| Joining Fee | 3,000+GST |
| Best for | Joining/Renewal benefits |
| USP | Free Night Awards |
As most Marriott hotels accept Diners Cards it's logical for the Marriott Bonvoy Credit Card to be launched on Diners Club platform but it may have acceptance issues otherwise depending on where you intend to use the card.
Fees & Benefits
| | |
| --- | --- |
| Joining Fee | 3,000 INR+GST |
| Welcome Benefit | 1 Free Night Award (valued upto 15,000 Points) |
| Renewal Fee | 3,000 INR+GST |
| Renewal Benefit | 1 Free Night Award (valued upto 15,000 Points) |
| Renewal Fee waiver | Nil |
The welcome/renewal benefit is easily valued at 7500 INR or more and so undoubtedly lucrative for anyone to get the card without thinking a bit.

Design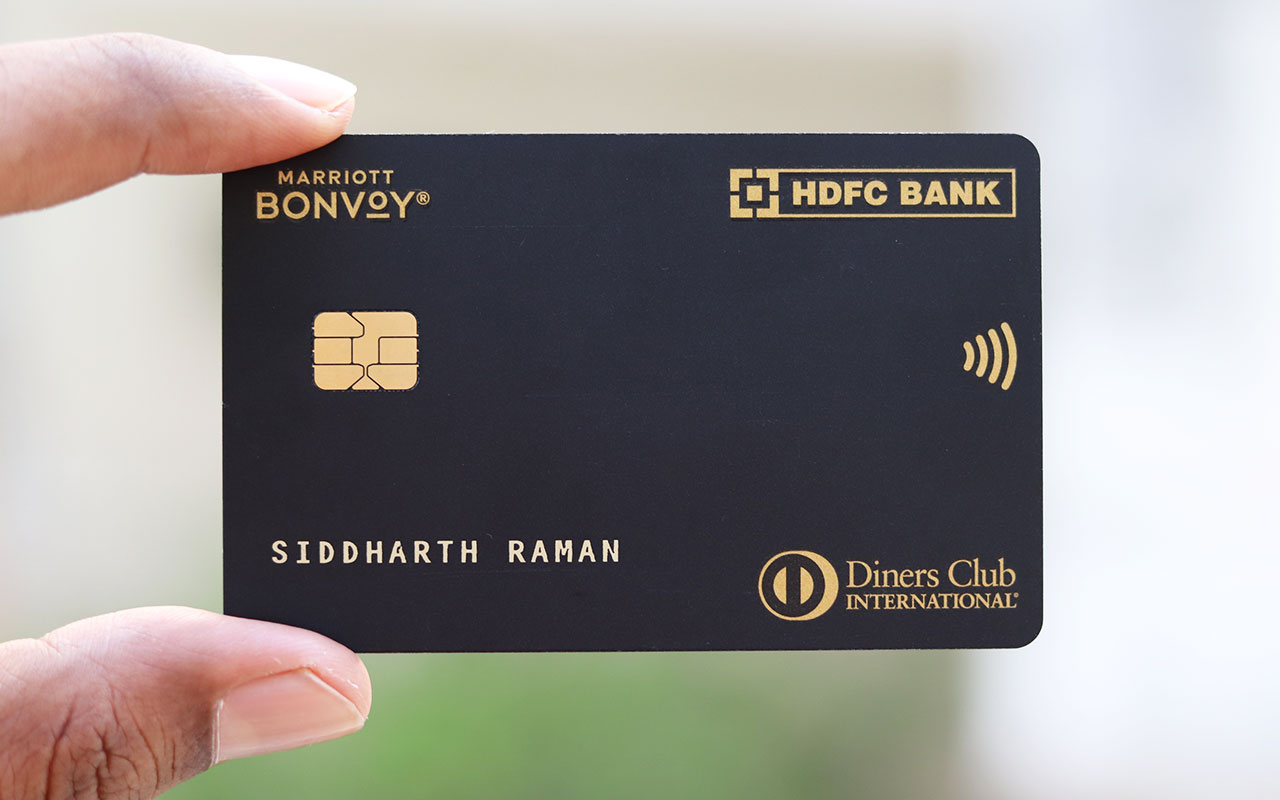 You're seeing one of the first few Marriott Bonvoy Cards printed in the country.
Looks beautiful isn't it?
The design looks neat, elegant and simple and give vibes of a super premium / invite only credit card because of it's black colour and golden prints on it, somewhat similar to the SBI Aurum Credit Card.
I wish it's bit colourful though and rather save this design for later, for a "hopefully" next super premium variant.
Rewards
SPEND TYPE
Marriott Bonvoy Points
(PER 150 INR)
Reward Rate %
(assuming 1 Point = 50Ps)
Regular Spends
(Domestic & Intl)
2
0.66%
Travel, Dining, Entertainment
4
1.33%
Marriott Hotels
8
2.66%
Reward Rate is calculated assuming 1 MB point = 50ps but it can go as high as 1 INR (or) even beyond based on various factors. Yet, with most hotels in metro cities & holiday locations, its usually valued at only 50Ps.
Excluded spends for Rewards: Fuel, wallet load, Gov spends, EMI & Rent.
It takes 12 weeks following the Credit Card billing cycle for Points to be added to the Marriott Bonvoy Member Account.
The reward rate on the on-going spends is poor even for the spends at Marriott Hotels, which I wonder why!
Ideally one can just go with 5x/10x rewards on HDFC Super Premium Cards and enjoy much more savings.
However, if you wish the nights to accumulate on Marriott and get closer to Gold/Platinum/Titanium, then booking direct and paying at hotel is the only option.
That aside, asking 12 weeks for points transfer in 2023 is unacceptable.
Milestone Benefit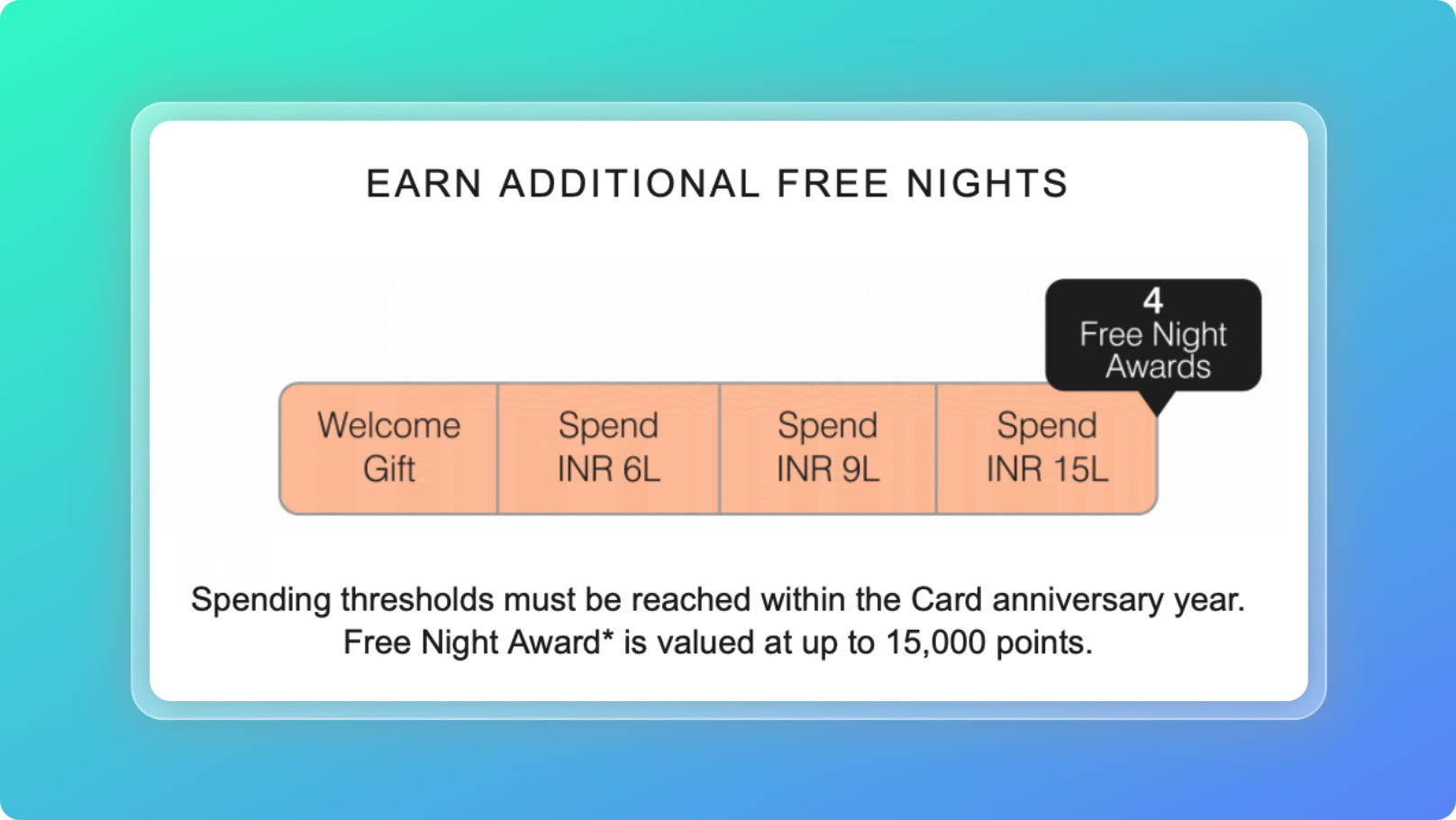 SPEND REQUIREMENT
MILESTONE BENEFIT
(Cumulative)
Reward Rate
(Cumulative)
6 Lakhs
1 Free Night
(1 Night)
1.2%
(1.2%)
9 Lakhs
1 Free Night
(2 Nights)
2.5%
(1.7%)
15 Lakhs
1 Free Night
(3 Nights)
1.2%
(1.5%)
Free Night Award (FNA) booking capped at 15,000 Points
Above calculation is done by considering the complete 15K points at 50ps. Ideally some would redeem at even 10K points, in which case the reward rate would drop even further.
So even if one combines both milestone & regular rewards, the maximum reward rate is hardly ~2% and that's too low in the industry that easily gives over 4% on travel cards like Axis Magnus (for burgundy), Axis Atlas, Amex MRCC & Amex Platinum Travel.
Free Night Award
Value: Upto 15,000 Points
Validity: 1 Year
Fulfilment: 12 weeks, upon payment of fee or meeting spend thresholds.
While Free Night Award's (FNA) can be used to redeem for hotels that requires 15K or lower, you may also redeem them at hotels requiring beyond 15,000 Points by clubbing the points (upto 15K more points) available on your Marriott Bonvoy Account.
Let's say a hotel requires 20,000 Points for redemption, you may use 1 FNA + 5,000 points from your Marriott Bonvoy Account. This way one can utilize the complete 15,000 points of the Free Night Award.
However, note that how above actually works will be known only when we experience it in reality. I'll update this section once I get my FNA.
Elite Night Credits
10 Elite Night Credits
Fulfilment: within 60 days of the joining/renewal fee payment
If you're new to Elite Night Credits, it's basically a complimentary night given to you by Marriott which is useful to get closer to the next tier under Marriott Bonvoy Loyalty program like Gold/Platinum/Titanium.
It's as good as getting nights for your stay without actually staying. It's also eligible for lifetime status of the Marriott Bonvoy Member.
Silver Elite Status
Priority Late Checkout
10% more on points than regular member
One needs to spend 10 nights at Marriott hotels to ideally get to the Silver Elite Status. However, with this card it would be given as complimentary.
Honestly, Silver Elite is not a big deal for hotels and so there is no major advantage to really get some value out of it.
Airport Lounge Access
12 Domestic complimentary lounge access (per year)
12 International complimentary lounge access (per year)
One of the major advantage of this card is it's generous annual lounge access limits without any quarterly capping, which makes life lot easier.
On top of it, as it's issued on Diners Club platform, cardmembers can access the lounges directly by swiping the card at the lounges without having to carry another Priority Pass.
Golf Benefit
2 Games/Lessons per Quarter
While booking Golf games/lessons on HDFC Bank Credit Cards are bit of a process over email, 2 access per quarter on a card at this price point is certainly good to have.
The Concerns
While the card comes with a wonderful value for it's welcome/renewal benefit & other lifestyle benefits like lounge/golf, it's a poor card for ongoing spends. Hence chances of people getting the card and not using them would be high. Hope the banks runs some offers to keep them active.
The FNA on welcome benefit is expected to be issued in 12 weeks post clearance of the payment. That's too much time in 2023. I wish they speed up the system like in USA where one gets the welcome benefit activated in a week or so.
Should you get it?

There could be various reasons one would get the HDFC Bank Marriott Bonvoy Credit Card. Here are few reasons as to why you would need this card:
Joining Benefit can give 2x, 3x or even more value, so its no brainer to get one for it's joining/renewal benefit
If you're short of few elite nights to hit Gold/Platinum/Titanium, the 10 free Elite night credits can get you there faster.
If you're finding higher value for points than 50ps/point, then even the milestone benefit would be quite rewarding.
You would need to take a call based on above factors to see if it really suites your profile.
Getting the Card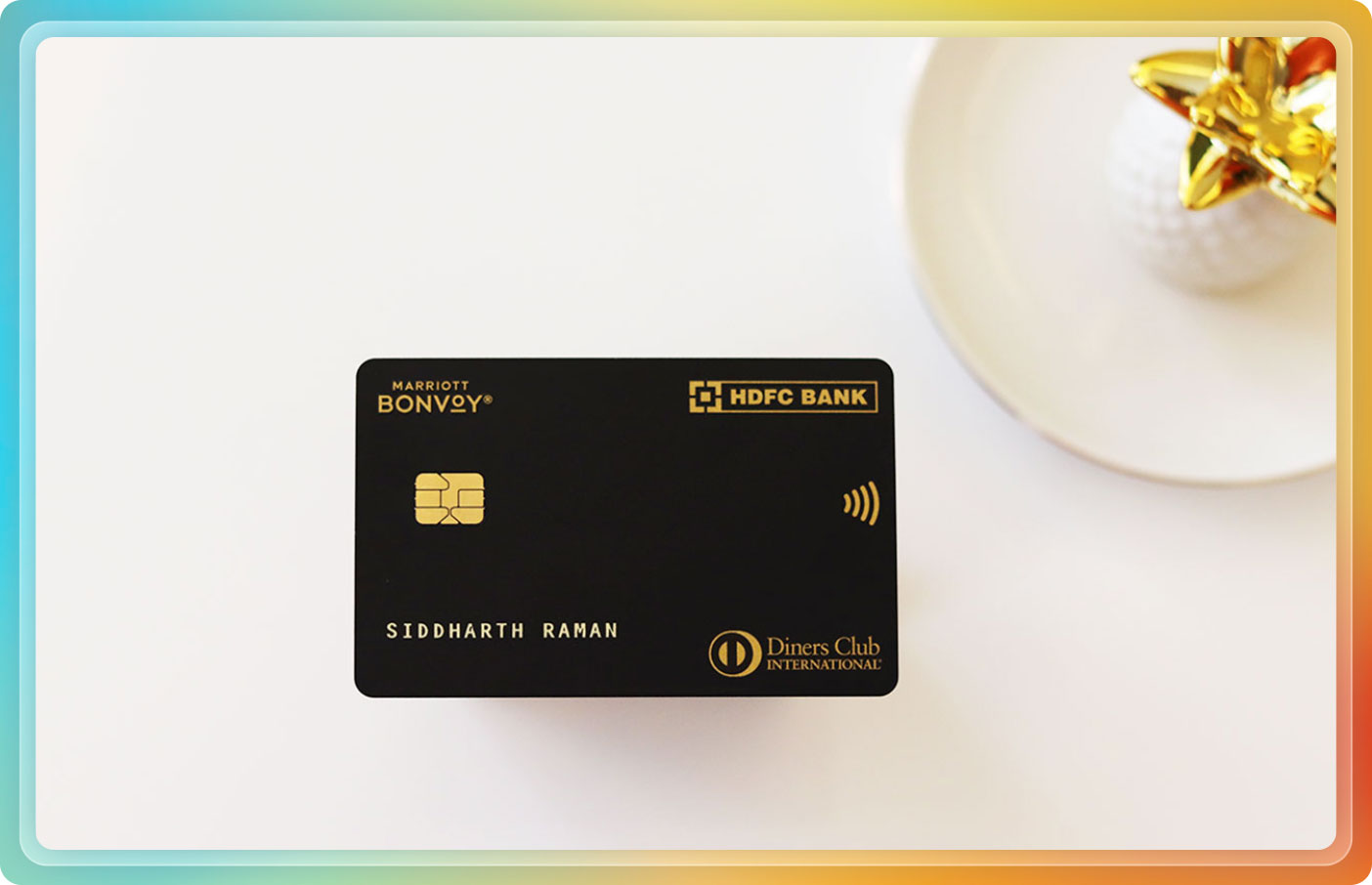 You can apply on:
and choose Marriott Bonvoy Credit Card among the options shown post authentication of your details.
If you're already holding HDFC Bank's Credit Card, then you may request your RM to get you one more card as a floater card, the decision of which is not in RM's hands. Imperia Banking with a good standing relationship & existing credit limit usually helps.
It's being setup as a floater card for existing credit card customers just like the Tata Neu Credit Card because I can see a 5000 INR Credit limit which is expected to reflect the actual credit limit in a week or so.

Bottomline
Overall the HDFC Bank Marriott Bonvoy Credit Card has very good value proposition for the fee it comes it.
However, given that all three brands making the card are into premium segment, they could have easily gone for a 5K/10K fee variant.
That's said, something is better than nothing. Yet I would continue to hope India soon gets a Marriott Bonvoy Credit Card with instant platinum benefit!
Anyway, it's a wonderful beginning of probably a lifelong relationship with the Marriott Bonvoy Credit Cards in India.
Have you applied for the HDFC Bank's Marriott Bonvoy Credit Card? Feel free to share your experiences in the comments below.