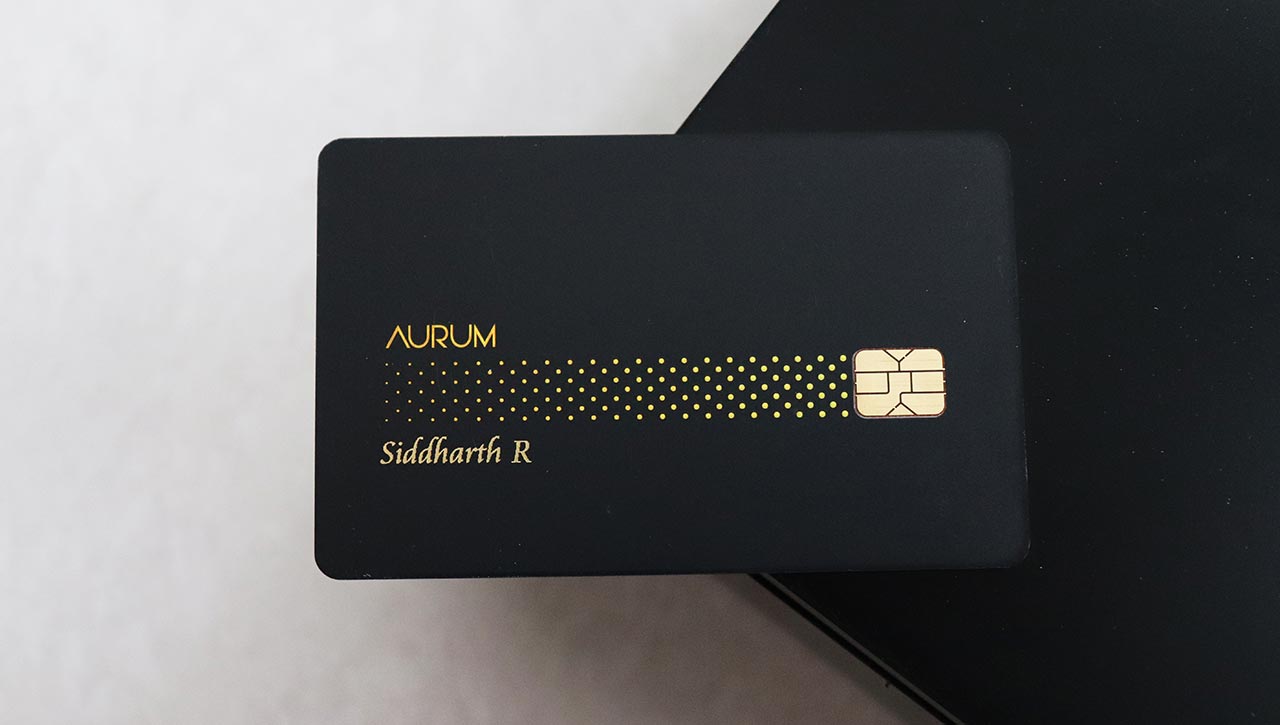 SBICard recently launched the super premium credit card named AURUM which is positioned one step above SBI Card Elite. The card and the benefits makes it clear that SBICard designed AURUM for the high net-worth individuals by giving a premium touch.
But does that mean the card also rewards good on spend? Let's see it in detail below,
Overview
| | |
| --- | --- |
| Type | Super Premium Credit Card |
| Reward Rate | 1% to ~3% |
| Annual Fee | 10,000 INR + GST |
| Best for | Monthly spends of 1 Lakh & Golf lessons |
| USP | Bookmyshow Movie Voucher |
Aurum is the first ever attempt by SBICard to explore the super premium credit card segment and it's a decent one. It's a worthy upgrade for those holding SBI Elite Credit Card.
Joining Fees
| | |
| --- | --- |
| Joining Fee | 10,000 INR + GST |
| Welcome Benefit | 40,000 Points worth 10,000 INR |
| Renewal Fee | 10,000 INR + GST |
| Renewal Benefit | Nil |
| Renewal Fee Waiver | Annual spends of Rs.12 Lakhs |
The reward points can be redeemed for hotels/flights or e-vouchers and can be considered as an equivalent to 10K INR. But the GST part (1,800 INR) is payable and is the only out-of-pocket expense.
Having no renewal benefit is a sad news though, meaning it holds good only for 1 yr if you don't intend to spend ~12 Lakhs a year.
Design
On a quick research I found that the name Aurum is the latin word for gold and is also the source of its chemical symbol "Au". Good work on naming!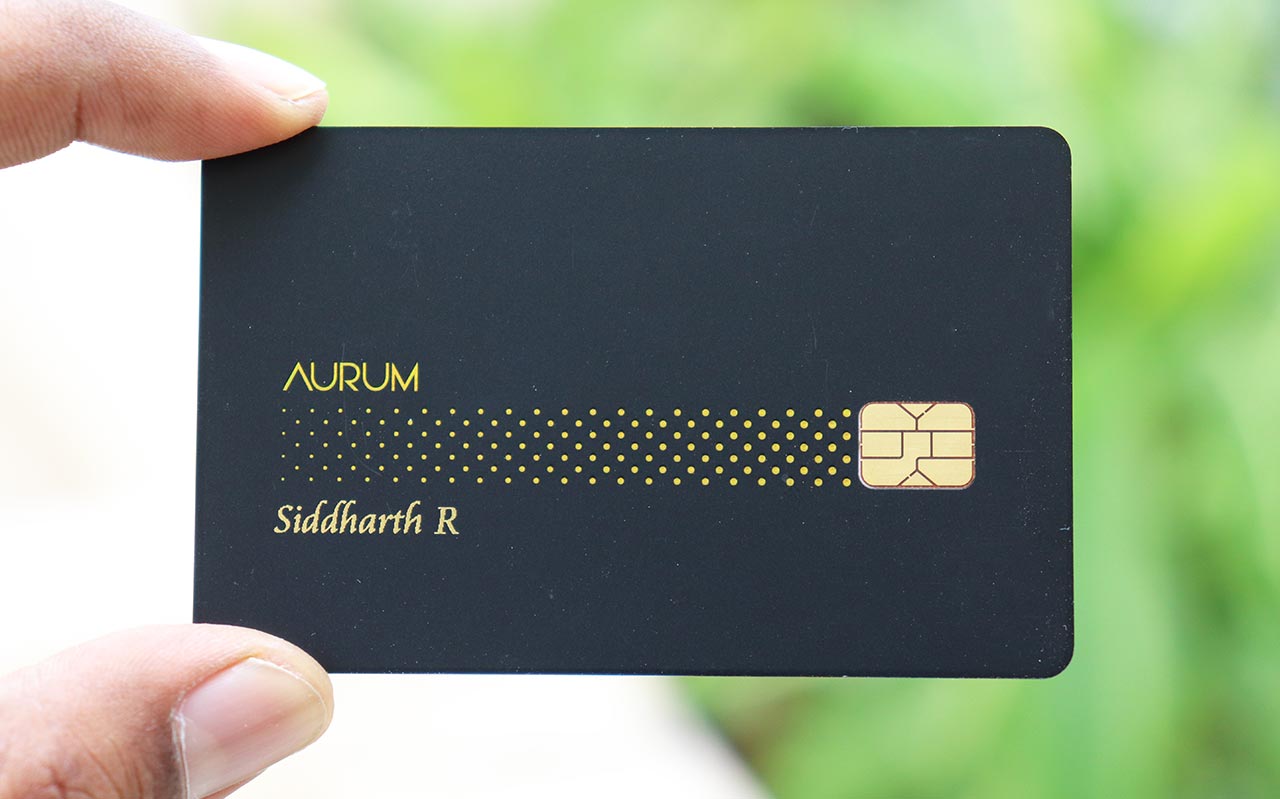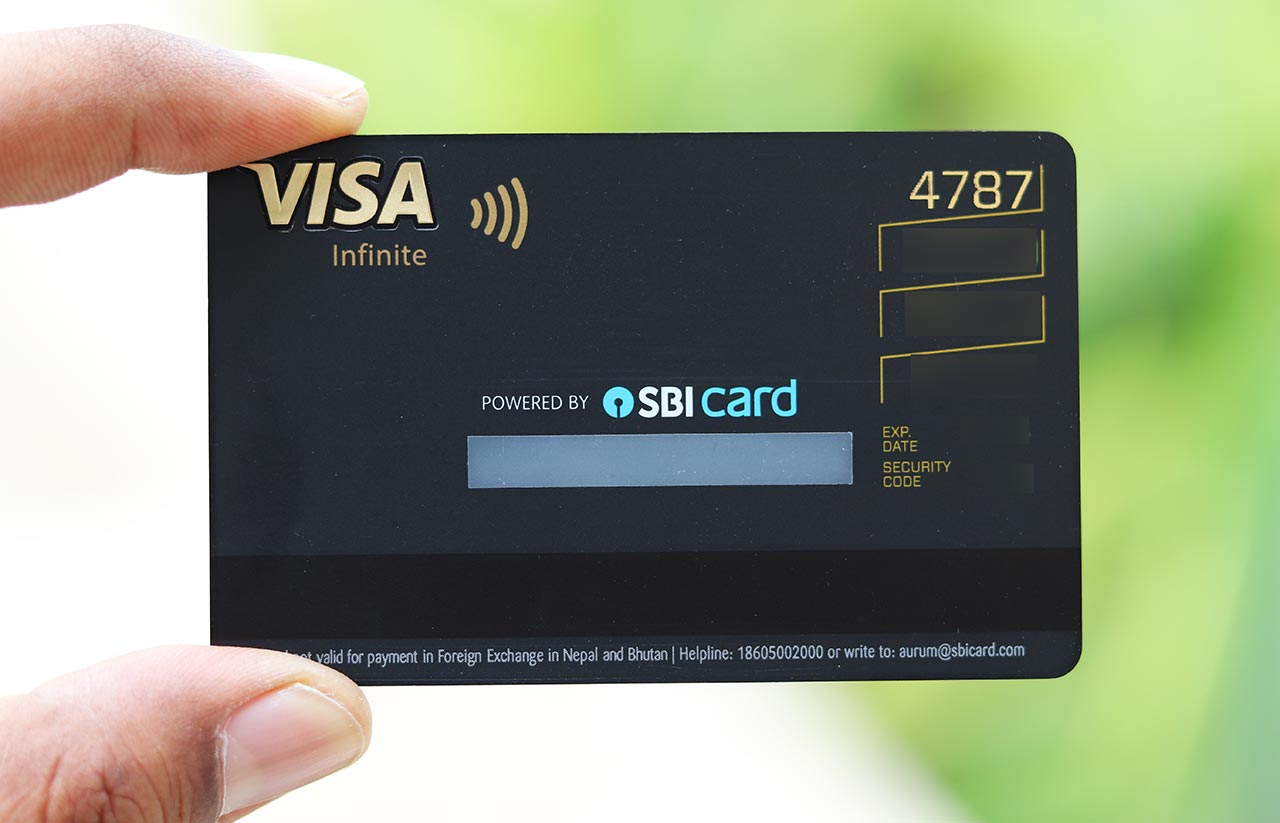 So obviously you can see some touch of Gold in the card design. AURUM comes in a metal form factor and it looks very neat and clean in black colour with horizontal dotted golden strip.
Rewards

Regular Rewards
Rewards on all spends: 4 points/100 (Reward Rate: 1%)
Reward Point Value: INR 0.25 per point
Earn rate of 1% is definitely too low on a super premium card. But not to worry, you also get milestone spends to lift the reward rate a bit.
Note: Wallet loads will not fetch rewards on any of the SBICards.
Milestone Rewards
Spend Rs.1 Lakh (monthly): Get Rs.1,500 TataCliq Voucher
Spend Rs.5 Lakhs (annually): Get Rs.5,000 TataCliq Luxury voucher
Spend Rs.10 Lakhs (annually): Get Rs.10,000 Taj Voucher
About milestone vouchers:
TataCliq vouchers are lately smooth when it comes to redemptions. There are no limitations whatsoever.
LUXE voucher may not be considered as cash equivalent for most, as it falls under LUXURY segment with products at inflated costs. Click here for the list of luxe brands. I wish they instead have Amazon/Taj vouchers for 5L spends. Luxe voucher is now replaced with TataCliq Luxury Voucher.
Taj Vouchers are great for travellers and that easily adds up 1% to the reward rate – a welcoming move. Very happy to see Taj vouchers with SBICard!
Speaking of the monthly benefit, I would rather wish it had a quarterly benefit like SBICard Prime – which a lot of cardholders love.
Rewards Redemption
Dedicated Aurum rewards portal: Redeem for e-gift vouchers, flights, hotels, experiences & more
Statement Credit: Not applicable.
Redemption Charge: Rs.99+GST per redemption
So redemptions for statement credit is not possible with AURUM card. But I'm very happy to see Amazon / Flipkart and most other digital vouchers are also available for redemption.
I would any-day take e-vouchers instead of stmt. credit as they're almost cash equivalent and it also keeps the statement clean. So this is a welcoming move, assuming we've Amazon/Flipkart vouchers all the time.
As of writing this article we do have Amazon vouchers available for redemption and I've redeemed one as well. Redemption experience is super smooth.
Memberships
Complimentary annual memberships with various brands as below:
Dining: Zomato Pro (Domestic, All India), Eazydiner Prime
Lifestyle: Amazon Prime, Discovery Plus, Lenskart Gold, BBStar (6 months)
I'm not seeing a significant value out of the memberships except Amazon Prime and Zomato Pro (for metro cities). I wonder how they came up with Discovery Plus though – anyone here using it? – If so what's special there?!
The biggest problem however is that these benefits are only for first year and that too you need to redeem them in a short time.
Airport Lounge Access
| Service | Complimentary Limits | Serviced by |
| --- | --- | --- |
| Domestic Lounges | 4 / Quarter | Visa / Mastercard |
| International Lounges | Unlimited | Dreamfolks |
| Airport Spa (Domestic) | 1 / Quarter | Dreamfolks |
While unlimited international lounge access sounds generous, you know the pandemic math behind it. 😀
The Dreamfolks membership is a digital only card that can be used for international lounge access, spa and many other airport services (paid). To avail the complimentary lounge visits & spa's you've to generate a QR code from AURUM Dashboard.
Update: Now physical Dreamfolks Cards are also being issued.
Its good to see the inclusion of airport spa benefit but I hope they're not targeting just the solo travellers. I mean 1/qtr is too low, at-least 2/qtr or maybe 4/yr would have been nice.
But never mind, spa's at Indian airports are not worth it from my experience. I would highly prefer to have airport meet & greet (or) airport transfer services instead.
Apart from that, fortunately the international lounge access membership doesn't expire in 1Yr like those that comes with SBI Prime or SBI Elite.
Golf
Complimentary Games: 4 / calendar year
Complimentary Lessons: 12 / calendar year
The Golf benefit on SBI Aurum credit card is slightly superior than most other banks in certain aspect, as long as you're playing within the above limits.
However, the downside is that its not unlimited, unlike in other cards like HDFC Infinia.
Movie Benefit
Bookmyshow Offer: 4 free movie tickets a month (1K INR value)
Max. Cap: Rs.250/ticket
T&C: Max. 2 tickets can be booked at a time, with a cooling period of 24 hrs for next booking.
This is a very good benefit borrowed from SBI Elite. As you might know, this is not a Buy 1 Get 1 offer, but you get the ticket completely free + pay the convenience fee.
I used to avail these tickets when I used to hold SBI Signature credit card (now SBI Elite) and it works flawlessly.
But remember that you're actually saving only 250 INR per booking as you can anyway get Buy 1 Get 1 benefit with other cards or through Visa. Though, you're not limited to any Quota with Aurum, which is convenient for most.
Flight Cancellation Benefit
| | |
| --- | --- |
| Ticket Type | Coverage |
| Refundable Ticket | Rs.3,500/ticket |
| Non-Refundable Ticket | Rs.3,000/ticket |
Above benefit can be availed upto twice a year and the refund amount excludes taxes & convenience fees on the flight ticket.
This is a good benefit which I found by exploring the catalog. It is basically part of the Air accident insurance that comes with the card, but not to worry, they're not expecting the flight to crash to avail this benefit.
Dedicated Services
Secretarial Access: Let your secretary (or) personal assistant access the a/c on your behalf.
Concierge: Dedicated lifestyle concierge service for AURUM cardholders.
Good to see these small yet useful features like secretarial access on AURUM. FYI: Secretarial access is also available on HDFC Infinia and all Amex cards.
Concierge Services are lot better than I expected. After testing them with couple of requests, I would say that AURUM concierge services are as good as Amex Plat Concierge services, to an extent.
Well, in-fact they are lot better when it comes to email response speed & follow-up's.
AURUM Dashbaord

SBICard has developed a beautiful dashboard for AURUM cardholders that lists all the benefits of the card, along with how to avail them. You can navigate to this dedicated Aurum dashboard from Card summary page on SBICard net-banking or even directly.
Amex also has a similar one page dashboard for activating Amex Plat Charge benefits but this one is pretty much like another website, and also shows you personalised details of your a/c.
For ex, it will show the Dreamfolks membership details once you're enrolled. (Note: This section is not visible on MacOS Safari, for now)
Overall, this is a wonderful feature that lets you have a better idea of the card, all in one place.
Maximising AURUM
Power User: If you use all the benefits the card offers, you will net at 4.7% reward rate, assuming you avail movie benefit every month and spend average ~1L a month for a year to avail monthly milestone benefit.
Moderate User: But not all are power users, so practically speaking you should at least get 3% reward rate, assuming you use movie benefit (for 5 times a year) and spend over 1L a month (thrice a year).
Ideally ~3% is very much doable for most who might get this card, so this goes pretty close to HDFC Infinia (upto 12L spend) when it comes to reward rate.
Note that I haven't put a value on other membership benefits here. So that's an added advantage if you would want to find the total value you may get out of it.
Eligibility
Income: >30 Lakhs p.a.
Existing other bank Credit Card Limit: >5 Lakhs
While the above eligibility criteria is not "strict" per se, it largely revolves around the above numbers.
How to Apply?
Here are some of the ways to get this "invite only" credit card:
Applying Online: Look out for an "upgrade" offer on SBICard website and app. You may also "show interest" via net-banking on Aurum website.
Applying Offline: Metro cities are expected to have an AURUM RM to handle AURUM applications. You can connect with offline SBICard team to apply for one, through Aurum RM.
If you wish to check the eligibility online, navigate to the SBICard Net banking: Click on Benefits > Card upgrade. If eligible, it will show you a banner like this:

I was eligible for the AURUM credit card upgrade (from Prime) during the initial roll-out and I've applied and received the card. Check out my hands on experience with SBICard Aurum.
You "may" still upgrade offline without the Aurum RM as one of the reader said so but it may-not be easy to know a person know the existence of this card.
Also it seems SBICard doesn't want to promote it to the mass segment as we cannot see the card listed on their website among other cards.
Is it worth an Upgrade?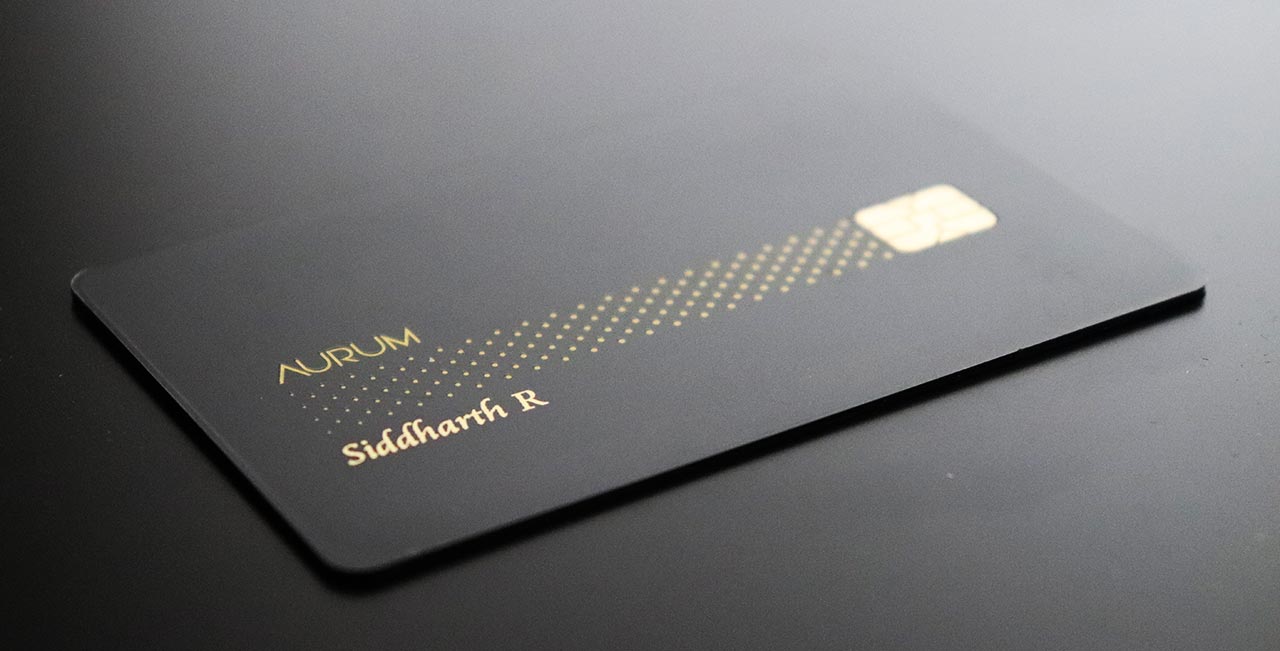 SBICard AURUM could potentially give a lot of value to the cardholders, as good as ~4.7% if used well. But extracting that value is not easy unless you use it as a primary card!
Thumb rule to follow is: If a card makes you to think too much to juice value out of it, then it's not worth it.
If you're holding multiple cards like HDFC Infinia, Amex Platinum or Stan. C Ultimate then AURUM may not look attractive, but if you don't hold any of these and need a super premium credit card then AURUM is definitely the card for you.
Ideally all those who're holding SBI Elite with spends (>12L) may go for AURUM as you get enhanced value along with annual fee waiver.
Bottomline
It's quite surprising to see that SBICard has put in a lot of effort in building AURUM as seen through the attention to finer details to improve cardholder "convenience".
But yeah, it would have been a killer product if it had come with better regular/base rewards, as 1% or even 2.5% is bit low on a super premium product without a major differentiating factor.
Overall, it's a good card but could have been better when compared to the "rewarding competition". However there is no harm in taking AURUM for an year, just for an experience – just like what I've done!
What's your thoughts on this new super premium credit card by SBICard? Feel free to share your thoughts in the comments below.