Online Travel Agents providing Flight/ Hotel/ Tour package services are growing by day and there is hardly anything that separates wheat from the chaff. This results in kind of no loyalty to any particular platform. Hence limited growth prospects for the companies, as offerings are mostly similar (Just like term insurance plans by several life insurance organizations).
Despite being an early entrant in Indian market, Makemytrip must have experienced that loyal customers are hard to come by (as new entrants provide more discounts & lucrative deals to capture market share).
Then came the innovative entry of MMTBLACK membership (invitation only) by makemytrip in August 2017. Within 3 months of launch they were able to get 73K registrations. What's it all about? Here's everything you need to know.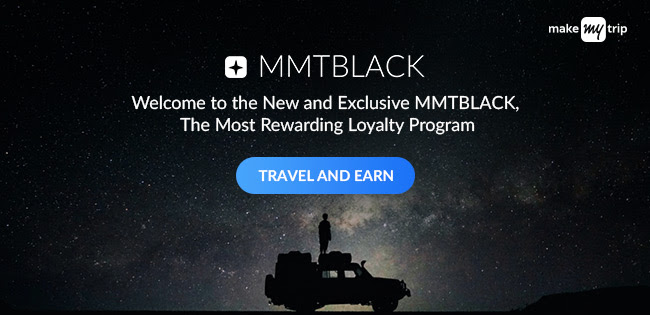 My Journey
I received complementary MMTBLACK membership invitation via email courtesy YesBank's Yes First savings account in March 2018. Once registered it remains active for lifetime. Only difference is that spend counter gets reset every year for claiming the benefits associated with it.
MMTBLACK Benefits
With every completed booking of Flights/ Hotels, the spend counter starts and shows if any milestone is reached
Milestones are the points at which you get MyCash in your makemytrip account
Each milestone rewards you with specific MyCash amount
MyCash can be used without restriction on makemytrip for Flight/ Hotel bookings
MyCash can also be used for partner subscriptions & vouchers on makemytrip, the option for which varies dynamically
MyCash earned through MMTBLACK has a validity of 3 months only (wish they could have kept this at 12 months instead)
A milestone is triggered at following spends—
Milestone I: Spend 20K / Get 500 MyCash
Milestone II: Spend 50K / Get additional 2000 MyCash
Milestone III: Spend 200K / Get additional 7500 MyCash
Milestone IV: Spend 500K / Get additional 15000 MyCash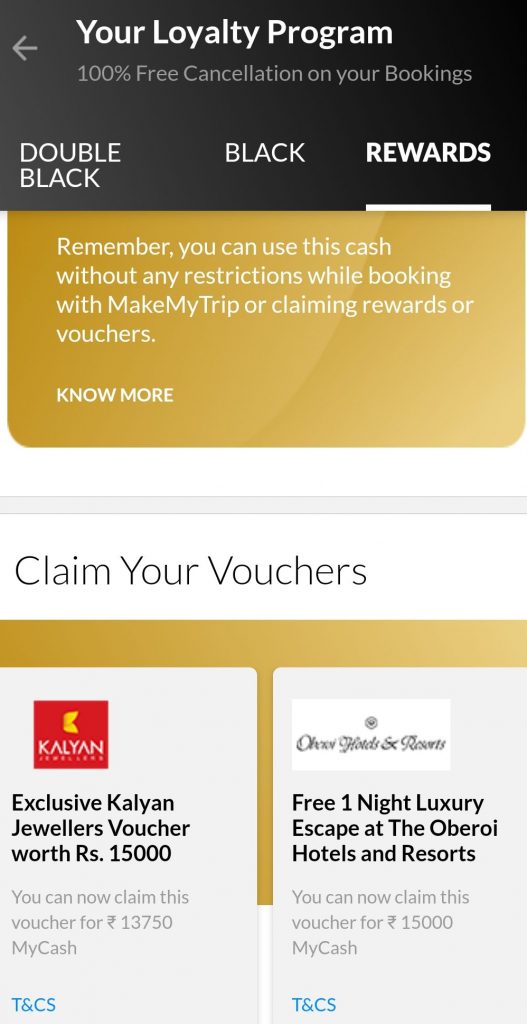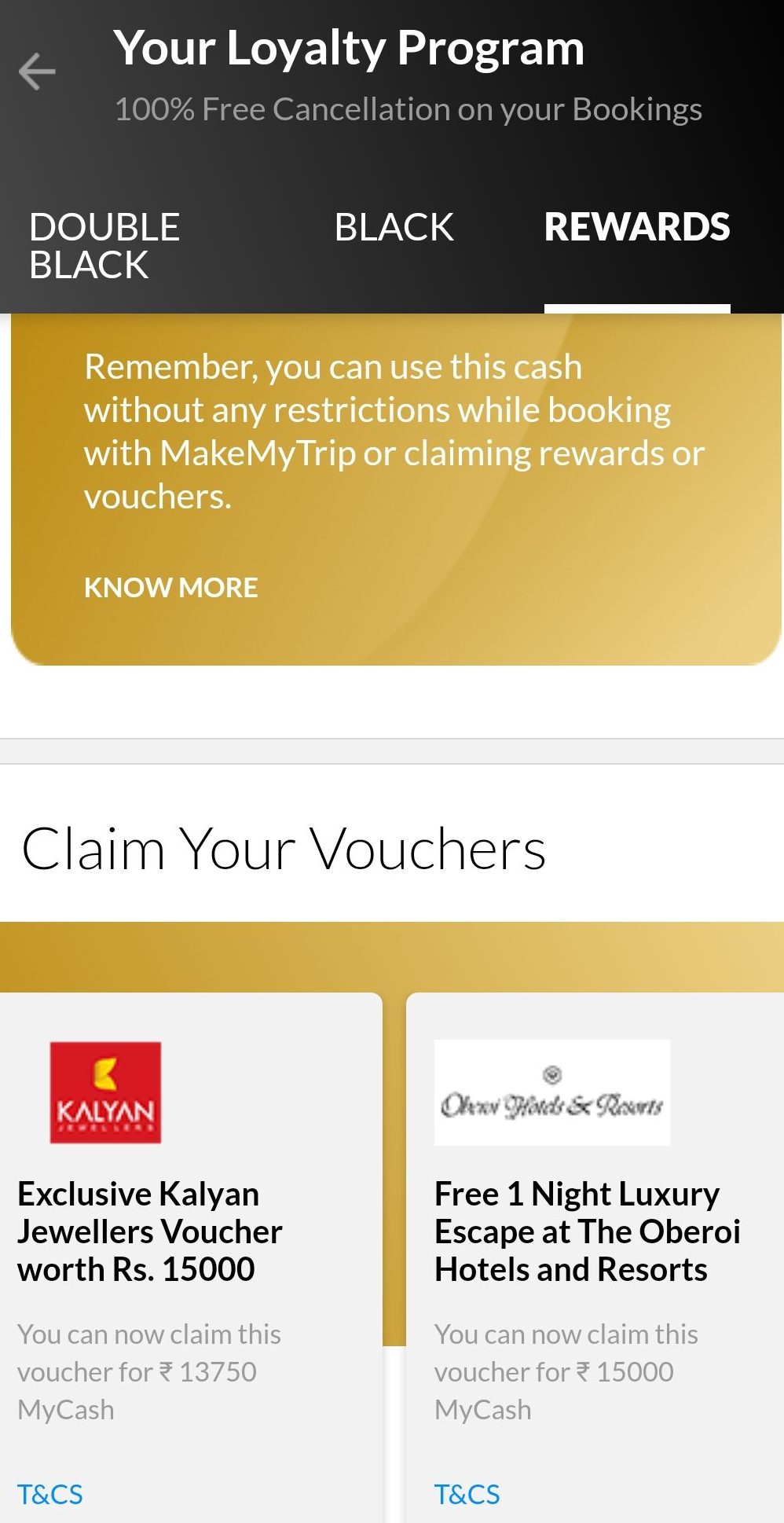 As can be seen from the illustration above, MMTBLACK is best rewarding for use upto Rs.5 Lakh spends per year, if you can spend that much. Besides you also get specially curated travel deals almost every other day through makemytrip app notification.
#Pro tip: If you are able to reach 15000 MyCash, the best use as per me would be to book tax inclusive unforgettable one night stay (except blackout days) at the ultra luxurious "THE OBEROI UDAIVILAS" at Udaipur, Rajasthan. One night stay at this Oberoi group property costs upwards of 25K anyday.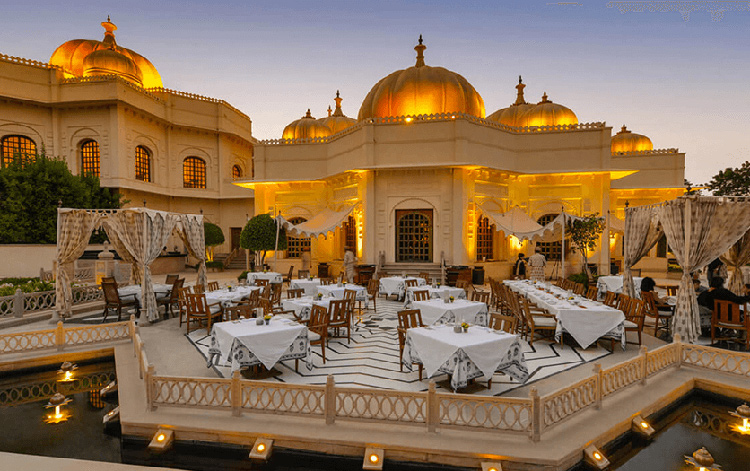 Conclusion
As it's a win-win situation for Makemytrip, most probably everyone holding a premium credit card reading this review would have got the invitation of MMTBLACK membership already.
However if you haven't received the invitation yet and have a big travel plan coming in near future, there is a sure shot way of getting this membership. Please go through the review of MakeMyTrip ICICI Bank Signature Credit Card here.
If you already own HDFC bank Diners Club Black credit card, the 10X deal for select hotels on makemytrip gets sweetened further with MMTBLACK thereby making it a killer combo.
Are you already a MMTBLACK member? Feel free to share your thoughts in the comments below.