American Express not only sends upgrade offers on their platinum charge card but these days they're also pretty much aggressive in sending out targeted upgrade offers to other Amex cardholders. Here's an offer sent to one of the Amex Membership Rewards (MRCC) cardholder.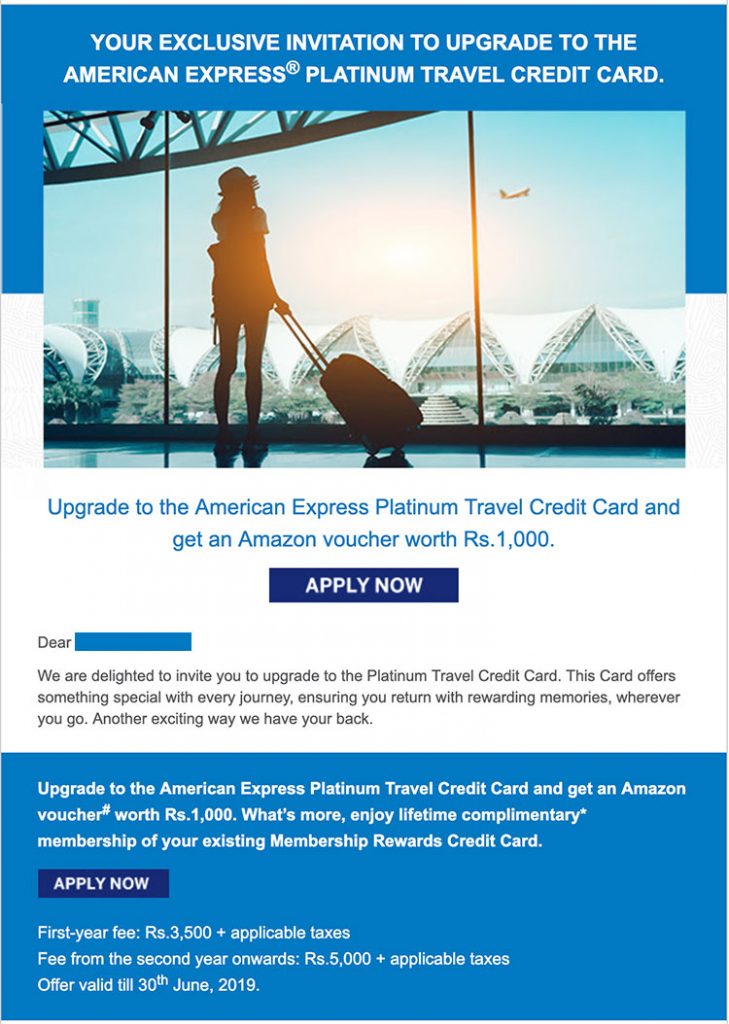 Offer: Upgrade to Amex Platinum travel Card (Paid) + Get Rs.1,000 Amazon Voucher + Keep the existing MRCC Card (FREE)
Note that as long as American Express is concerned, there is no concept of "upgrade". Even if it does for charge cards, they're totally different accounts and they don't transfer your dues.
So with credit cards, they just issue a new card which is totally a new Ac. But Amex calls it an "upgrade" in this to sound relevant to customers. Moreover, "upgrade" is a nice marketing term too.
Is it worth it?
Well, as of now Amex platinum travel card is free for a limited period, so it may not make sense for many.
But if you're a person limited by spends and love travel benefits, it makes sense, as you can get two cards and need to care about renewal charges only on one A/c.
By having two cards, you also have an advantage of enjoying benefits on some merchant offers like the zomato offer.
Bottomline
It's interesting to see how American Express is doing cross selling to existing customers. With the kind of merchant offers and user acquisition efforts that Amex is putting in this year, I won't be surprised if Amex grew by 50% in card accounts during 2018-19. Let's see how it goes in the upcoming quarters.
Have you received these kind of upgrade offers on your account? Feel free to share your experiences in the comments below.