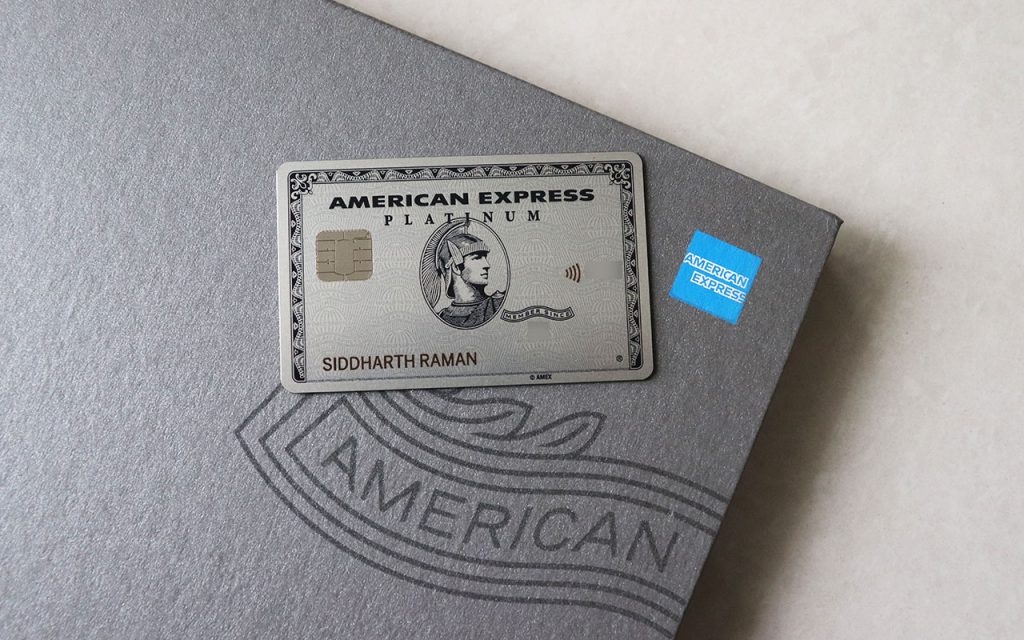 I recently applied for the American Express Platinum charge card and here's the quick application & unboxing experience.
Application Process
I applied for an upgrade from Gold Charge card to Amex Platinum simply by filling a form. This is similar to the upgrade offer sent to Plat travel cards recently.
It took total 11 days for processing the application and to receive the card in hand.
Actually it took only 5 days from the date of CIBIL enquiry to card in hand, which is usual for existing Amex cardholders.
Shipment
Just incase if you don't know, the metal is now made within India itself and no longer shipped from Singapore, as it used to be the case for most of 2019.
So you can now receive he card faster. If you're in Delhi it would be even faster to get, as most Amex cards are shipped from Noida/Gurugram.
Note: If you did not receive the shipment details post 3 days of CIBIL enquiry, feel free to call support.
Unboxing
American Express has re-designed the overall credit card packaging by late 2020. If you haven't seen the old design, do check out my previous supplementary card package that I received in 2019.
Ideally they changed the colour of the cover from mild to dark grey. This I like and its like saying "We're taking Platinum closer to Black" 🙂
Here are some cover pics: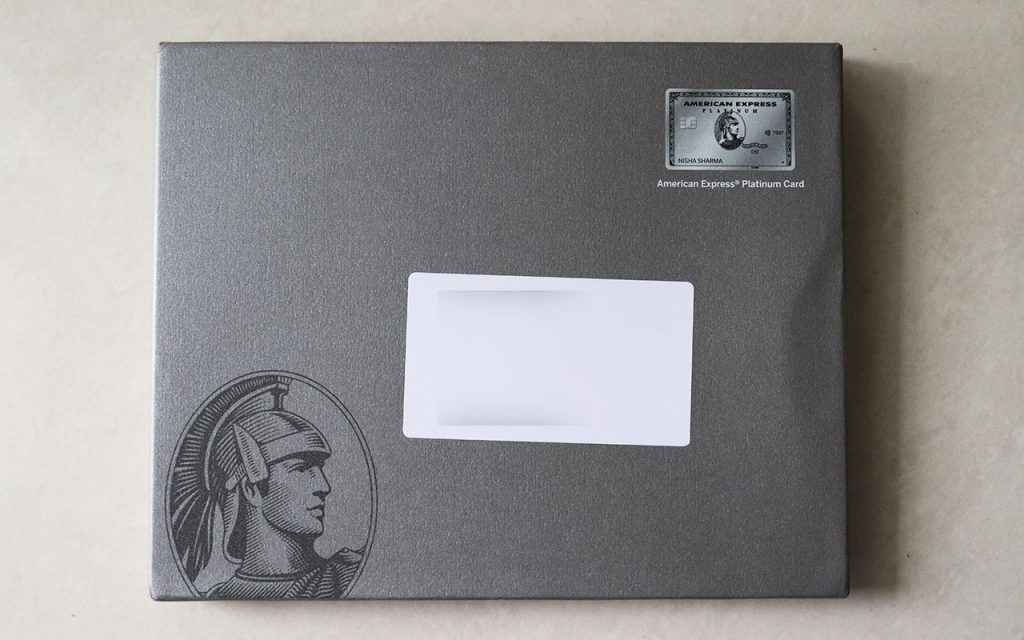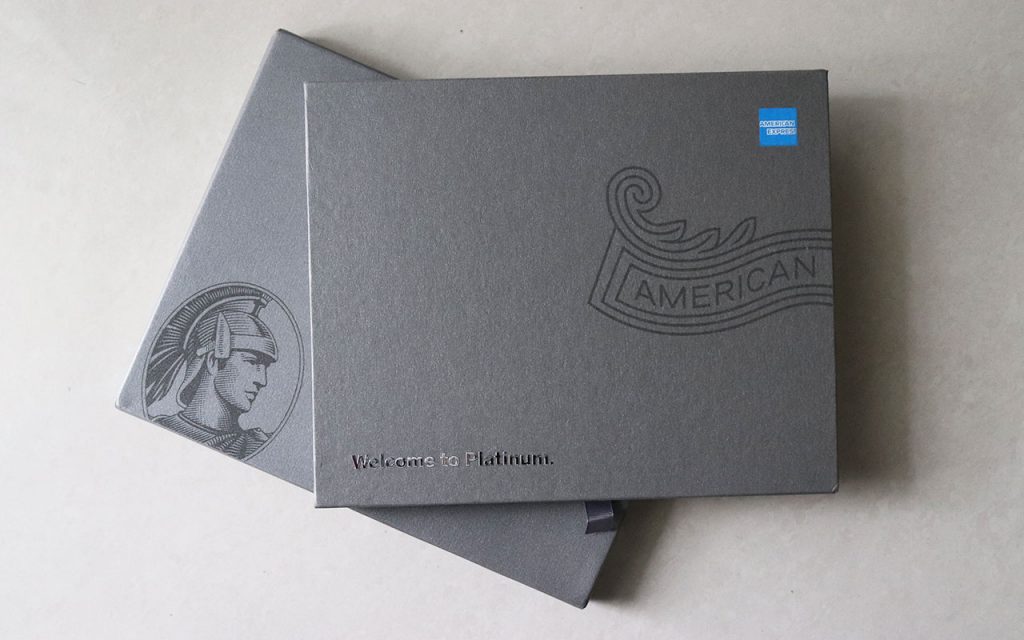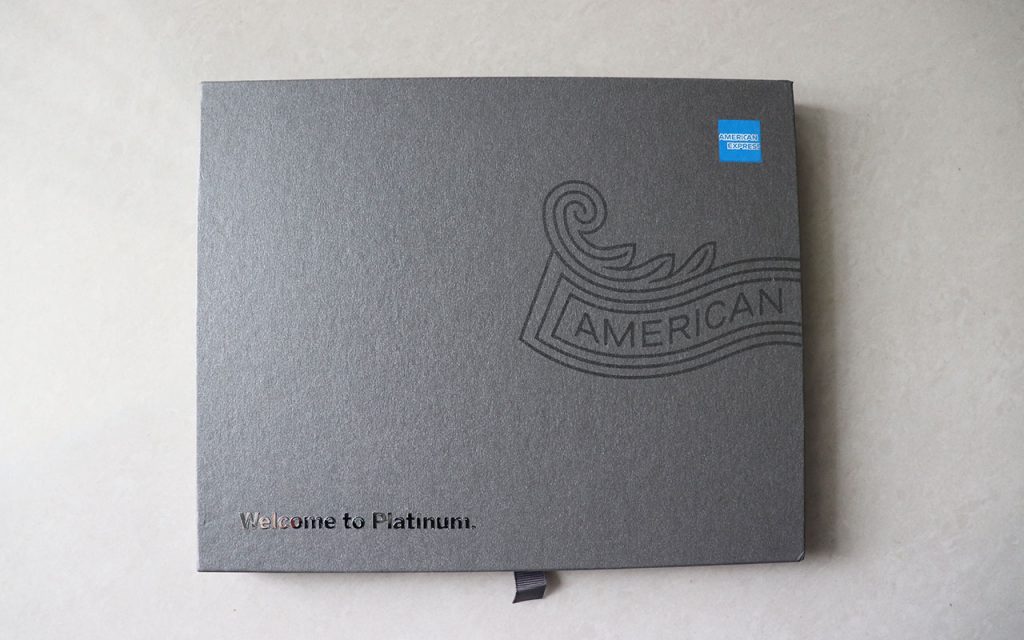 And as soon as you open the box, here's the first look of the card and everything inside the box: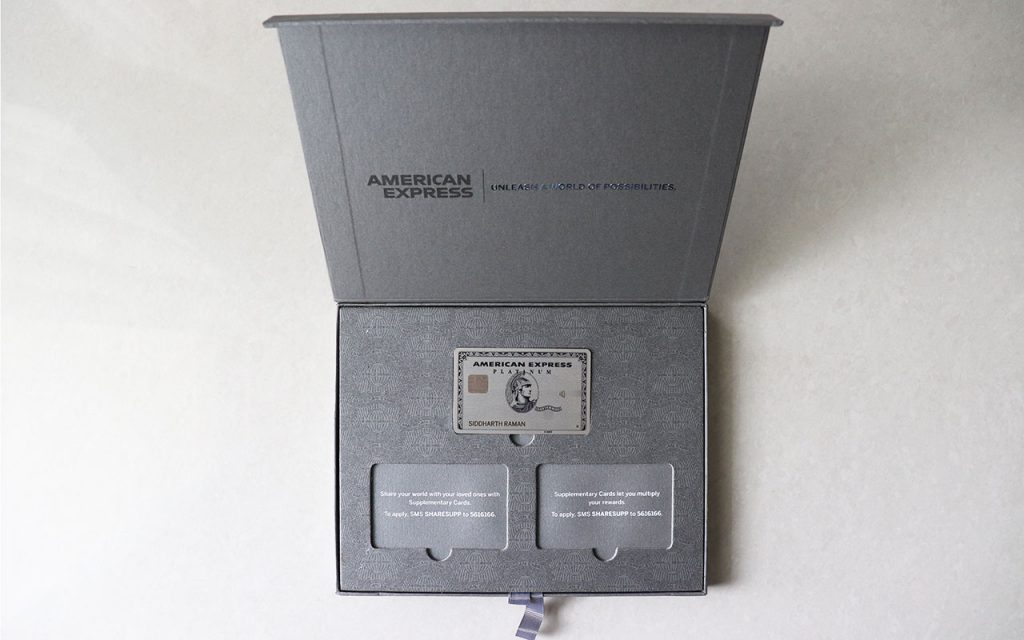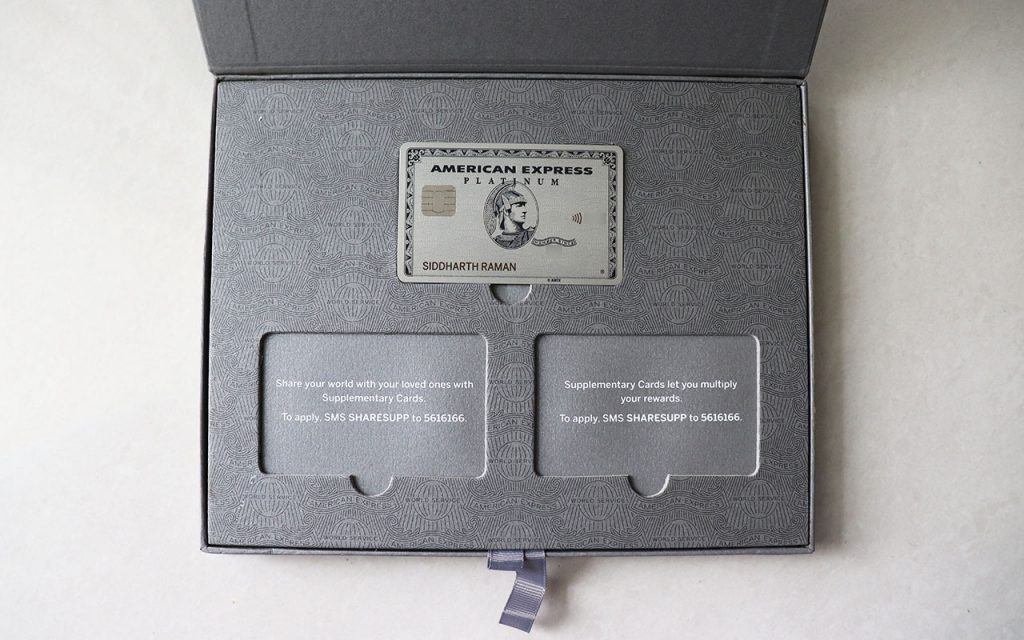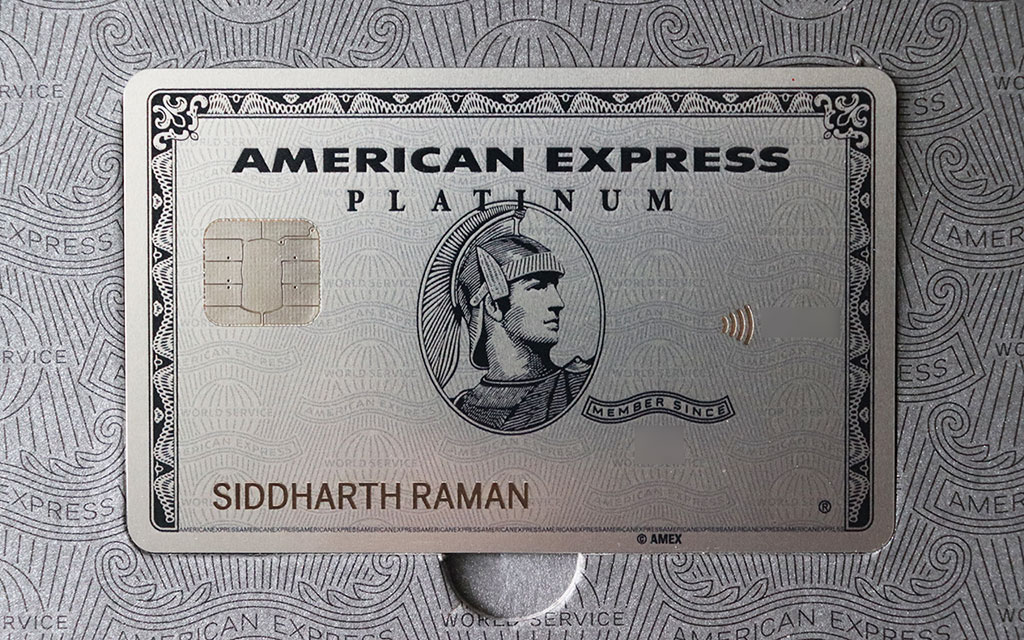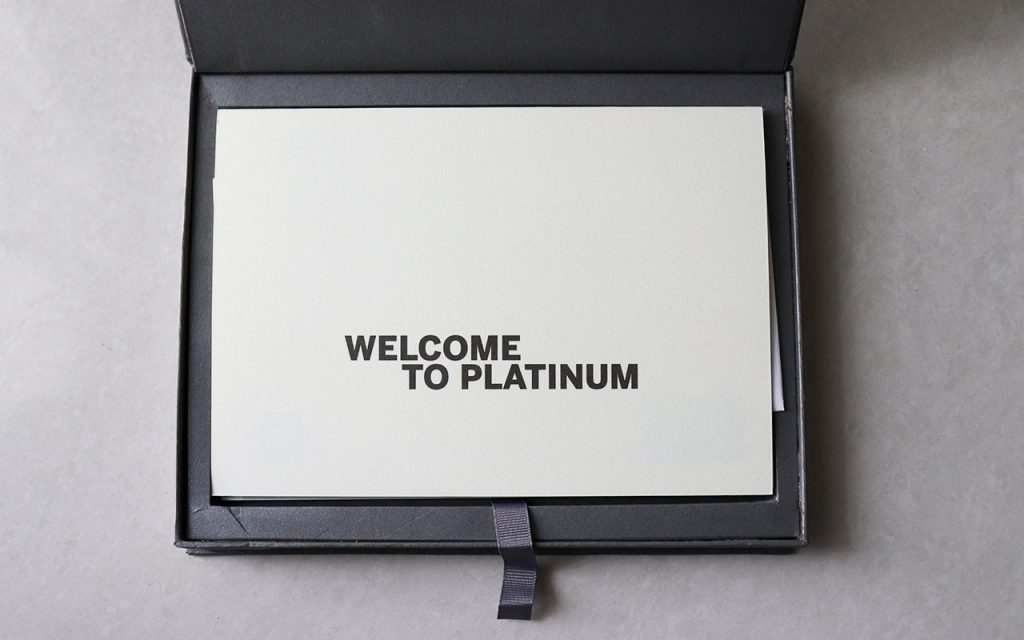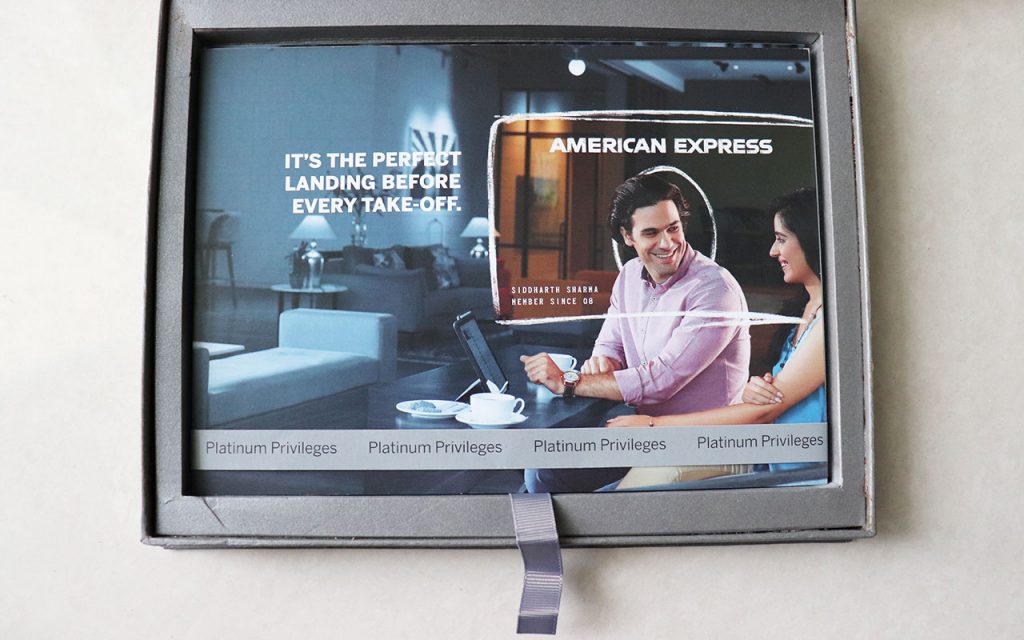 The cardholder no more comes in wooden housing as it used to be in 2019 (for primary cards). Rather its housed in a strong cardboard and I couldn't take the card out of it easily.
So I had to use some tools and put heavy pressure to pull the card out of the box. Felt like I've dug a metal from earth 😀
While its not that bad, it would be nice if they had designed it better. Further, I felt the first impression was ruined by the empty slots reserved for Supp. cards.
Yes, it would have been nice if I had applied Supp. cards along with the primary card. But as I haven't applied one, maybe they could have had a different design for primary card only shipments.
Or maybe they could house the supplementary cards below the primary card inside the same box. Either way, I'm not impressed with this!
In next level you see the paper work and catalog. The features and benefits booklet was colourful and right to the point. Its actually a leaflet stacked one above the other and wrapped together. Nice idea!
The Card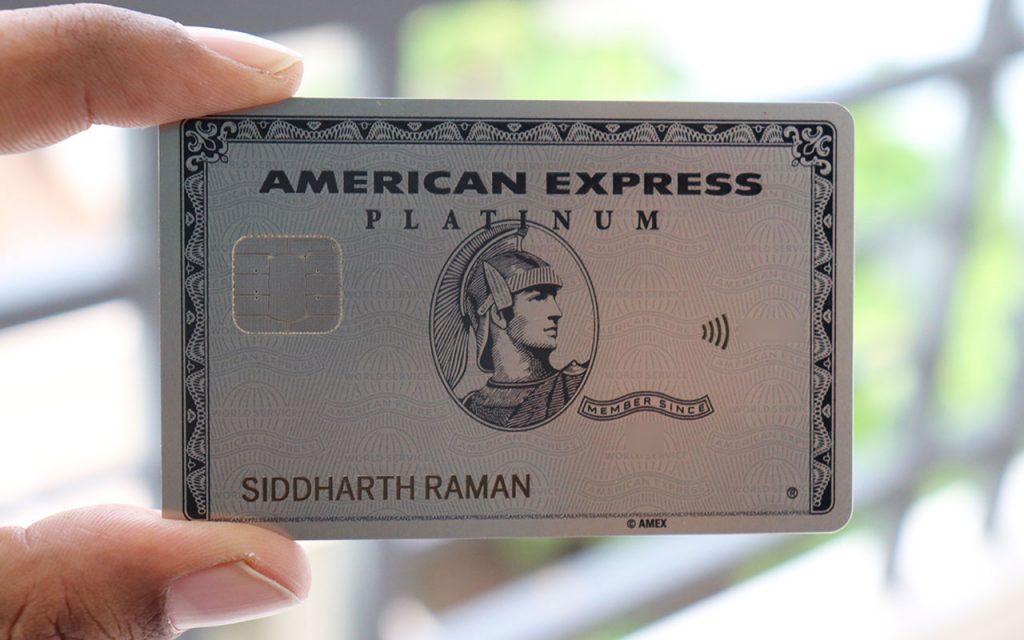 While the card looks exactly the same as the one shipped from Singapore, there is something else that's interesting.
The Card Number (some digits), CVV, CSC all were fancy numbers in my case. Meaning, they follow an easily readable format like XXYY or XYX or XYZ sort.
I'm not sure if it happens randomly for some Plat charge a/c's (or) just that I got lucky. One of the Amex support agent is sure that I got lucky though.
Either way, I totally love it because even with my not-so-great memory I memorised the card details from day #1.
Speaking about the fancy numbers, this happened to me even with Club Vistara ID that got generated with Axis Vistara Infinite card.
Not sure whether super premium cards are treated specially to create good looking account/membership numbers, but I'm glad I have them. Do you have them too?
Priority Pass
Just incase if you're wondering about the Priority Pass, it takes another 3-4 weeks to receive them, as it needs to be shipped directly from HongKong.
However, you may still activate the digital Priority Pass if required, even before you receive the Priority Pass in hand.
Final Thoughts
Overall the entire process from application to card in hand was smooth and all happens in 11 days, which is great.
While the outer packaging looks good, I feel they could do something better when it comes to the box interiors, not because its bad but because it doesn't have a WOW factor, or, maybe its just that I'm expecting too much 😀
That aside, it would be wonderful if they send some surprise gifts along with the card, for ex, even SBI used to send me personalized wallets and card holders as you could see here and here.
So that's the end of Unboxing. Just incase if you're wondering why I got the card during pandemic, feel free to check this article: 3 Reasons Why I applied for Amex Platinum amidst Covid-19
What do you think about the Amex Platinum Packaging? Feel free to share your thoughts in the comments below.