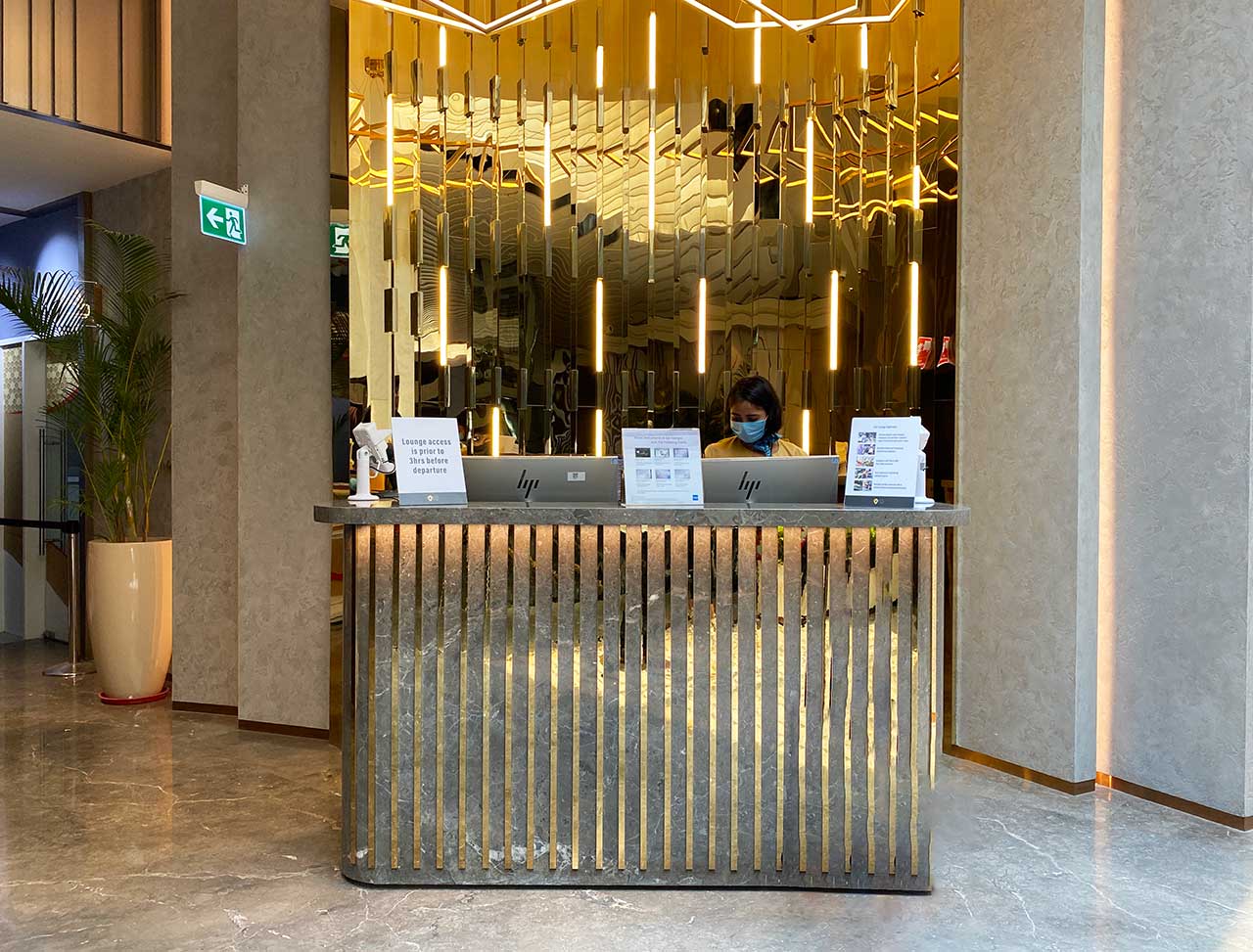 Bangalore had an amazing premium airport lounge previously called Above Ground level Lounge and it was closed for more than a year. Now in its new avatar at the same location we now have the 080 lounge, which basically refers to the STD code of Bangalore.
While we're gonna see the review of 080 lounge at domestic departures, there is also another 080 lounge at the international departures, just like how it used to be before.
Both lounges are now owned by the airport and operated by TFS, the same company that operates most of the lounge & dining outlets across Indian airports.
Overview
| | |
| --- | --- |
| Type | Premium Airport Lounge |
| Card accepted | Amex, Priority Pass & few other cards |
| Location | Follow lounge signboard & take escalator on right |
| Plug points | Yes, in plenty |
| Ambiance | Beautiful interiors & ultra spacious |
| Food options | 5 star buffet grade food |
This is the best airport lounge not only at Bangalore Airport but also in the entire country.
Location
Follow the lounge signboards that will ideally take you to the entrance from where you can either goto the BLR lounge (accessible by most cards) or this 080 lounge (premium) based on the cards you have.
You'll need to take the escalator to proceed to the newly opened premium lounge located one floor (mezzanine floor) above. You may also use the lift located at the same side of the escalator.
Complimentary Access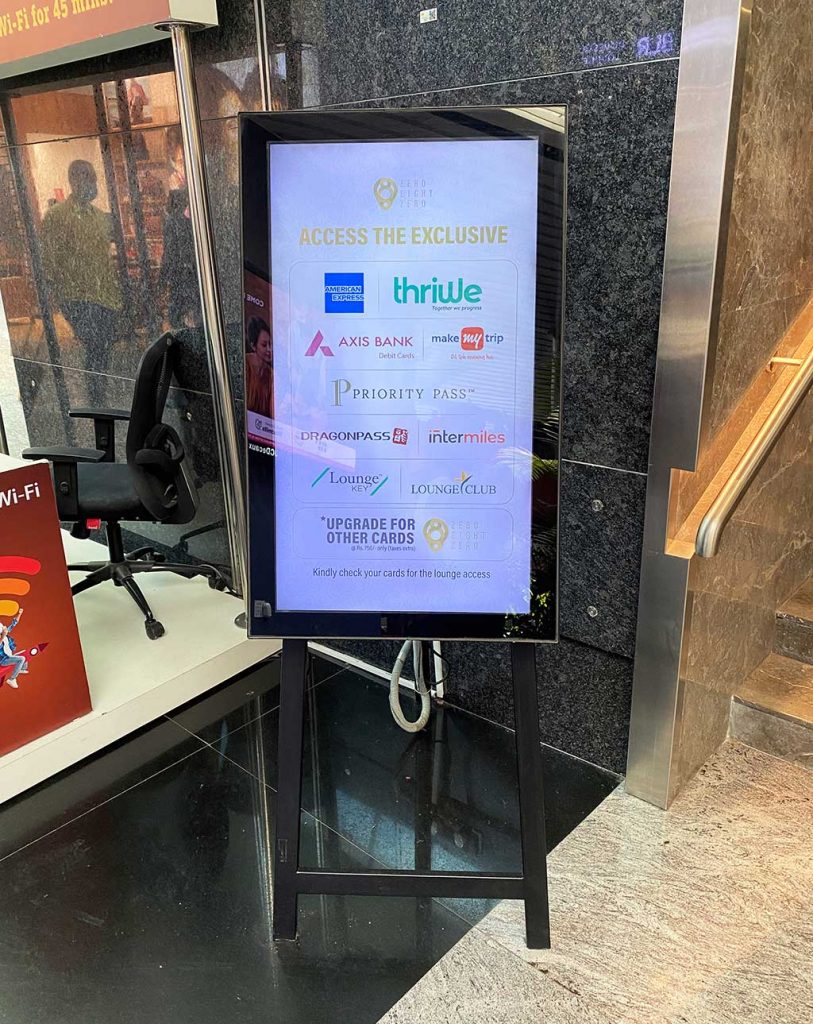 Here are the cards that currently gives complimentary access to the 080 lounge located at domestic departures,
They may add/change anytime in the near future but I guess that will be mostly limited to premium cards.
Caution: Note that almost all Priority Pass cards issued in India are chargeable ($27 per visit) for domestic lounge access, except the PP issued with HDFC Infinia & Citi prestige.
Check-in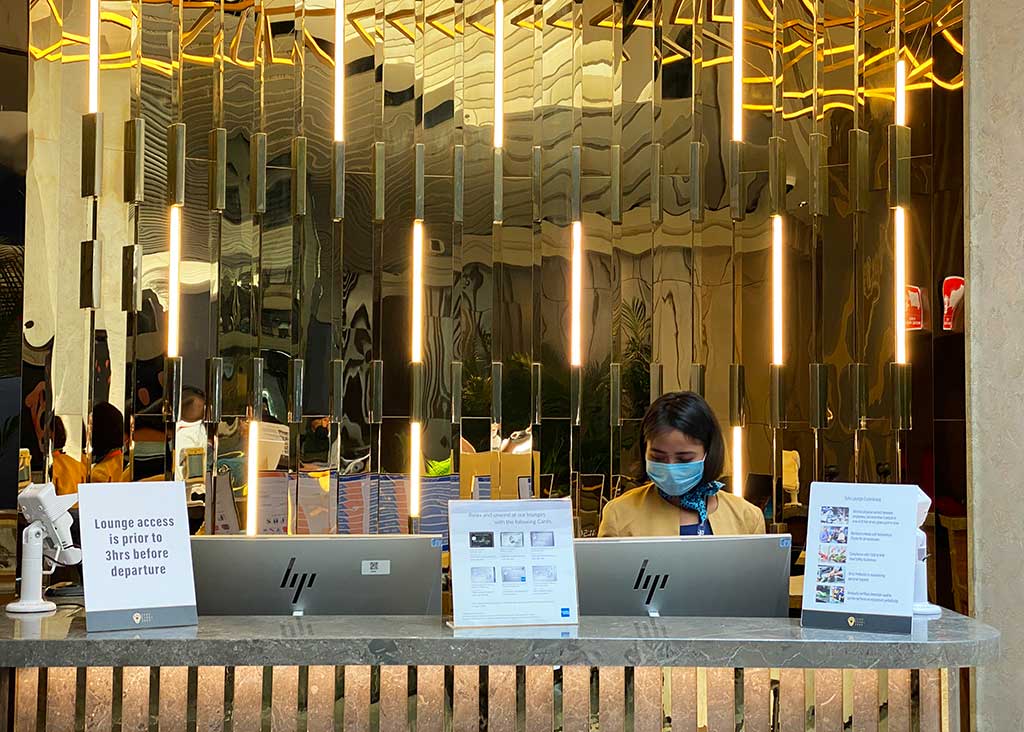 There were two check-in counters and fortunately there was no queue, as expected. I used one of my American Express Credit Cards to get access and was allowed in within a minute or so.
Seating and Interiors
The lounge was massive with so many sections designed thoughtfully to give a modern look.
There is a large dining area next to the buffet spread with quite a lot of dining tables. Here's a quick look,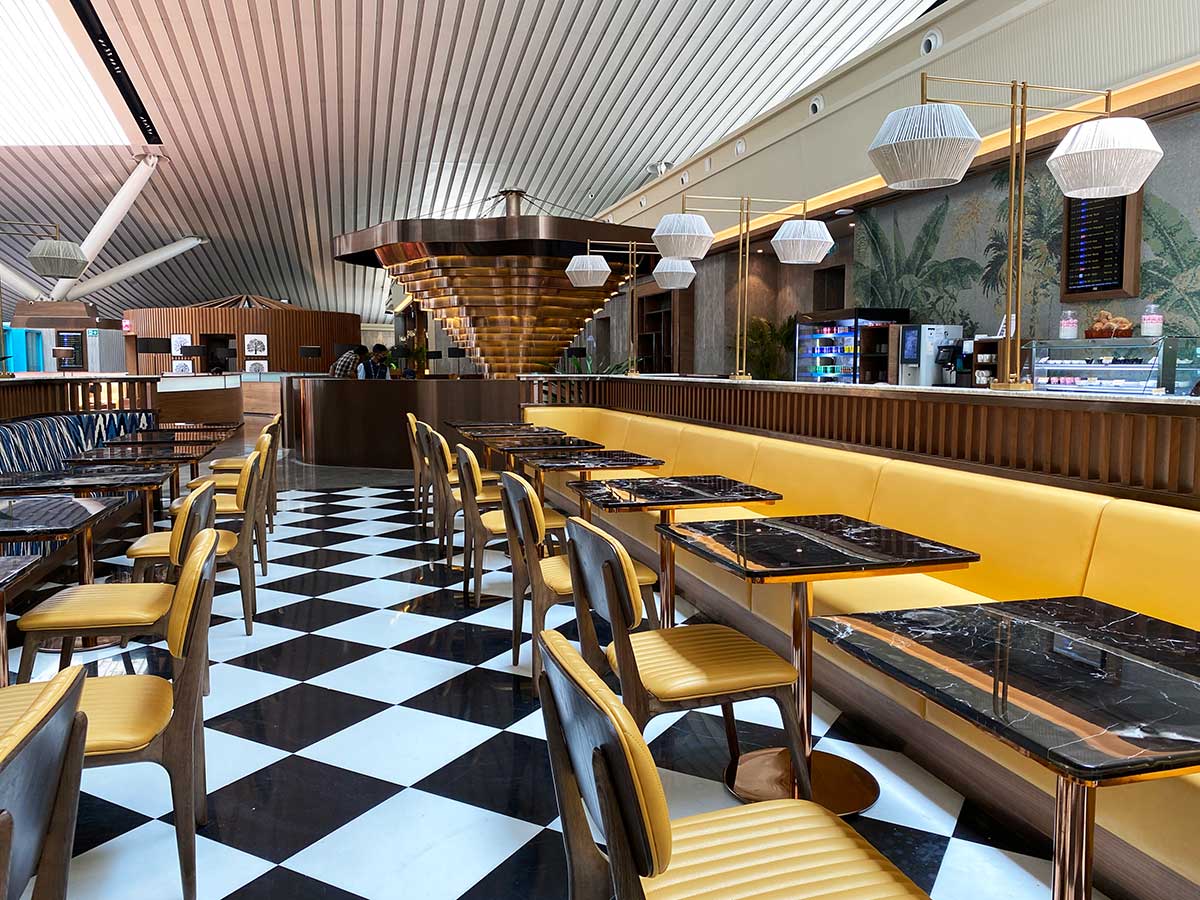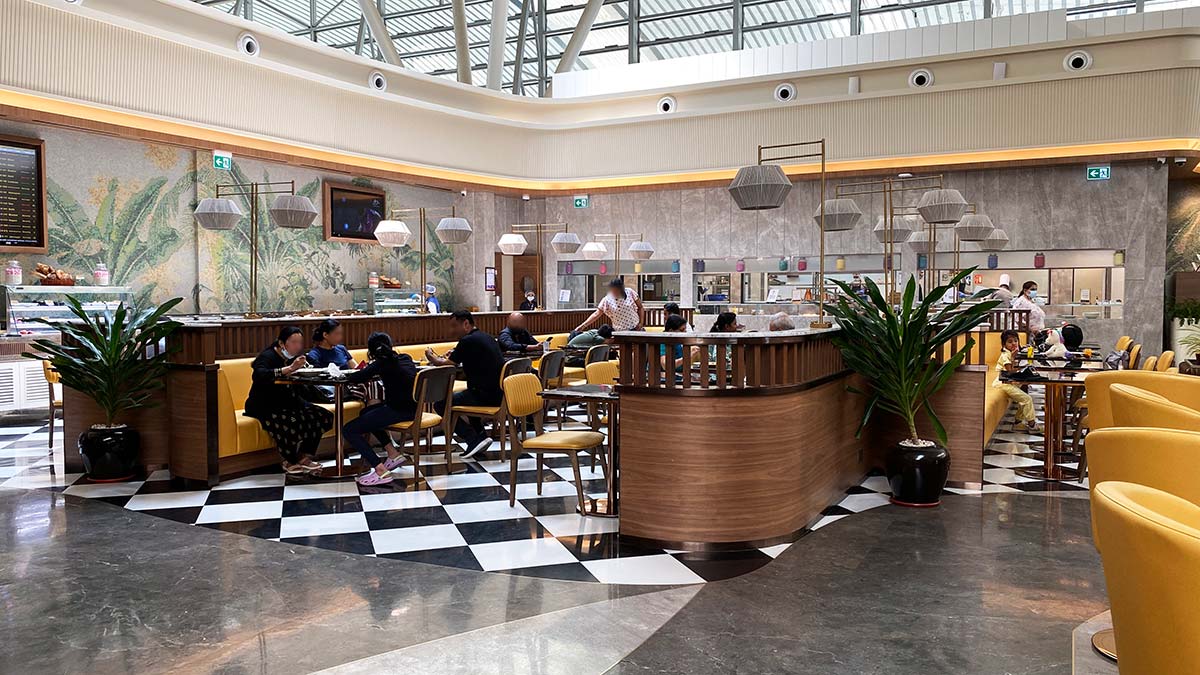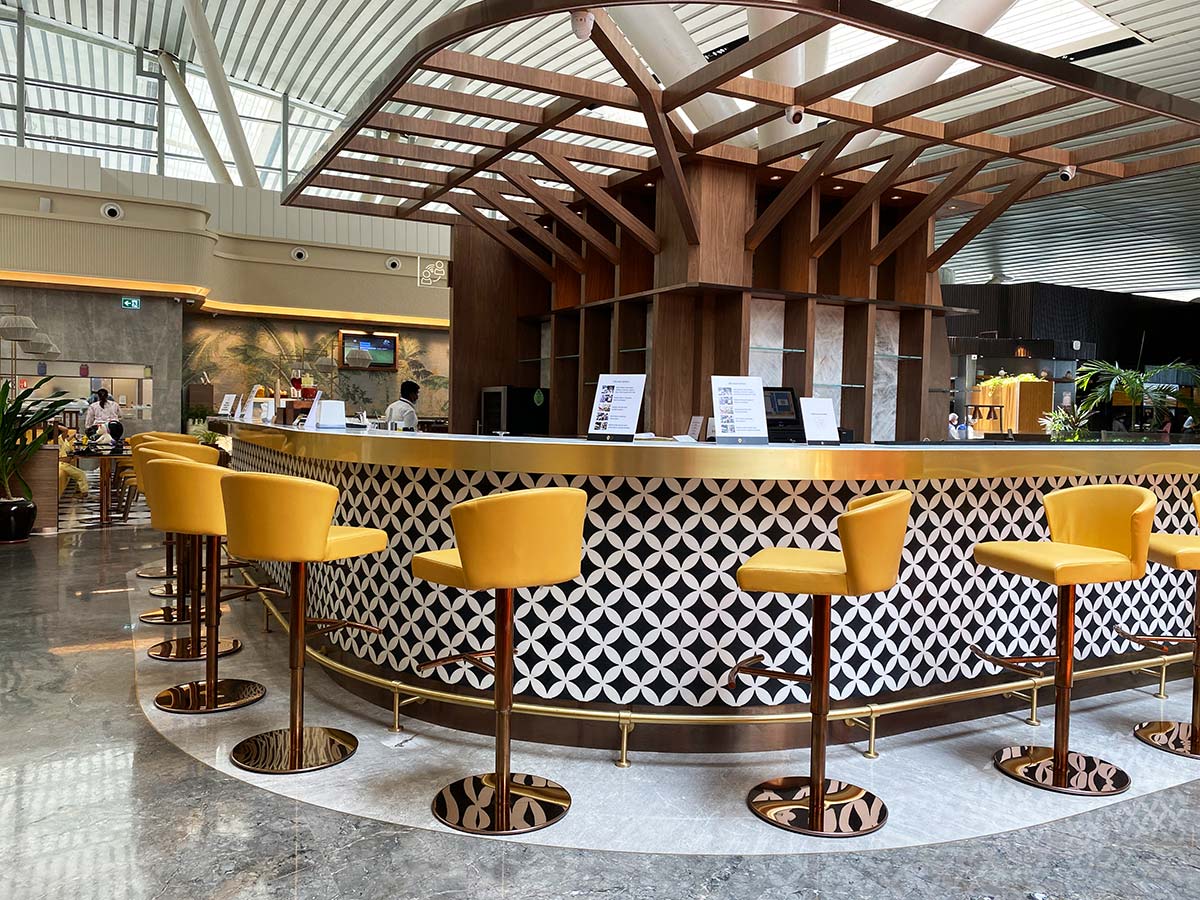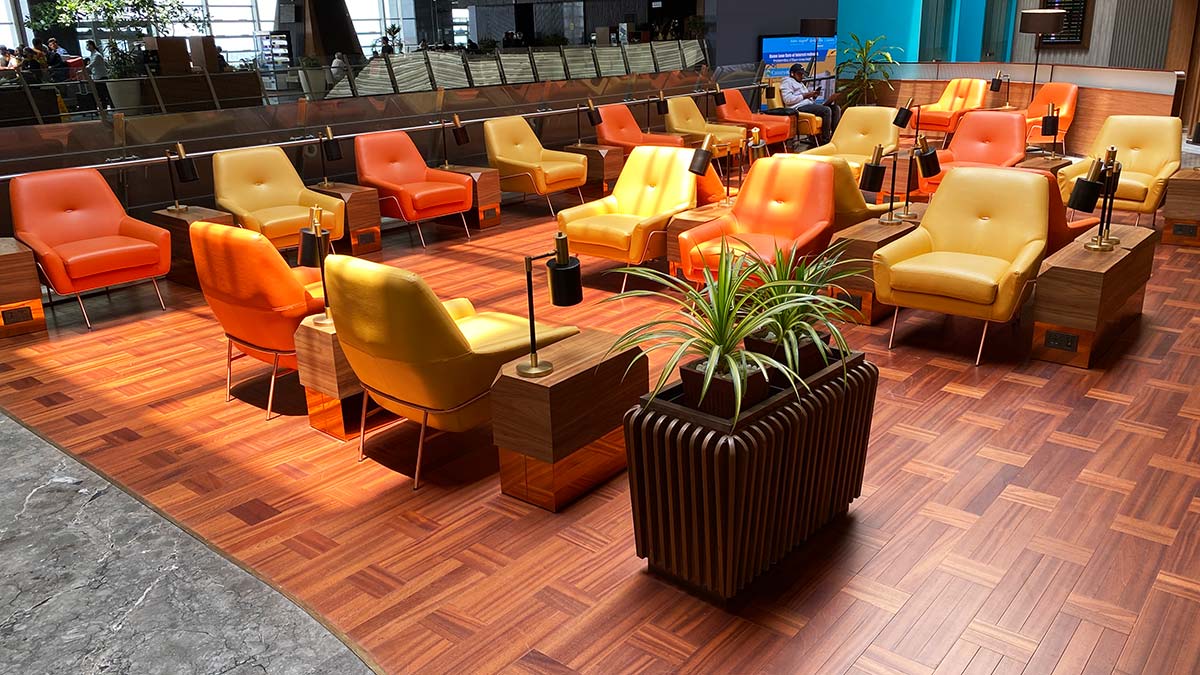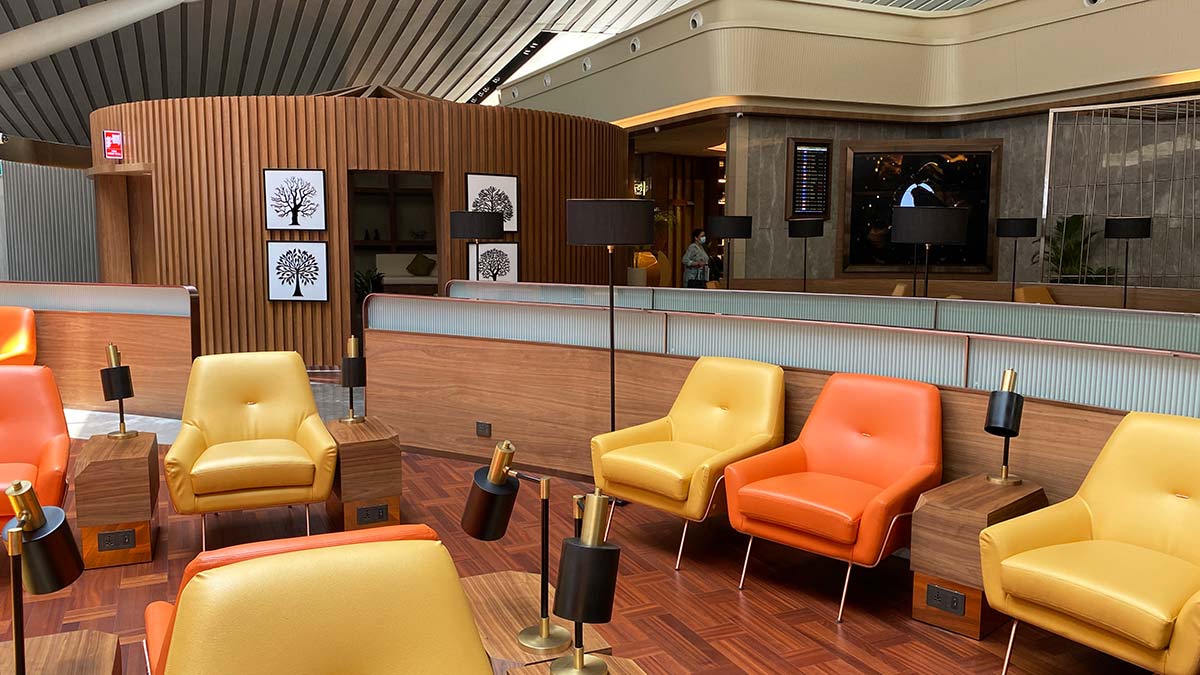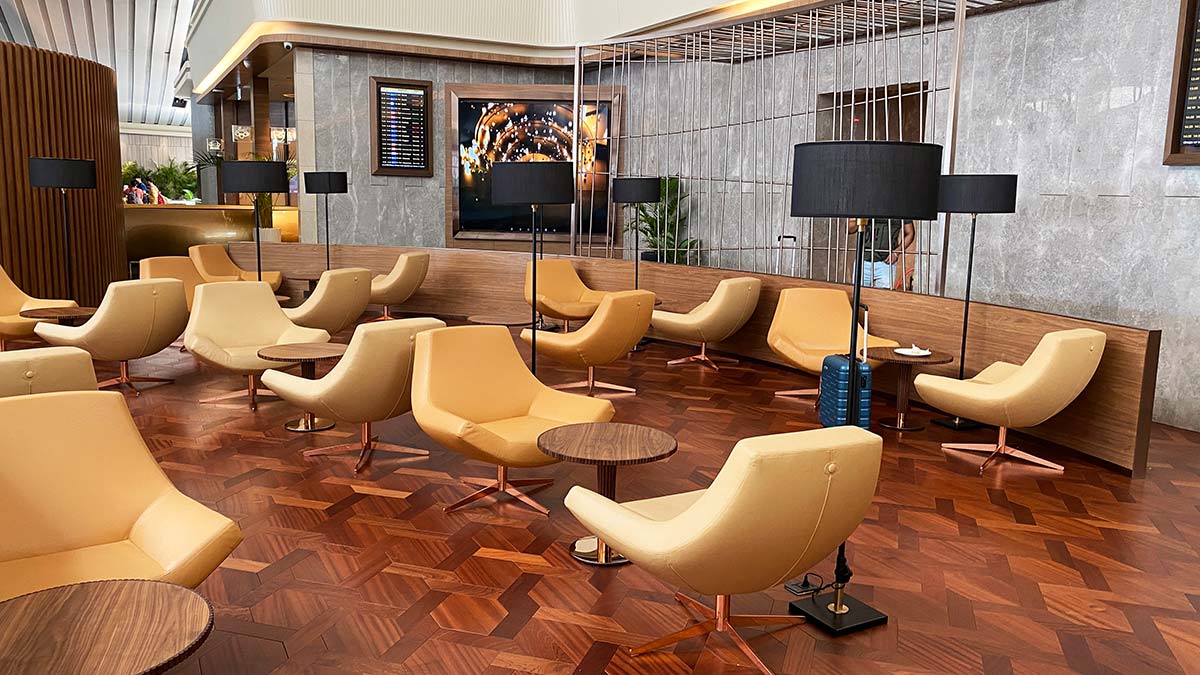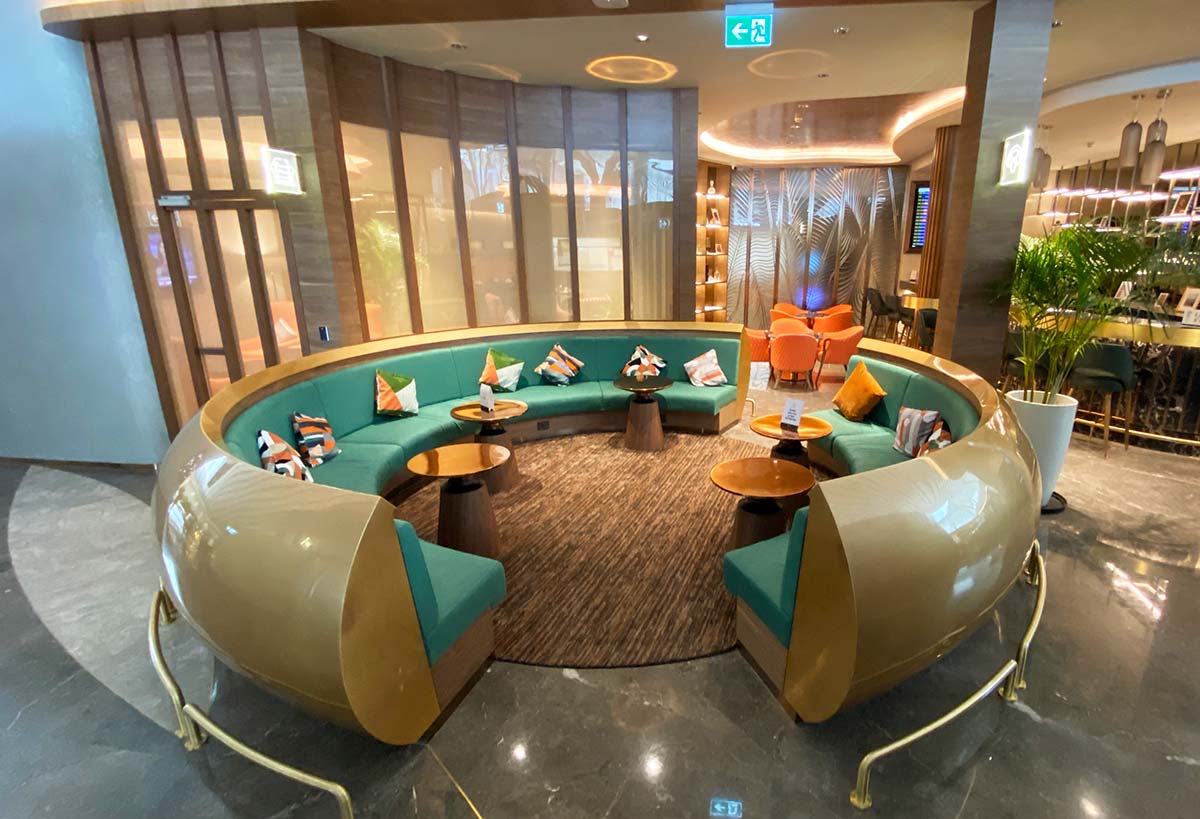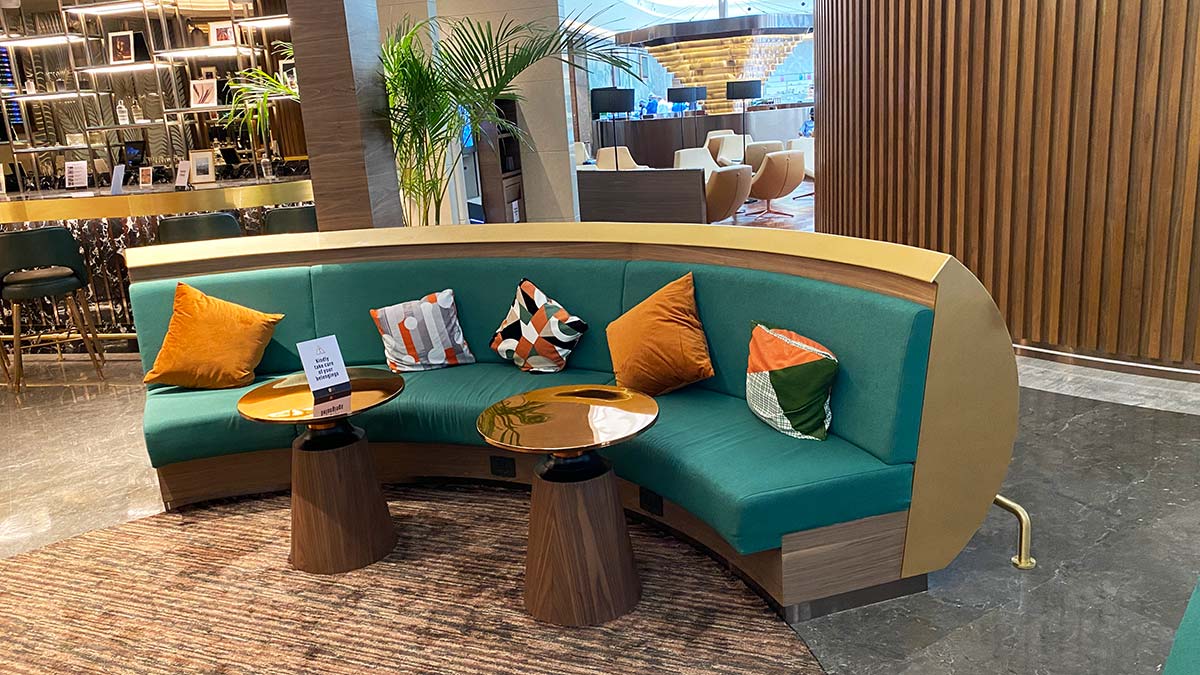 Once you're done with dining, you might want to catch up with some work, so they've designed a separate area with many desks and modern workspaces.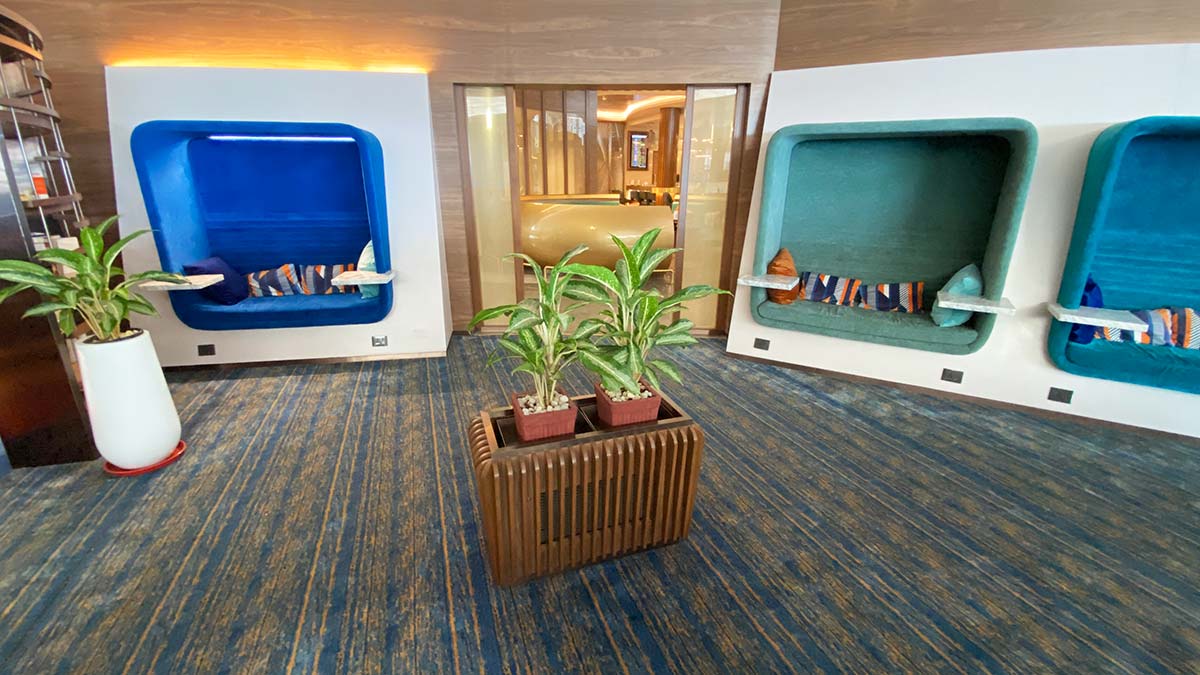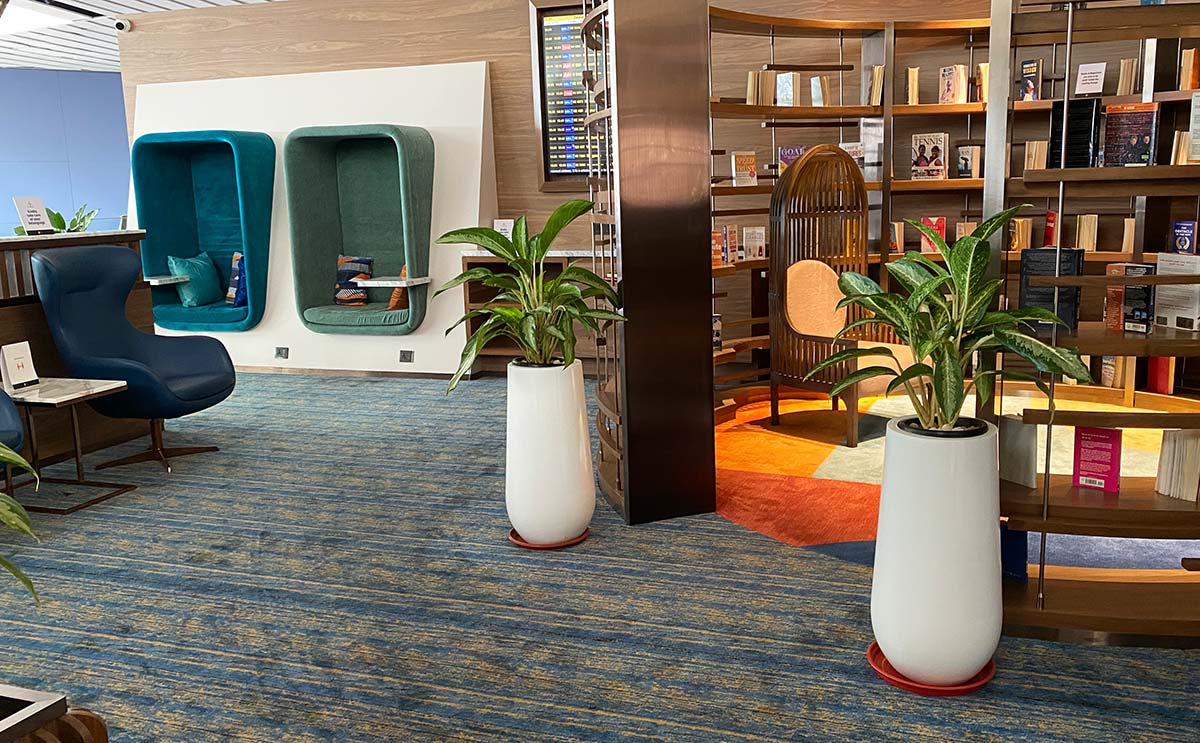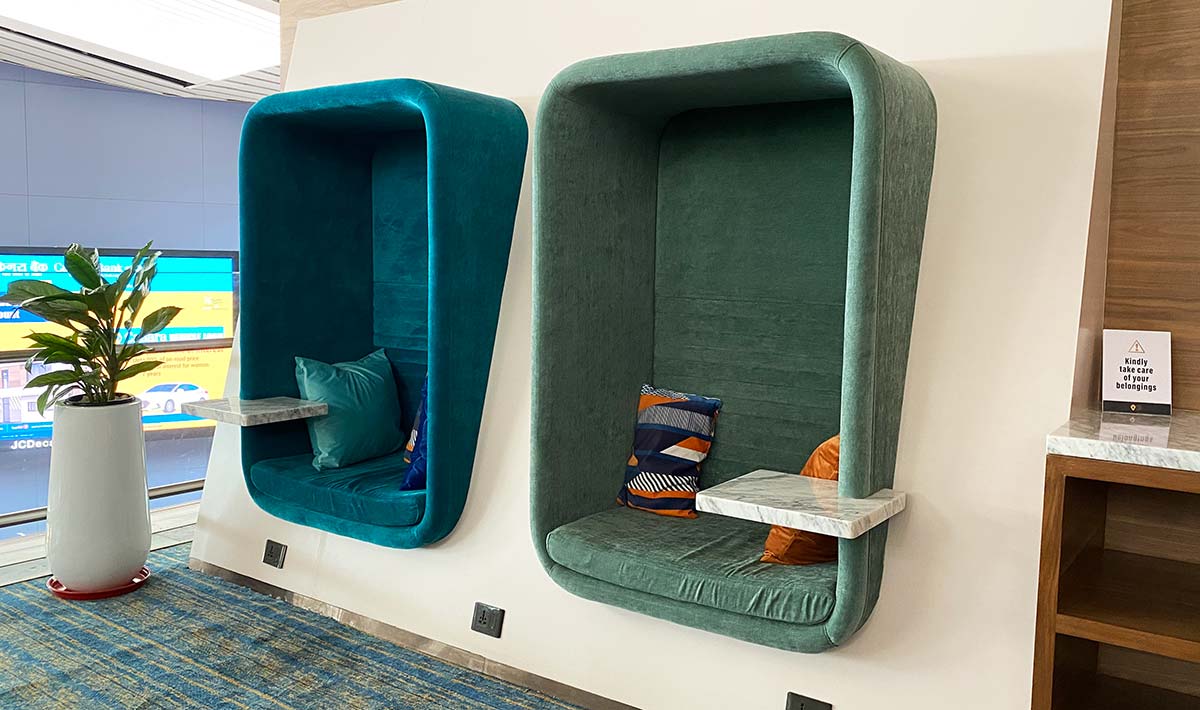 They also had few more of these with closed workspace which might help if you need to go for a quick zoom meeting or an important phone call.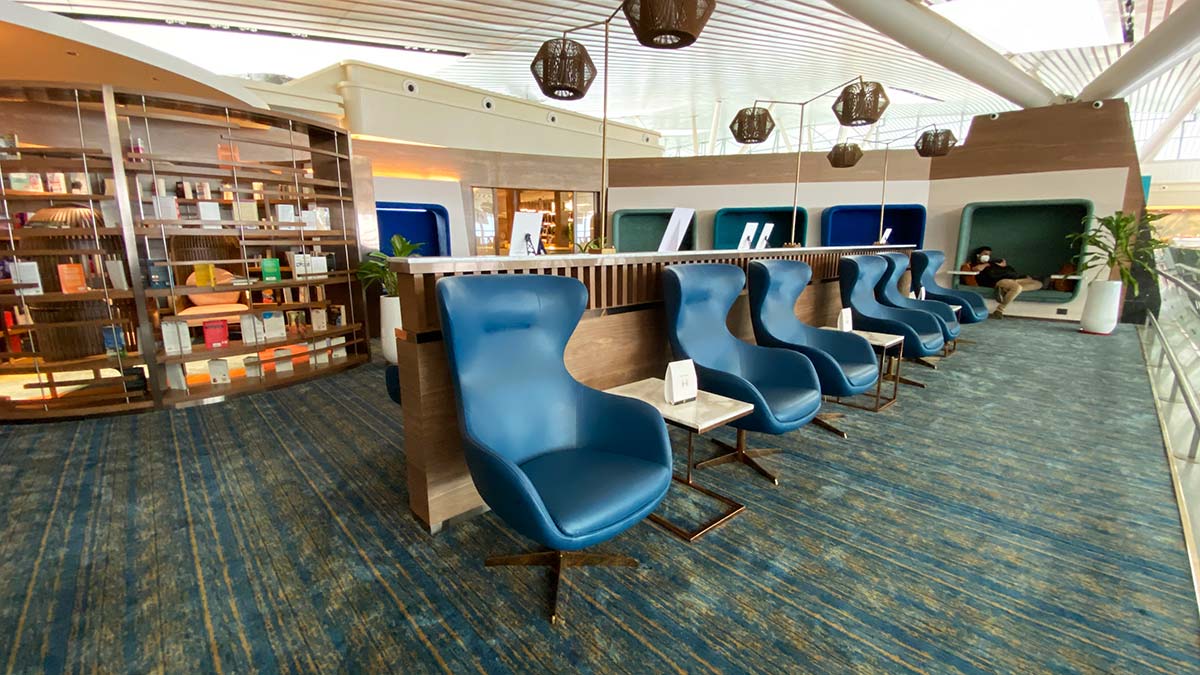 Above chairs faces BLR lounge located on the other side which will get you the view and a lot of happiness, because other lounge is usually crowded, noisy with almost 100% occupancy all the time. Maybe BLR needs one more lounge.
So you feel special here, and here's the view: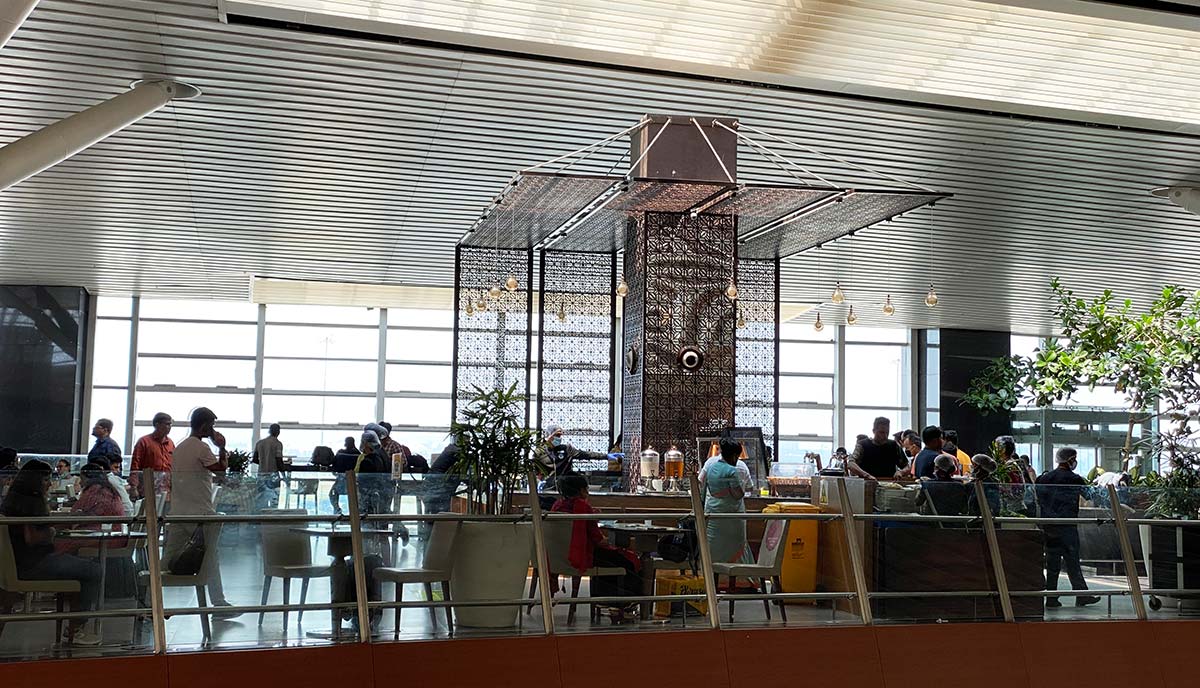 Once you're done with the work, you might want to relax a bit, how about a library? Here's a quick look at the library that has 2 nice throne like chairs,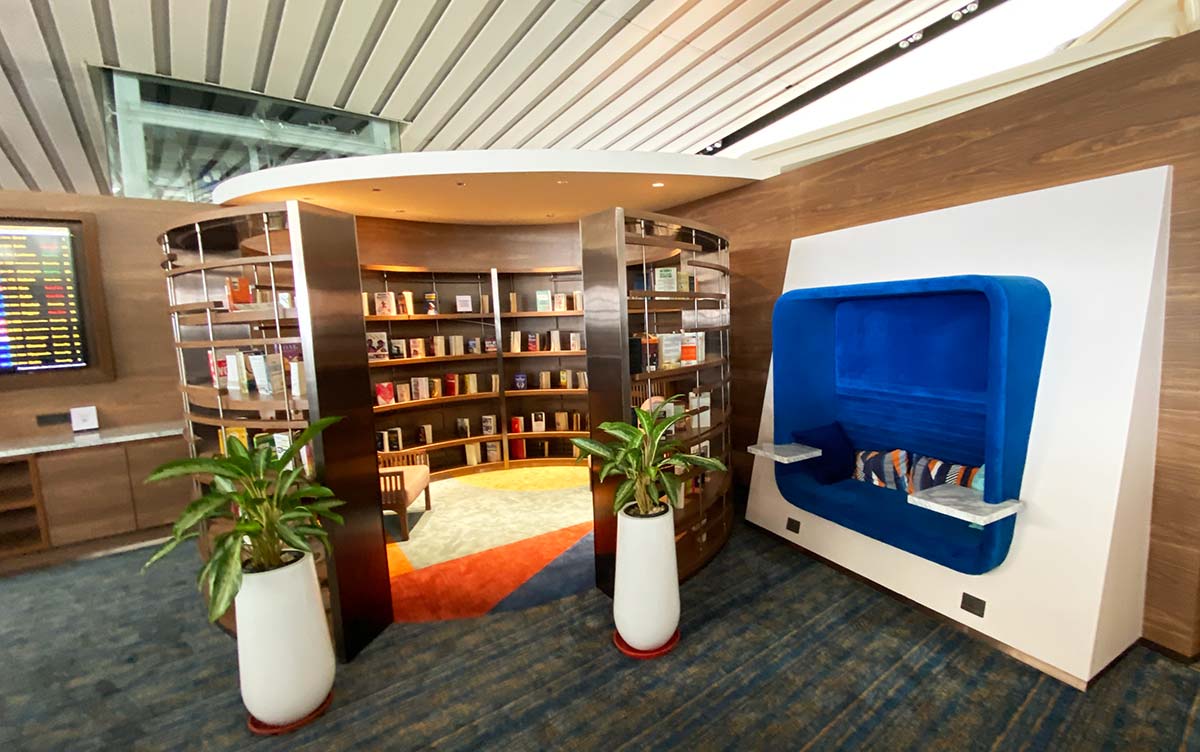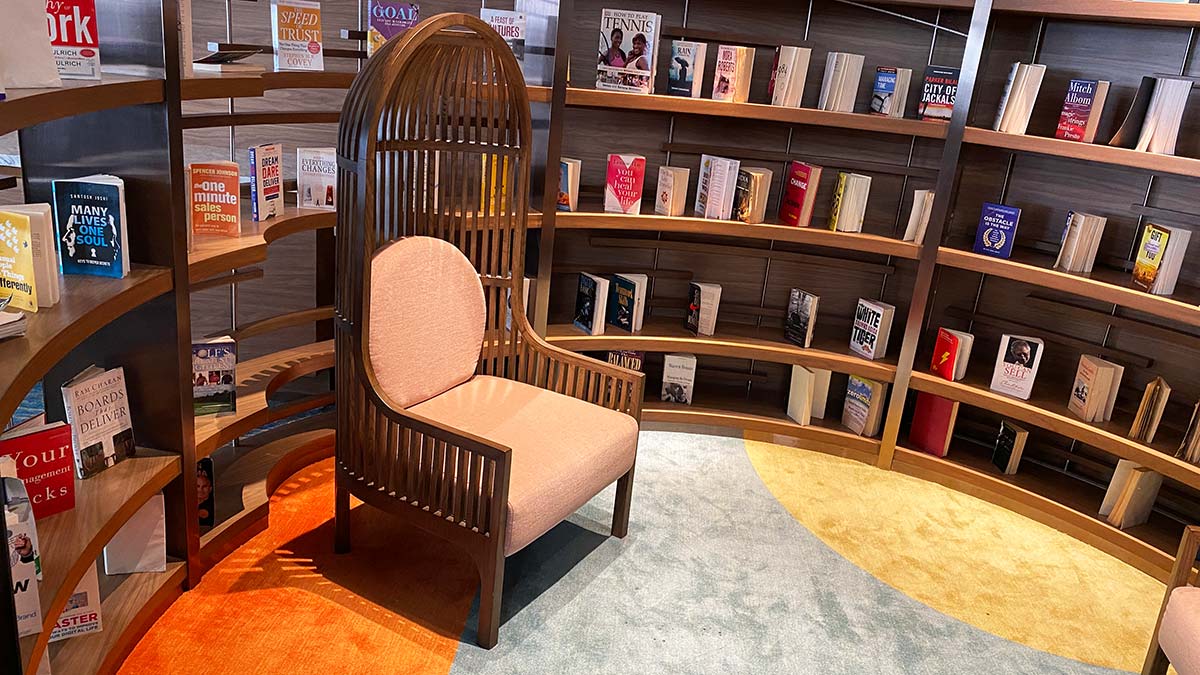 I know that you may not want to visit a library, so how about a mini theatre?
They've a nice setup for a mini theatre with a large TV screen, except that only cricket plays there and you're not given access to the remote. When asked, I was told that soon they may give internet access to the TV with Netflix and remote access.
Not sure how true was that, because who gets to choose what to watch may cause an issue.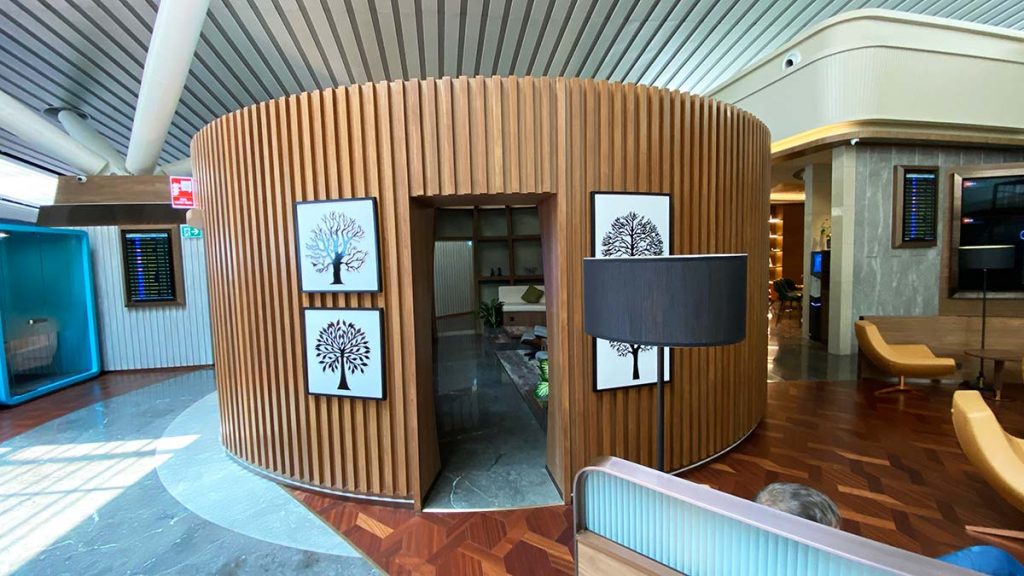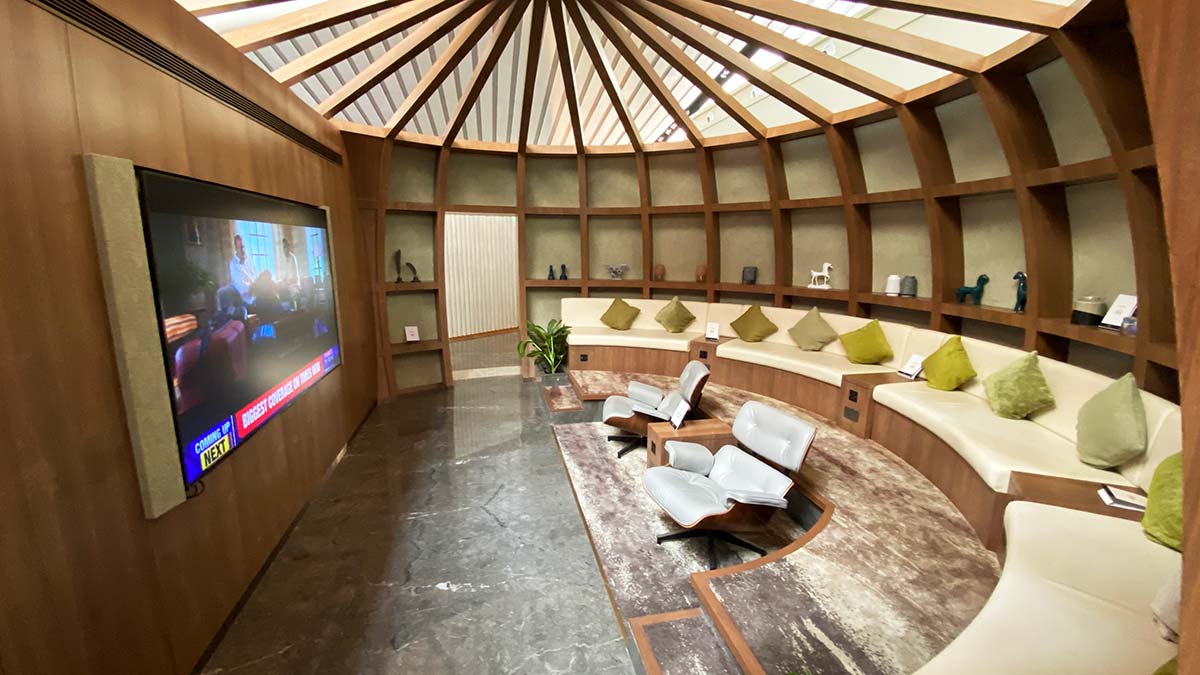 Coming soon: VIP section. There is a VIP section just behind the check-in counter and its closed as of now. When I spotted that and asked, I was told that it will be opened soon and will be accessible only by business class travellers.
It's an a-la-carte style lounge area just like the premium section of the Amex Lounge in Mumbai and will have its own live cooking station. It will be interesting to see that when it opens.
The only thing that I miss in this lounge is the comfy recliner, which used to be there in the Above Ground Level Lounge earlier.
Food
You get almost anything you can expect in a lounge. Not just that, the food is also damn tasty.
So I went for multiple rounds and tasted almost everything they had, from main course to desserts and then some buttermilk and juices.
Everything tastes exceptionally good. The staff was clearing my plates one by one every 5 mins with a smile.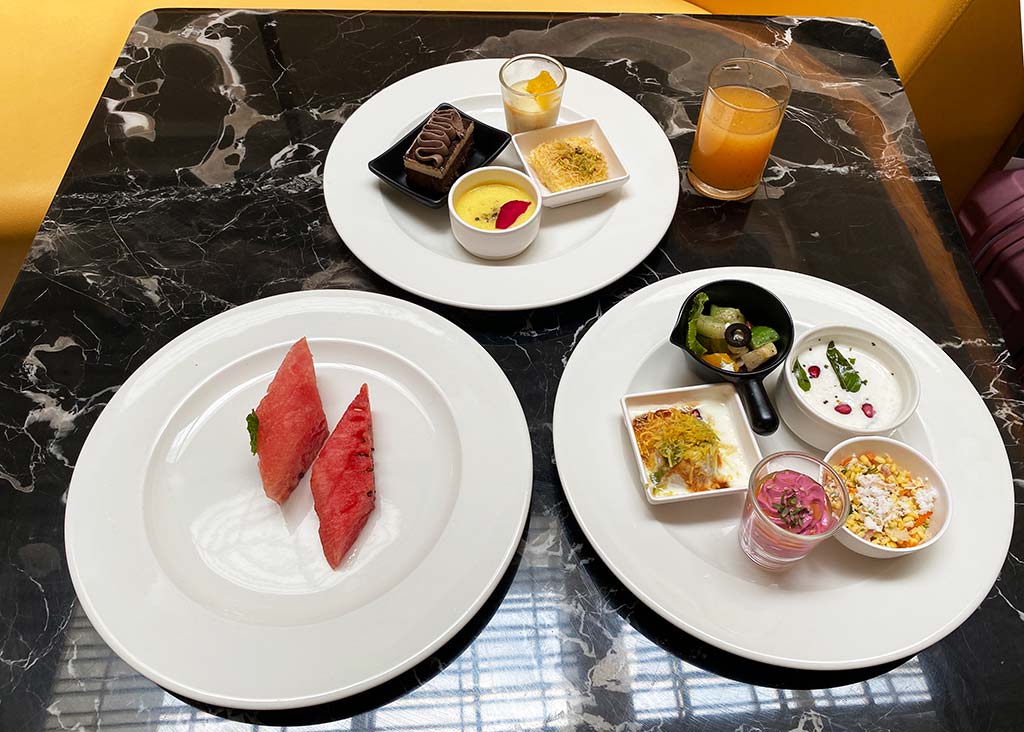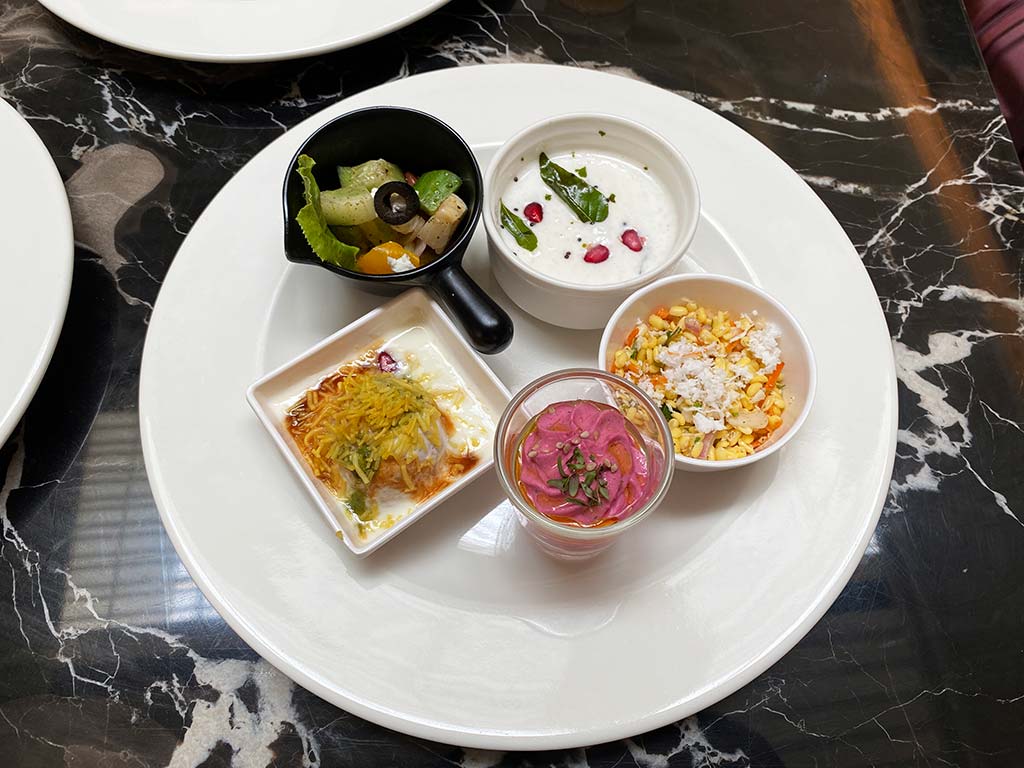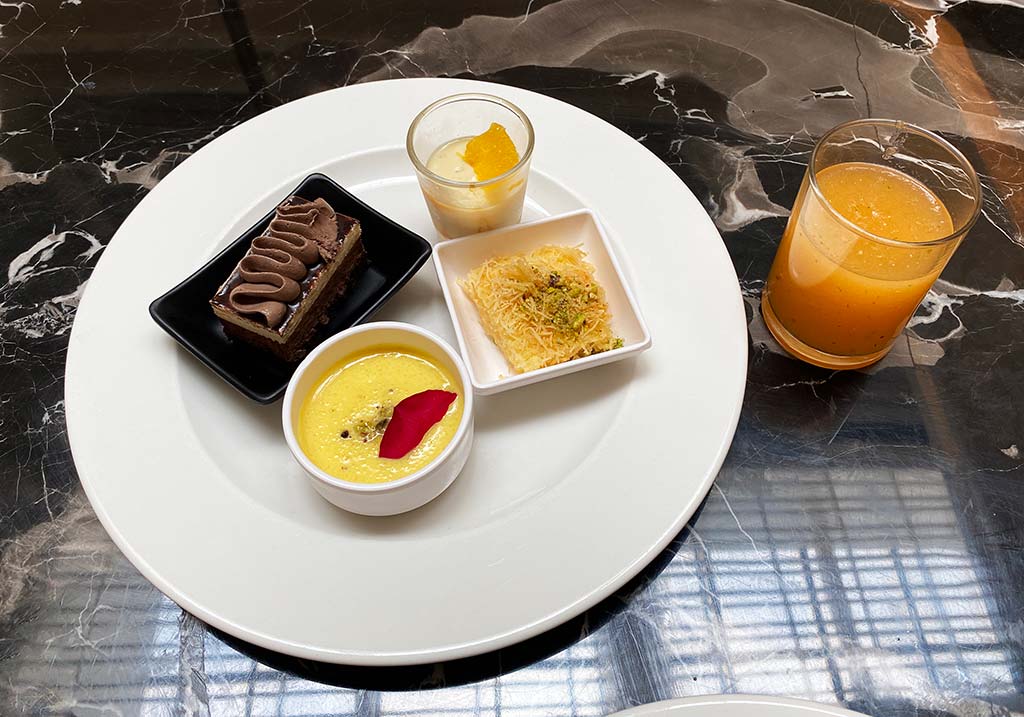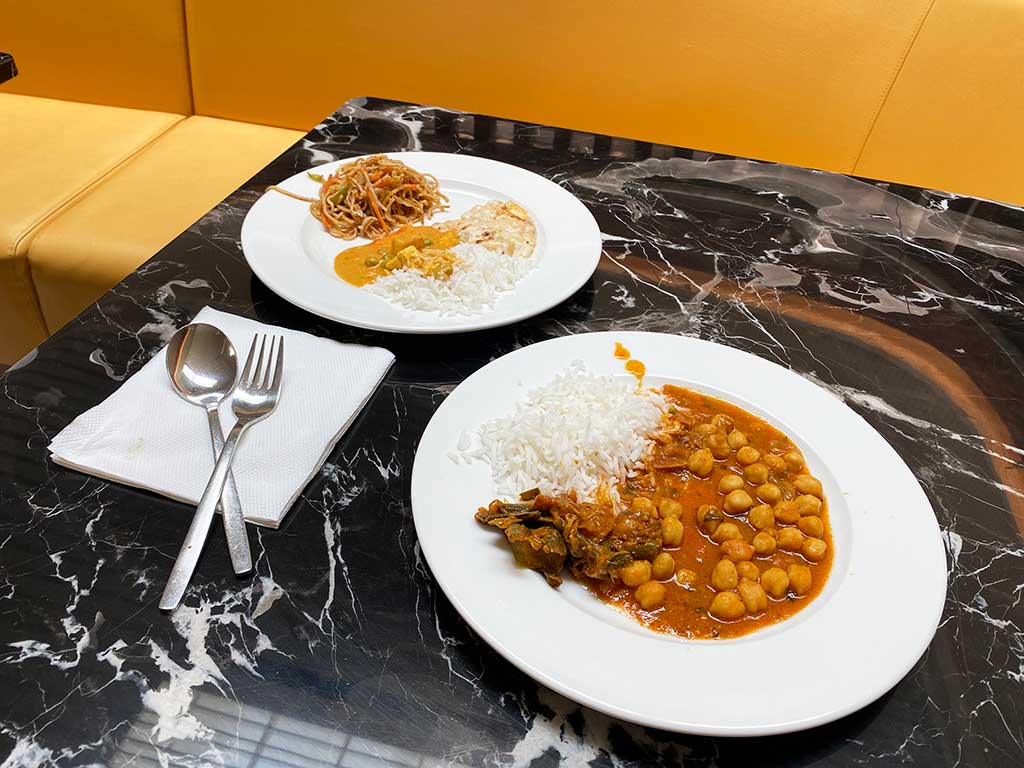 I had a dinner buffet at ITC Royal Bengal that costs 2K INR just a day before I visited this lounge and I can tell you that this lounge buffet is as good as that.
Well, in-fact its much better, because ITC didn't even have fruits or fruit juices. Here you get them all and even more, as they have a separate stand for aerated drinks and you can get some mocktails too (chargeable).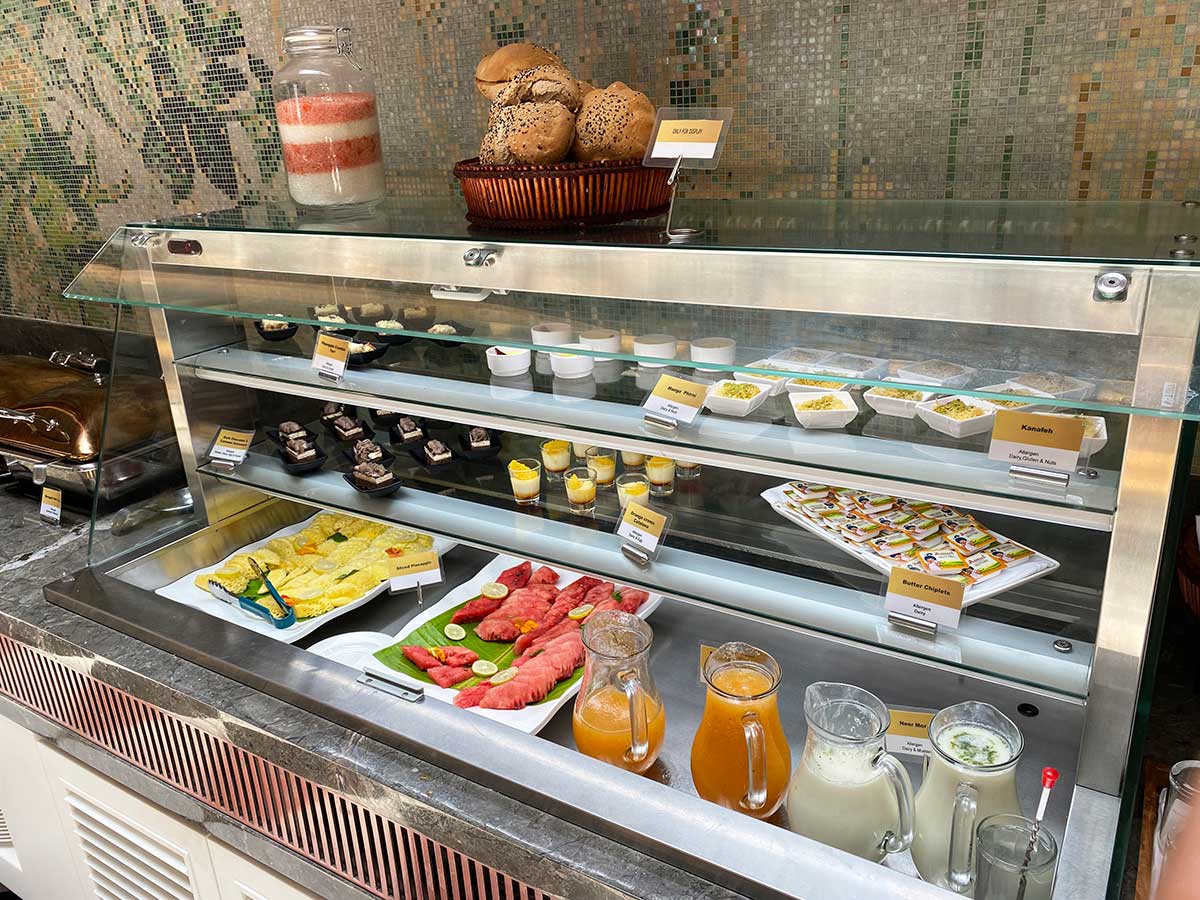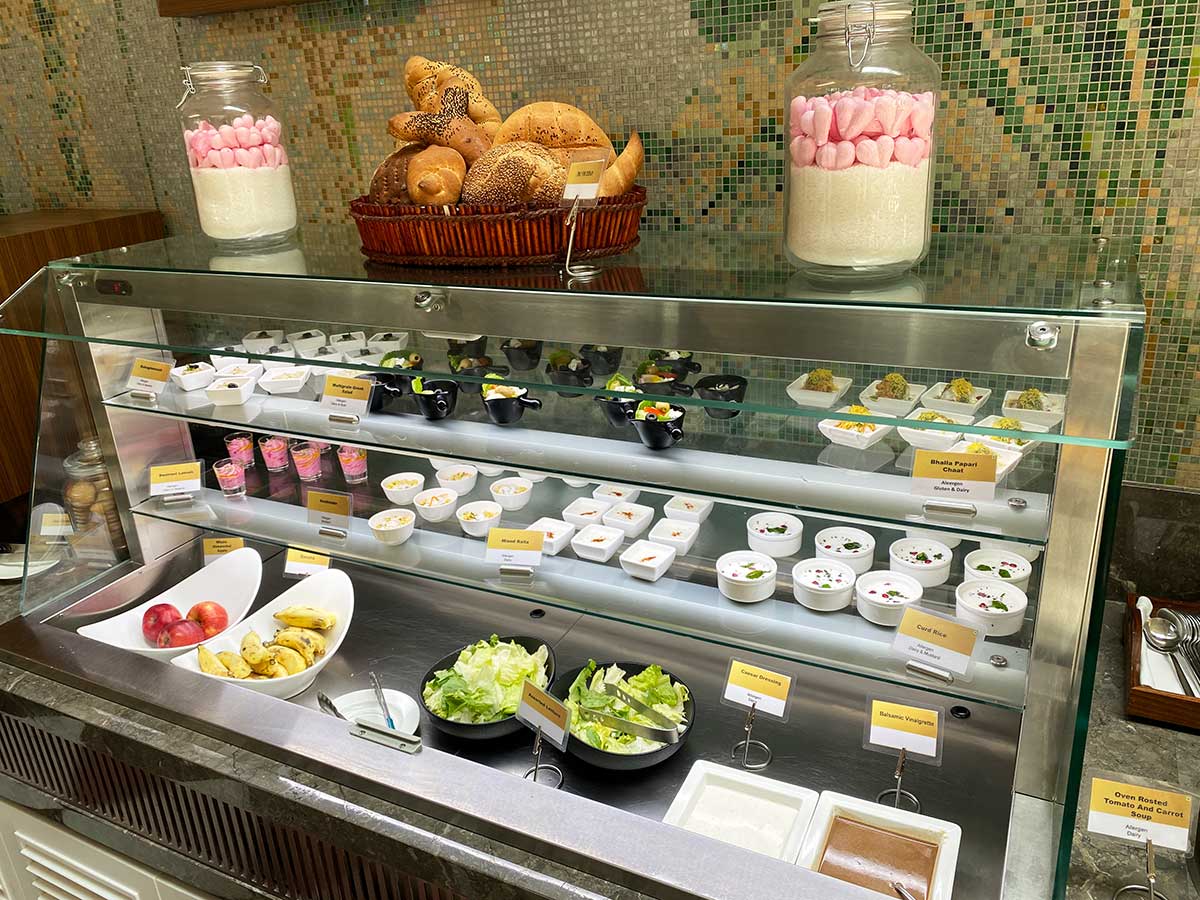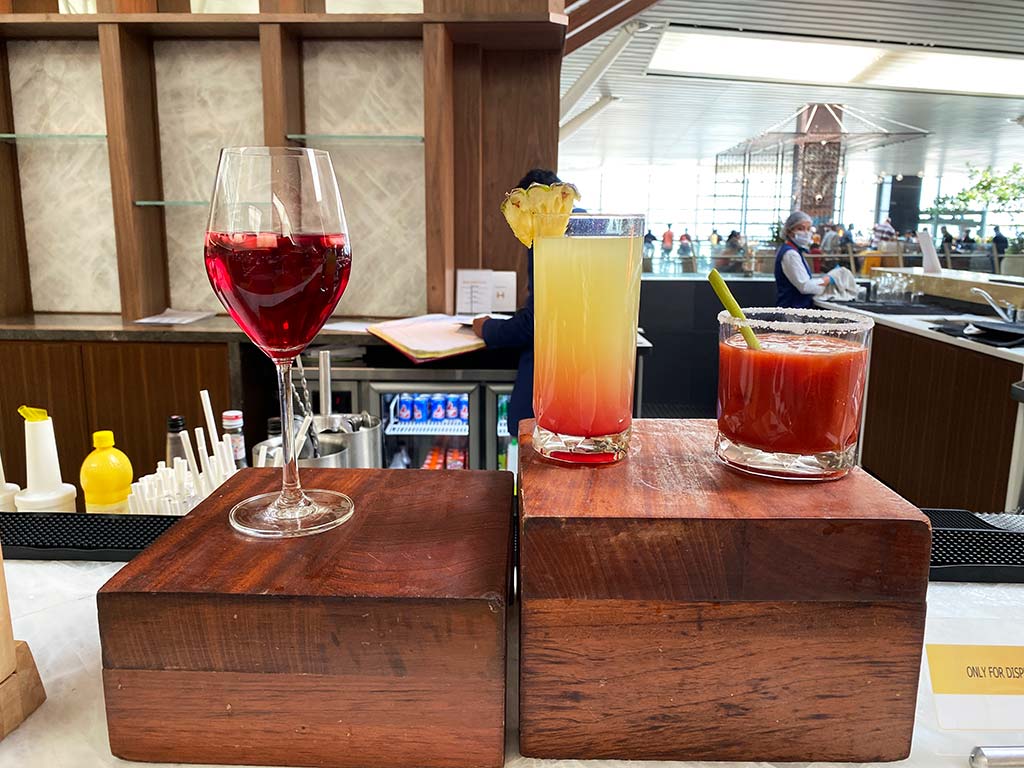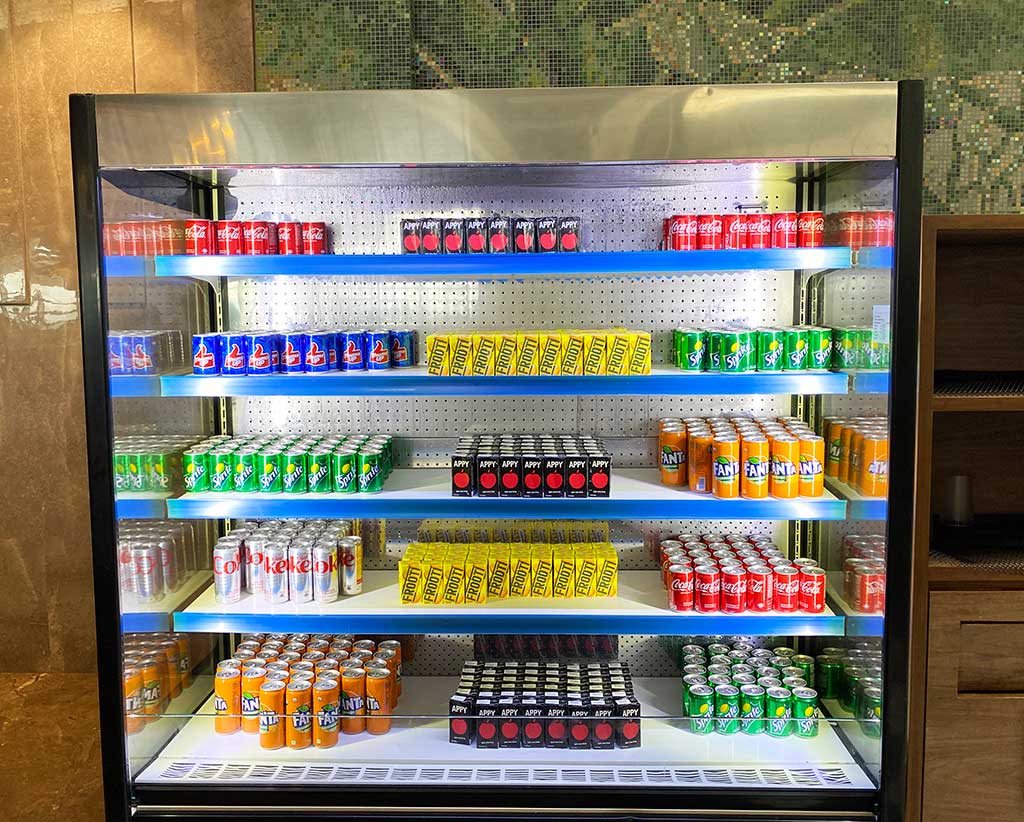 Bottom line
The 080 Lounge is perhaps the best airport lounge in India without a doubt. I spent about 3 hrs in this lounge and it went like 30 mins – that's because they've so many sections to explore and its easy to loose track of time.
During my first visit by April 2022, the lounge had about ~20% occupancy but during my recent trip by June 2022, the occupancy is as high as ~70% and it no longer feels pleasant. Though, the food quality and service remains good.
I hope they don't accept even more cards which will make it feel like a fish market.
To sum up, what you get is basically a lavish buffet and a luxurious lounge, work & a mini entertainment area.
Have you been to the 080 domestic or International lounge at Bangalore? Feel free to share your experiences in the comments below.