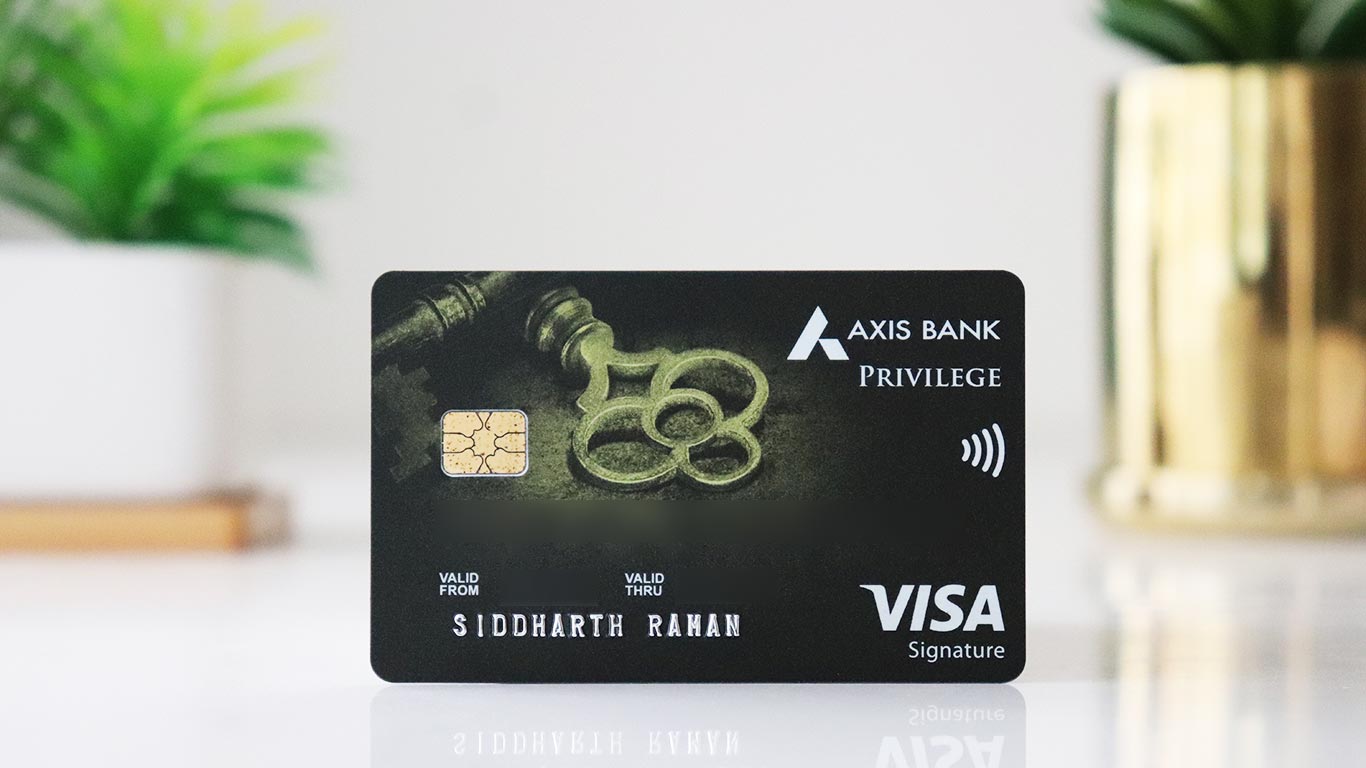 Axis Bank not only has so many entry-level and super premium credit cards but also has a pretty good set of Premium Credit Cards like Axis Privilege Credit Card targeted for the cardholders who're evolving from the entry-level segment.
Axis Privilege Credit Card used to be the secret sauce for many back in time when Axis Magnus wasn't this aggressive. But even now it continues to be a card to hold as it's being issued as First Year FREE for a limited period (31st March).
Overview
| | |
| --- | --- |
| Type | Premium Credit Card |
| Reward Rate | 1% to 2% |
| Annual Fee | 1,500+GST (Offer: First Year Free) |
| Best for | Shopping Voucher Redemptions |
| USP | Multi-brand Voucher redemption |
Axis Privilege Credit Card is a premium credit card that gives reward rate of 2% easily without any complex earning/redemption rules.
And now that it's being issued for free, it makes sense to hold one, as long as you've a free slot with Axis, as Axis allows only 3 credit cards per individual.
Fees
Joining Fee
– Paid Card: 1,500 INR+GST (First year Free)
– FREE Card: for Priority A/c holders
Welcome Benefit
– 12,500 Points on PAID cards (5,000 INR worth)
– 6,250 Points on FREE cards (2,500 INR worth)
Renewal Fee
1,500 INR+GST
Renewal Benefit
3,000 Edge Rewards
Renewal Fee waiver
on spends of 2.5L in previous year
The welcome benefit is amazing even on paid cards, as you just pay 1.5K INR and get 5K INR worth of vouchers.
The value of points are assumed as 40ps/point (in above calculation) because of the ability to redeem for multi-brand vouchers. We'll see other options later below.

*** Limited Period Offer: First Year FREE ***
Design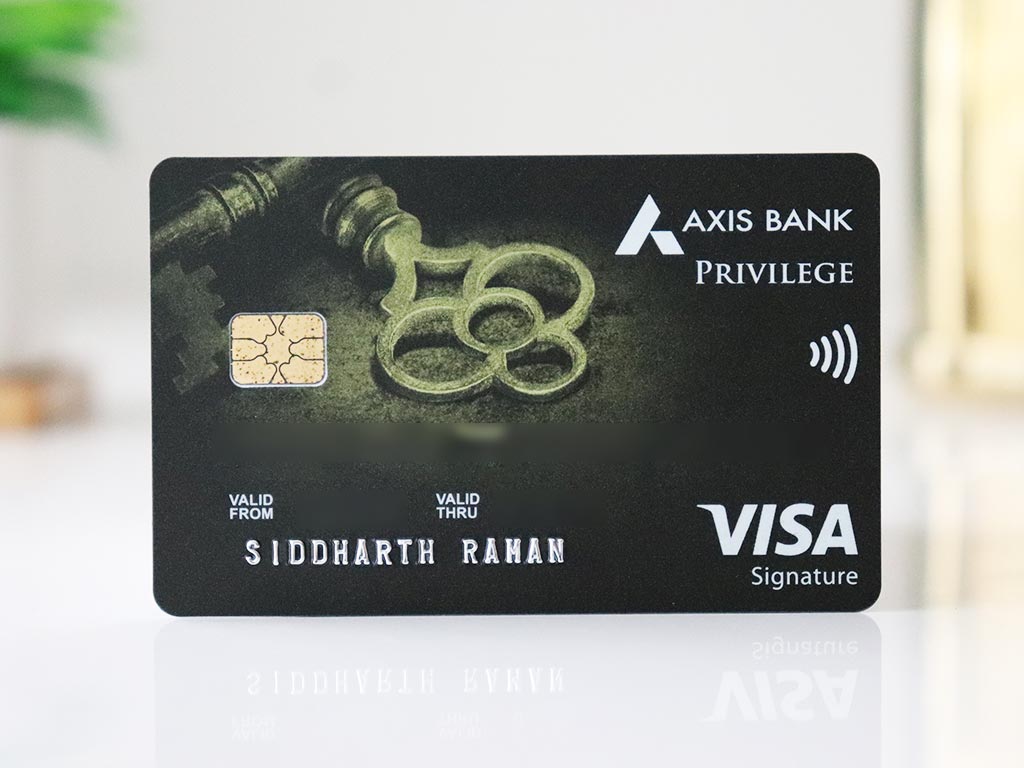 The design looks neat and simple but I continue to wonder why they didn't refresh Axis privilege credit card's design while they refreshed the design of almost every other credit card.
Maybe they want to discontinue? I assumed so, but now after seeing them going aggressive with Zero Joining Fee offer on this card, it's only surprising!
Rewards
10 Points per Rs.200 Spend (Domestic & international)
The earn rate is simple and straightforward. To make the math simple, you earn about 5000 Edge Rewards on every 1L spend, which is pretty good because of the redemption options, as you can see below.
You may as well use Axis Privilege Card on Axis Gift Edge (or) Axis Grab Deals portals to earn 5X/10X rewards.
Redemption
There are multiple options to redeem edge rewards, broadly divined into two (+1), as below:
Redemption Type
Product Type
Point Value
(Per Point)
Reward Rate
Edge Rewards
Catalog Vouchers
20Ps
1%
Edge Rewards
Multi-Brand Vouchers
40Ps
2%
As you can see above, the point value is pretty good with multi-brand voucher redemption. Here are the multi-brand redemption options:
6250 Points worth 2500 INR multi-brand voucher
12500 Points worth 5000 INR multi-brand voucher
If you're wondering about the brands that are redeemable under Multi-brand voucher, here is the list of available brands as seen few months ago. The list might keep changing from time to time.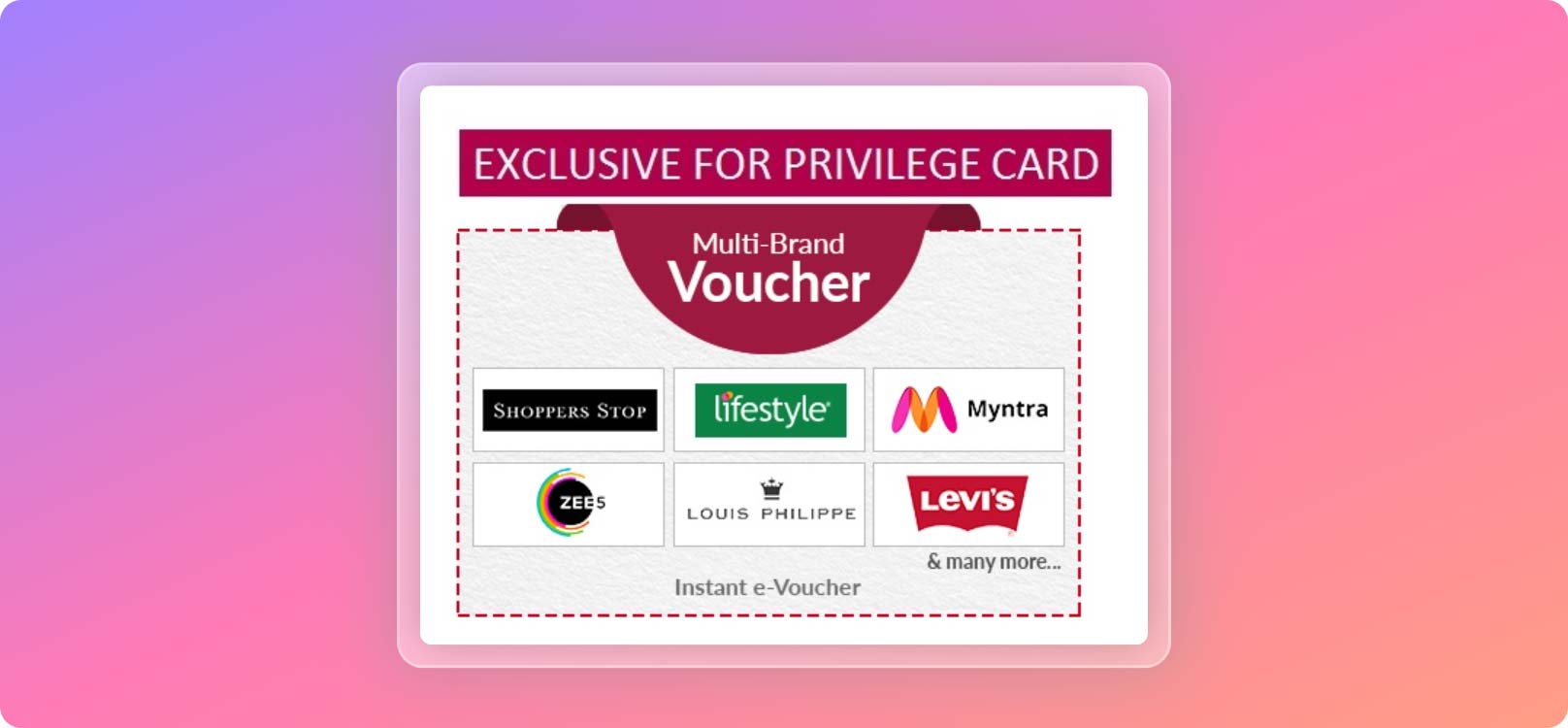 But remember that you'll need to have either 6.25K/12.5K points to be able to redeem for these options as this behaves more like Amex Gold Collection.
That said, if you've other Axis super premium cards like Axis Magnus, you may as well transfer these points to variety of points transfer partners to increase the value even further.
Airport Lounge Access
Complimentary Access: 2 per Quarter (domestic only)
The complimentary lounge access benefit on Axis Privilege Credit Card is limited to only domestic lounges with above limits.
While it doesn't give access to iconic lounges like Bangalore 080 lounge, the card is accepted at across 29 lounges across the country, which is pretty great given the fee point at which it's issued.
My Experience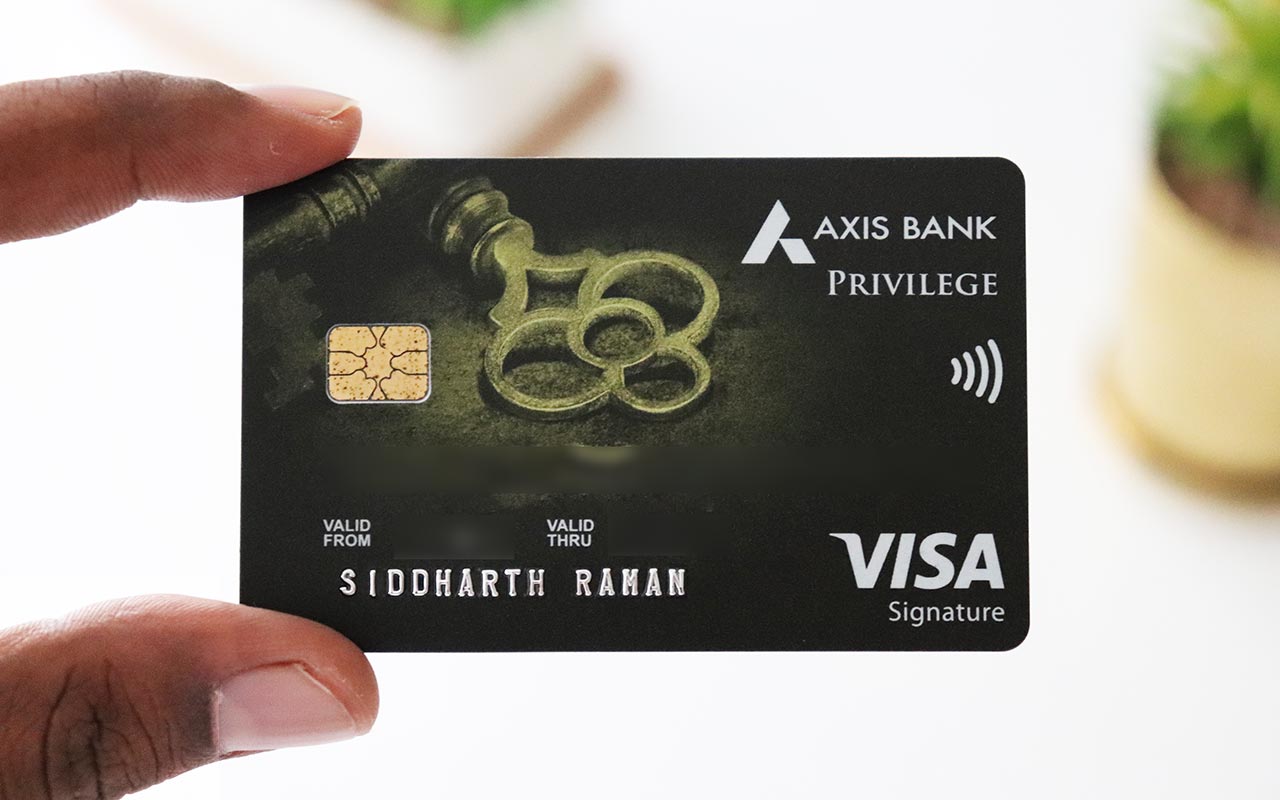 I was using the Axis Privilege Credit Card for quite sometime until the launch of Axis Points Transfer program and I did get pretty good value out of it.
For example, I used to redeem edge rewards for Myntra Vouchers (Multi-brand voucher option) and get to Myntra Icon tier faster, which has decent benefits.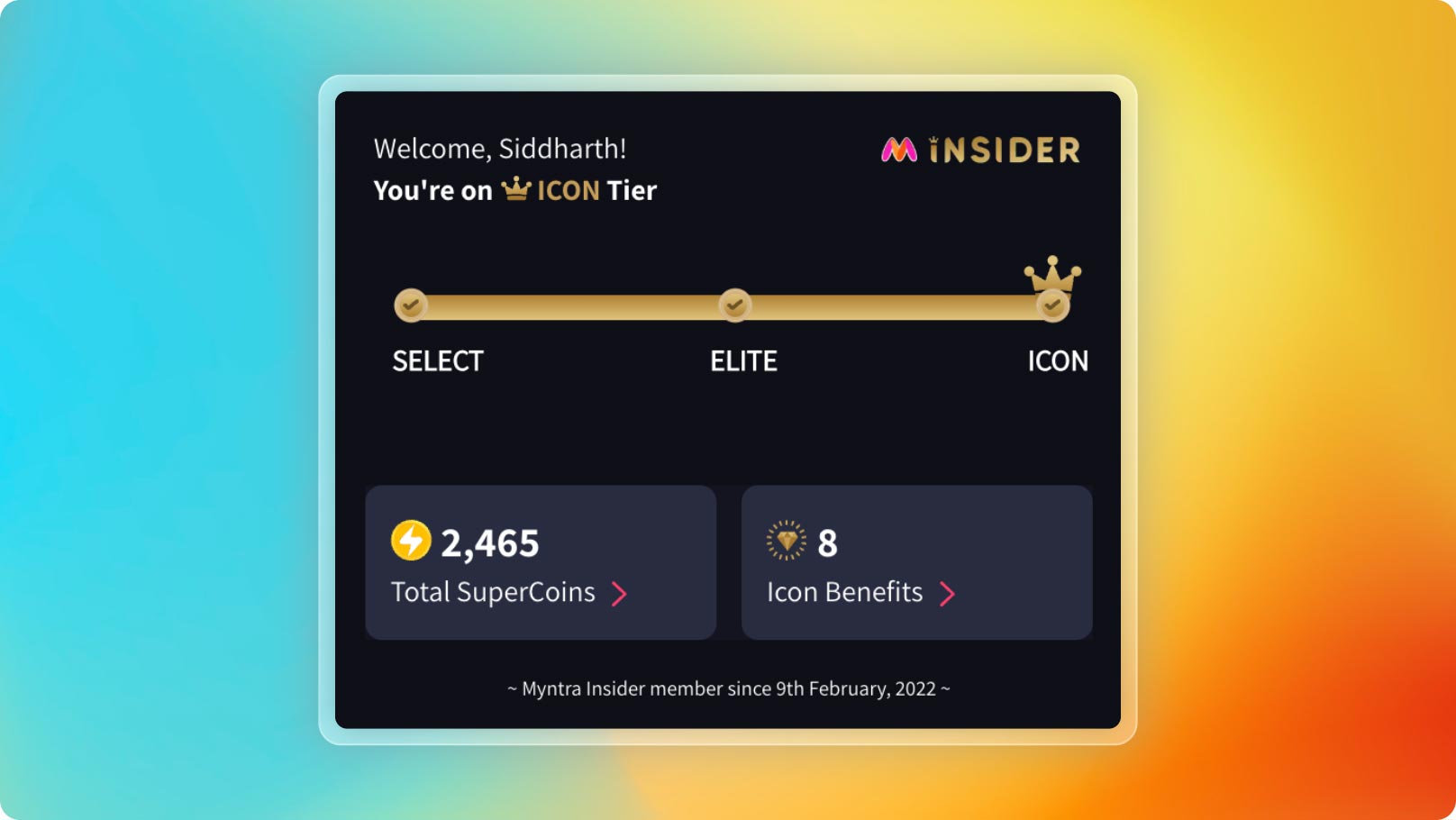 This further helped me to earn even more "super coins" and redeem them for vouchers & memberships.
For example, I redeemed some of the Super Coins for "Times Prime membership" which gave me access to a complimentary 6 months "Google One" subscription plan, which gives 100 GB space on Gmail.
That's a great value to me as I was in need of additional space.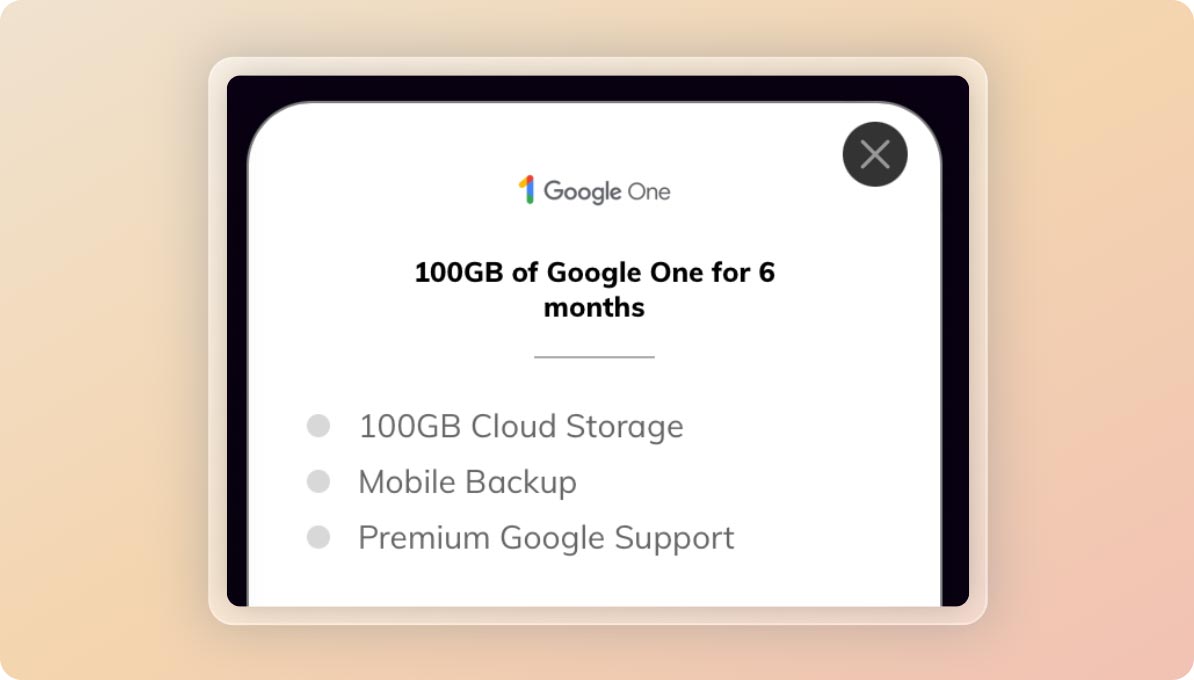 While these may not sound like much value in front of today's Magnus Credit Card benefits, it was indeed fun back in time to use Axis Privilege Credit Card.
That said, the benefits are still there and would continue to make sense to those who don't want to pay a fee to hold super premium credit cards or don't prefer travel redemptions.
Eligibility
Eligibility via ITR: >6L INR income p.a. (or)
Eligibility via other bank credit card: Credit limit >1L INR
If you're facing any issues (or) if you prefer to have a smooth ride into Axis Credit Card Ecosystem, do check out this beginners guide to Axis Bank Credit Cards: Maximizing Axis Bank Credit Cards.
How to Apply?
You may apply online on Axis Bank website in a matter of few clicks. Axis Bank is recently known for processing fresh credit card applications pretty fast.
The card is currently offered as first year free, but whether you'll get 6,250 points as welcome benefit is a mystery. Most likely you'll get, as that's how it's ideally designed.
But the "First Year Free" (till 31st March 2023) benefit is a confirmed one, as I can see it displaying on the website as well, as below: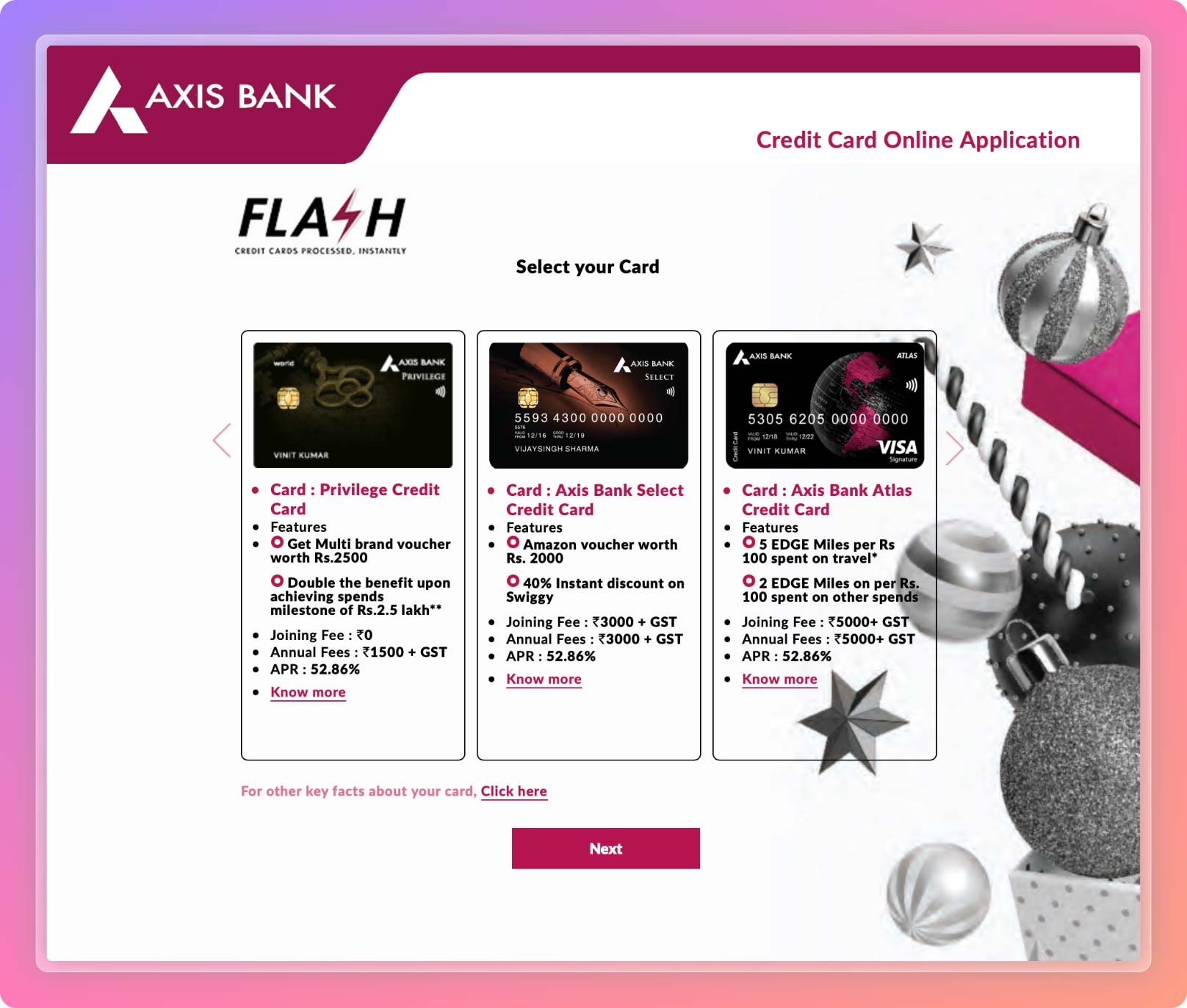 Generally Axis Bank takes about a week to approve the application. If the profile has healthy credit report, you may as well get the card in hand in under a week, as some profiles may go through VKYC and faster processing.

*** Limited Period Offer: First Year FREE ***
If you're new to bank, not to worry, you don't need to open a fresh Axis Bank Savings A/c to get an Axis Bank Credit Card.
Bottom line
Overall Axis Privilege Credit Card is indeed a decently rewarding credit card for those who prefer shopping vouchers over travel redemptions.
But if you're into Axis travel edge redemptions and already hold Super Premium Credit Cards from Axis Bank, then it's no wonder that Privilege does add a good value with it's welcome benefit.
Have you ever held an Axis Privilege Credit Card? Feel free to share your experiences in the comments below.