As you might be aware Hotels & Airline bookings along with Amazon & Flipkart shopping are the major ways you could get 10X rewards under Smartbuy 10X cap, now you can also book Trains & Busses on smartbuy and grab 10X rewards on select HDFC Bank Credit Cards.
While the Bus Booking option was said to be added few months back, I never noticed it until recently. That's not a big news anyway as not many prefer to travel in bus for long distance which means your booking amount will be low and so the spending capacity and so the rewards.
But now India's most popular passenger transport medium Trains are available for booking on Smartbuy. This is a big news for many as hitting 10X rewards capping for smartbuy just got easier and now some may happily prefer to book First Class Ac over others as getting 33% back is a nice reason to book one.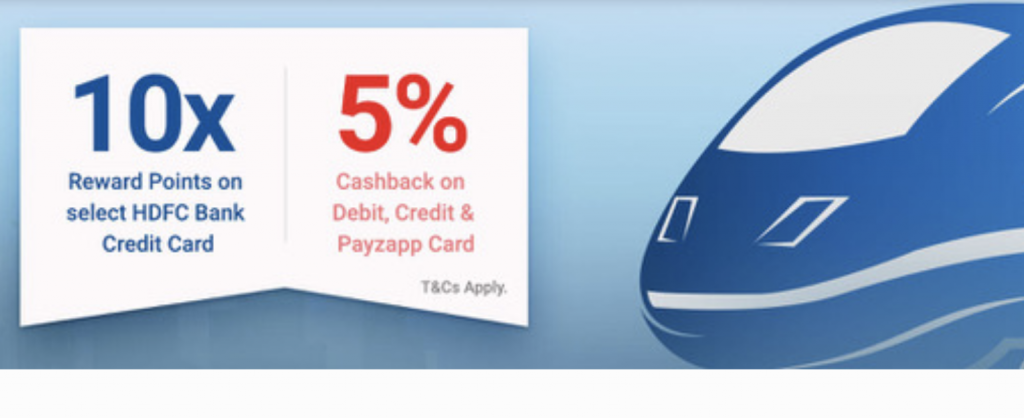 Note: The terms & conditions are same as that of Smartbuy 10X as per Dec 2019 and it does come under the same capping and not separate one.
Bottomline
Smartbuy is indeed getting bigger and better over the time but its also a sign of bad news coming sometime in the near future. The renewal benefit removal (5K points on paid Diners black cards) and increasing fee to 10K from 5K should help the bank to keep running these offers "to an extent".
Given how easy it is to earn the 10X rewards via smartbuy, and provided the # of Diners Black card holders at the moment, you may very well expect a bad news in 2020. Keep that in mind while enjoy the party 🙂
Thanks to all the readers who reported about the train availability update.