HDFC Bank has been experimenting various dining offers and they're especially interested in targeting the top tier cards for obvious reasons. As you might know HDFC Infinia already gets you 2X Rewards for Dining on all days while HDFC Diners Black gives you 2X rewards in the weekends (new benefit) and this is a separate spend based offer sent to select Infinia credit card customers.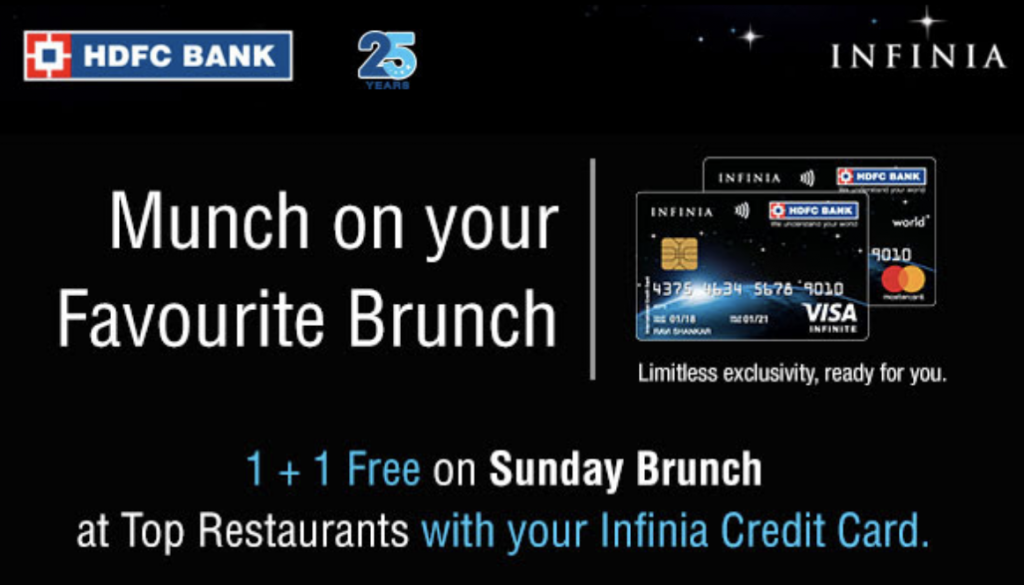 Offer Details
Just like the most popular Bookmyshow Buy1 Get1 Movie Offer, here too, you pay for 1 brunch and get 1 free. This is applicable only on Sunday brunches at select restaurants in select cities.
Offer: Buy 1 Get 1 Sunday brunch at select 5 star properties like Radisson Blu | Courtyard by Marriott | The Westin | Hyatt Regency | Sheraton Grand | The Park
Max Cap: Upto max 2 on 6 bookings
Type: Spend Based, Targeted
Spend Requirement: Rs.25,000 spend in a "single weekend" (including friday)
Offer Period: 4th Oct 2019 – 30th Jan 2020
Fulfilment: 21 Days of achieving the weekend spends.
It appears to be a prepaid booking but what's unclear is the actual list of restaurants. I guess that should be visible when you're eligible for the offer. Will have to wait and watch.
How it works?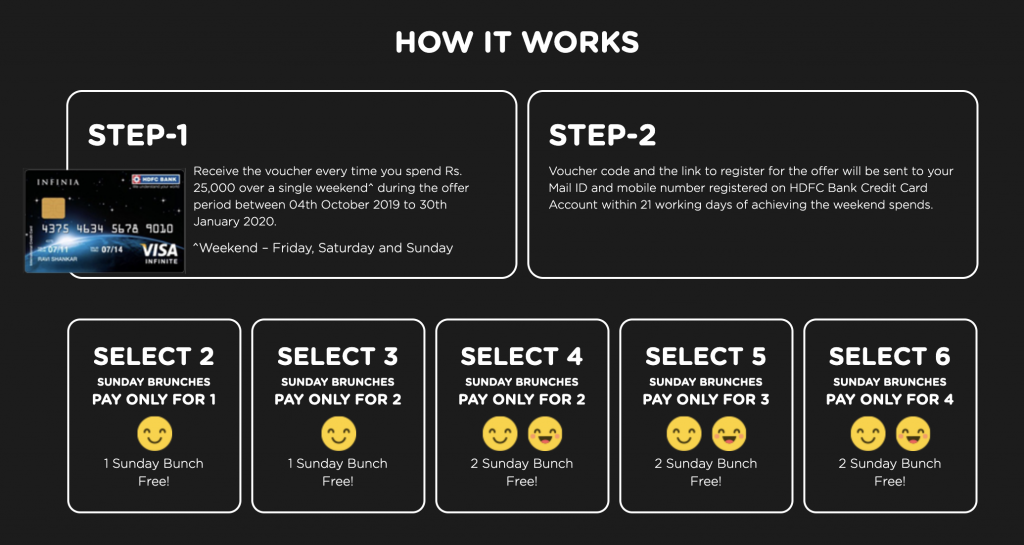 So to maximize the benefit, you got to "select 4" so you get 2 for free – which is 50% savings.
Bottomline
This is definitely an amazing offer and I hope the bank sees good traction with it and pushes more such Dining offers in the future. And if this offer works for them, chances are Diners Black too would be targeted in future, provided the fact that the entire company (let's say entire credit card industry) was built on the Dining concept 🙂
While this is good, I wish they rather send something like Marriott Dining Voucher which makes it easy to redeem. Or even better, they could allow us to choose from Marriot/Taj/Trident/Oberoi – That would be AMAZING!
That said, remember that you can avail a similar benefit like this even with Gourmet Passport by Dineout or Bookmyshow Buy1 Get1 offer on select credit cards like ICICI Emeralde Credit Card, but yes, the limit & cap is there.
What's your take on this spend based offer on Infinia cards? Feel free to share your thoughts in the comments below.