If you're holding American Express Platinum Charge Card (metal card), here's an offer for you. Even if you don't have one (like me) we get an idea that the Plat charge card holders get some special offers like this. This might help to decide if you really want to go for the expensive metal card in future. Let's get into the details,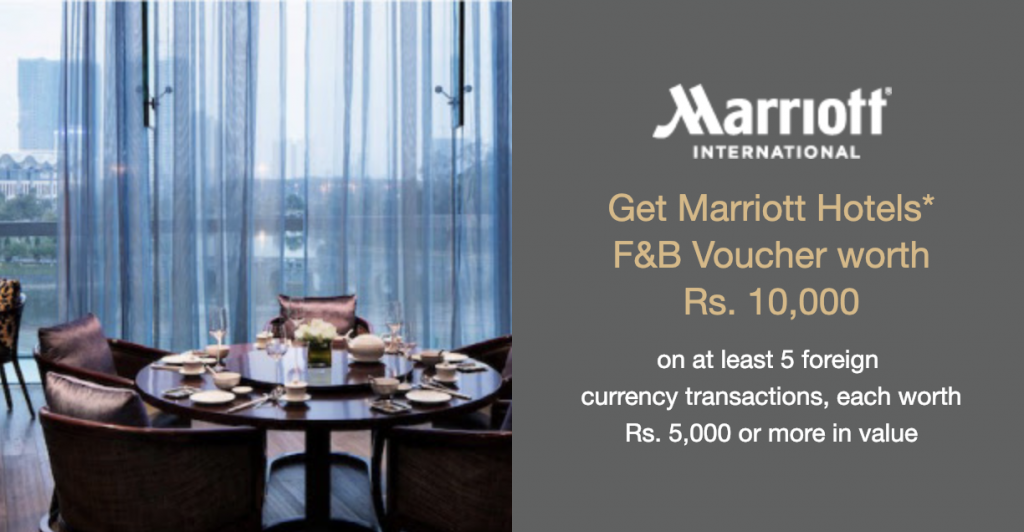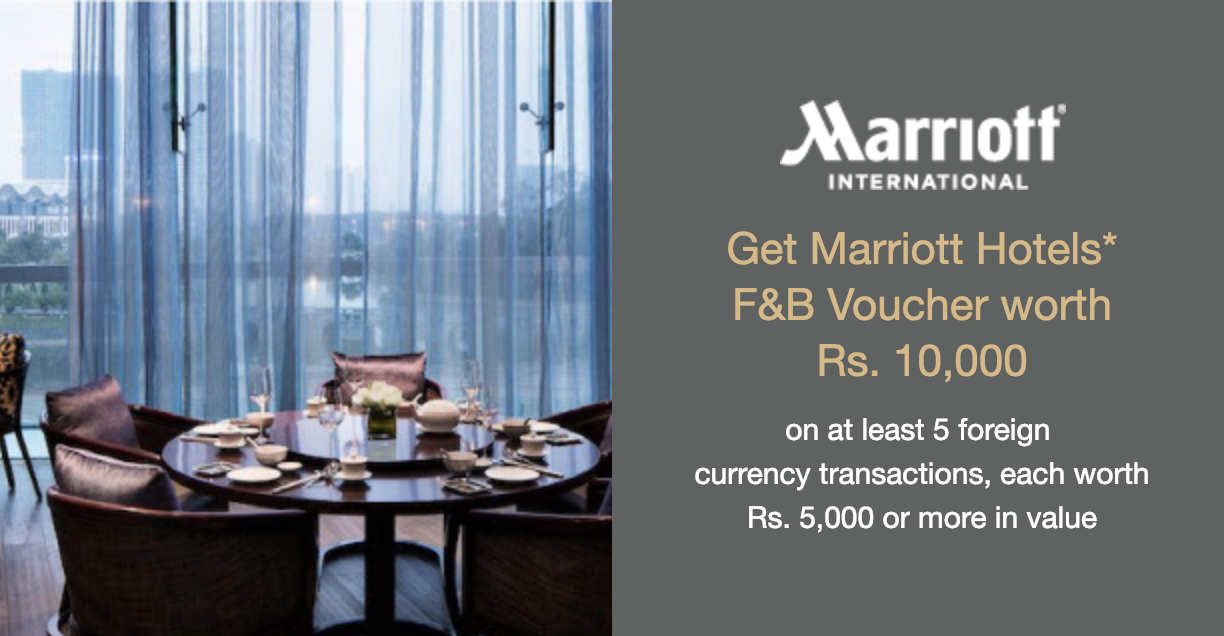 Amex Marriott Dining Voucher Offer Details:
Offer: Get Rs.10,000 Marriott Dining Voucher
Spend Criteria: 5 foreign currency transactions, each worth Rs. 5,000 or more in value
Offer Reward Rate: ~35% (Considering approx. Rs.30,000 Spend)
Eligible Cards: Amex Plat Charge Card only
Offer Period: 20th Dec 2018 to 31st Jan 2019.
Fulfilment: On or before 30th April, 2019
Reward rate of >30% from Amex is a wonderful thing and so it's definitely a great offer.
For Amex Centurion Cardholders, its 20k Voucher on 10 Txns. Source

Thanks to the plat charge cardholder Saugata Halder for sharing the offer info.
Bottomline:
If you're travelling out of country this winter season, this is probably the best way get value from Amex Plat charge card. Not to forget, you also get 3X points on Plat charge card for all international spends. So all in all, its a sweet deal!
Next to Taj Vouchers, Amex now seems to play with Marriott Dining vouchers since past couple of months. The Marriott Dining voucher offers for Diwali is one of the best offer indeed and I'm looking forward to see more such offers in the near future.
It would be nice if AMEX send out domestic spend based promo with Marriott Dining Vouchers, similar to: Get hotel stay Gift Card worth up to Rs.15,000 for all cardmembers. What say?
What's your take on the above Marriott Dining Voucher Promo? Feel free to share your thoughts in the comments below.