We have time and again stated that HDFC Diners Credit Card is a dream card, simply because of the reason that it has an insane and generous rewarding system of 10X points on selected partners. The 10X RPs scheme has been here for quite long now and it seems it is here to stay. It was there initially till 31st March 2017 but was later extended till 31st July, 2017 and now upto 31st March 2018.
10X Reward Points with all HDFC Credit Cards
Looks like HDFC has massive success with their Diners 10X program that now they've extended it to all HDFC credit cards, though limited to Smartbuy alone for now. This should certainly increase the spends on HDFC cards multifolds and who knows, they might show up on headlines next year that they've beaten Amex/Citi on "total spends per card" parameter. Lets wait and see 😉
Updates to HDFC Smartbuy 10X Program
As per new terms and conditions updated on Smartbuy, 10X points will now be credited for all HDFC Credit Cards (including Diners Cards) having points system excluding, Jetprivilege cards, Corporate/Dealer/Commercial Cards.

Highlights of SmartBuy 10X offer:
The categories were you can earn 10X points are

Flights
Hotels
Recharges
Bus
Shopping Via Flipkart
Bill Payments

Points will be credited within 90 days of transaction as is the case with Lifestyle. This rule is for all the HDFC Credit cards including HDFC Diners Credit Cards. It'll be come increasingly difficult to track the extra points now.
Offer seems to be valid till 31st March, 2018 (extended from July 2017, then August 2017, then December 2017).
NOTE: As of now, Bill Payments facility in SmartBuy is OFFLINE. The message that pops up there is that they are going to reintroduce Bill Payments with some new partners.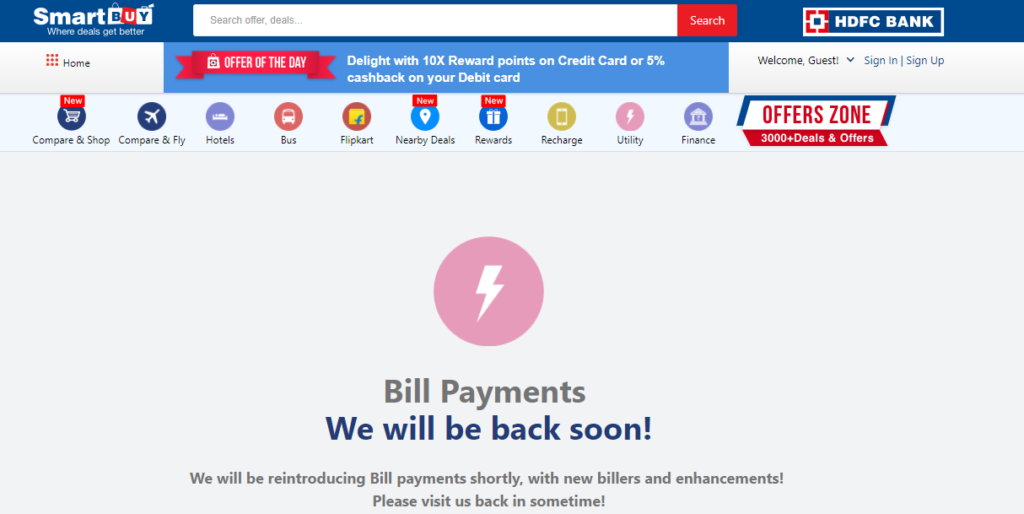 What does this mean?
It is immensely beneficial for most HDFC Credit card holders. The categories that have been introduced in SmartBuy can be very useful. For recharges, no website can give you 10X points. Even their own HDFC Diners Website gives 2X points only. When Bill Payments will be introduced, I am pretty confident that Electricity Payments, Gas Payments, Charity and Magazine subscriptions too may be.
In a nutshell, you benefit more than ever with the HDFC Diners 10X program now.
Do let us know your views of the recent changes in the comments section below. What will be your strategy to earn more value from this change and how?