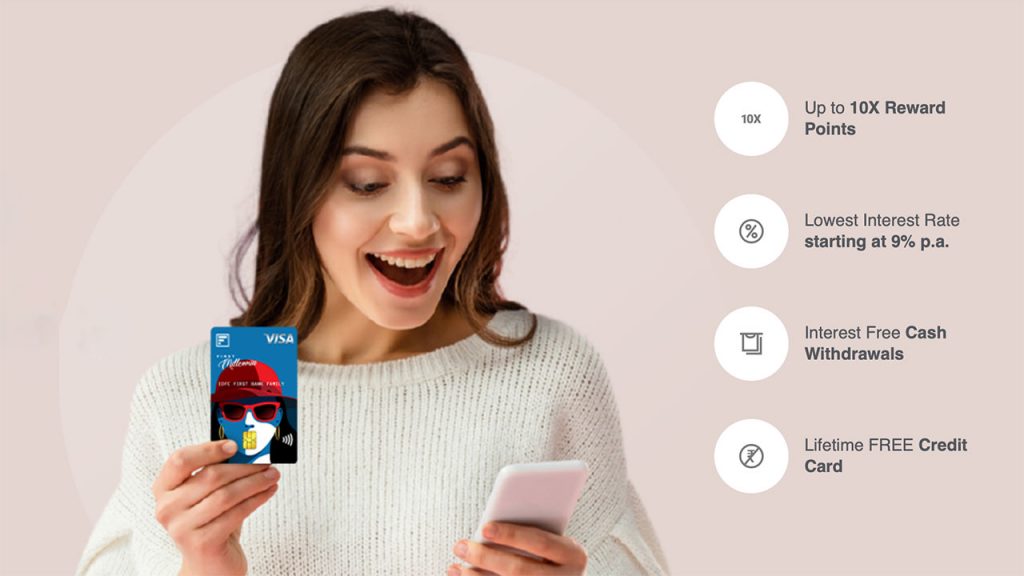 Update: Kindly refer IDFC First Bank Credit Card Review (All Variants) for detailed review (or) Hands-on Experience with IDFC First Select Credit Card for application process and more.
The New Year 2021 has given me two good news w.r.t. IDFC First Bank. First, my IDFC shares finally got into +ve side almost after ~3 years. Second, now comes the news about the launch of new IDFC First Bank range of credit cards.
While these are the first proprietary IDFC First Bank Credit card products, not to forget about the OneCard – the metal credit card for masses which also runs on IDFC Banking system.
The USP
Before getting into details, let's have a quick look at what IDFC intends to do in the crowded credit card industry.
Low Interest credit cards (9% p.a.)
Lifetime Free Credit Cards
No Expiry of reward points
No Finance charges for cash w/d (Rs.250 w/d fee applicable)
Railway lounge access (on all cards)
IDFC First is getting a good name recently because of their premium IDFC First Visa Signature Debit card (25K balance a/c) + high interest yielding savings accounts as they give you mind blowing 7% rate of interest while most other banks are at half of it.
So it seems they intend to use the same weapon to capture a good market share in credit cards too, by providing revolving interest rates as low as 9% p.a., which is just Rs.750 a month on revolving balance of 1L.
Of-course this low interest rate is not for all, but for the credit worthy individuals based on various factors.
This would definitely be a game changer in the entry level segment and would even end up in changing the way we Indians see credit cards, meaning, we may start to revolve balances like Americans.
Credit Card Variants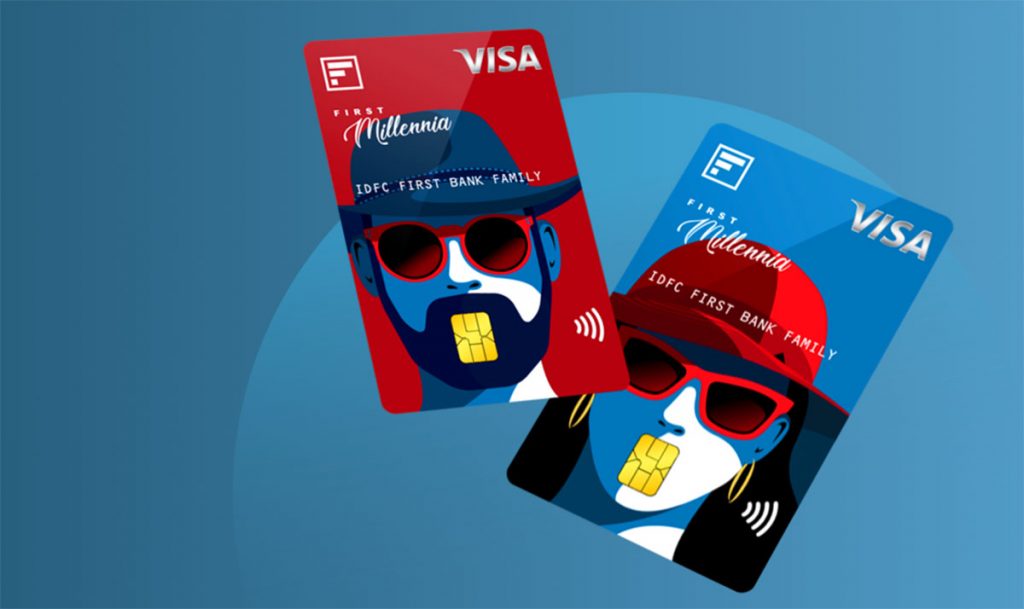 There are no major difference between different cards esp. when it comes to rewards. You get the same 1.5% on online spends and 2.5% on spends >20K and on birthday.
The difference is on the additional benefit like movie/lounge/golf etc. While we may see various cards in detail later, here's my super quick review of these cards:
Millennia/Classic Variant: is really good, as it will let you earn 10X rewards as long as you can spend more than 20K. That's upto nice 2.5% return on spend on entry level card.
Select Variant: is good too as you will enjoy the Visa Signature privileges like Buy1Get1 movie benefit, lounge access, etc
Wealth Variant: is good for the features it comes with, provided its a free card too on Visa Infinite variant with 1.5% forex markup fee. But its not impressive enough to pull super premium credit card customers from other banks.
I wish they had Airport meet & greet, airport transfer sort of services. Which one do you think is better?
Eligibility Criteria
Given the fact that all cards are free for life, the confusion now is, how would the bank decide the eligibility?
That could be done via combination of various factors, like ITR, savings accounts balances, or spending pattern on their debit cards or even via Credit reports.
Update: Here are the eligibility criteria for respective cards known so far:
Millennia: Age between 21-35 year olds, with income less than ₹12 lakh
Classic: Age >35 and ITR over ₹12 lakh
Select: Age >35 and ITR ₹15 lakh and ₹35 lakh
Wealth: ITR >35 Lakhs (or) high HNW with bank, like >10L balance
The bank may as well upgrade the cardholders based on spends. We will know that in coming months.
When will they be launched?
Existing IDFC bank customers already started getting the credit cards.
For others, its expected to be launched for public by March/April 2021. And not to forget, IDFC Bank has been issuing employee-variant credit cards for their bank employees since past 2 months.
How to Apply?
You may show interest on their website for the card you wish and you may expect a response from them by late Feb 2021.
Having a Savings a/c is not mandatory, yet it may help, as its a common sense for banks to put bank's customers on priority compared to the open market customers.
Opening an Ac with IDFC First bank is super easy. It hardly took me 5 mins to complete the online-only application process via Aadhaar authentication and another 5 mins to setup the mobile app. The a/c is already funded & functional.
They do Video KYC to lift the limits on account. That took me another 10 mins or so. Overall I'm happy with the smooth onboarding experience for their savings ac.
Is It worth Applying?
Looking at the frequent targeted offers they're throwing for their debit card customers, Yes, I would suggest to get the IDFC credit cards for a rewarding 2021. Here's a quick look at one of the recent offers on a debit card.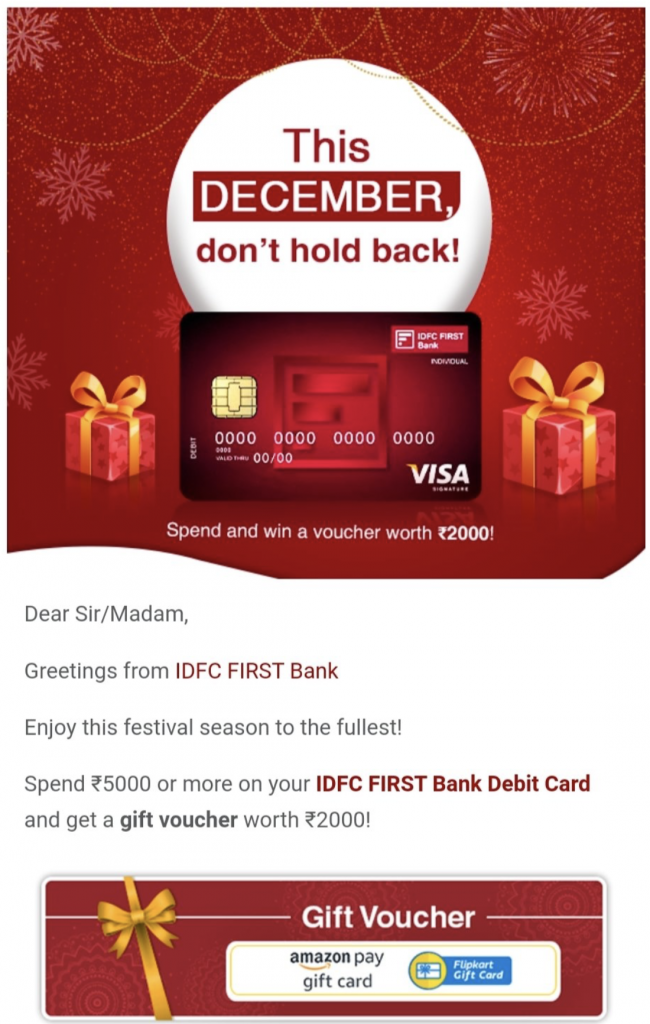 But yes, we still don't know the points redemption system, customer care support quality, etc which will define where IDFC First credit cards are headed to.
What's your thoughts on the upcoming IDFC First Bank credit cards? Feel free to share your thoughts in the comments below.