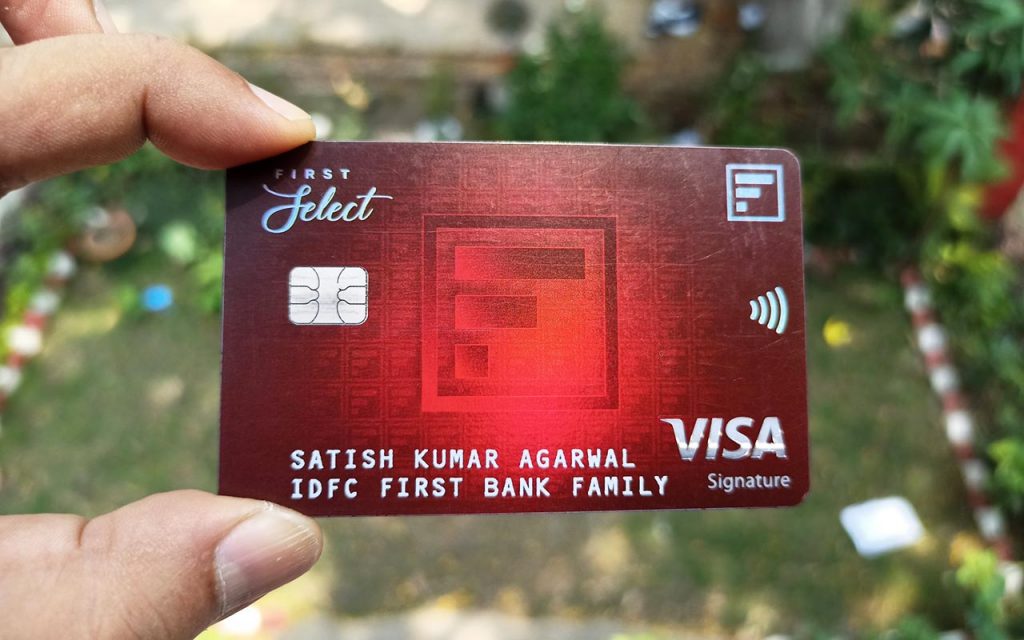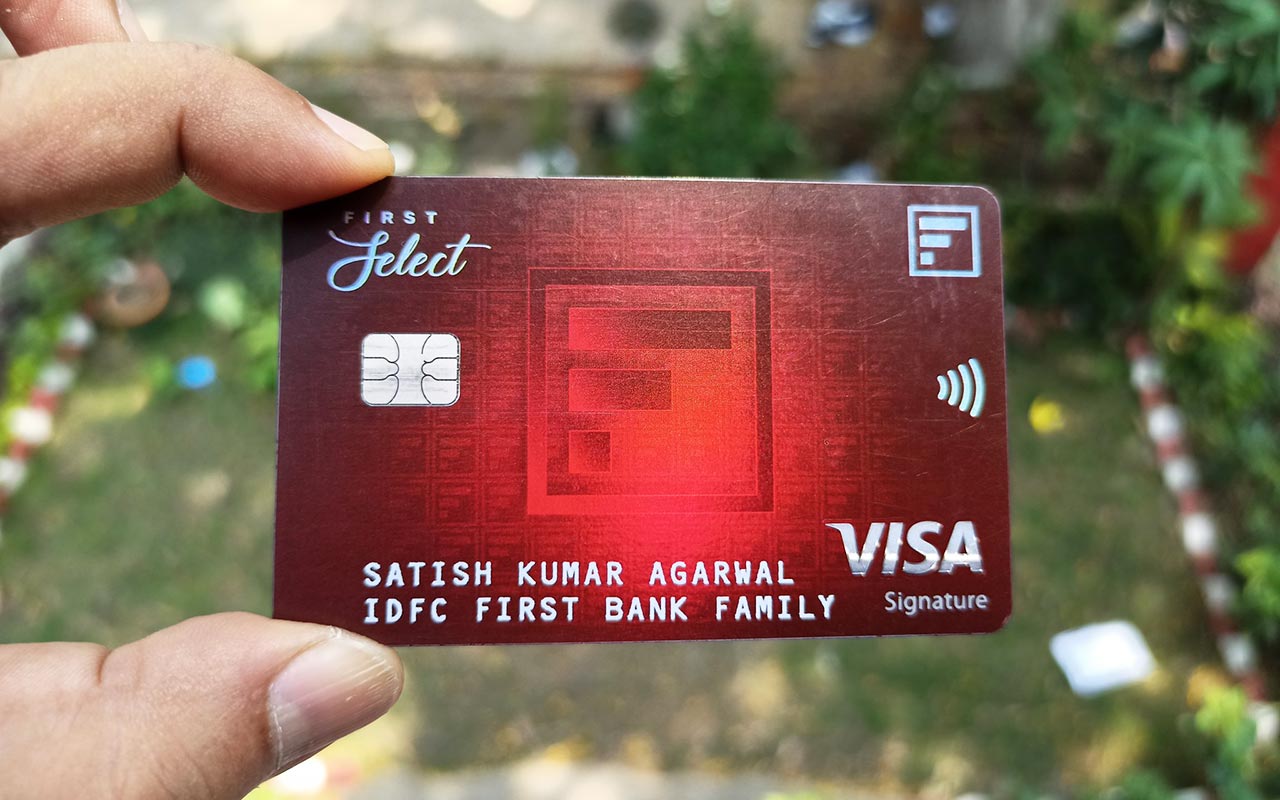 IDFC First Bank in Jan 2021 announced their new range of credit cards with dynamic interest rates (first in industry) on revolving balance as one of their USP. Its been couple of months since IDFC cards were launched and now we've good number of cardholders to figure out how its all going.
IDFC First bank has 4 different credit card variants and here we're going to explore the differences between them in detail.
Fees & Charges
| | |
| --- | --- |
| Joining/Annual Fee | Lifetime Free |
| Welcome Voucher | 500 INR (spend 15K in first 90 days) |
The welcome voucher is good to start with but wish they had given higher value vouchers on premium cards, perhaps with higher spend target.
It's quite surprising to see that they've decided to give out all cards for free – not just for first year, but free for life – including the premium range of cards.
Having said that, you must have a quick look at The Truth about Your Lifetime Free Credit Card for some surprises.
Eligibility
| Card Variant | Eligibility Criteria |
| --- | --- |
| IDFC First Millenia | <12 Lakhs p.a (Income) |
| IDFC First Classic | >12L & <15L p.a |
| IDFC First Select | >15L & <35L p.a |
| IDFC First Wealth | >35 Lakhs p.a (or high HNW with bank, like >10L balance) |
Income is one of the few eligibility criteria that bank uses to decide the card variant. The bank also seem to use credit report/other credit card stmt/NRV on savings ac to find the variant fit for your profile.
Upgrades may likely happen after 6 months based on spends/usage pattern/credit score, etc. We will know that in coming months.
Rewards
| Spend Type | Rewards | Reward Rate |
| --- | --- | --- |
| Offline Spends | 3 RP / 100 INR | 0.75% |
| Online Spends | 6 RP / 100 INR | 1.5% |
| Spends >20K (per stmt) | 10 RP / 100 INR | 2.5% |
| Birthday Spends | 10 RP / 100 INR | 2.5% |
IDFC First Credit Card Rewards
1 Reward Point = 0.25 INR
No reward redemption charges
IDFC First bank is the first in industry to introduce same reward structure for all range of cards.
So if you're looking for rewards, you should be fine with any card and you no longer need to chase the premium/super-premium ones.
Reward redemption is through Poshvine portal and includes Gift cards like Amazon Vouchers as well.
That aside, here are few things you may need to keep in mind:
Reward points do-not accrue on Fuel, EMI & Insurance transactions
Reward points never expire.
If spends are >20K in a stmt, you will earn 2.5% only on spends greater than 20K. So, for spends upto 20K you will only earn the regular rewards, as per the type of spend.
Lounge Access
| Access Type / Card Type | Millenia | Classic | Select | Wealth |
| --- | --- | --- | --- | --- |
| Airport Lounge Access (Domestic) | – | – | 4/qtr | 4/qtr (shared) |
| Airport Lounge Access (Intl) | – | – | – | 4/qtr (shared) |
| Railway Lounge Access | 4/qtr | 4/qtr | 4/qtr | 4/qtr |
| Domestic Spa | – | – | – | 4/qtr (shared) |
Complimentary Airport/Railway Lounge Access & Spa
From my quick research, it seems the spa/domestic/international lounge access accessed via Dreamfolks card on wealth variant is "shared" with a limit of 4 (per qtr).
Apart from that, we don't know if the Visa Infinite access for domestic access is separate. It's bit complicated to understand how it would work in real-life. I wish IDFC had made it clear on their product pages.
Other Benefits
Golf Benefit: Complimentary Golf rounds on Wealth variant.
Buy 1 Get 1 Movie Benefit: Upto Rs.250 on Select & Rs.500 on Wealth variant.
Forex Markup Fee: 1.99% on Select & 1.5% on Wealth variant.
Free Road Side Assistance(RSA) worth ₹1,399 on all cards, except Millenia.
Revolving Interest Rate
One of the biggest USP of IDFC first card is its low interest rate on revolving credit card balances. For ex, IDFC has said that it may give interest rates as low as 9% based on profile.
But from what we know so far, majority of the customers do-not fall under this bracket as very few have reported such low interest rates so far.
My Interest rate is currently at 22% p.a. for now. IDFC recently reduced the interest rate for some cardholders, after a month of issuance. Let's see how often they do this change in the future.
How to Apply?
Online: Apply Now
Offline: Apart from online applications, they're also taking office applications in select branches. You can either apply via card-on-card application or simply ask branch/BM for recommendation.
I got approved for the IDFC First Select Card via branch/BM recommendation (without visiting the branch).
From my experience and also from what many say, it seems branch can help you get the card even if you're not pre-approved. Just make sure you've an account.
You may also check-out the hands-on experience with IDFC Select card article by Satish for even more details on the card processing time, etc.
Upgrades
Customer care says that the eligibility for upgrade will be shown post 6 months based on spends and repayment pattern.
While we don't know what type of spends they will expect, I think it should be easy to upgrade by having high NRV, if not via spends.
Ideally speaking, you cant use most beenfits like lounges/spa these days. So its better to let it age for an year or so and attempt for an upgrade when the travel is back to form.
Bottom line
CardExpert Rating: 4.5/5 [yasr_overall_rating]
Given that the IDFC First credit cards are all given as Life Time Free, these cards are totally worth holding. For entry-level users, saving ~2% on the spend is made easy with accelerated rewards.
For premium users too, its good to have complimentary airport lounge/spa access on a no-fee card. All these will stay as long as there are sufficient spends to justify the lounge/spa usage. If not, they'll eventually step into paid version.
Are you approved for the IDFC First Credit Card? Feel free to share your thoughts in the comments below.