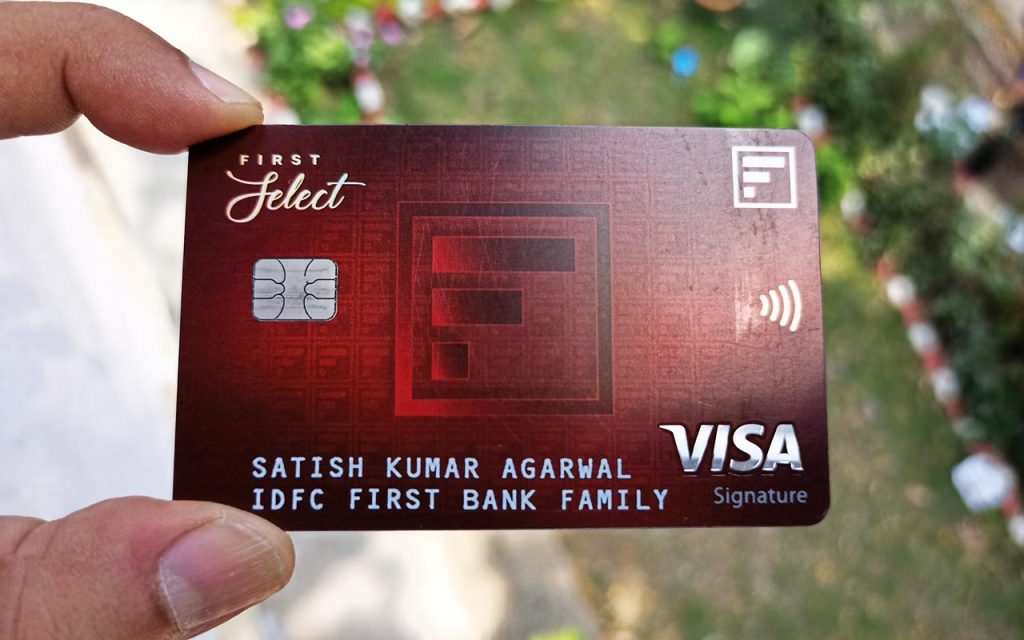 This is the hands-on experience article of the IDFC First Credit Card. If you're looking for the features and benefits of this card, do check out here: IDFC First credit card review
I am an IDFC First bank savings account holder since June 2019 and at the time of opening the account the sales executive who came to collect KYC documents told upon enquiry that a credit card launch is approx. 6 months away.
Covid- 19 probably delayed the launch however IDFC was issuing cards (15,000+) to their employees as a trial run few months before public launch. It finally reached public by mid Jan 2021 and here's my hands on experience with it.
Application Process
Expressed interest on the pre-launch day itself i.e. 15 Jan 2021 and got this message on screen.
Here's a quick look at the timeline taken to process the card application:
15.01.21 – Expressed interest on website, the day on which Pre-launch happened
19.01.21 – Received an sms link to apply for the pre-approved card (link was not working for few hours)
20.01.21 – Applied via the link and shown pre-approved card along with variant, limit & interest rate @33% (approved immediately) as shown above
22.01.21 – Received courier details for tracking
25.01.21 – Received card in a simple yet thoughtfully designed mini envelope without any booklet
So it all happened quite fast as the card was in my hand within 10 days of announcing the launch. Everything went online and kudos to IDFC First bank for this lightning fast processing.
Update: In the 3rd week of April, received the message that interest rate has been reduced to 22%
The Card
IDFC First Select card looks quite similar to its IDFC Visa Signature debit card except:
Card details are printed (whereas its embossed on Debit Card)
Front of the card has only name, all details viz. card no., cvv, expiry date are on the backside
No signature panel on the back (rightly removed, which anyway is of no use)
VISA logo on the card carries distinctive metallic reflective look (first time seen by me)
Reward Points Redemption
What I liked most is: Reward Points can be redeemed when placing an order online itself, similar to how Amex points redemption work.
Tried this out recently and the transaction value didn't become zero, rather the txn was as usual + I received statement cash back credit equivalent to the transaction within just 2 days, which is swift by any standard.
RPs redemption options are as good as cash credit currently. Other options like Amazon, Flipkart and almost all popular brand GVs are also available.
What's more, you are free to input the GV amount and can redeem upto max possible limit of RPs available and not a preset 500, 1000 kind of GV. This is similar to SBICard AURUM redemption system, as both are handled by the same company.
Reward points can be redeemed via in-app link too, which doesn't require further login.
EMI conversion option is also seen in OTP entry stage, though I am yet to try it out. These are some real innovative options for a new entrant in the industry.
Credit Limit
I exceeded the 80% credit limit via a particular transaction (Covid 19 initial hospitalisation bill) and immediately came an email & sms to remind the same. Once used more than 80% credit limit, I had to prepay to use it for further transactions.
Best part is even though I have used the entire assigned credit limit in this stmt. cycle, I can still prepay and use the card further and earn Reward Points.
But I can't use more than assigned credit limit on the same day, as few attempts to pay even small bills failed that day miserably. Card was perfectly working next day.
Note: This daily limit is also being experienced on HDFC & SBI credit cards these days.
Customer Support
Every time I have connected to their customer support in last 1.5 years of relationship (about 10 times), it has mostly been a pleasant experience & found them polite.
Their thoughtfully designed new mobile app (though hangs a bit more frequently) has plenty of options and fewer clicks required to perform each operation.
It has options to Chat/ Video chat in-app.
Thought to give it a try and was instantly connected to Video support and on inquiring about Wealth card upgrade, I was told to try after 6 months and the card team will look into basis internal criteria.
Via in-app chat I requested for CL enhancement (even temporary for 1 month only) in 4th week of April keeping in mind credit utilization ratio reaching/ exceeding 100%, but was politely denied. I was conveyed that minimum 6 months time period is required to look into.
Drawbacks
Not giving reward points for Insurance transactions is a big thumbs down. At least RPs with a monthly limit for these transactions could have been better.
Also any kind of wallet load (online transaction) will most likely earn RPs at base rate, i.e. 3X (3 points per 100 spent). This is as per their CS executive on call. However in reality, I have received 6X RPs in current billing cycle.
Being a recent entrant in credit card industry, its old netbanking UI/ mobile app for credit card has nil/ limited options. I successfully migrated to new portal via a link (in a comment) posted in inaugural article within 5 minutes. You may try via the same link here.
Bottom line
My experience with IDFC First Select credit card has been one of the more pleasant and rewarding one especially because my HDFC Diners Black credit card had acceptance issues frequently during Covid-19 hospitalization in mid April 2021.
Also the simple and easy redemption system similar to vanilla cashback cards makes it a wonderful credit card for beginners.
All good so far and I'm waiting to see some IDFC targeted offers just like those they send to the debit cards now and then.