After the merger of IDFC bank with Capital First sometime back, there is an interesting launch by IDFC First bank (the merged entity). IDFC First savings account now comes with IDFC First Visa Signature debit card.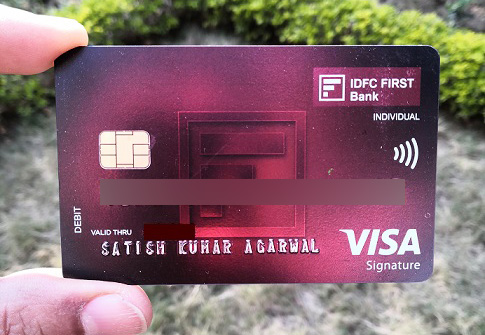 Card Features & Benefits
Bookmyshow Benefit
This one is going to please movie goers (especially individuals) as this Visa Signature debit card gives upto Rs.250 cashback (per month) on BookMyShow. This is how it goes–
Just login to BookMyShow and proceed for any movie ticket/ non movie event payment via this IDFC First Visa Signature debit card
There are absolutely no conditions attached with it (viz. any particular day/ special hours/ limited quotas/ minimum amount or no. of tickets)
No requirement to apply coupon codes either, so you may apply a BMS code along with too (if you have one)
Cashback gets processed to savings account on or before 15th of next month
You get flat 250 cashback if spend is more than 250. If its less than 250, you get as cashback what you paid
Cashback includes convenience fee paid too (For now)
Offer valid till 31st March 2020. May or may not be extended (Cashback maybe reduced in future or extended with some tnc)
You receive cashback only if AMB of savings ac is maintained above 25K
Note:- BMS benefit has been withdrawn from October 2021
Visa Signature debit card will be charged 499/- + GST w.e.f. 30th June 2022 (RB customers like Select, Wealth n Private will not be charged annual fee for now)
Other Benefits
Other debit card features are mostly norm with private banks viz.,
Fuel surcharge waiver, nil annual fee, any bank ATM cash withdrawal, free death/ permanent disability insurance etc
Complimentary airport lounge access limited to 2 per quarter
Limitations
No reward points system yet. So the card is good only for availing BMS or merchant offers or airport lounge access
Ask for Visa Signature debit card at the time of filing KYC details because they also have Platinum variant which gives less benefits with low AMB requirement
Account features & benefits
Savings account interest is 6% for balance less than 1 lac and 7% above it (now it's 7% upto 1 crore or less w.e.f. 01.01.2021)
FD interest is quite good at 7.5%, but remember you are protected by RBI upto 5 lacs only per branch in case bank goes bankrupt

Welcome offer
You get 10% cashback on 1st ever card spend upto INR 250 max
Spend above 1000+ using your IDFC First Visa Signature debit card to qualify
Cashback gets posted on or before 15th of next month into your account
Birthday Offer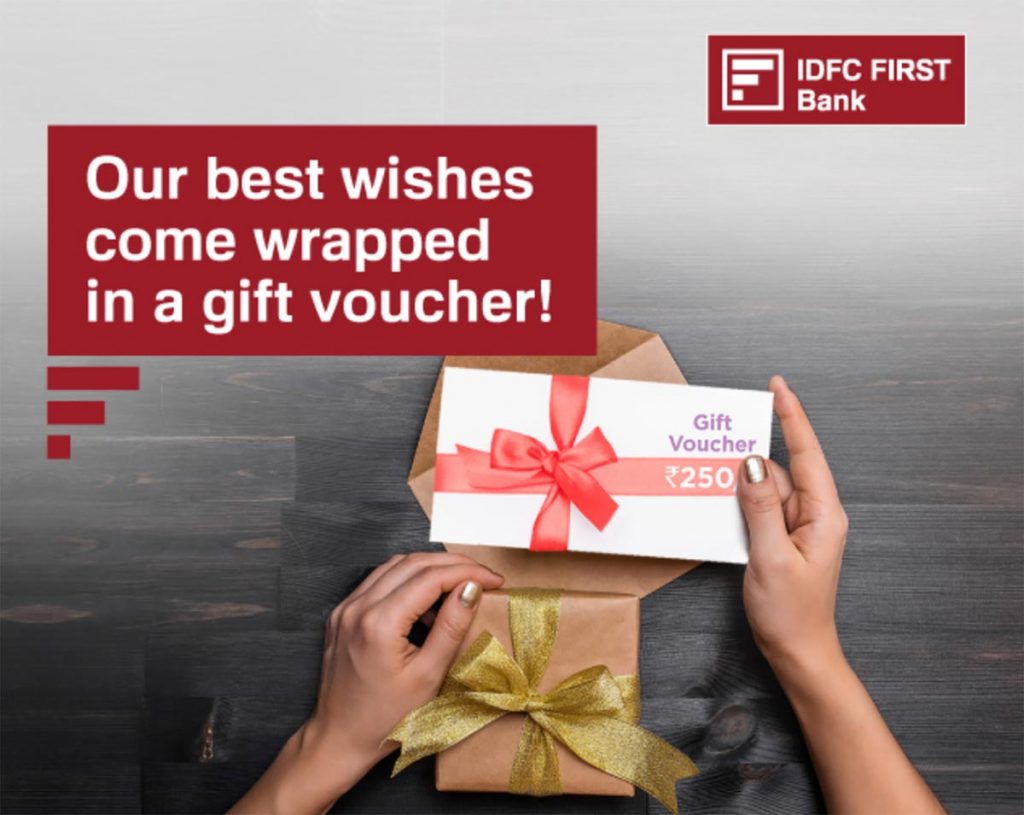 Spend 5000 or more in birthday month
Get rewarded with GV worth 250 among any of amazon, shoppers stop or bookmyshow
Voucher to be sent before end of next month
My Application Experience
Applied for IDFC First savings account on 13th June. Flow of card processing is as below–
13.06.2019- Applied for the savings ac via Apply Now tab on website
14.06.2019- Bank executive visited my house for KYC
18.06.2019- Got the SMS with account details
19.06.2019- Received courier details containing Bluedart AWB
20.06.2019- Card delivered
So they are pretty quick in opening accounts, especially as I didn't provide Aadhaar based KYC. For Aadhaar based KYC the executive told me that it will be even faster.
The card is glossy in finish with card details embossed. Card design is as usual with maroon red in colour.
Bottomline
CardEpxert Rating: 4/5 [yasr_overall_rating]
All in all its a decent offering for all those movie lovers in town due to this card's USP BookMyShow offer. If you are not using BMS or use it sparingly, this card may not entice you.
And birthday offer seems tailor made as except monthly BookMyShow offer, I hardly use this card. You may get better one if NRV/ card spends are high (especially as there is no card based reward point system, so more spends means more profit to bank).
Considering low cost of maintaining the account and also that you get a Visa Signature debit card, it gets thumbs up from me. And visit to movie theaters has become a habit with these kind of generous offers. Hope it continues beyond March 2020 too as their reach to masses will take quite sometime.