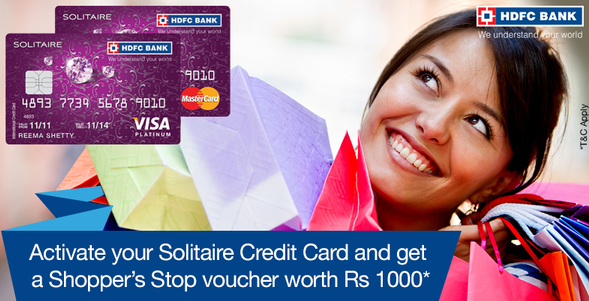 Solitaire Credit Card is one of the exclusive credit card of HDFC dedicated especially for its Female customers to give them higher benefits and to attract Females towards banking services and encouraging them to avail more credit benefits from their banks. Since women are considered more shopaholic and loves to follow the latest trendy avatar, bank has exclusively designed this card so that they can get attractive rebates in shopping and free admission to elite clubs etc..
Redeeming Reward points in Solitaire Credit Card:
Another attractive feature of the card is with more reward points which you can earn on this card can be used to buy stuffs from rewards catalog or you can even convert to cashback against statement. That is, you can get your reward points get cashed against your bills to be paid on this card. Also you can avail 50% more reward points on your dining and grocery spending on this as compared to all other cards of HDFC. It has a feature of India Miles in which you can get your reward points get cashed against your flight tickets.
Reward points Validity: 2 yrs
It gives you vouchers of shoppers stop of total 2k in a year on spending 75000 every 6 months. Though the annual fees of the card is 500/- per annum but it can be waived off for life time with a insta loan of 12000/- which bank these days offer while processing your form @ 1.1% (monthly) rate of interest which bears the least of interest and making your card Life Time Free.
These reward points can be exchanged against shopping vouchers (or) also as cashback against the statement @ 1 Reward Point= 0.40 Ps
Additional benefits on Solitaire Card:
Get 2 Shoppers Stop vouchers every year worth Rs. 1,000/- each (Assuming the overall spend every 6 months is above Rs. 75,000/-)
Features of HDFC Solitaire Credit Card:
CardExpert Rating: 3/5 [yasr_overall_rating]
Reward Rate: 0.8% – upto 1.2%
Reward Points: 3 Reward Points for every Rs 150 spent and 50% more reward points on spending of grocery and dining.
Fuel Surcharge waiver: Get cash back on fuel with a maximum cap limit of Rs 250 per billing cycle.
Renewal Fee Waiver: Rs. 500 annual fees for the first year but if you spend Rs.10,000 within first 90 days from date of receipt of card the annual fees will be waived off and from second year onwards you need to spend Rs.50,000 in the entire year to get your fees reversed.
Complementary Airport lounge access: No.
Foreign Exchange Markup fee: 3.5% + Service Tax
Final verdict on Solitaire Credit Card:
The card is considered in semi-premium segment since it is designed especially for female customers. So if you are passionate for shopping or want to stand in the market independently with your own credit standards, surely the card is a best pick for you. If you purchase only offline, its more or less equivalent to Moneyback card on rewards front, but if you spend online, consider to take Moneyback credit card as it gives 3X reward points for online expenses. Solitaire is dedicated to female segment alone, with little bit of additional features.
You can get on one since it gives extra points on dining and grocery which is a plus for frequent diners. The limit of the card is also good enough and ranges between 75k-1Lakh. Any queries? drop your comment below 🙂