With the introduction of Insta Loan and other products, taking a quick loan on your Hdfc Credit Card is damn easy. Hdfc has made the approval process super simple that if you have a pre-qualified offer, you can get the loan amount into your account in matter of minutes, no documentation required. There are different variants of loan. Let me explain them in detail as bank doesn't make it clear for obvious reasons.
HDFC Insta Loan:
If eligible, you can get Insta Loan (aka Cash on Call) on your credit card in matter of minutes through net banking. The given loan amount will be blocked against your credit limit and you can pay the loan in flexible tenures as EMI.
Things to note:
1. Credit limit gets reduced
2. Service tax is applicable on the interest you pay, which is a part of your EMI.
3. Can be availed only twice at a time
HDFC Insta Jumbo loan:
Similar to insta loan but your credit limit doesn't get blocked in this case. Another major difference that Hdfc is hiding away for some reason is that you DONT need to pay service tax on interest in case of jumbo loan. This info gets buried somewhere on website and even Customer care guys wont tell you unless you figure it out yourself.
But this difference saves you a huge money. It takes upto 1 working day to process this loan and also this will be billed separately and not on your credit card statement.
As far as i can understand, Insta Jumbo Loan is a kind of "Personal Loan" given to you on basis of credit card usage. because, only in personal loan, service tax is not included.
Things to note:
1. Credit limit unaffected
2. No service tax on the interest.
3. Can be availed only once at a time
HDFC Smart EMI on Credit Card:
You can convert your credit card expenses into EMI. Process is quick and easy through net banking.
Things to note:
1. Service tax applicable on interest
2. Can be availed multiple times
3. Available most of the time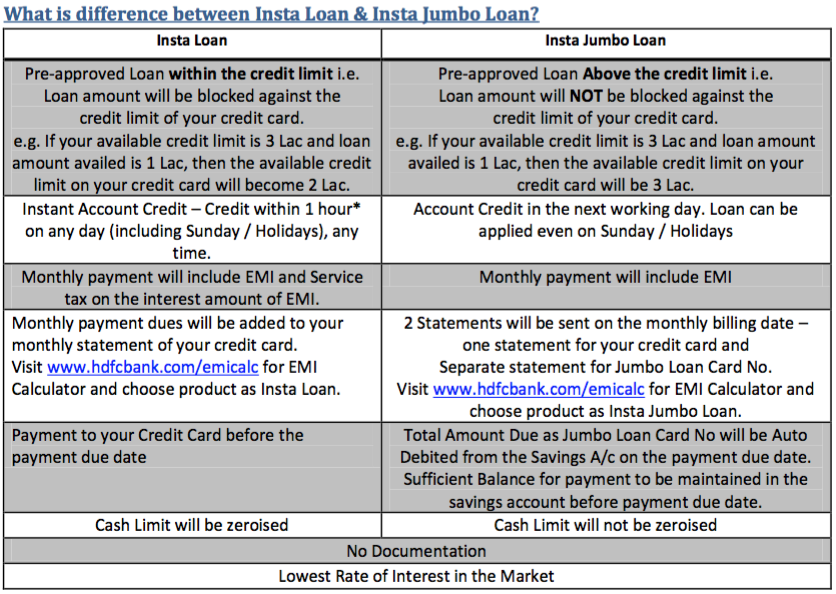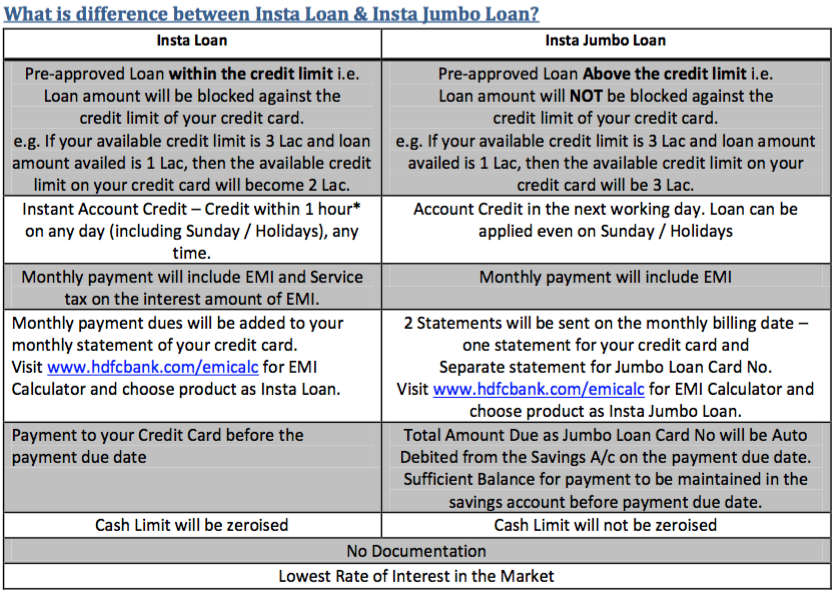 My Review on HDFC Insta Loan: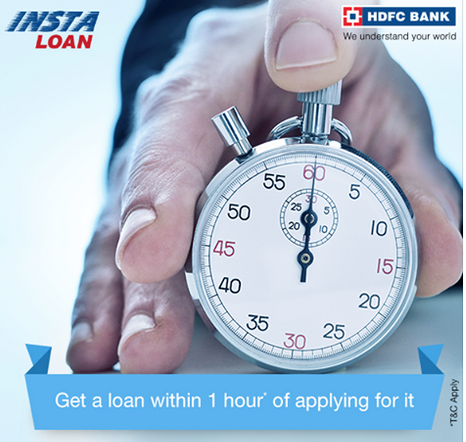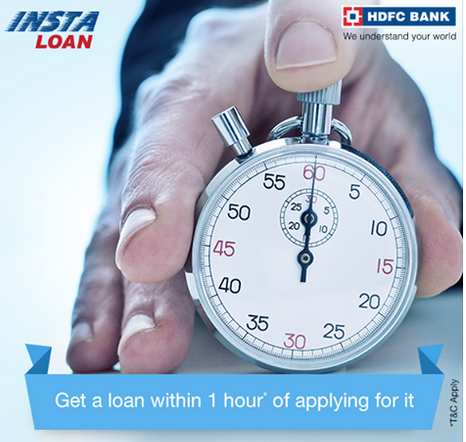 So you would ask, which one should I go for?! INSTA JUMBO LOAN is the best ever loan you can avail on your Hdfc bank credit card. Because it doesn't reduce your limit and you don't need to pay service tax. You can also choose smart EMI or insta loan based on your spending type as both has similar interest and you have to pay service tax on interest in both.
At times, Hdfc runs offers wherein you can get loan @ 11.88% (annually) with processing fee waived off. It's super cheap and you can never get such interest rates on planet earth with unsecured loans. My dad was once lucky enough to get Insta Loan for 50k INR during the offer period. His credit limit was 1L at that time.
Check your net banking once in a while to see if there are any offers on your credit card. Sadly Hdfc will not inform you when the offer is available. Maybe its sells like a hot cake without any promotions 😀
HDFC Insta Loan Interest rates:
HDFC has the lowest interest rates in the market on credit card loan/EMI than any other bank. It usually varies around ~13% annually sometimes they do run offers for 11.88% annually (0.99% monthly) as mentioned earlier. However, pre-closure charges of 3% does apply.
Eligibility for HDFC Credit Card Insta Loan:
Apart from the interest rates, note that the eligible loan amount varies from customer to customer and depends on Hdfc internal policies. I've spent a lot on my credit card but I never got any loan offers. But my dad spends too less on his credit card but got a good offer and he availed. Though we both have different cards with different spend types. Looks like the card variant and the customer profile matters to bank.
Still struggling to get eligibility for SmartEMI/Insta Loan/Insta Jumbo loan? check out How to Enable HDFC Credit Card Loan offers with my latest article 🙂
Have you availed any Credit card loans earlier? Share your comments below.