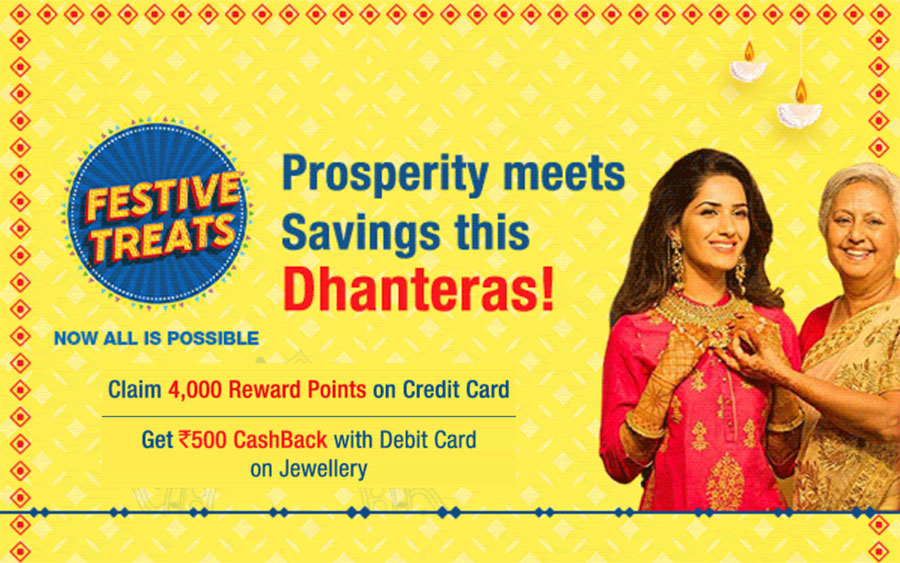 Just like HDFC credit card promos for Dhanteras 2018 and Dhanteras 2019, this year too HDFC Bank has come up with similar Bonus reward points and cashback offer for spends on Jewellery during Dhanteras on HDFC Bank Credit & Debit cards. Here's a quick look into the offer just incase if you've missed it:
Offer Details
HDFC Credit Card Offer: 4,000 Reward Points on Credit Cards, Min. Transaction: INR 40,000
HDFC Debit card Offer: INR 500 CashBack with Debit Cards, Min. Transaction ₹30,000
Offer Period: 06th Nov – 13rd Nov 2020
This is a very good offer and nets you about 10% savings on your Jewellery spends if you hold super premium credit cards like HDFC Infinia or HDFC Diners Black.
Yet, as you can see, HDFC has trimmed the benefits a lot in last three years on Dhanteras Promo. For ex, in 2018 the return on spend was 33% and in 2019 it was 16.5% and now in 2020 its mere 10% return.
While the return on spend is not great as before its still good to avail for those who anyway intend to spend.
Bottomline
While its good to see HDFC Bank consistently run Dhanteras Promo every year on credit and debit cards, its sad to see the value going down every year.
Anyway, other banks are not caring much for Dhanteras, so something is better than nothing 😀
However, apart from this, there are no spend linked offers from HDFC. I miss those Happy Hours 2018 promo and those targeted spend based offers this 2020.
Its completely dry from HDFC this year in that aspect. But worry not, Axis is shining bright with nice 3X rewards on premium cards.