We all know that Yes Bank is the newest entrant in the Credit Card Industry in India and aims to capture the No. 3 slot in the Industry by 2020. Even though, this target is lofty but by no means is it impossible. We have seen that there has been an immense push for the masses to embrace digital economy with the recent demonetization move by the Indian Government and this has led to a serious traction for the Credit Card Industry.
Having said that, Yes Bank with their lofty target in sight, are leaving no stones un-turned to pitch in the best offers for their Elite "YES FIRST Cards" which include the Premium Segment YES FIRST Preferred Credit Card and the Super Premium YES FIRST Exclusive Credit card.
Get 100% Bonus RP on your Insurance Payments with Yes First Credit Cards:
Offer: Till 31st of March, 2017, you have a chance to earn 100% RP as bonus (2X points in other words) on your Insurance Payments with your YES FIRST Credit Cards (Max Capped at 10,000 RP)!!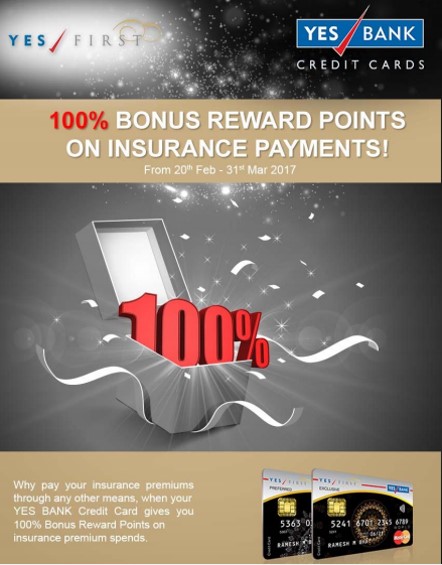 What does this mean for YES FIRST Credit Card users?
This means that if you pay your insurance premium with your YES FIRST Credit Cards during the offer period, on top of the normal reward points that you'll earn, Yes Bank will pay you 100% extra RP to a max of 10,000 extra bonus points.
In simple language, if you get 6,000 points for your insurance payments, Yes Bank will give you another 6,000 bonus RP. However, if you get 15,000 RP due to the normal spending on paying insurance premiums with your YES FIRST Cards, Yes Bank will give you additional 10,000 RP (Max Cap).
Thus, you see, instead of getting 15,000 RP you'll end up getting 25,000 RPs. Isn't it cool?
10,000 extra RP means ₹2500 (1 RP = ₹0.25)
Important Points to keep in mind:
Card members will earn 100% extra bonus RPs or 10,000 RP, whichever is less.
No minimum spend criteria under this offer. All Insurance Premium Spends will be considered.
Insurance Premium Payments made on Add-On Cards will also be considered for gaining RPs, however, the maximum bonus RPs that can be earned Per Credit Card Account is 10,000 RP.
Offer valid till 31st March, 2017.
The Bonus RPs would be posted to Card Holder's account latest by 30th June, 2017.
I think this is a really lucrative offer where in you can earn up to ₹2500 extra without sweating it out at all. All you have to do is to register for this utility bill payments by sending a Physical Form that is available in their website and register and pay for the insurance premium before the offer period ends.
Even though, cards like Diners Black Card through their generous 10X program, can allow earning of up to 33.33% (Diners Black Variant) on their Insurance Premiums through the Smart Pay feature but still, this offer from Yes Bank is one of the most lucrative offers in the industry in this front.
Let us know what do you think of this offer from YES BANK and how many of you are able to successfully make your Insurance Premiums with your YES FIRST Credit Cards.
Update: You get 1000 RPs (₹250) for every new YesPayNow registration with auto debit option.