During the demonetization we all had our share of difficulties related to unavailability of cash for the immediate period post the historic declaration. However, the government made a lot of moves in order to ensure that the liquid cash flows into the market. On of the move was to dictate RBI to mandate a decrease in the rate of interest that a customer can earn on Fixed Deposits and Recurring Deposits.
Fixed Deposit Rates were as low as 4.25% at one time. Yes, you read it correctly. SBI post 24th November 2016 had FD rates at 4.25% for few months. Its recovered again in February 2017. Now that the rates have improved the industry standard is around 7%.
Fixed Deposits at 7.15% for accounts opened till March, 2017
I got an email from IndusInd Bank in the first week of February telling that if I open a fixed deposit with them before 31st March, 2017 then I'll enjoy the following benefits:
I'll earn a cool 7.15% on my FDs
The Tenure will be 12 to 14 months
There will be NO Penal Interest on Premature Withdrawal.
I'll get a stylish wrist watch free from them for opening the FD.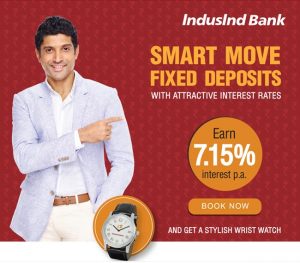 Points of Interest for the account holders is:
The interest of 7.15% is one of the highest in the industry.
You can earn 7.15% interest on your FD only if the duration is 12-14 months.
If you chose the FD tenure to be less than 12 months or more than 14 months, you'll see an updated interest rate which will invariably be less than 7.15%.
The watch will be gifted only for the first FD opened.
Minimum amount of FD that qualifies for the gift is ₹50,000.
The gift will be considered only if you open an FD through the dedicated advertisement page in their website or the link of the email that they have sent regarding this offer.
If you have an account with IndusInd Bank and you use netbanking to open the FD, you will not be getting the watch.
The requirement is that when you visit their advertisement page and try to open/book an FD through there, it'll tell you to transfer money from some other bank's netbanking (this is the catch), which is not IndusInd Bank. If these criteria are met, the account holder shall be sent a code to redeem the wrist watch free of cost.
I had opened the FD through the link in the email that I received. After around 2-3 weeks, I got an email telling me that my FD qualified for the gift and they sent me a coupon code for the wrist watch redemption. I have claimed my gift but I am yet to receive it till now. I am hoping to get it soon.
It might not make much of a difference by getting a wrist watch but hey, it never hurts to get a free gift. In the process, you get to earn one of the highest interest rates on FD among all banks. Your relationship with the bank gets stronger. There are no penal charges for premature closer (IndusInd bank usually charges 1% penalty for premature withdrawal) and you get the wrist watch as a bonus.
I may still think once whether I should open the FD or not if I'm not an IndusInd Bank Account holder. Otherwise, it's a no brainer.
UPDATE:
A lot of you may be interested to know about the watch. My initial impression was it's good considering the fact it is being offered as free. It's not premium, but hey, I can't complain much since it's absolutely free. It has a IndusInd Bank Branding in the dial and I kind of like the dial. You get a great interest rate and get the wrist watch as a bonus.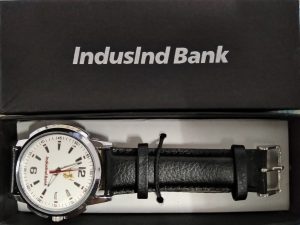 Let us know your views on this move by IndusInd Bank. Do you find the rates better than other bank? There are lot of other reasons for having a bank account with IndusInd Banks like their Signature Debit Card which is the only card in India which doesn't charge you mark up fees at all for your foreign transactions. I am already benefiting with this relationship.