Buying a car on a credit card is certainly a wonderful feeling as we can get a car out of nothing, literally. I mean no loan paper docs, no sign, nothing. Just a single swipe and you can take home your car with a lot of reward points!
There are even couple of readers here who reported that they had bought a car on credit card and its good to see how they're maximizing the high value spends for reward points.
If this is running on your mind too, here's everything you need to know about buying a car on a credit card.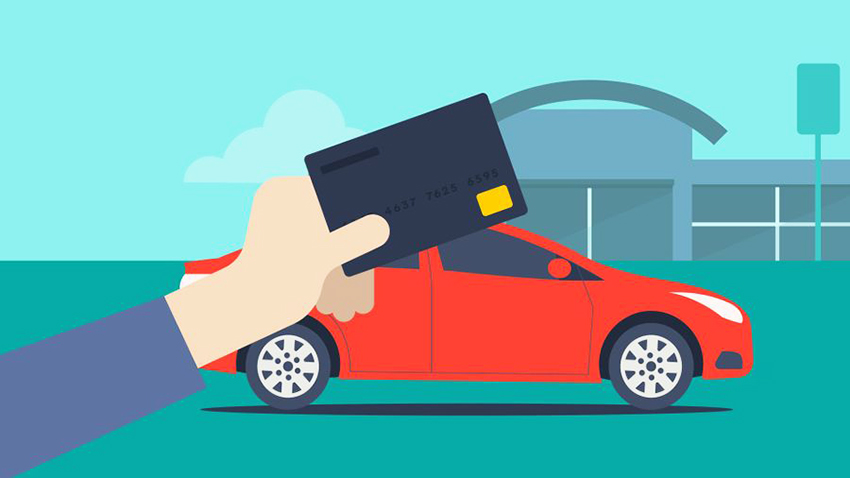 Can I actually Buy a Car 100% on card?
Almost all car showrooms "will accept" credit card as a payment option for paying the "booking amount". The booking amount usually is around 5-10% of the car value.
In my personal experience, most car showrooms (like VW, Skoda) will accept transactions upto 1 lakh as booking amount on credit/debit card and not beyond that, as it hits their margin. Sometimes it can go as high as 3 lakhs on premium cars.
But other than booking amount, most showrooms will not accept the remaining amount on card because they'll loose ~1.75% (transaction fee) or so on the charge. It's even worse on Amex Cards as they loose about ~2.5% or so.
So in this case you may try to:
Stretch the booking amount a little further,
Bargain on the transaction fee share for the remaining amount.
Or, simply absorb the full txn fee
As long as you're holding one of the super premium cards, you'll anyway end up in net profit even if you absorb the full fee. But, the common issue here is most of us don't have such high credit limit.
So yes, technically you can buy a car on credit card. But, should you do it or not? That covers the rest of the article, read on,
Fun Fact: If you're holding Amex Gold charge card with high limit hoping one day you can swipe your card to take home a luxury car, forget it, as Amex rewards are too low to cover the txn fees.
When You should buy?
1. If you've enough liquid cash
If you've enough liquid cash sitting idle that you couldn't invest anywhere, then yes, You can happily go and swipe your card and payback in full the next month.
This way, you'll get lots of points & miles that's good enough to cover a weekend domestic trip.
Those who're thinking about buying car on card usually belongs to this segment. But this is not a wise idea, unless you get outstanding returns on spend, like 5% or above.
Tip: Time your spends to achieve the milestone rewards or to fulfil the spend based offer.
2. Low EMI Rates
If you donot have liquid cash but still have a high credit limit with an irresistible EMI offer, you can make use of it. For example, Yesbank recently came up with 9.90% ROI on EMI which is almost same as the ROI given for car loan.
Paying by credit card is a good idea in this case because you don't need to get into all those documentation & hypothecation stuffs on your RC!
If you belong to this segment, usually you're in <10L range car. If you're looking for >10L segment cars, you probably need to read the next topic.
When You shouldn't buy?
Note: This section is beyond credit cards and more about personal finance.
Basically paying 100% of the amount (either by card/EFT) for a car (or) a home loan is not the right way to handle money, especially when your lifestyle is well settled with basic needs. Let's see why!
1. If you're a Businessman
If you're running a business, you shouldn't buy a car with full cash because you're investing in a depreciating Asset.
You could rather invest the same amount on Stocks/Mutual funds or even better – in your own business that can fetch you more returns than your Car loan ROI.
For example, if your investment in stocks gives 15% returns and if you've taken a car loan at 10% ROI, you still save 5%. If we are talking about a 10 Lakh car loan, you're saving sweet Rs.50,000.
More than 90% of the luxurious cars (Audi/Merc/BMW) that you see on road are on loan for a reason. Its not that they can't afford to pay full, but they know a way to get better returns on the money than buying it upfront.
Apart from that, if you're in 30% income tax slab, this will save you on income tax front too.
2. If you don't like Taxman
If you're buying a car by paying 100% upfront, this "may" trigger a flag on your PAN for a review. This maynot be true for small cars in ~5L range, but for bigger cars, chances are higher.
You still don't need to worry, as long as your ITR supports the spends.
Most of us are not trying to evade the tax system, but dealing with taxman is still a time consuming process.
3. For a better CIBIL Score
One of the factor that decides your credit score (CIBIL/Experian/Crif) is your credit mix. Meaning, you need to hold good mix of Secured loan & unsecured loan.
Fortunately as car loan is a secured loan (good debt), having it on your profile will certainly improve your Credit score.
This is quite important if you're dealing with too many cards, as having secured loan on profile is a good sign for the issuer to give you a better credit limit or even for card approval at times.
Bottomline
So, should you buy a car on credit card? Yes & No. There is no single answer for this as each of our profile is different. It depends on one's financial situation and lot other factors as mentioned earlier.
But if you've a credit card that gives significantly higher rewards its perfectly OKAY to buy your dream car on a credit card 🙂
What's your take on buying on a car on a credit card and do you like these crazy topics? Feel free to share your views in the comments below.