Everyone loves shopping, isn't it ? How about getting rewarded every-time you shop, as cashback (or) Reward points of decent value? Let's check out India's best shopping credit cards available at the moment so you can spend more and save more 🙂
Here's my handpicked list of best credit cards for shopping in India.
HDFC Diners Black
SBI Simply click
Axis Bank Buzz Credit Card
Standard Chartered Manhattan Credit Card
Citi Prestige
List of Best Credit Cards for Shopping Online & Offline in India
#1 HDFC Bank Diners Club Black
Its one of the best cards in my wallet that fits almost anything and everything. Diners cards has temporary yet lucrative 10X rewards program which can get you value back of 33% (as points) on anything you buy at Flipkart and many other partners.
However, Diners card acceptance in india is less, though its getting better over time.
#2 SBI Simply Click Credit Card
While its not even advertised as a premium card, the potential of the card is very high if you're an online shopping person. All your Online spends gives you accelerated reward points which can then be redeemed for Amazon vouchers.
#3 Axis Bank Buzz Credit Card
Buzz credit card is recently launched by Axis bank in tie up with Flipkart. It gives you flat 5% cashback on anything and everything on Flipkart.
#4 Standard Chartered Manhattan Credit Card
I call this card as a Family man card 😀 Looking for cashback on groceries and departmental store spends? This card is for you.
#5 HDFC Infinia Credit Card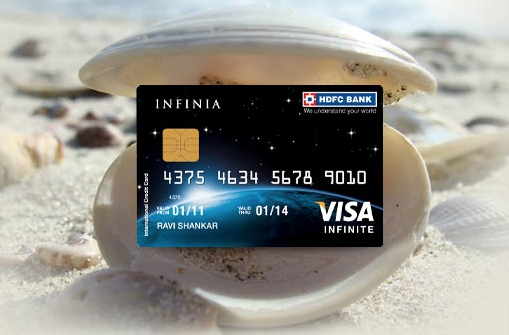 While this is basically not a shopping card, HDFC rolls out some nice offers which can help you save hell a lot of money if you know how to make use of the timely promotions run by HDFC.
For example, recently HDFC is running 5X rewards on couple of partner brands like Nilgiris, Payzapp, etc with which you can get upto 16.5% (3.3% * 5 Times) value back. However, its not that easy to get this card. Its a dream card for many, including me 😉
Even without promotions, you can easily earn 3.3% value back on any transactions with Infinia Credit Card, except on fuel.
HDFC Diners Black is my all time favorite credit card for shopping, Fuel (recently) and the most important – airport lounge access.
Looking for cashback across all your credit card spends?
Check out my list of Best Cashback Credit Cards in India with full Reviews.
Whats your favorite Credit card for Shopping and Why? Share your views in comments below.