Standard Chartered Manhattan Platinum credit card is one of the hyped card due to its fancy name. It was once an awesome card indeed with good value back, but in recent times they've reduced the point value of each Reward point you earn and hence its not upto the mark. Still, if you have supermarket spends of INR 1000 per transaction, you may consider this card. Typically a nice card for a family man living in metro cities.
Joining Fee: Rs.499+tax (Waived if you Spend Rs. 30,000 in a year )
Renewal fee: Annual/Renewal Fee waived if you spend Rs. 60,000 in a year
5% CashBack Categories on Standard Chartered Manhattan Credit Card:
You get 5% cashback on below categories:
More
Reliance Fresh
Big Bazaar
Food Bazaar
Conditions on Cashback:
You can earn upto INR 500 as cashback every month and INR 150 per transaction
You need to spend at least INR 1000 per transaction to earn cashback
If you're looking for fuel cashback, you need to go for Standard Chartered Super Value Titanium Credit Card instead.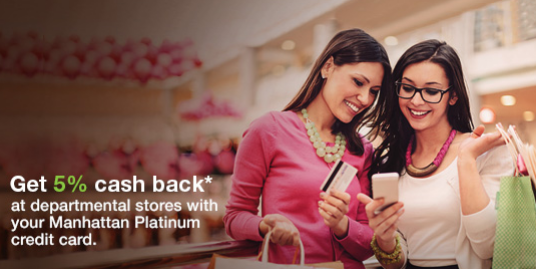 5X Reward Points Categories:
Hotels
Dining
Airline ticket reservation
Fuel
Standard Chartered Manhattan Credit Card Reward point Value:
1 Rewards Points/ Rs.100
1 Reward Point = ~0.27 Ps
I calculated the reward point value by finding the value of one of the products in points redemption. They keep changing the point value from time to time (usually reduce).
Features of Manhattan Platinum Credit Card:
CardExpert Rating: 3.5/5 [yasr_overall_rating]
Reward rate: 0.27% (regular spends) to 5% Cashback
Complementary Airport lounge access: Nil
Foreign Exchange Markup fee: 3.5% + Service Tax
Special Benefit: Save on Uber Rides
Manhattan Credit Card is positioned as one of the Standard Chartered's premium credit card but its sad to see that its not even in par with medium range cards with other banks, not even a Visa Signature Variant. Only the name "Manhattan" stands out 😛
Its just good if you can be calculative with 5X categories. But anything that makes me remember lot of things to earn tiny cashback's are not on my list.
Pay Attention: Still, its wise to have this as a backup card, as Standard Chartered runs decent promotions during festive season. For example, this Diwali 2016 there was a spend based cashback offer upto Rs.10,000 on 3L spend, that gives value back of 3.3% which is apart from usual reward points. If at all i have a SC credit card, it would be for this reason.
What's your take on Standard Chartered Manhattan Credit Card? Shares your comments below.