While most banks discourage wallet loads from credit cards, here is American Express wanting you to recharge your Paytm wallet and give you extra points on that. While I couldn't understand why Amex does this, here are the offer details: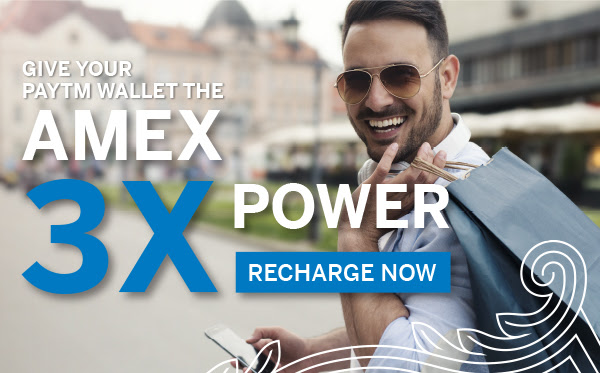 Amex Paytm Offer Details
Offer: Recharge your Paytm wallet for ₹10,000 or more with your American Express Card and earn 3X Membership Rewards® Points.
Offer Period: March 5, 2020 to March 31, 2020
Offer Type: Targeted, only those received the communication are eligible.
Max Bonus Points: 1,000 Bonus Membership Rewards (Equivalent to ~Rs.500)
The offer is only valid on Paytm wallet recharges & not valid for transactions done on Paytm to pay a merchant or buy a product or to pay bills for services.
Fulfilment: April 30, 2020
To maximize the offer, you need to spend Rs.25,000 so you get 500 MR Points (regular )+ 1000 MR points (bonus) = 1500 MR Points in total.
For Gold cards, Good news is: Cardmember can spend a total of Rs.10,000 or more in one or more transactions on Paytm for wallet recharge, so you can grab the 1K monthly bonus rewards too.
Bottomline
While the offer is good, Paytm also added charges recently for a/c's adding more than 10K a month. So I went ahead and tried to add 11K to a/c but it wasn't charging me anything extra. Maybe Paytm revoke this again or some accounts are sparred? or maybe they charge after adding funds to a/c?!
That aside, as long as you receive this offer and as long as Paytm doesn't charge you extra, its a great offer to avail as Paytm is more like real cash which can be used almost for everything like: fuel, online & offline spends.
Have you received this offer? Feel free to share your thoughts in the comments below.