As you might know, coronovirus have infected over 2 Million people worldwide and taken lives of over 140K. Even-though infections in India are comparatively lower that stands at about 13K till date, that came at a price: lockdown of the entire country with 1.3 billion people.
This has affected almost all industries including the credit card industry. In this article we'll discuss the impact and the future expectations on credit card industry and its linked industries like Airlines/Hotels.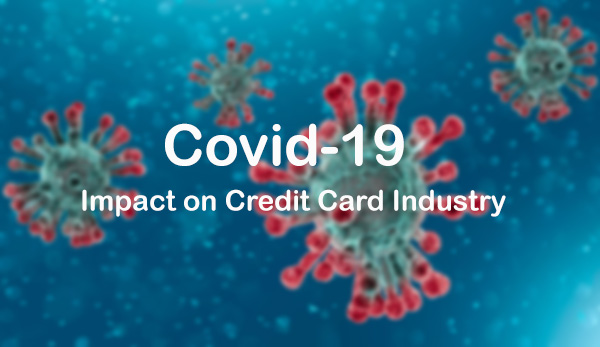 Disclaimer: Everything written below are my personal thoughts on respective subject with limited information I have & this may or may not reflect actuals.
The Impact
Moratorium on Credit Cards
RBI came up with a moratorium on EMI and credit cards to smoothen the burden for those who're unable to pay dues on time. This means you need not pay your dues in the 3 month period (March-May) which may sound good, but you've to pay exorbitant interest along with the due by June which makes it an expensive option when it comes to credit cards.
Not to forget, you anyway have this option on credit cards even before as you only need to pay 5% min. due to stay good on credit reports.
The problem though is that the interest rates are unbelievably huge ( in the range of 20-40% p.a.) on credit card outstanding and I'm still unsure how/why RBI is allowing this practice, even for those with high credit scores.
I believe fixing this part would help many entry-level users to get into credit card system as they're afraid to get into the high interest debt trap.
So if you're running out of money to pay credit card bill, the best way is to go for loan on credit card and pay back the bill or convert the transaction to EMI, both of which come at lot better rates.
Expiration of reward points
Chances are some of us may see certain portion of credit card reward points expire in coming months and we can't do anything about it, as we can't redeem points for travel as that's where we get maximum value.
But in most cases credit card issuers may temporarily extend the validity, esp. if it's Amex you may certainly count on them, for rest you need to give a try by requesting.
Expiration of vouchers
Chances are a LOT of us including me hold many vouchers that are set to expire during the lockdown and also just after the lockdown. Ideally we need a cooling period of 3-6 months to do any safe travel but will the issuers help us in these cases? We need to wait and see. For now, these are the updates I have:
Amex travel vouchers: Amex automatically extended the unused vouchers by 1 month, esp. the travel vouchers received on spend based promo.
Pantaloons vouchers: Those vouchers that I've received via SBI Prime have expired during the lockdown and when asked about the same to pantaloons, I was asked to check with the store post lockdown to see what they can do. Ideally we must be able to use them.
Do update if you've any news on above or on any other vouchers, so we could update the same for others to know as well.
Credit Card Renewals
Premium/travel credit cards (paid variants) may see a hit because of the situation as it makes less sense to pay for the credit card as you may neither use them for lounge access in near future nor use the travel vouchers and points that comes with it as joining/renewal benefit anytime soon.
So it would make sense if credit card issuers relax the fees to an extent considering the situation, maybe based on the previous year spends. Or perhaps lower the spends required for fee waiver.
I guess Amex Platinum would be the most hit considering its fees & travel linked benefits.
Loyalty Program tier renewals
Airline and hotel loyalty programs are next in the line that needs some attention. For now, here are the updates we have:
Marriott: Extends the tier that you "earned in 2019″ through feb 2022
Taj Hotels: Extends current tier status till Feb 2021.
Shangri-la: "All Golden Circle Diamond and Jade members will be able to maintain their current tier status and benefits until December 31, 2021". That means if you've got Jade status via Amex platinum, both Shangri la and Taj status should be safe through end of Dec 2021
Decline in Credit Card spends
There must a huge hit in credit card spends already across all categories, except the essentials which might see a different trend.
Majority of spends that would have got hit are the travel spends which will take 1-2 years to come back to normal levels as that's when everyone will get a sense of safe travel. Well, atleast that's what my mom thinks.
SBICard Stocks
Speaking about credit cards, how could we not speak about the sbicard stocks. The most awaited IPO of the year landed at wrong time and with not so great outlook in near future due to expected low spends and higher defaults, so its a bad year not only for SBICards but for all credit card issuers.
That said, I guess sbicard may survive defaults as most defaulters at this time maybe from self-employed segment, and we need to note that SBICard has strict policies in issuing cards for self-employed lately.
But the spends may take longer to get back to normal as most SBI cardholders are entry-level users and they're the ones who maybe in cash crunch. That's partly a good news as SBICards may see good interest income, hoping they don't default.
Given that the current ~500 level is attractive, you've to take a call considering above aspects, among many others!
Now let's predict what may happen to various industries after coronavirus leaves the planet, or at-least India for now, which may take till late June 2020 at-least, unless it doesn't spread wide again.
Better Credit Card Offers
Every card issuer now need your spends on their credit cards. Some credit cards may come up with better benefits and offers especially in travel segment as anyway not many would avail it.
Wise are those who come up with spend linked offers just after quarantine period. Let's see where it goes.
Better Merchant Offers
Merchants may come up with jaw dropping offers so they might reach their revenue targets. I see it has already started a bit with 10% off on amazon via citi cards, but that's a small promo. This may get better in coming months.
Unpredictable Airline Fares
Businesses cutting down costs and so less people would travel for work. Leisure travel may as well get postponed considering safety. So who's going to travel? Very small portion, for unavoidable reasons.
While fares may-not be not lowered, you could get a better rate easily as you can grab those first few seats at relatively low fare.
While we can't expect low fares in every route, some routes may fall under sale offer which would be very attractive, rest may remain usual enough.
But at the same time just as many think, some routes may be costlier too as airlines need to follow social distancing rules like empty middle rows, etc.
The already unpredictable industry just got worse!
Better hotel fares
It's unbelievable to see how much hotels costs these days. Especially in metro cities like Bangalore/Mumbai/Delhi, you need to shell out anywhere in the range of 10k to get a good 4/5 star business hotel, forget about palaces and luxury properties.
Going forward, this is likely to go down as they'll have less occupancy for atleast an year and businesses anyway cutting down on travel expenses means their recurring customers are less.
So end of the day, they have to come up with better fares. But that would happen only when economy goes to bad stage, which would happen if Virus do not leave the country in ~6 months time.
So hotel fares may become reasonable (not cheap though) for next ~2 years.
Loyalty Program may get better
Let's take Marriott Bonvoy for example. It used to be very lucrative when SPG was there. Marriott came in and started raising categories of many properties every year.
Most of the Marriott properties which I've visited in last 2 years are already up by at-least 1 category, means you need more points to burn for those redemptions. At this rate, we wont be able to play this game post 2020.
But less business travel means less ability to earn points, means less to burn. So let's hope Marriott drops the categories by at-least 1 level in next round, or put them on low season rate.
Bottomline
Overall, Coronavirus have made a huge impact to the world and have hurt many industries badly, especially the airlines, travel and tourism segment which would take a long time to recover.
But it has also done lot many better things that we could ever imagine. We've finally let the planet to breathe: air pollution have gone down, water pollution have gone down and much more. Someone rightly said:
What humans have done IN the world Is inspiring. What humans have done TO the world Is frightening.
It appears that earth is on full swing to maintain its balance, in its own way. Situations like this serves as a reminder how fragile & precious life is.
End of the day, Covid-19 have helped us to be more conscious, not only in washing hands, but also conscious of everything we do.
I've certainly enjoyed the Quarantine period by doing what I wanted to do for a long time: by reading books, less movies, less news and try to think more consciously of what I need in this life.
So that's how I view at the current situation. How about you? Feel free to share your thoughts in the comments below.