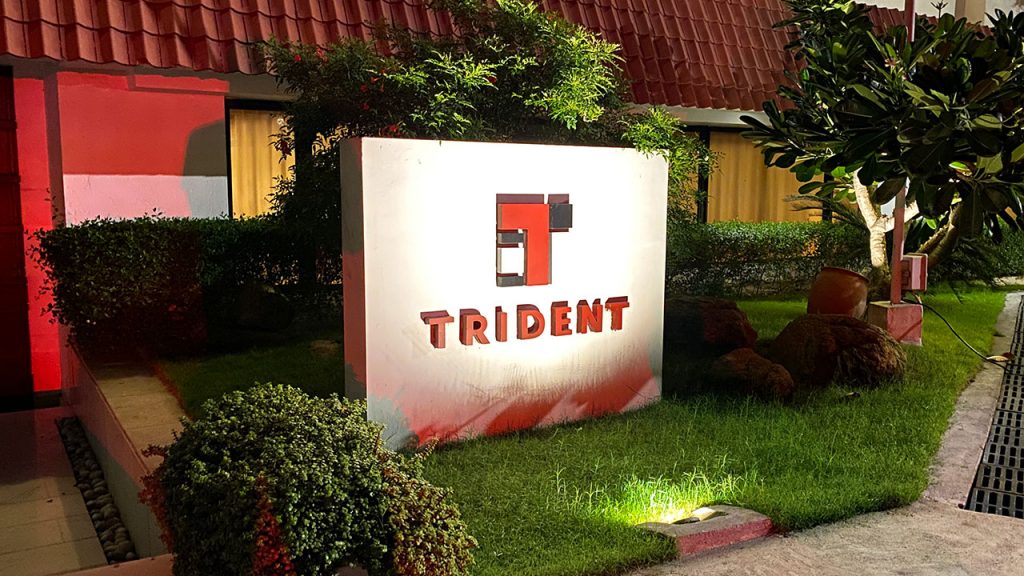 Trident, Chennai is not only a historic hotel in the Chennai city but also the first ever Trident hotel in the country. It also has the registered office of EIH Associated Hotels (Oberoi Group) in it. Here's my short stay experience at the hotel during Jan 2020.
I recently received the complimentary Trident Dining voucher worth Rs.7500 from ICICI Emeralde Credit Card as its part of the birthday benefit. So I thought of exploring the property while using the dining voucher.
Trident, Chennai is 3 Kms away from Chennai airport and almost every-time I cross this property I used to wonder what this hotel offers its customers with all Marriott's around. So now its time to find out that!
Booking
Revenue Rate: ~Rs.6,000 INR+GST / night
After many years I finally decided to actually pay for a hotel stay as it is not listed on Cleartrip and so I don't have an opportunity to directly redeem points as most credit card loyalty programs like HDFC runs on cleartrip booking engine.
Speaking about points, Intermiles is there an as option but gives poor value. Anyway I'm redeeming reward points for statement credit to Offset this bill, so didn't think much.
The good thing about paying direct to the hotel is we could enjoy additional benefits like upgrades (if available) & more.
Note: You could get better rates if you're a Trident Privilege member. You can become a member with select SBI cards like SBI Prime which comes with some points added to a/c which can be redeemed against the bill.
Lobby & Check-in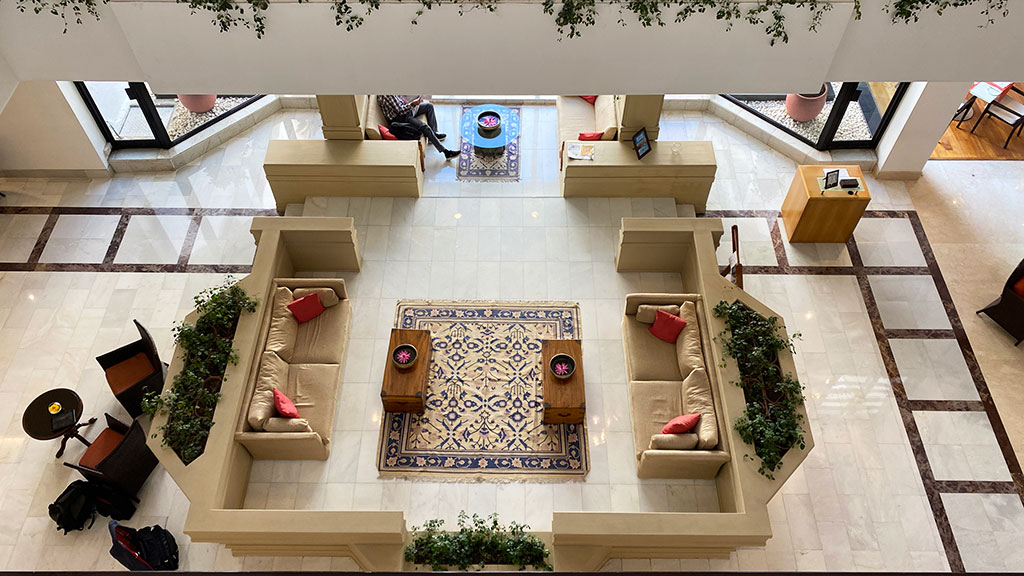 The hotel entrance leads to a good square shaped lobby with check-in counters at the right. I was said that I'm upgraded to a Club room with complimentary lounge access.
The Room
The room is of perfect size: neither spacious, nor compact. The bed is interestingly firm and not soft and fortunately I like this.
View from the room is amazing as you could see the beautiful swimming pool & lush green garden. Its truly a magical view!
You also get to see the pigeons once in a while.
You wont ever believe that you're in a busy "city" close to airport with this view. It rather feels like a fancy resort out of city.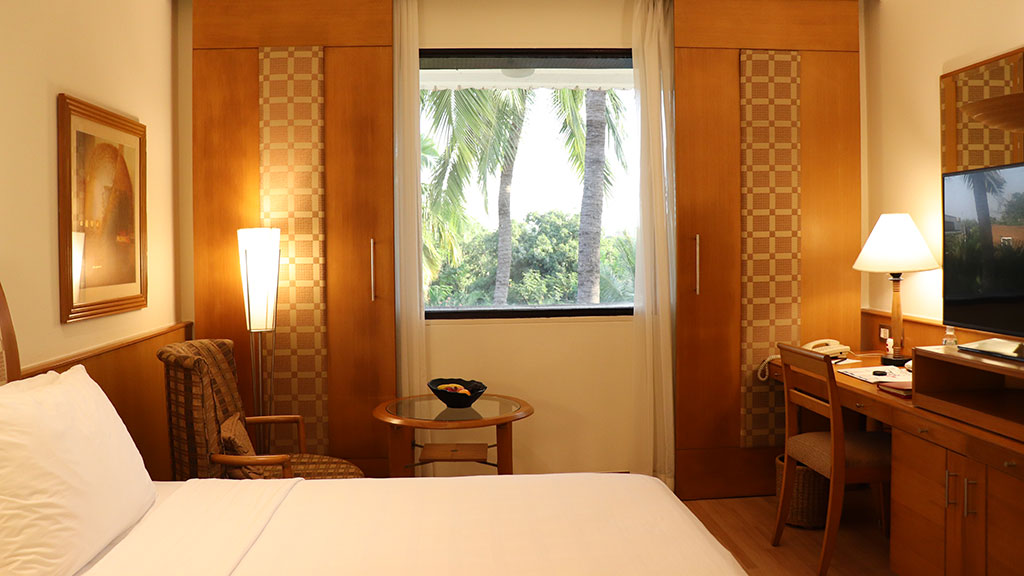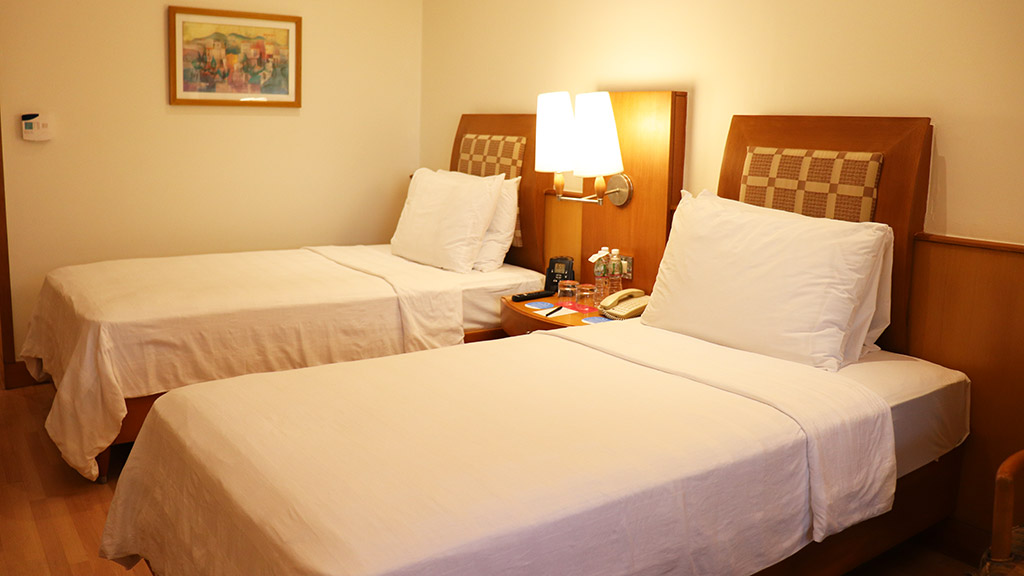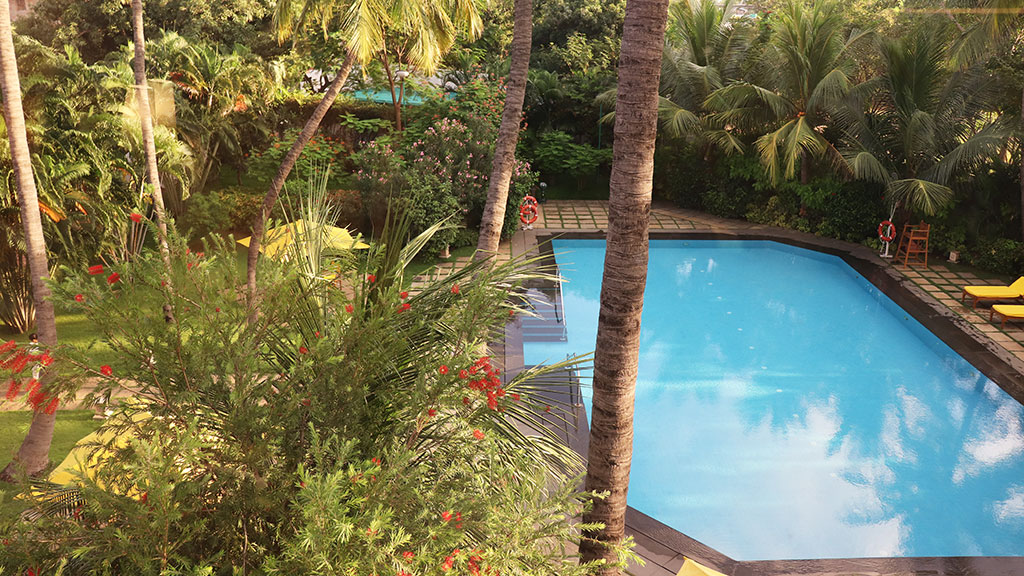 Welcome Amenity
While I was expecting fruits, cakes and chocolates they did bring them..
but…
also they had other ideas!
They came with a centurion card.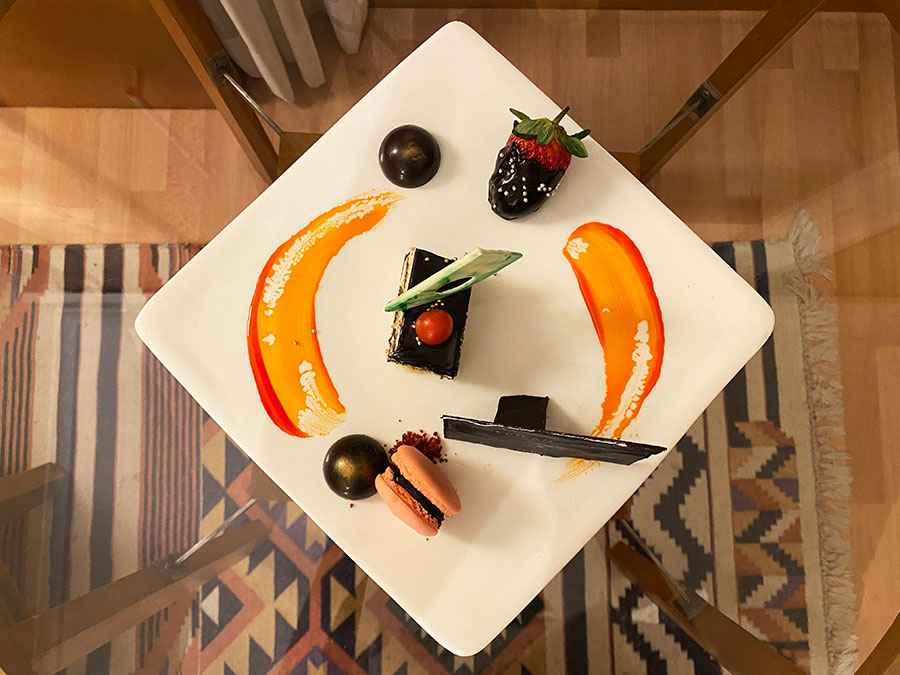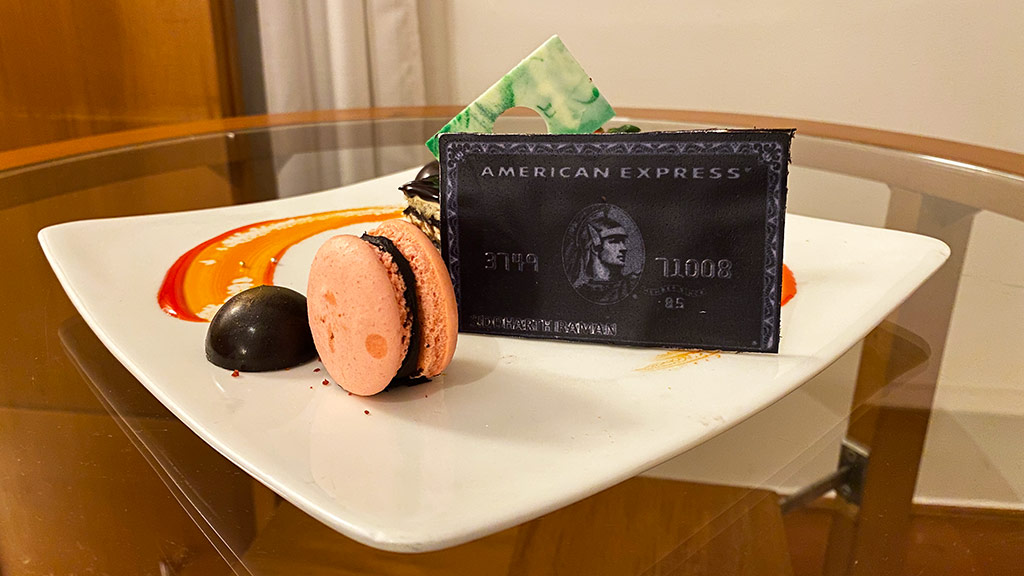 That's right! They came up with an eatable centurion credit card with my name on it. It was indeed one of the WOW moment.
The chef must have definitely spent a lot of time on that!
I've seen custom welcome notes from GM, beautiful monkeys on bed and have also heard about photo frames & cakes from others but this one is very unique.
It looks they paid attention to my queries, as I was checking with them whether they have any special benefits for Amex Platinum. Either way, Impressed!
The Club Lounge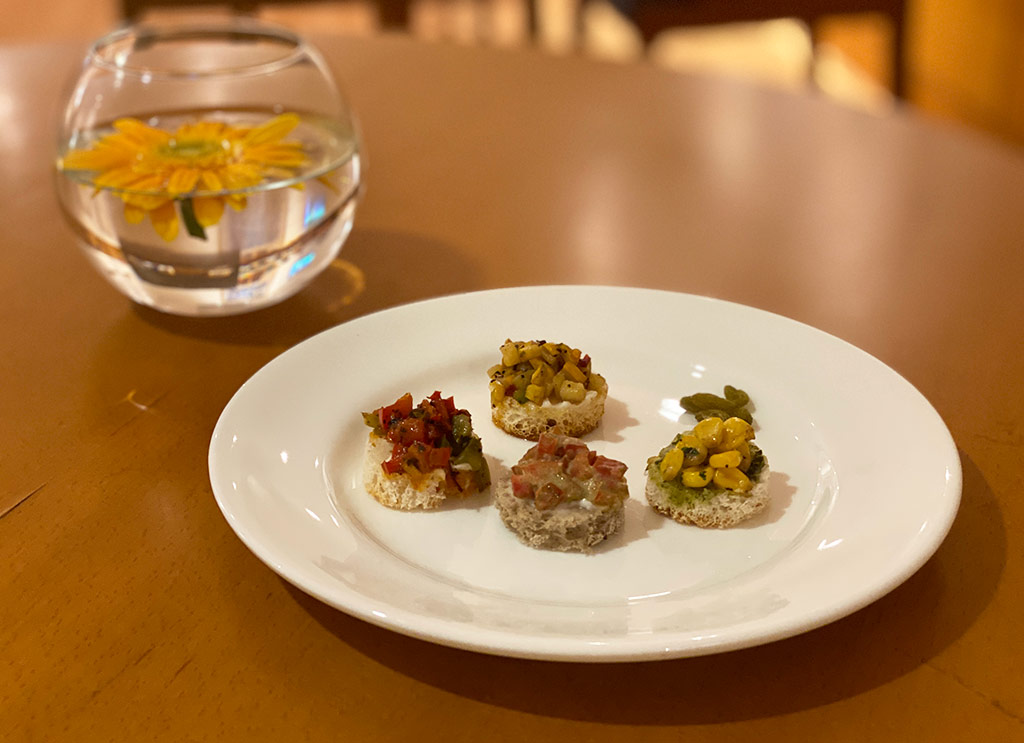 As they allotted me a Club Room, I got complimentary access to the Club Lounge that's located in the same floor.
They had grand set of veg & non-veg snacks (usually canapés), drinks & juices during evening happy hours.
Even-though the lounge may look compact and not-so-modern, its totally worth it. Its not crowded both the days I was there either.
The Canapés were really tastier than the ones I had at the Oberoi, Mumbai. I felt Trident, Chennai is far better than Oberoi Mumbai for that matter.
Breakfast & Dinner
Breakfast was part of the package and they had decent options as a part of buffet. The food was overall tasty. Some breakfast snaps below: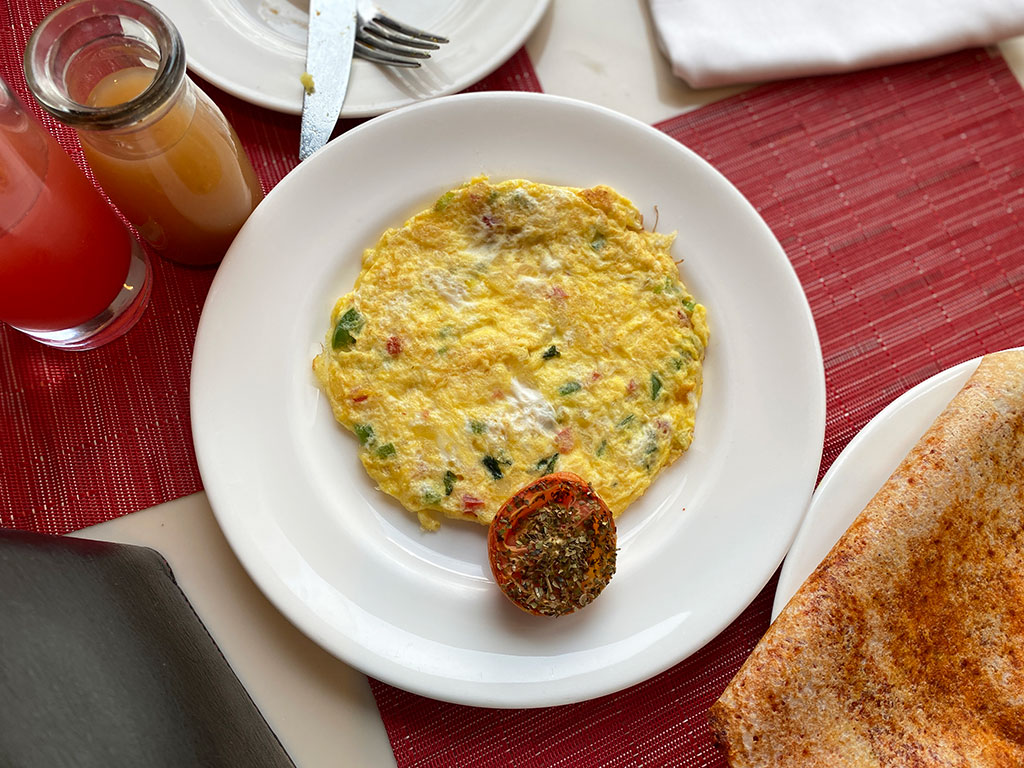 In-room dining too was good and rates were decent for the volume it came with. Truly tasty food!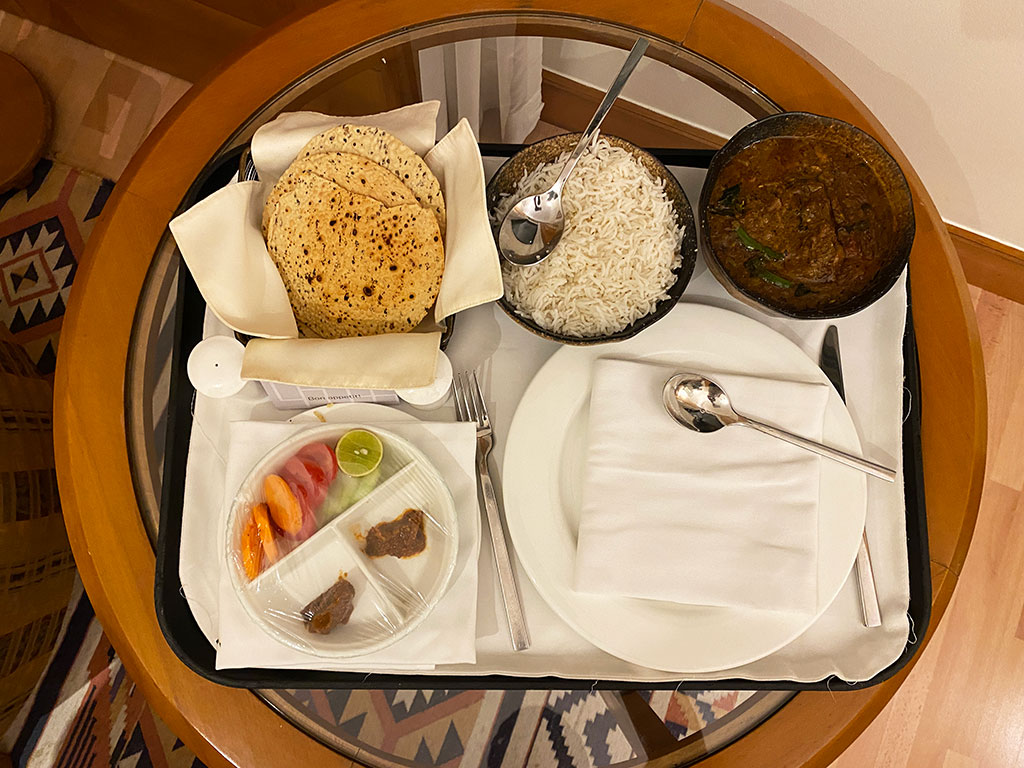 We had dinner at Samudra, which is their South Indian speciality restaurant and I used the Trident Dining Voucher here that came with ICICI Emeralde Credit Card (Amex).
The good thing about the voucher is that you can redeem it for all dining spends done during the stay. But this ability maybe hotel specific.
So in my case the voucher covered all of my food bills during the 2 day stay. 🙂
The Property
The highlight of this hotel is the beautiful lawn spread across almost half of the property stretching till the Swimming Pool.
Service too was overall good during my stay.
They use Kama Ayurveda bathroom amenities which I don't like, after being spoiled by Forest Essentials.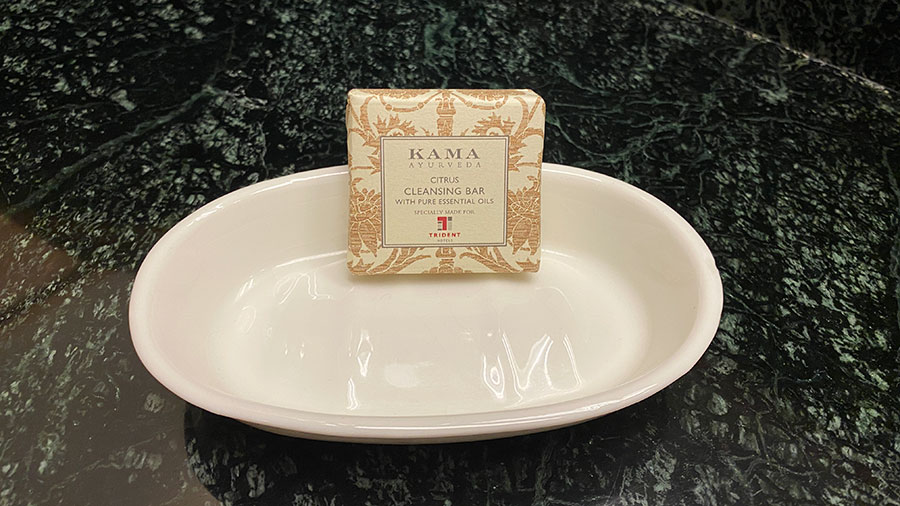 Airport Drop
Trident, Chennai has the Mini Copper for Airport Drop and Innova for pick-up. We took the Mini Cooper for Airport Drop that's hardly a ~5 min drive from the hotel.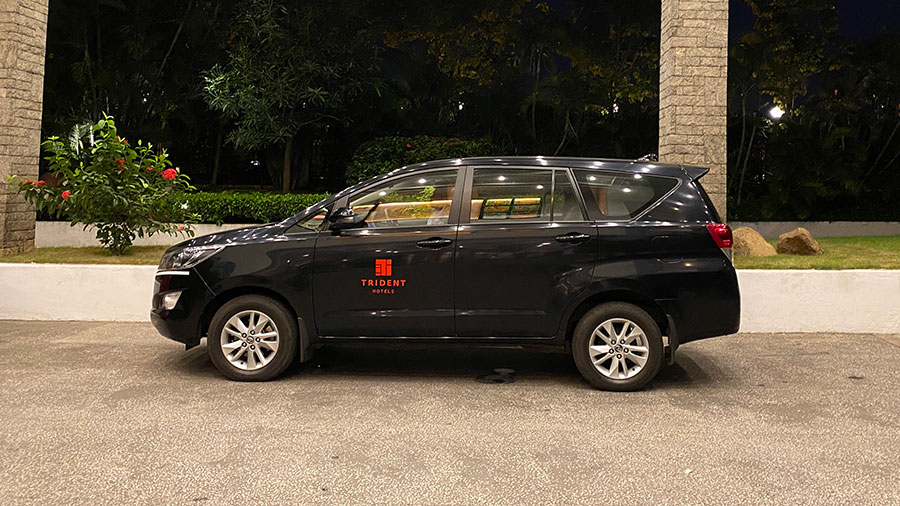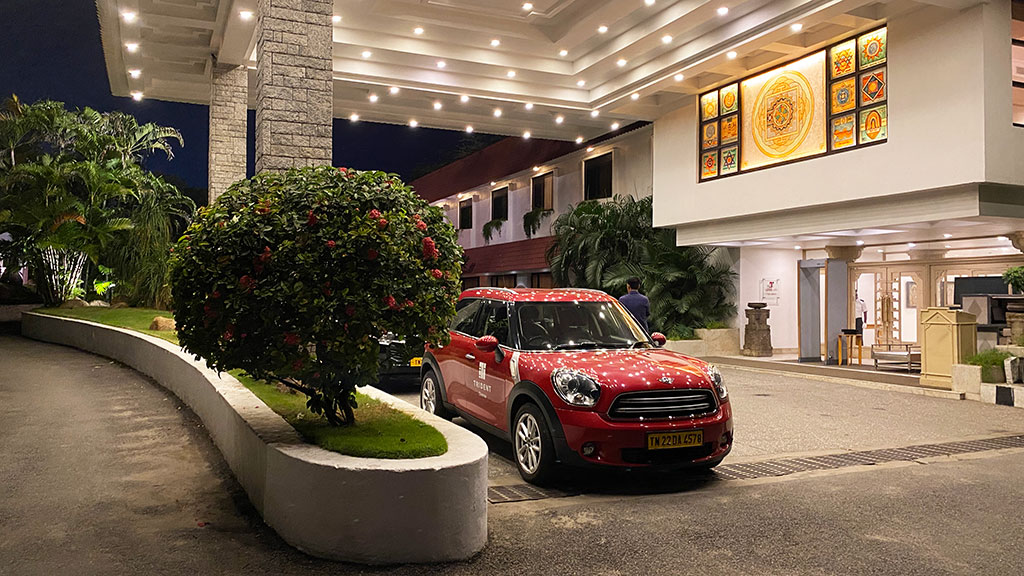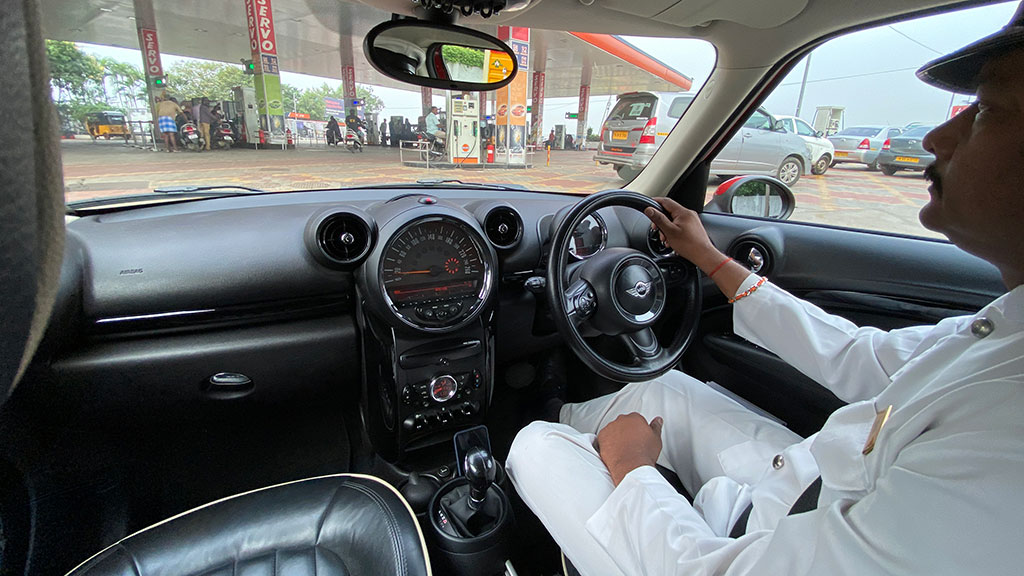 It was complimentary during my stay but it usually depends on the rate you pay. Making direct booking helped to grab this perk in my case.
Do check out the detailed 10-min video tour of the hotel along with the Mini Cooper below,
Bottom line
Overall its an amazing property and it definitely exceeded my expectations. Even-though its more of a business hotel, you would feel that its more like a luxury resort with peaceful surroundings.
That all being said, its still a surprise to see that the hotel comes with a competitive pricing in this area, maybe because its bit old property now, but everything else is beyond what other premium hotels nearby offer.
While I was enjoying all these, I also realised that I fell in the trap that ICICI Bank planned for.
It looks like their business model definitely works in my case, which is to: lure the customer with vouchers hoping they end up actually spending with the brand 😀
Yet, I enjoyed the stay with unique experiences and that's what matters end of the day.
Have you been to the Trident, Chennai or any other Trident hotels? Feel free to share your experiences in the comments below.