As I was recently flying out of Thailand, I decided to try Thai Airways business class product to experience Thai Airways royal services in their home country. Moreover, as I had a few Air India miles left to redeem, this felt like a nice idea. Here's my detailed review.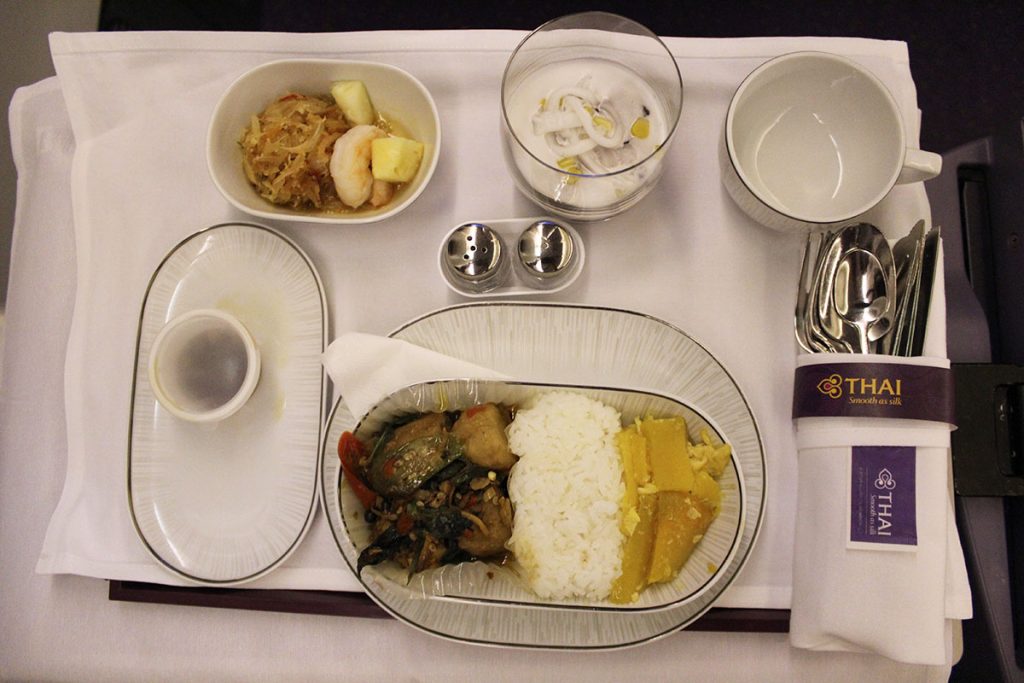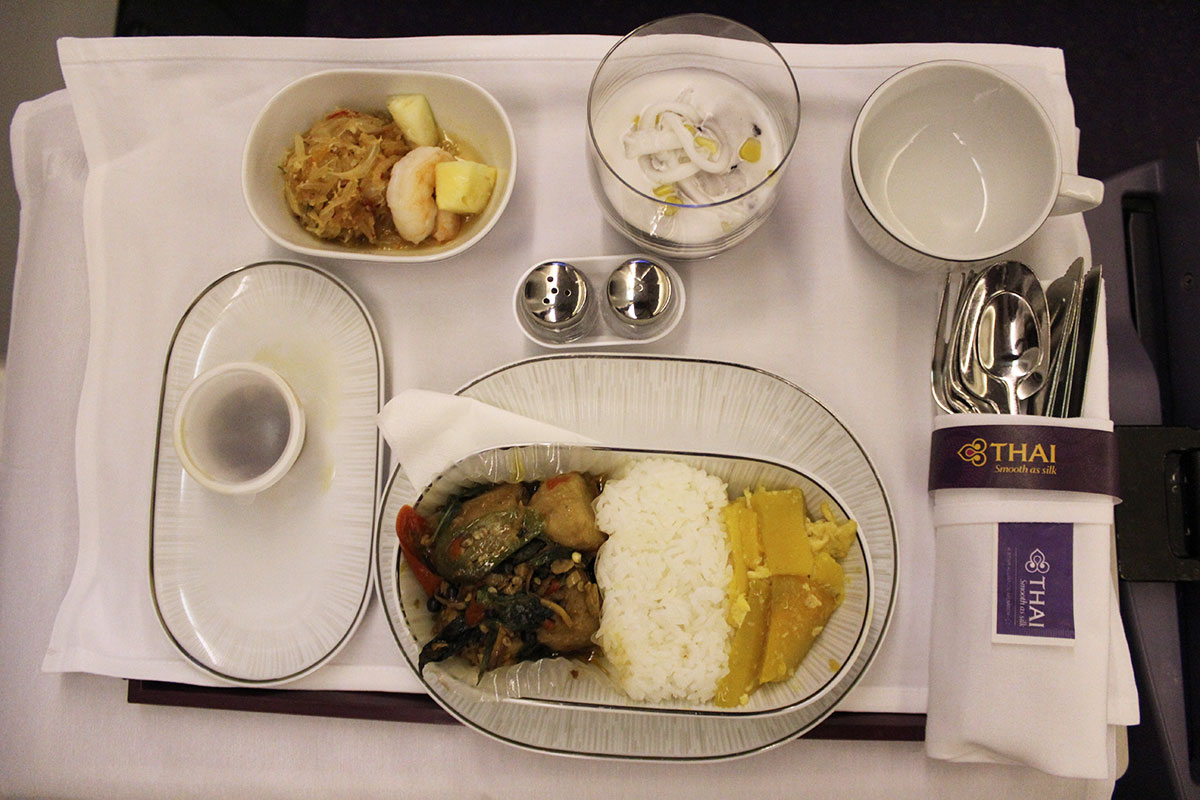 Booking
I used Air India Miles to redeem for an award ticket on Thai Airways, which is part of the Star Alliance network. It took about 30 mins on call with Air India Customer Support to book an award ticket on business class cabin in BKK->SGN sector. You may also book it online as Air India enabled the functionality recently.
Flight Info
Flight: Thai airways TG 556
Aircraft: Boeing 777-200
Route: Bangkok (BKK) to Ho Chi Minh City (SGN)
Seat: 14A
Seat Configuration: 2-2-2
Revenue Ticket: ~30,000 INR
Occupancy: ~60%
I Paid: 25,000 Air India Miles + Taxes (~2.5k INR)
Ground Experience
At Bangkok airport, Thai Airways has a dedicated corridor in the terminal for its business/first class & elite flyers. This one actually feels like a private terminal in itself that connects to the airside via Thai's private security/immigration line. So there is no crowd, no noise, nothing.

As soon as I landed at the airport, I headed to Entrance 1 and followed the sign boards for a sit down check-in service at Row A.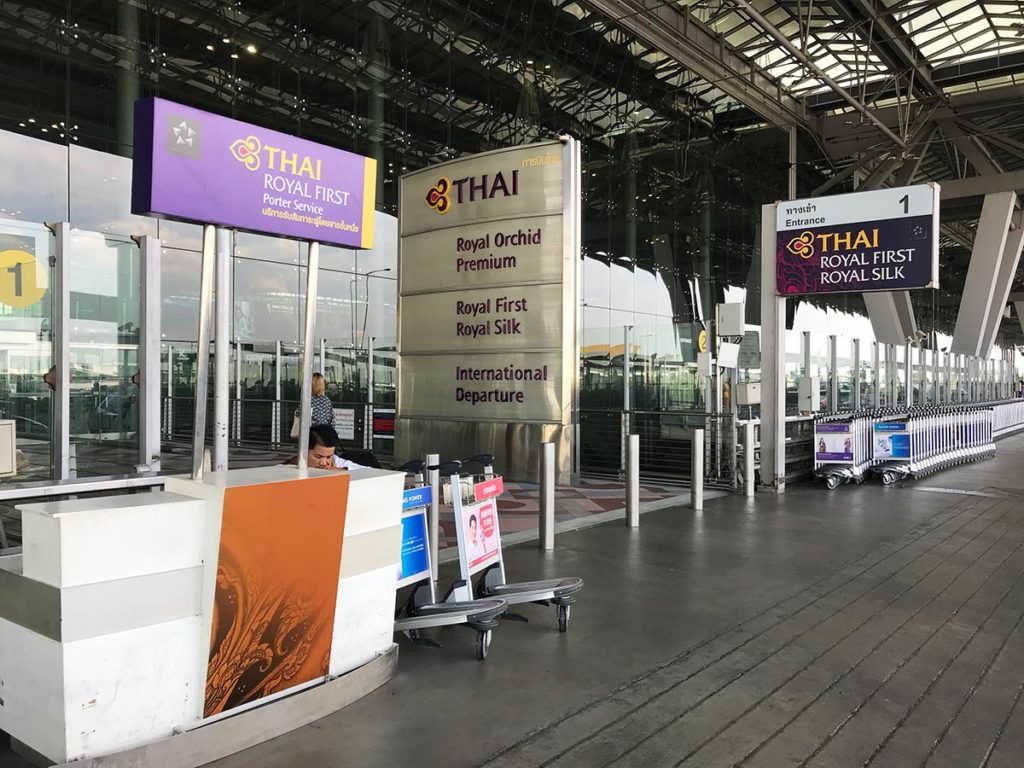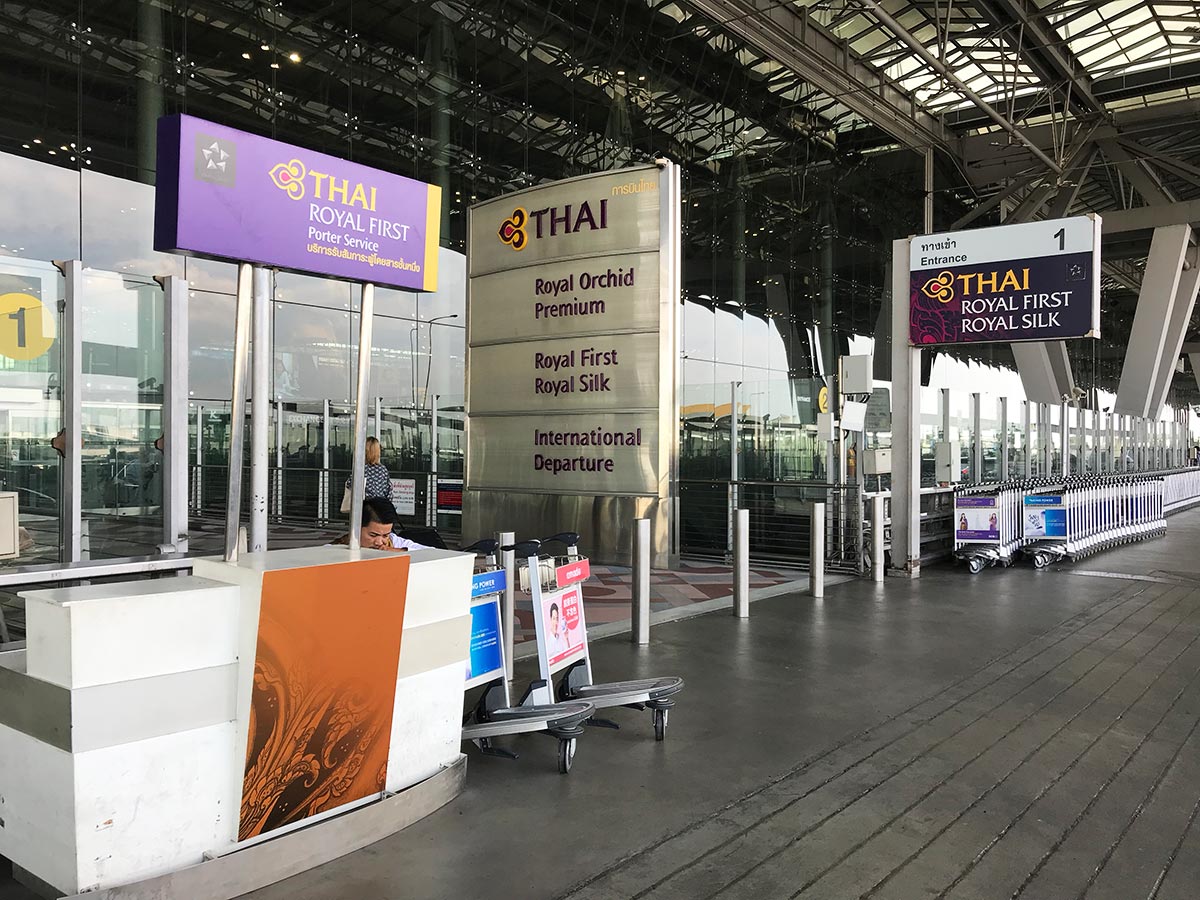 Sit down Check-in
Yup, you read that right. You no longer need to stand while the agent does the necessary formalities to get your boarding pass and check-in your luggage.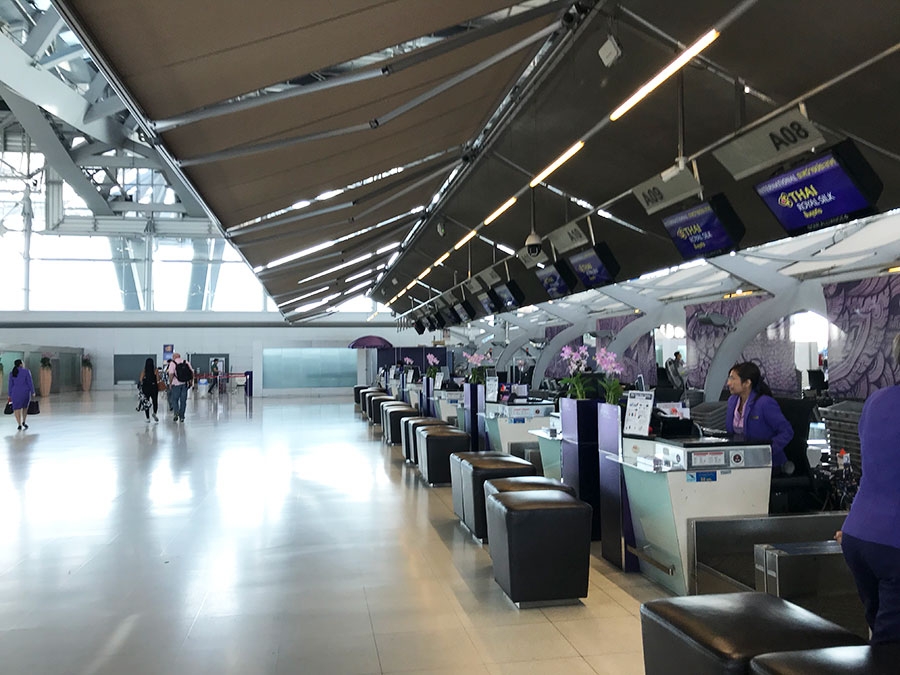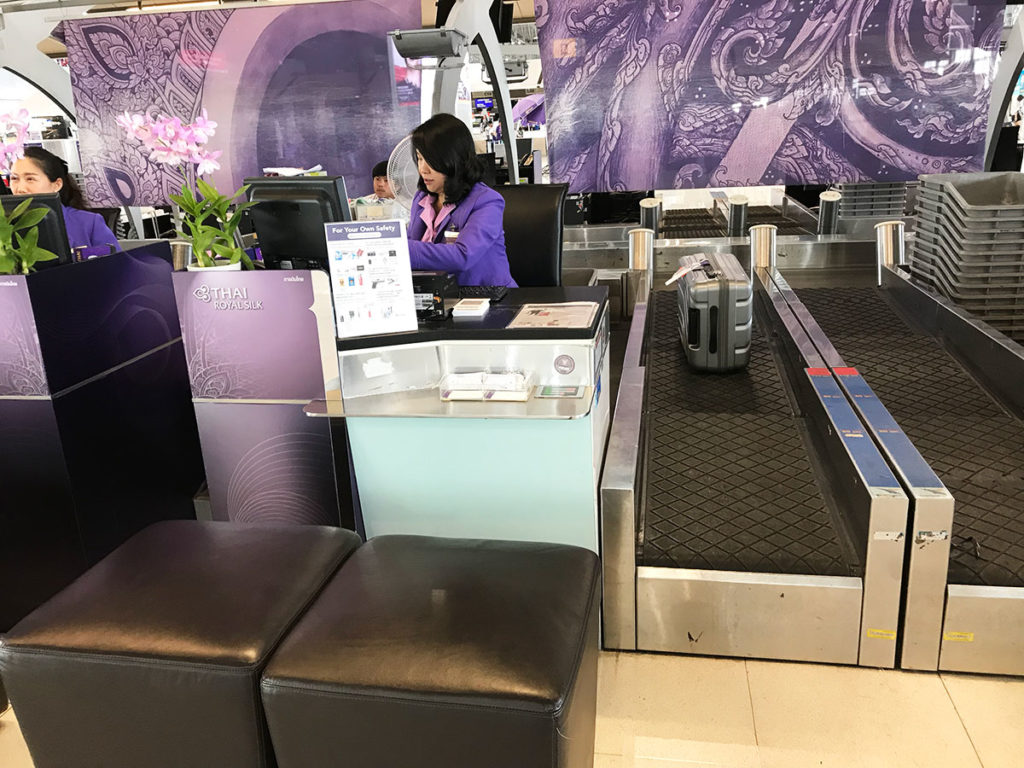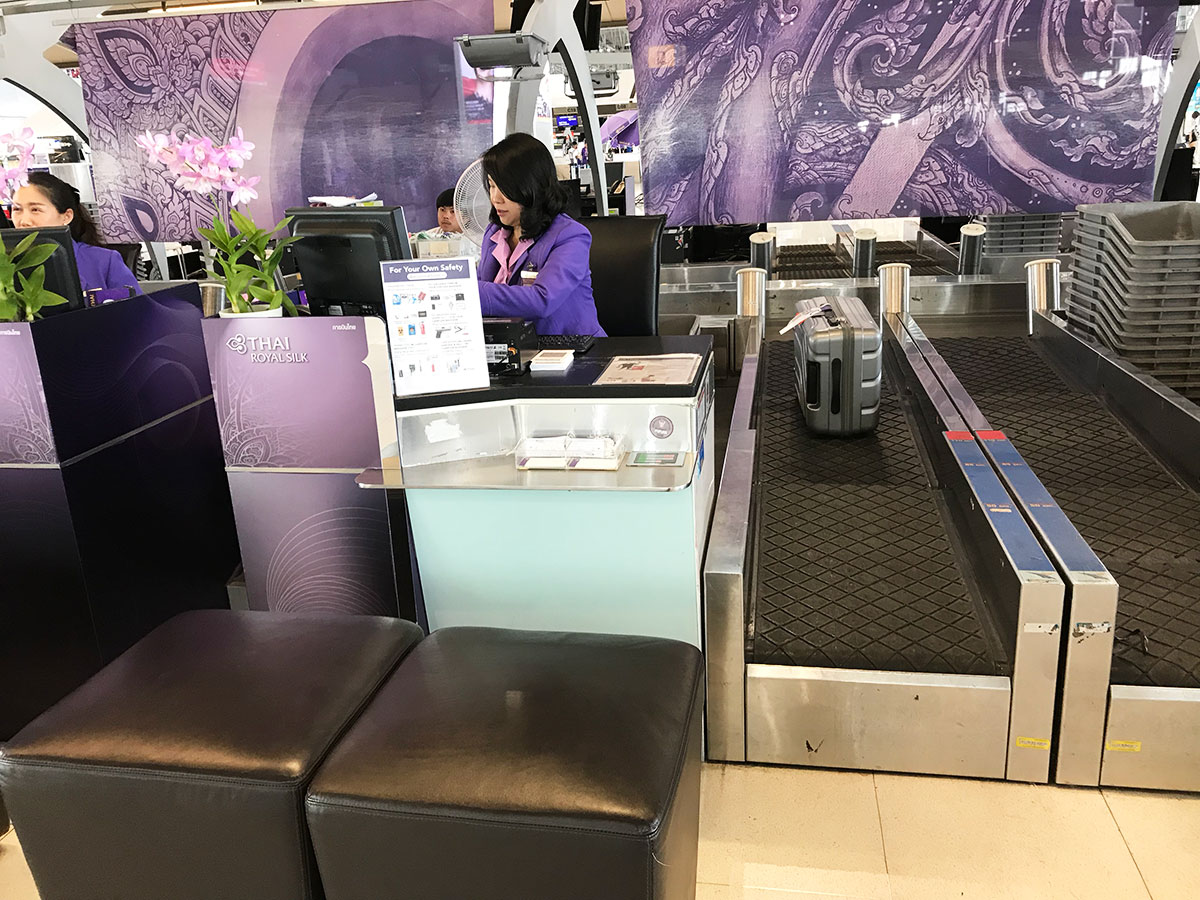 This check-in area is spacious with multiple counters lined up in a single row. You shall be seated comfortably until you get that beautiful boarding pass. Here's how it looks,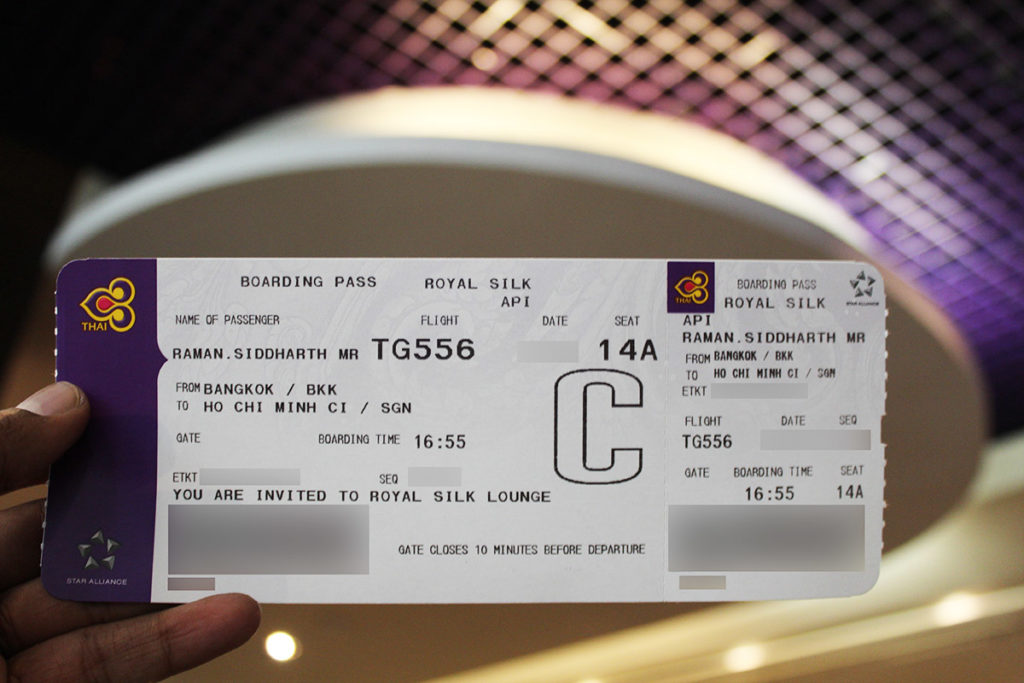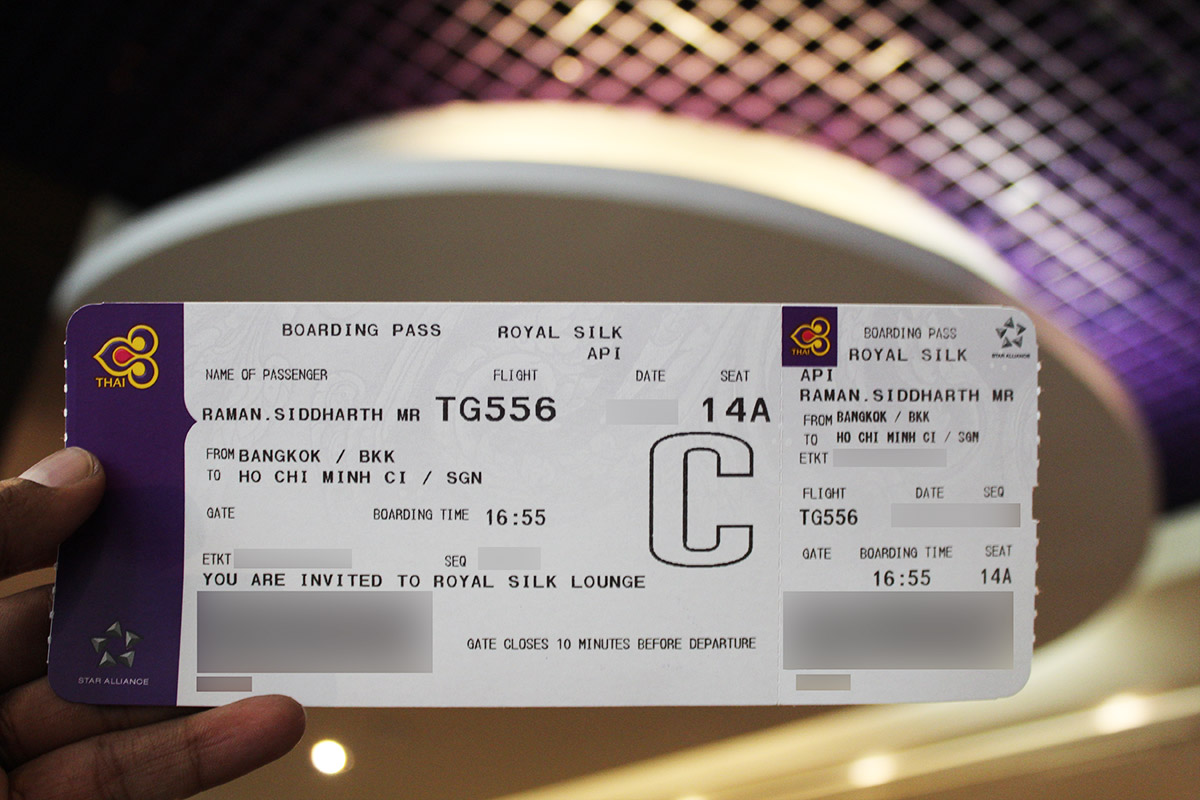 Security – Fast Track
I passed the dedicated security area for business class passengers, which doesn't have any queue.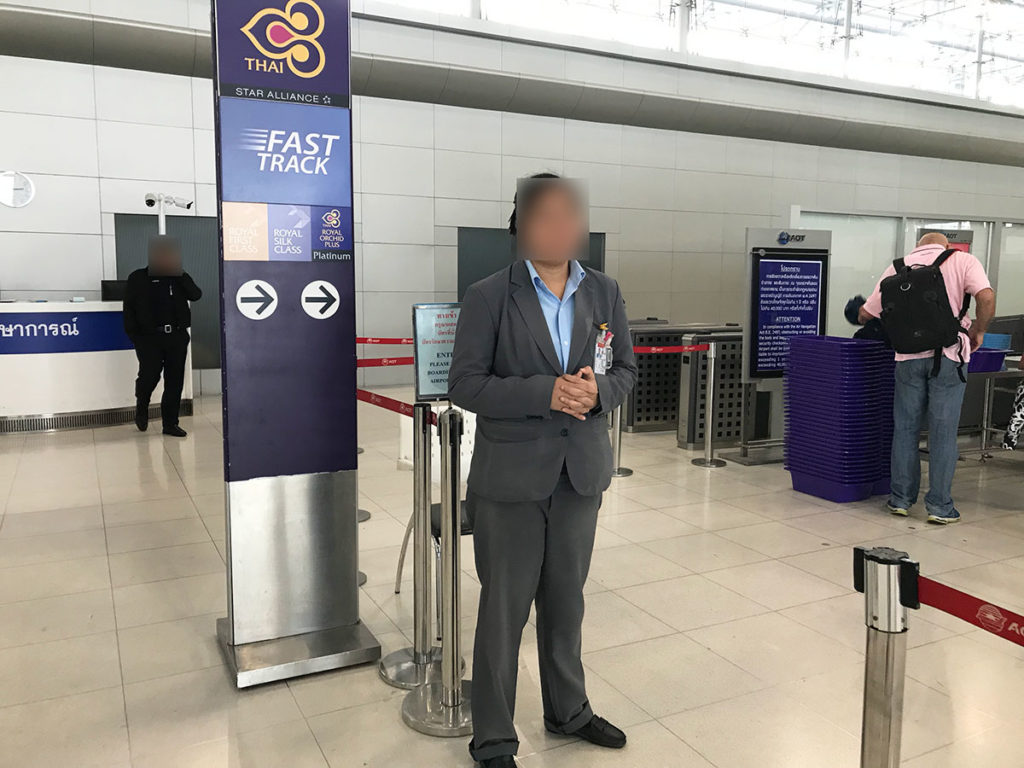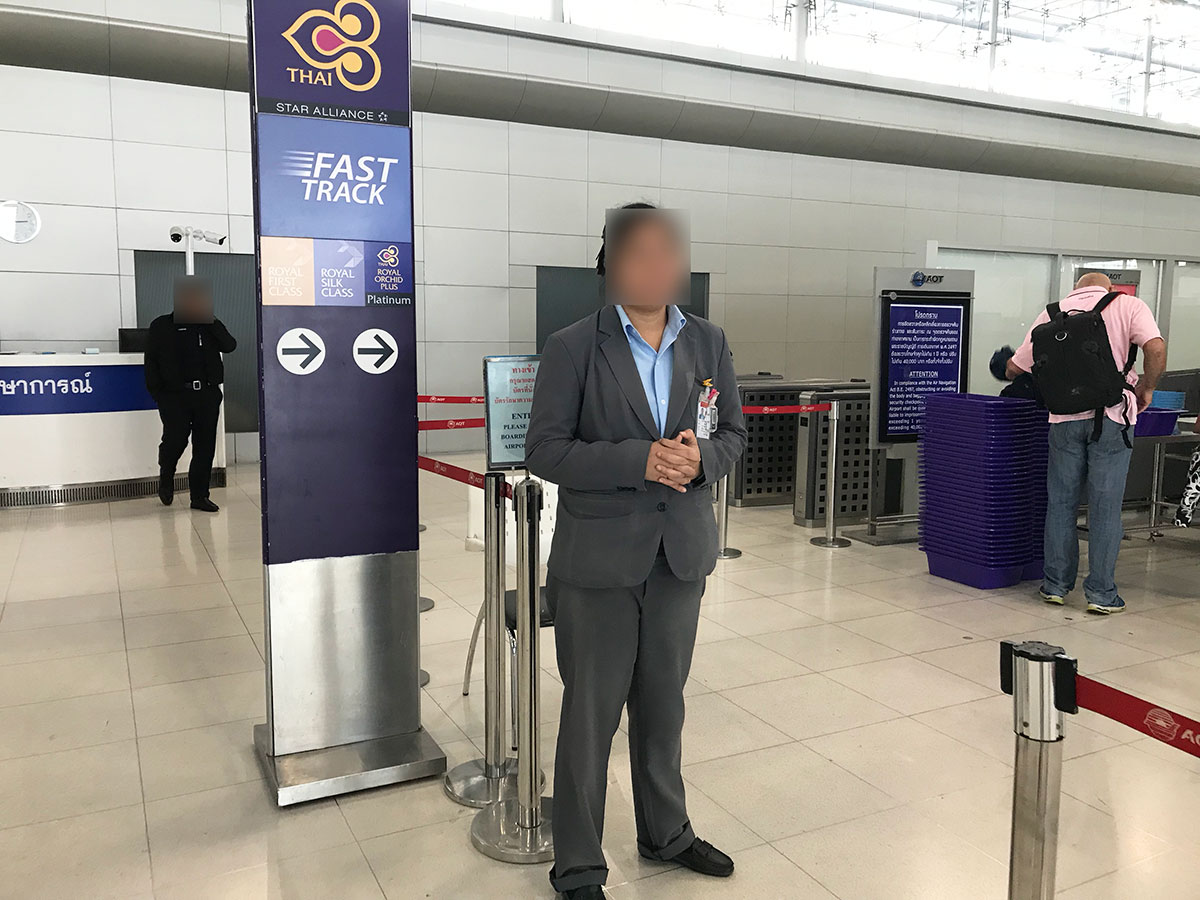 Immigration – Fast Track
Just after clearing the security, comes the dedicated immigration area with one counter. And of course no queue here either!

Ideally, I passed security and immigration in ~5 minutes. Just to compare, if I had to fly economy, this would take at least 1hr 30 Mins extra in this busy airport.

Royal Silk Lounge
Just after passing the immigration, I followed the signs that took me to the Thai Airways business class lounge named – Royal Silk lounge.

It's one of the biggest airport lounge I've been to in my life, yet it maynot wow you as the looks are not modern. You may check out the detailed review here: Thai Airways Royal Silk Lounge Bangkok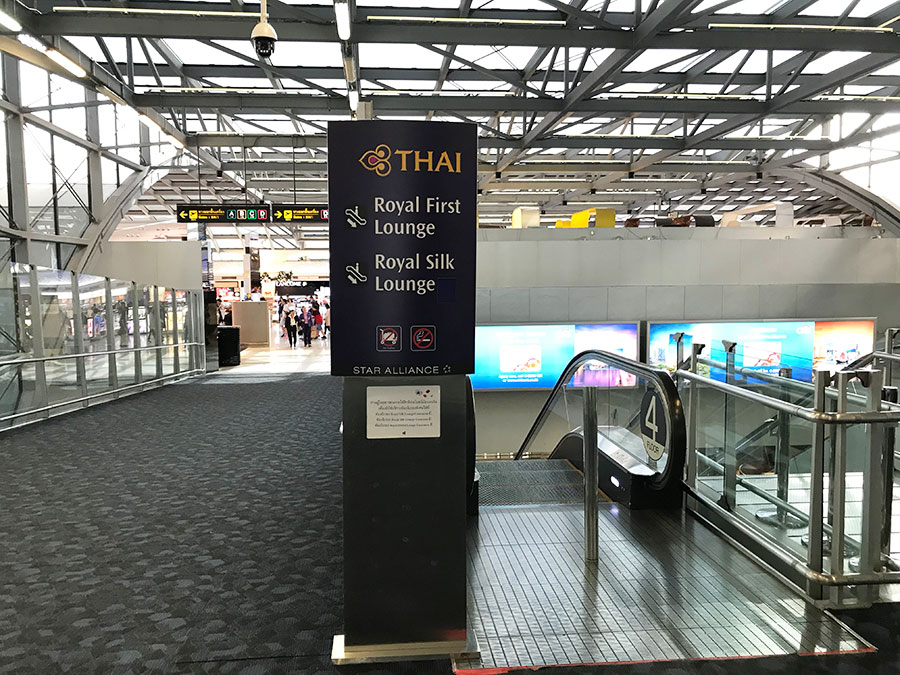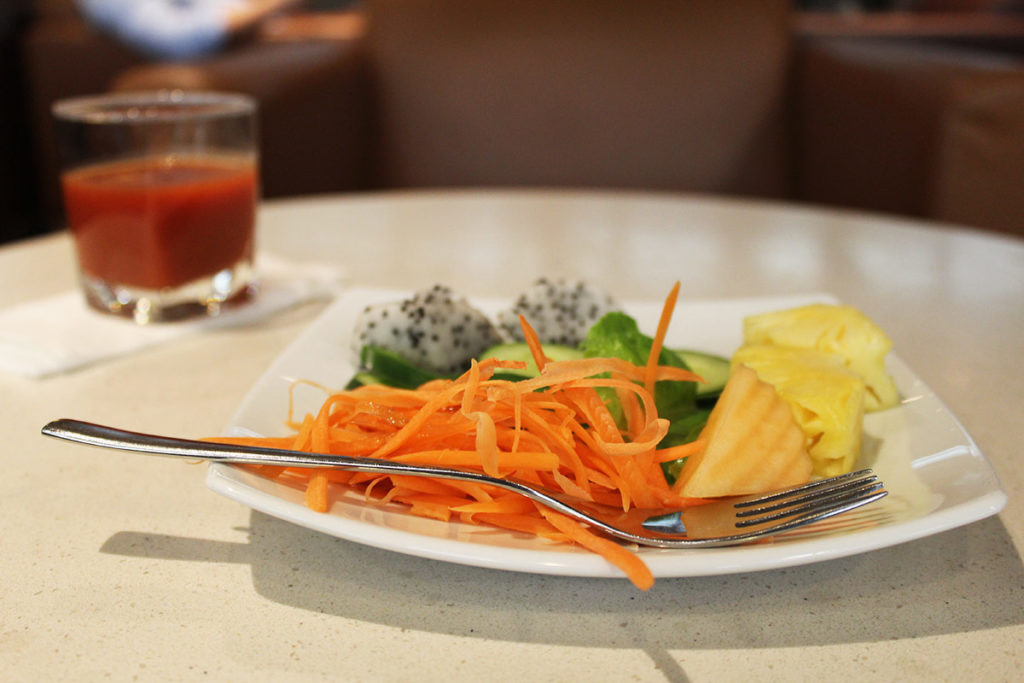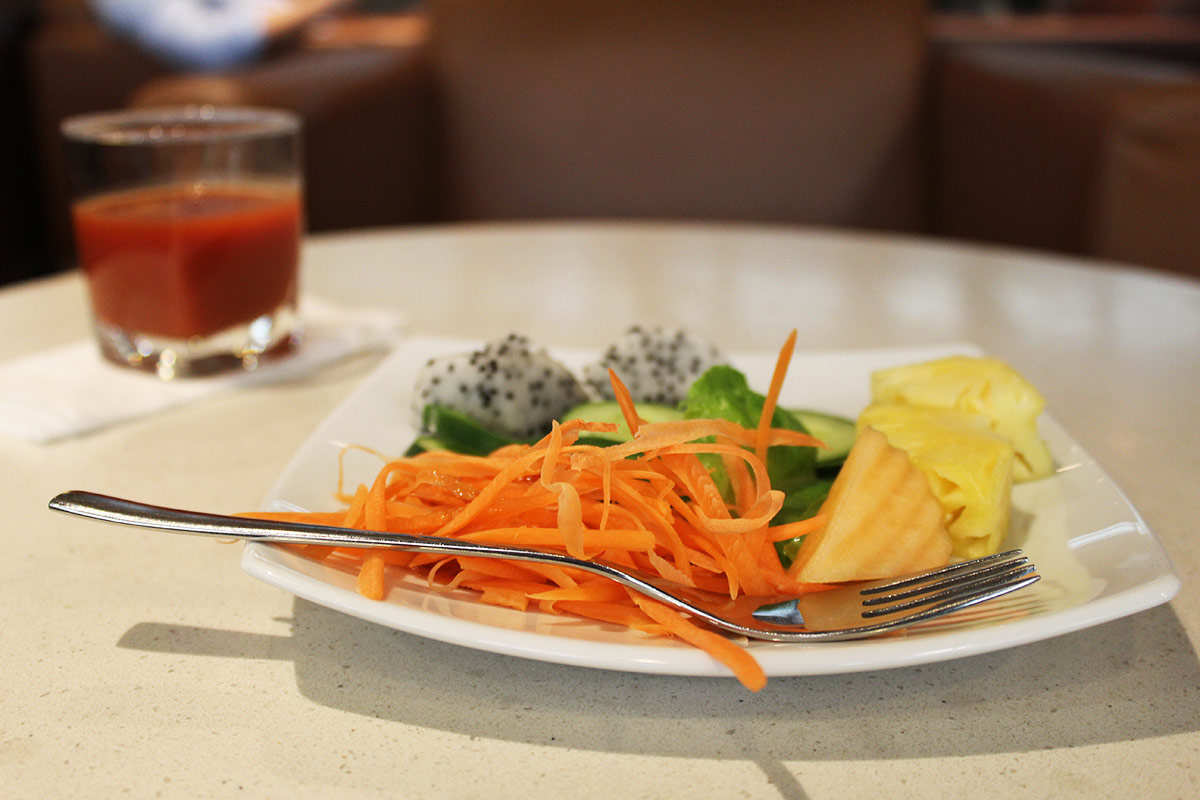 After spending some generous time at Royal Silk lounge, I headed to the Royal Orchid Spa for some luxurious indulgence.

Royal Orchid Spa
Complimentary Spa session is one of the greatest advantage of flying Thai Airways Business Class from Bangkok.
As a Thai Airways business class passenger, I availed the 30 mins Neck & Shoulder Massage at Royal Orchid Spa.

I would undoubtedly rate this to be the BEST SPA EXPERIENCE I've had in my life. Full review here: Royal Orchid Spa Bangkok Airport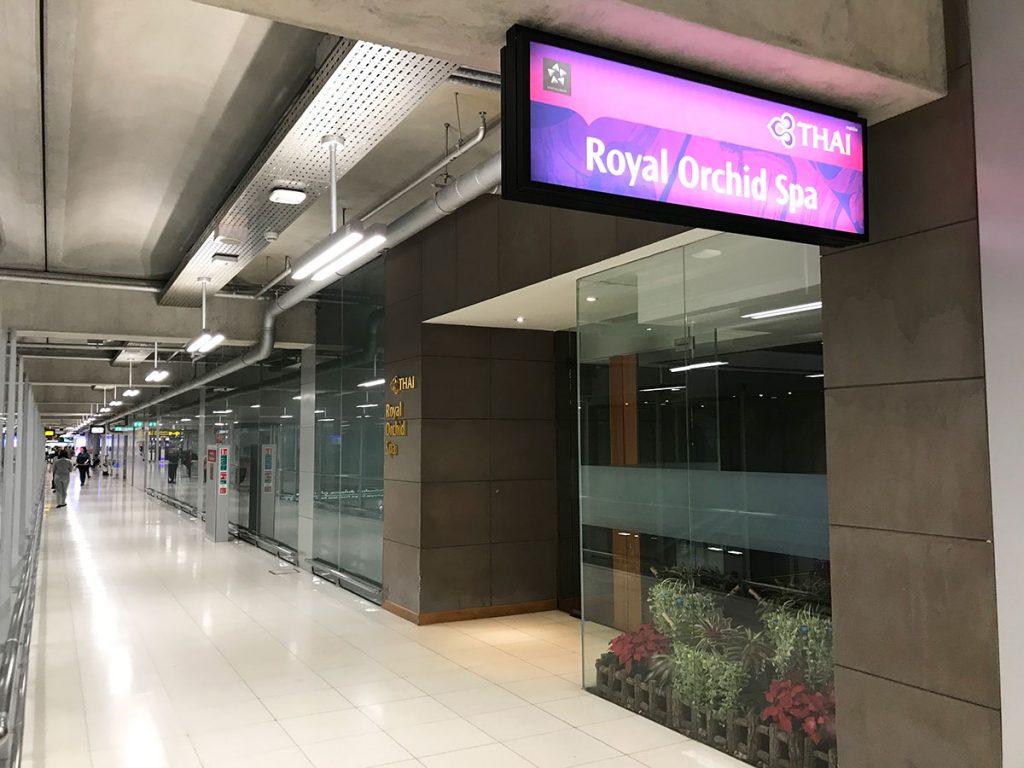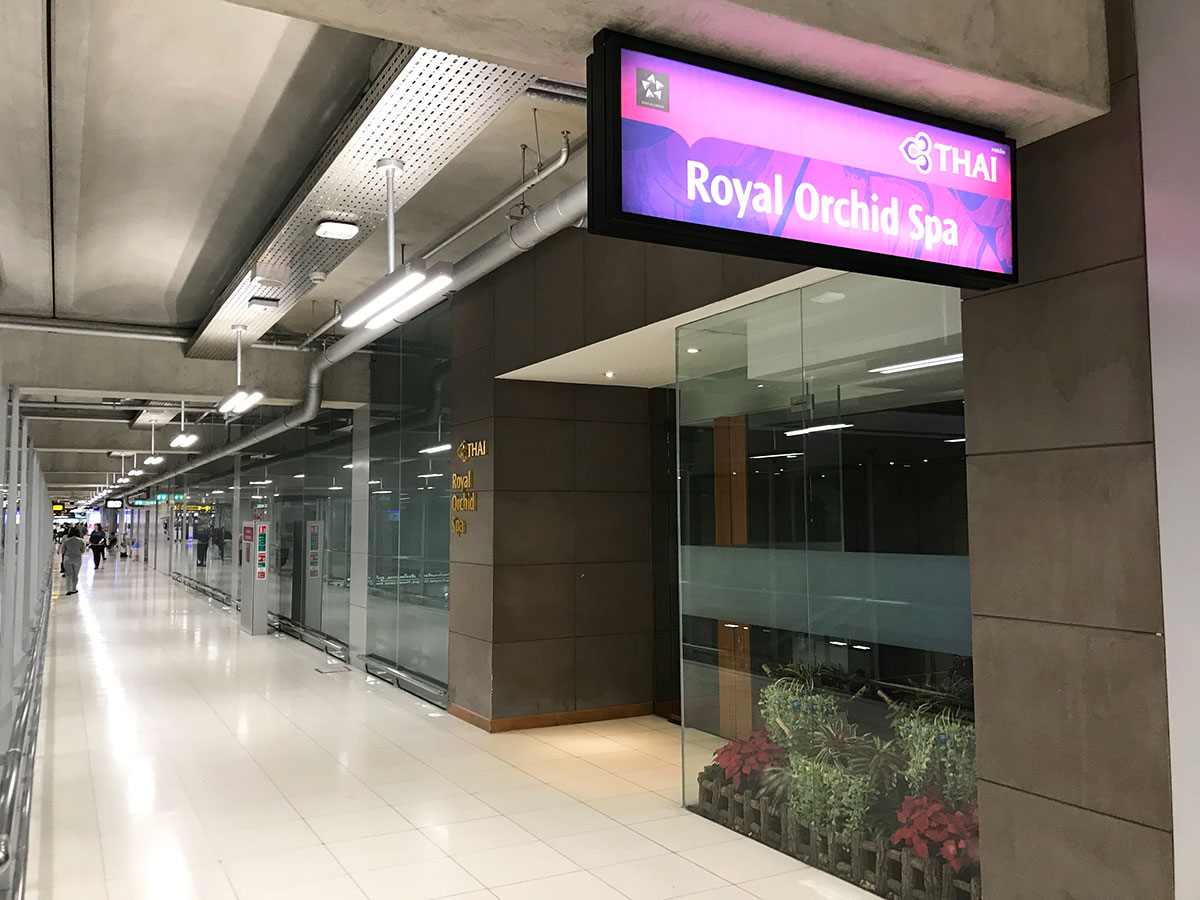 Flight Experience
Boarding
Shortly after arriving at the boarding gate, business class passengers were asked to board first.

As this is a wide body aircraft, there is a separate entry for business class passengers. It was definitely a nice feeling to go almost solo to the business class cabin 😍
A few other business class passengers joined minutes later. One difference I noticed looking at their outfits is that most of these business class passengers are here for leisure.
The Seat
Given that this is the Thai Airways old aircraft/configuration, I kinda know in advance that I shouldn't expect much. Though, the seat was well cushioned and comfortable enough.
Its' an angled-flat business class seat and it's good enough for a quick nap.

Overall the seat looks and feels very spacious; definitely makes sense for a ~2hr flight.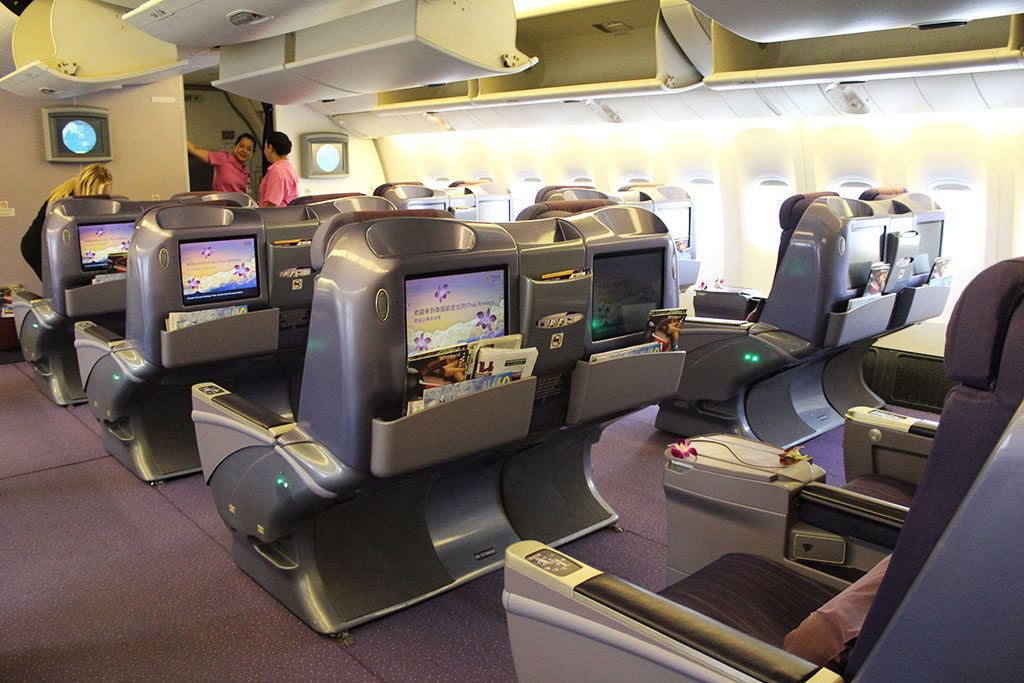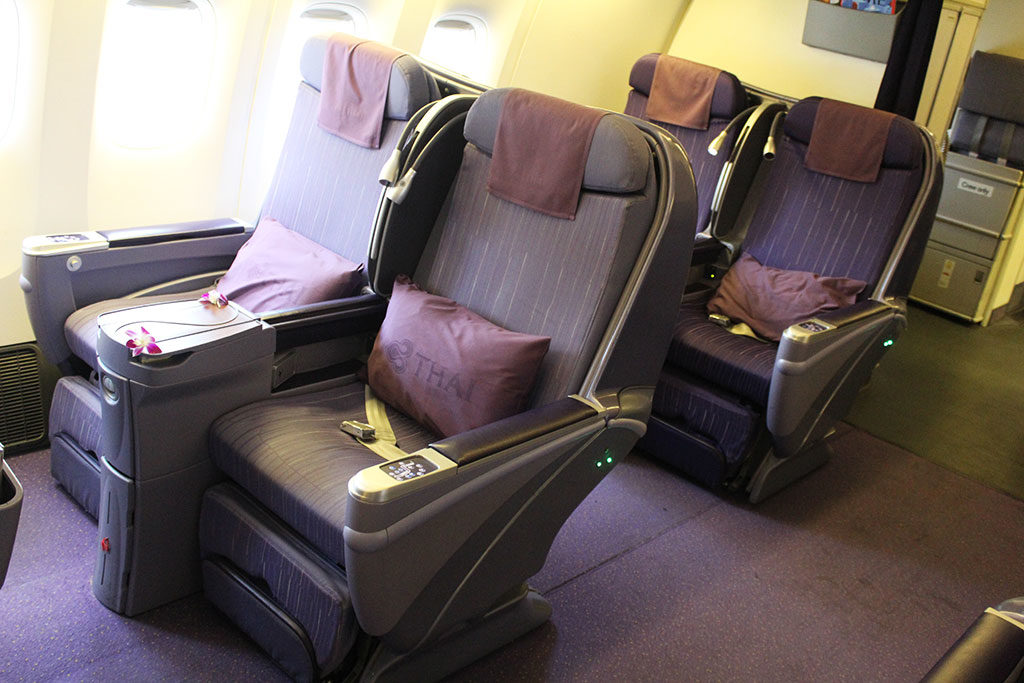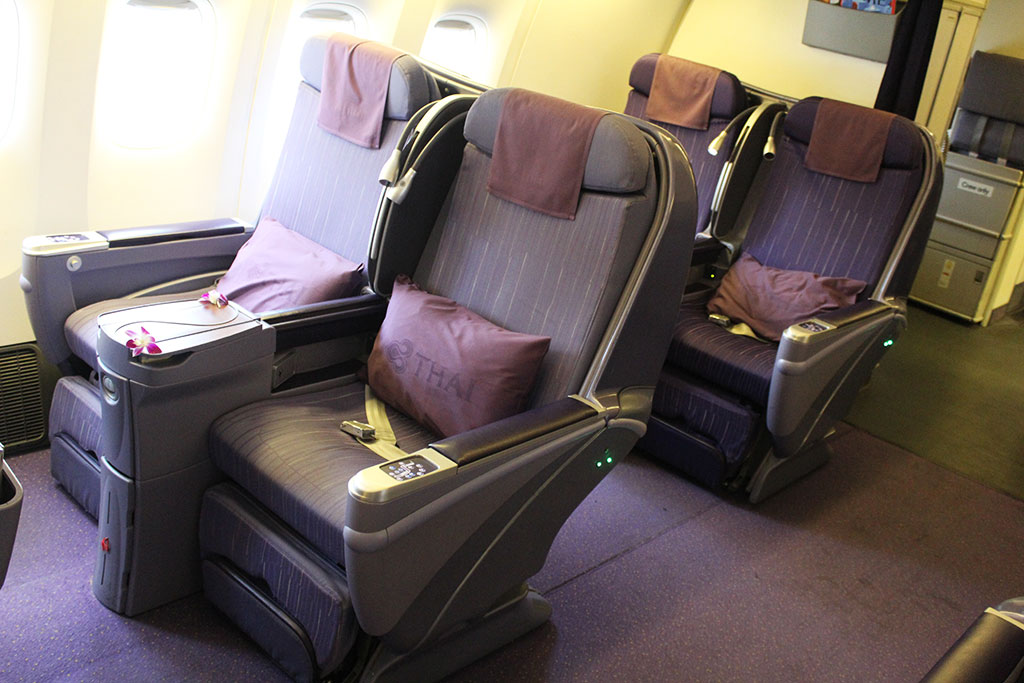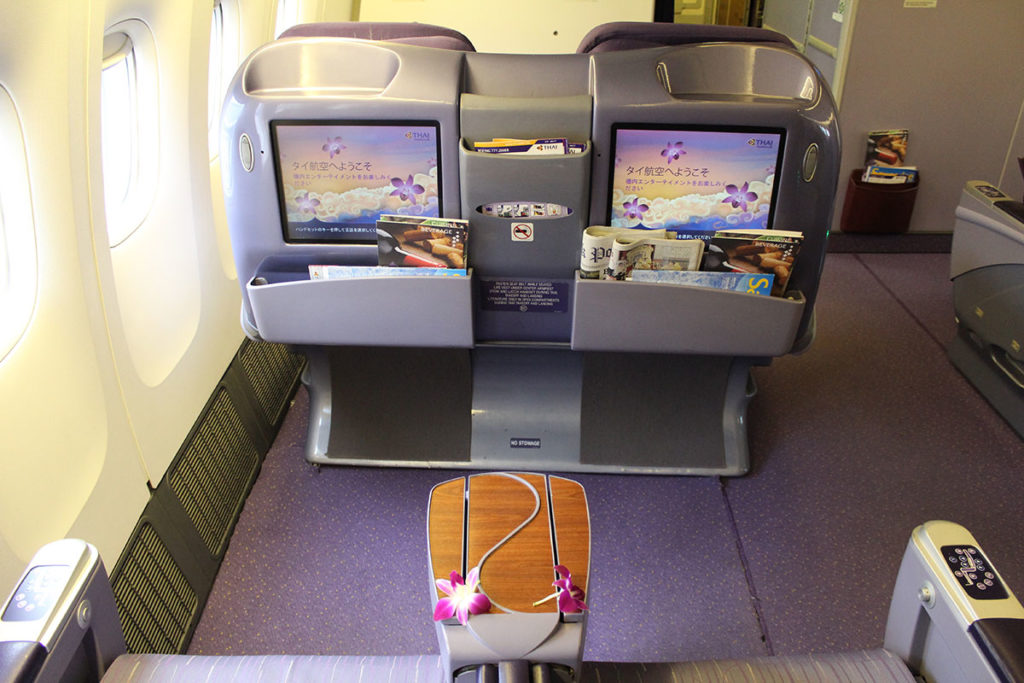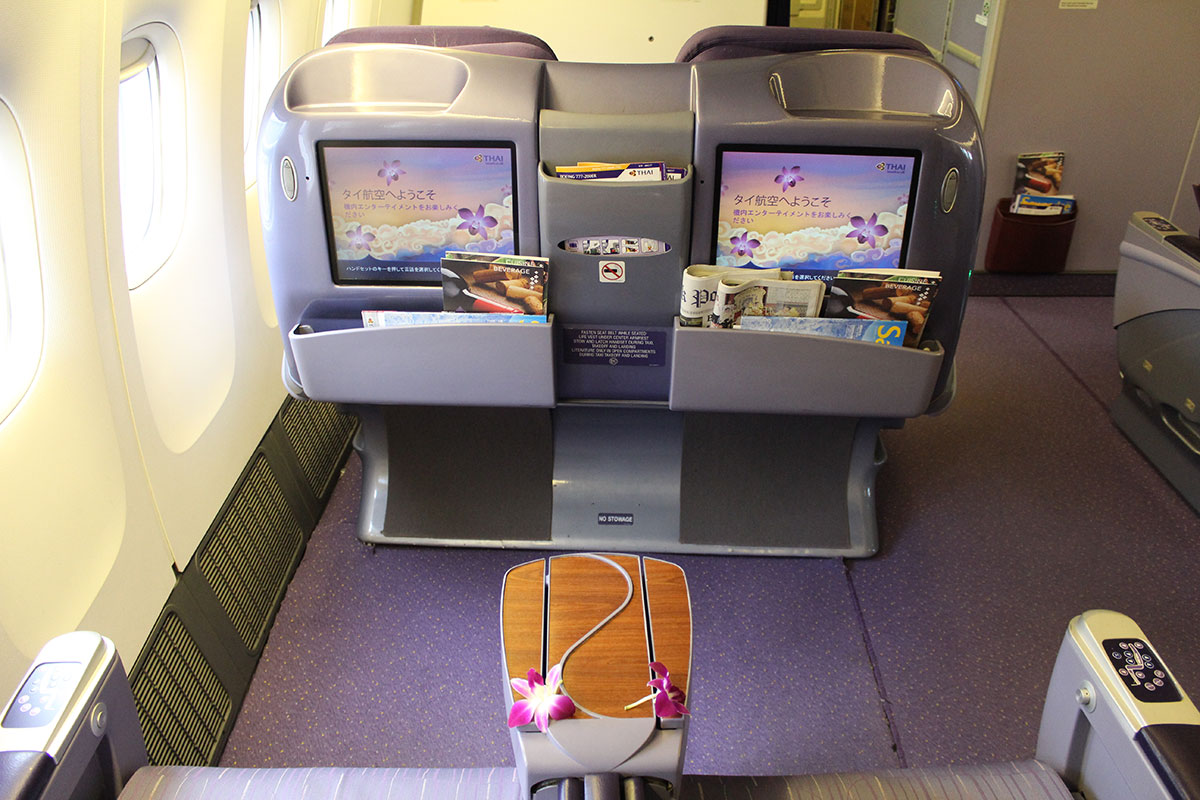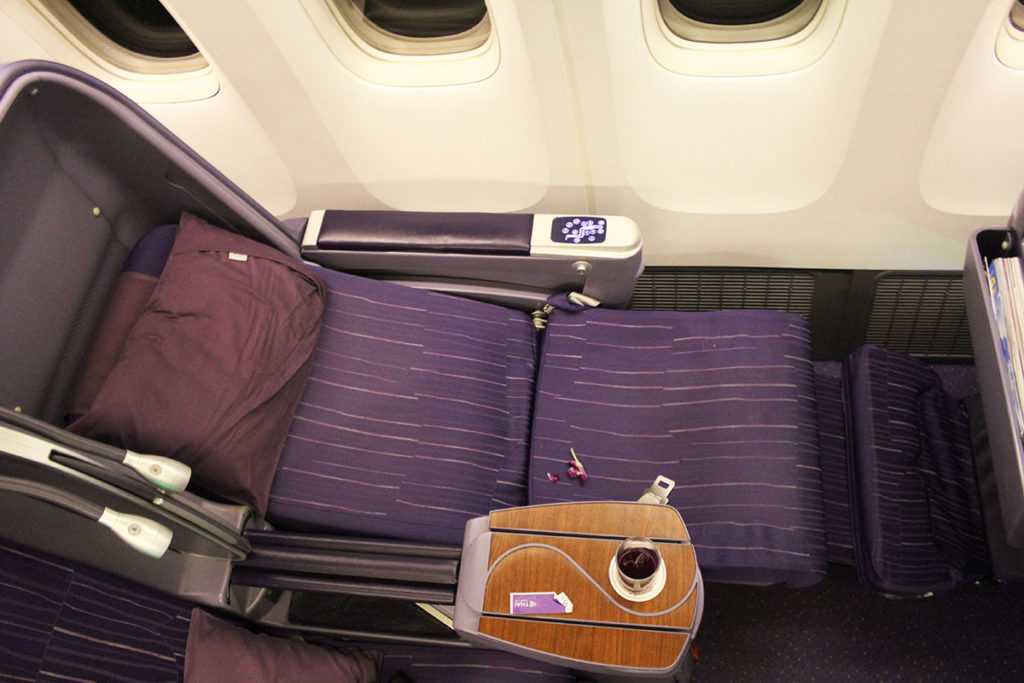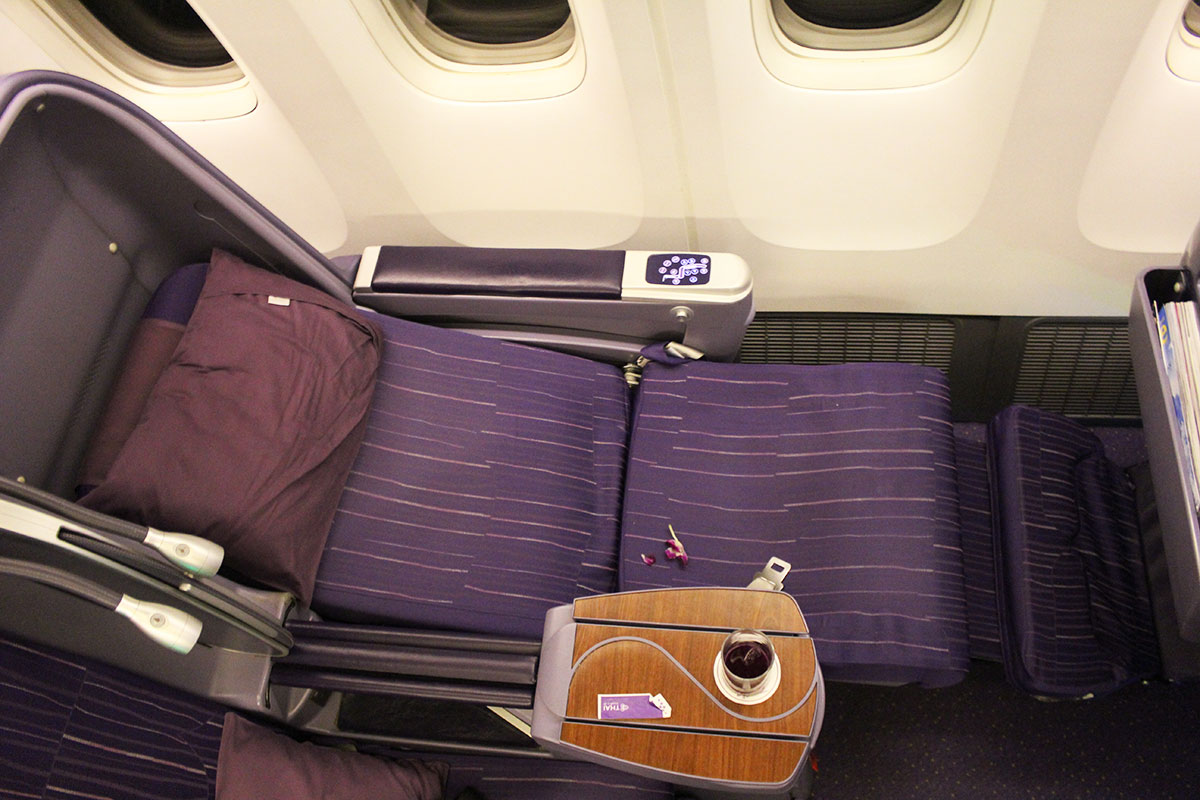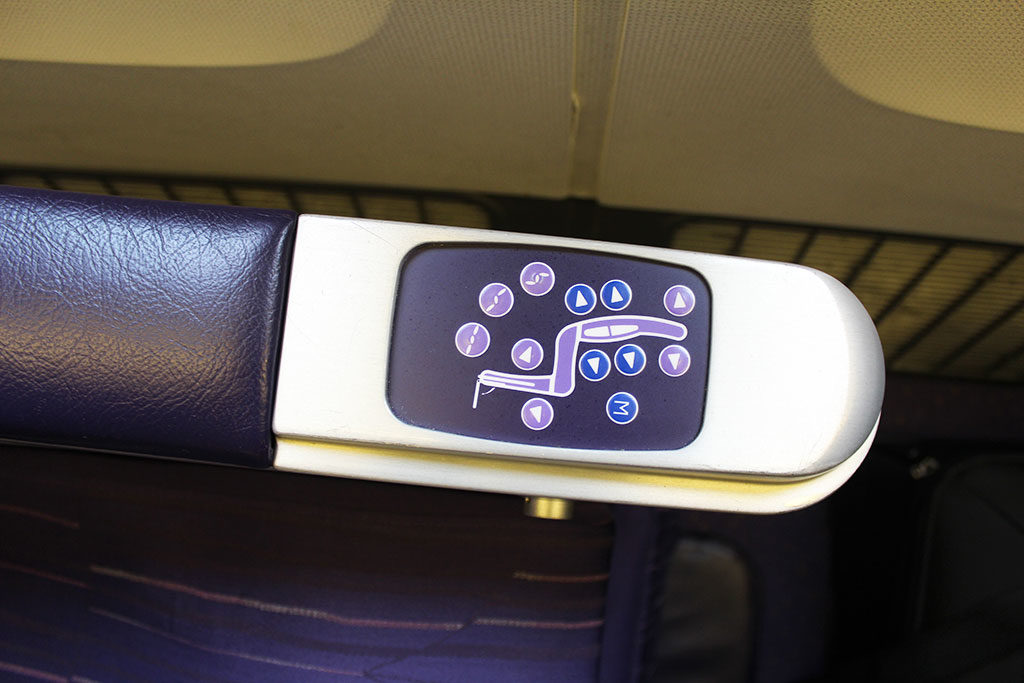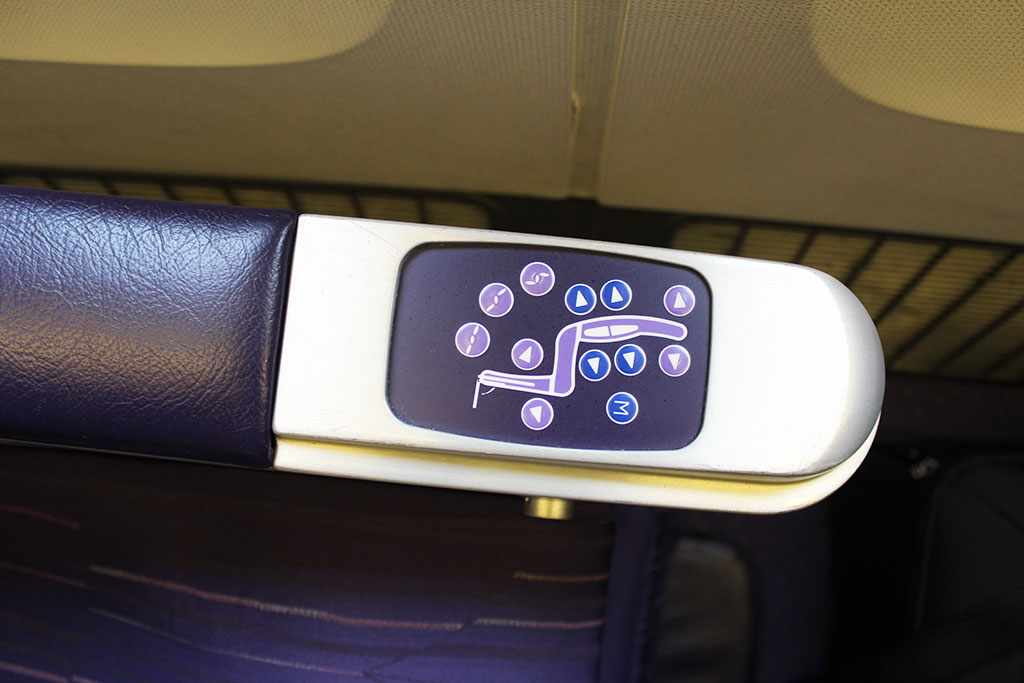 The Food
There wasn't any option when it comes to main course but I was happy that they served delicious fish on the day I flew. From main course to dessert, it was all tasty and spicy enough for an Indian.
One thing I'm unhappy about is that I'm not getting watermelon or coconut water when flying business class outside India. Hence, I have to settle for orange juice or apple juice. 🙁
And yes, you can have some champagne too if you want, but i didn't give a try!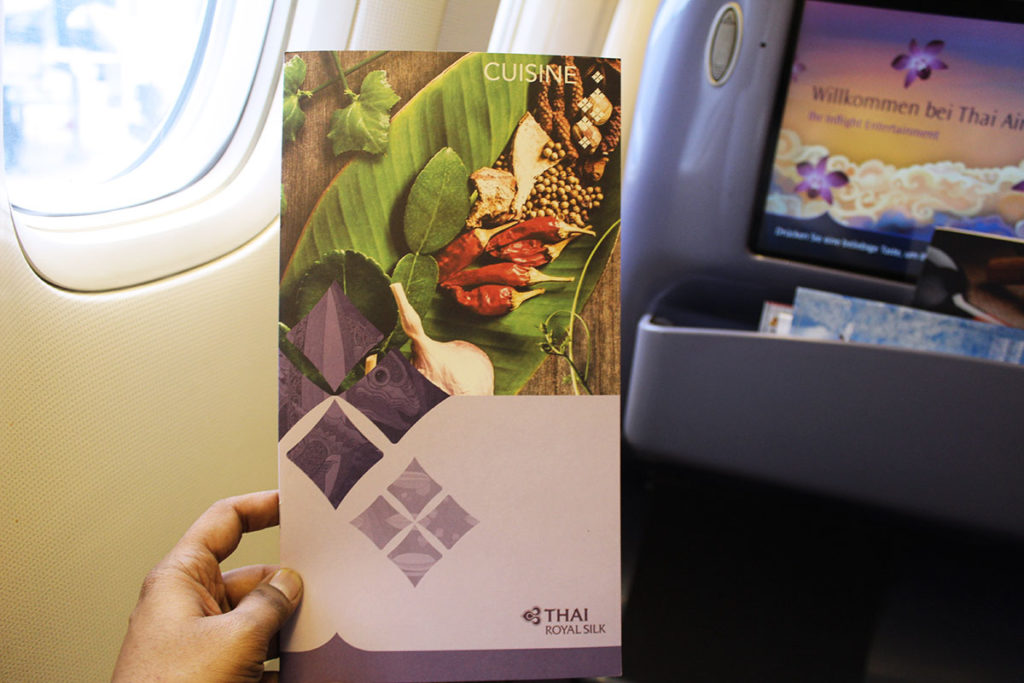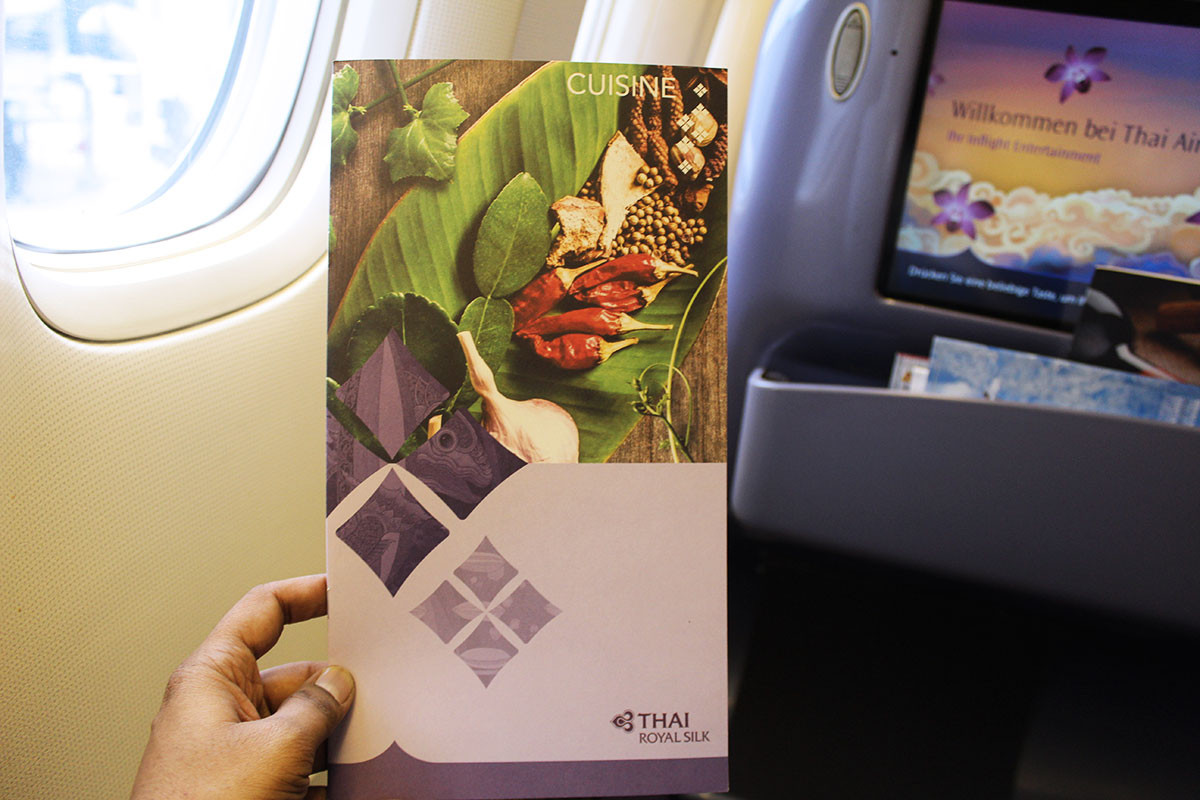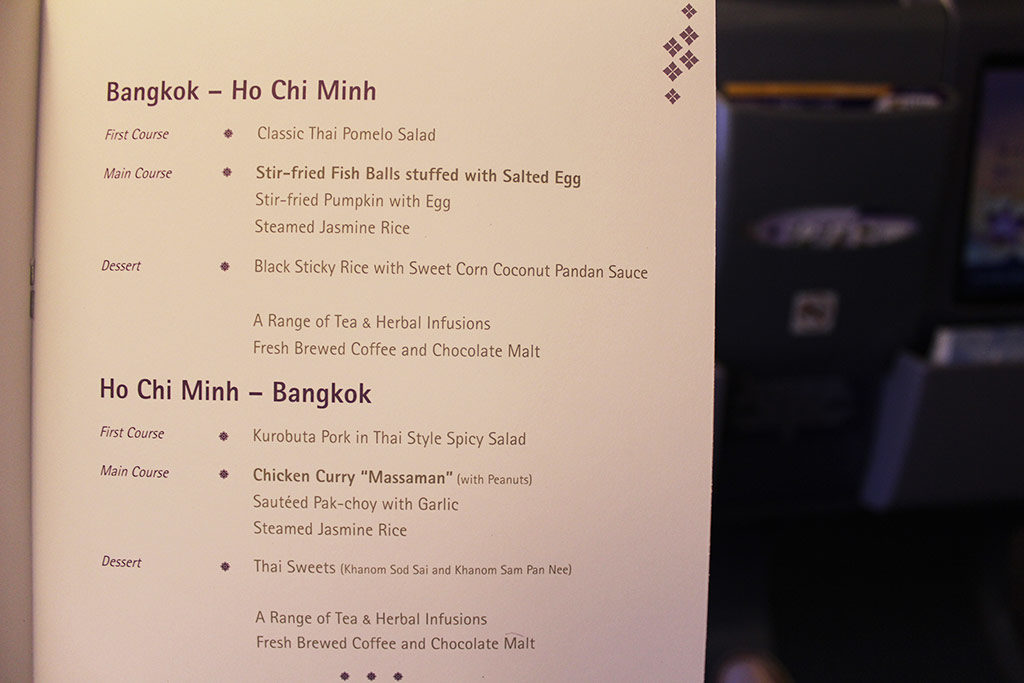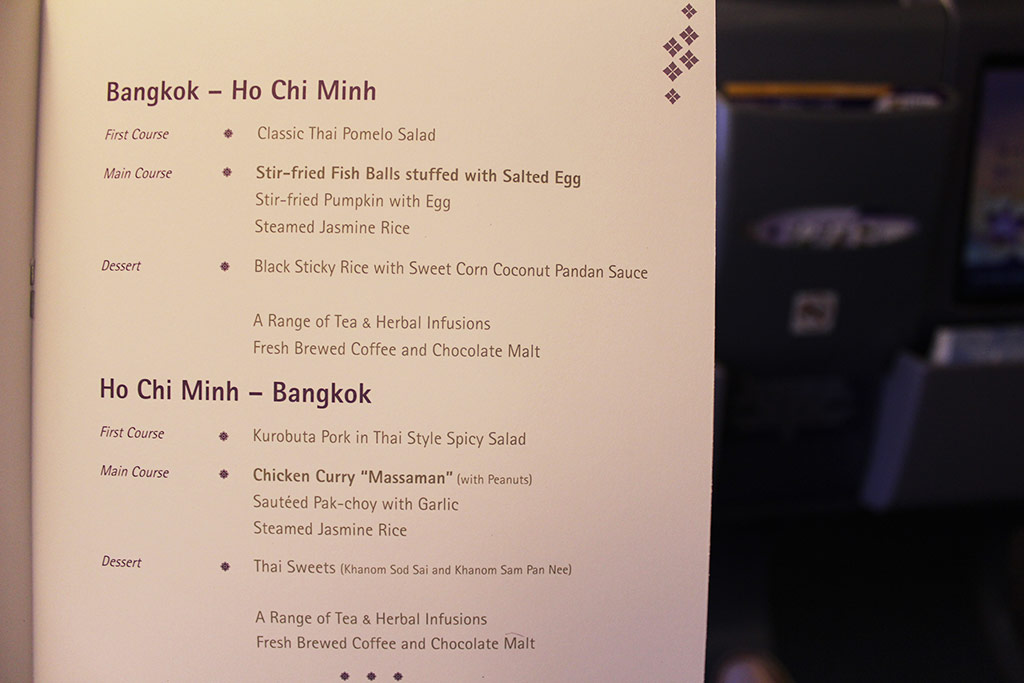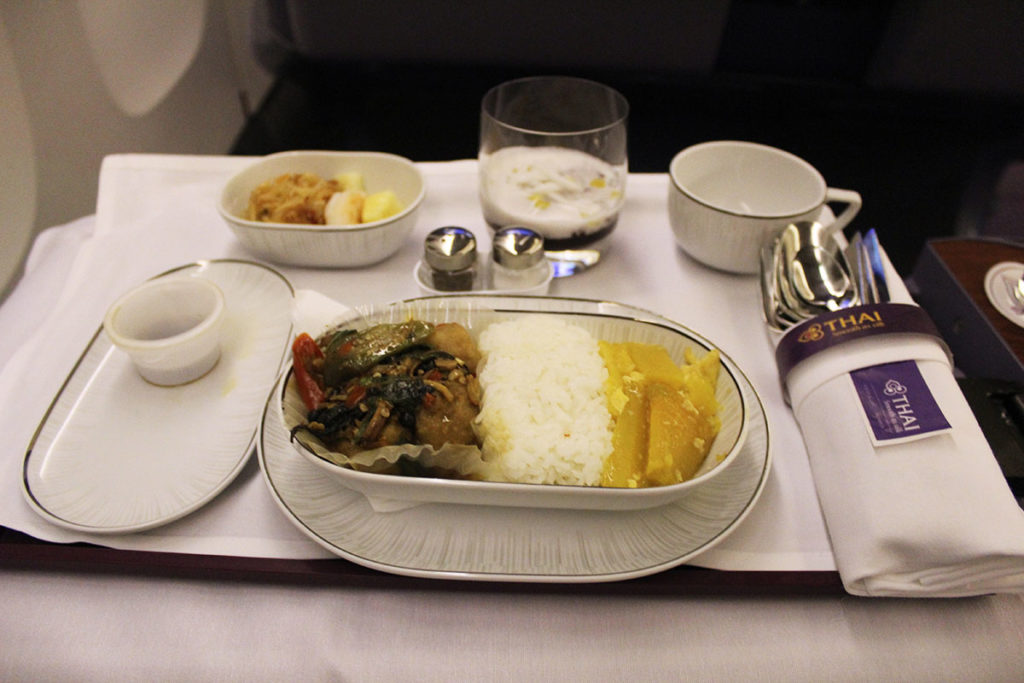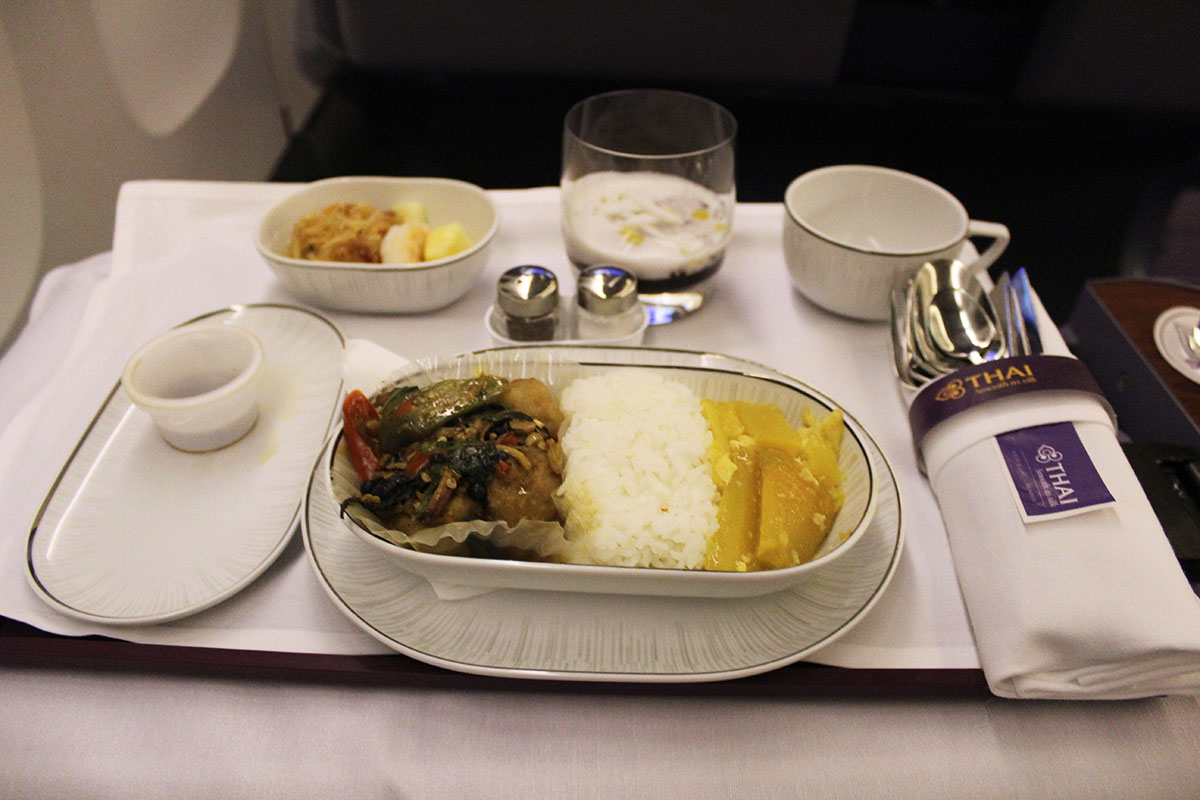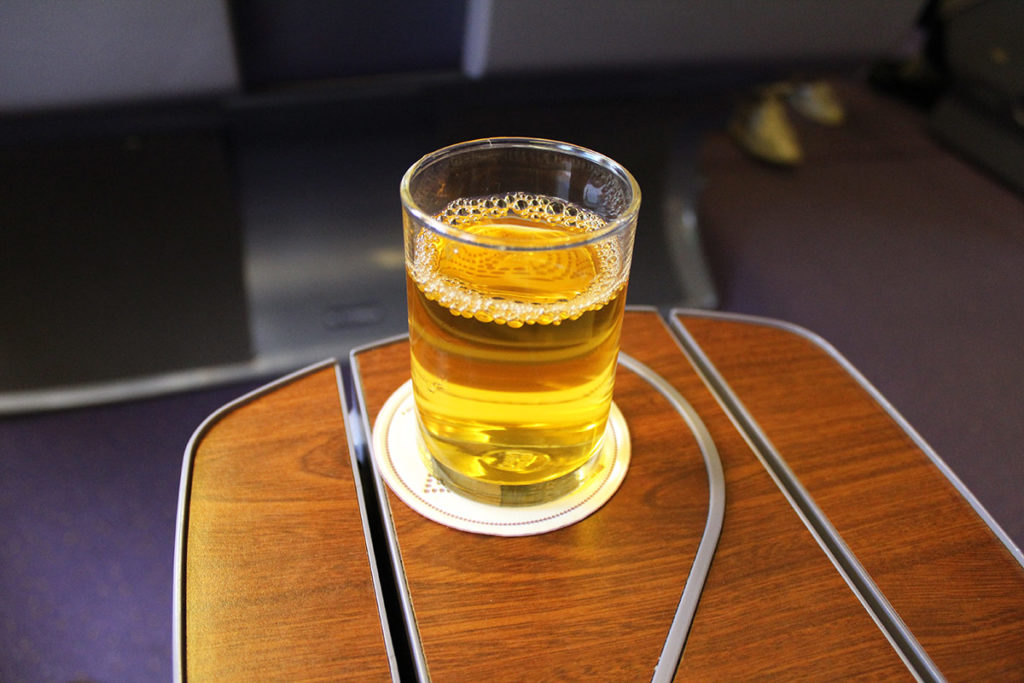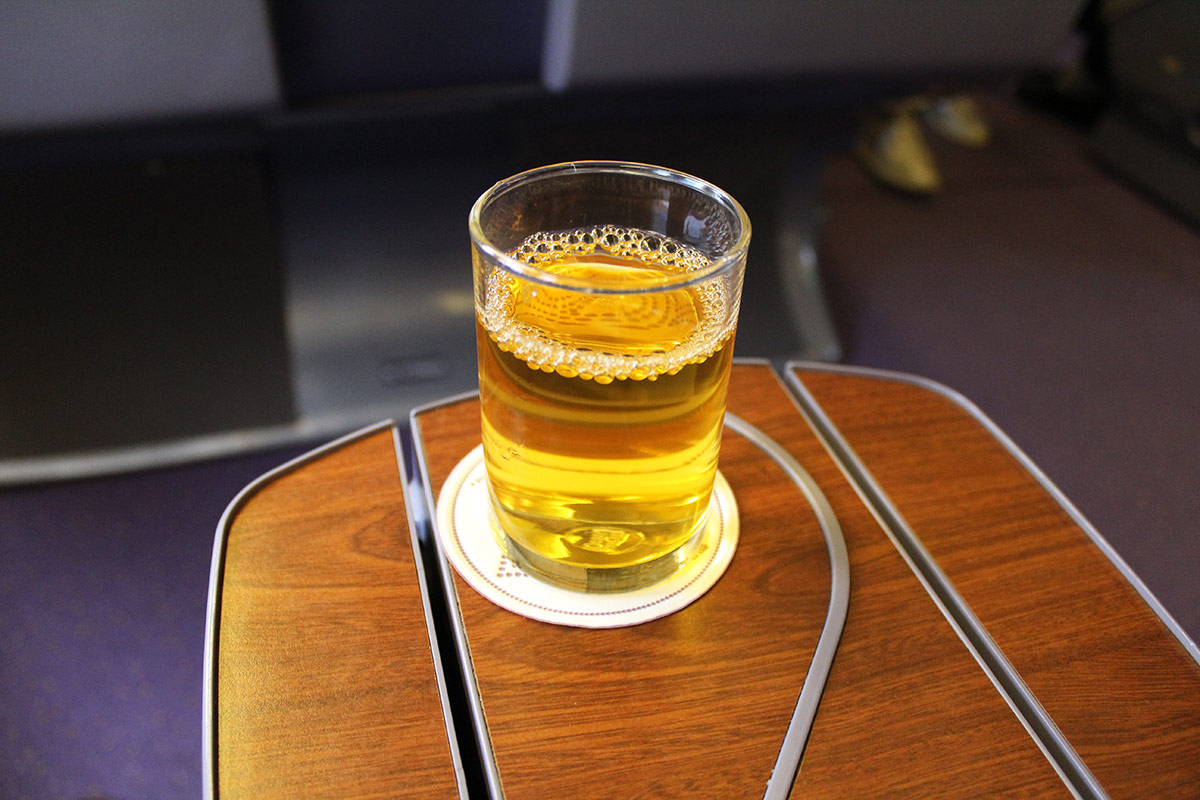 Entertainment
The screen is attractive enough but sadly it's not a touchscreen. Moreover, the remote looks so outdated for this cabin. Yet, it worked pretty well that I spent a few minutes exploring their In-flight entertainment system.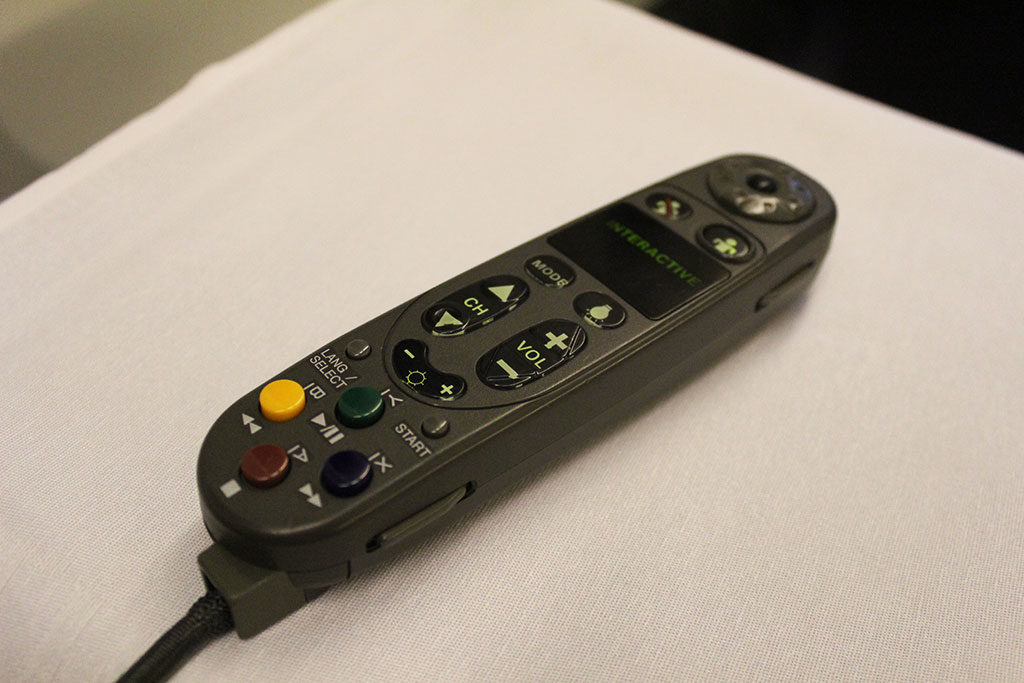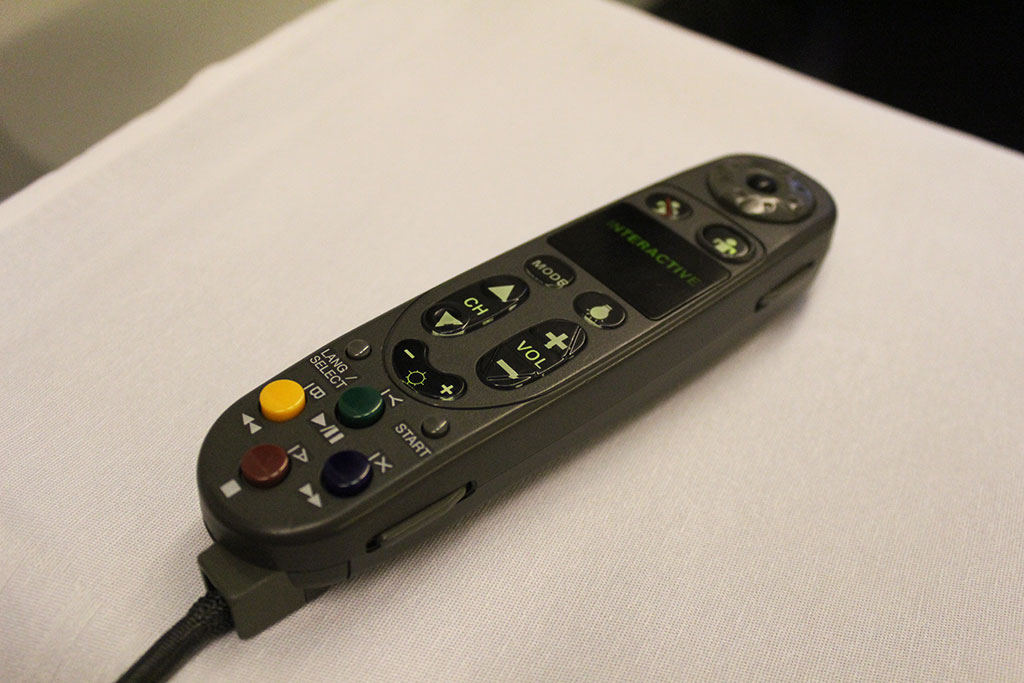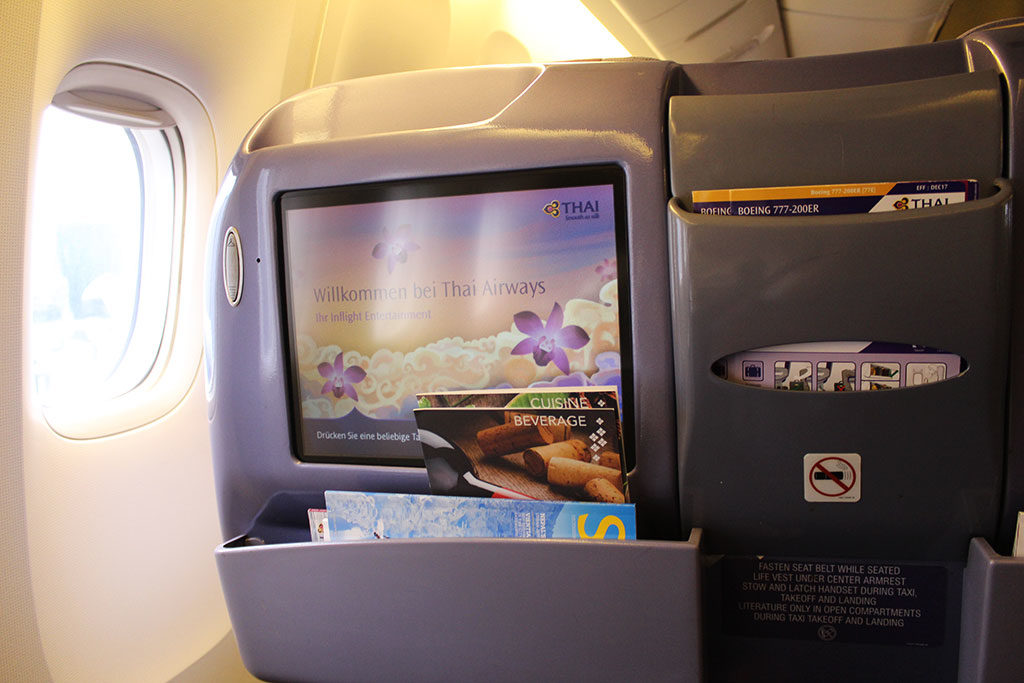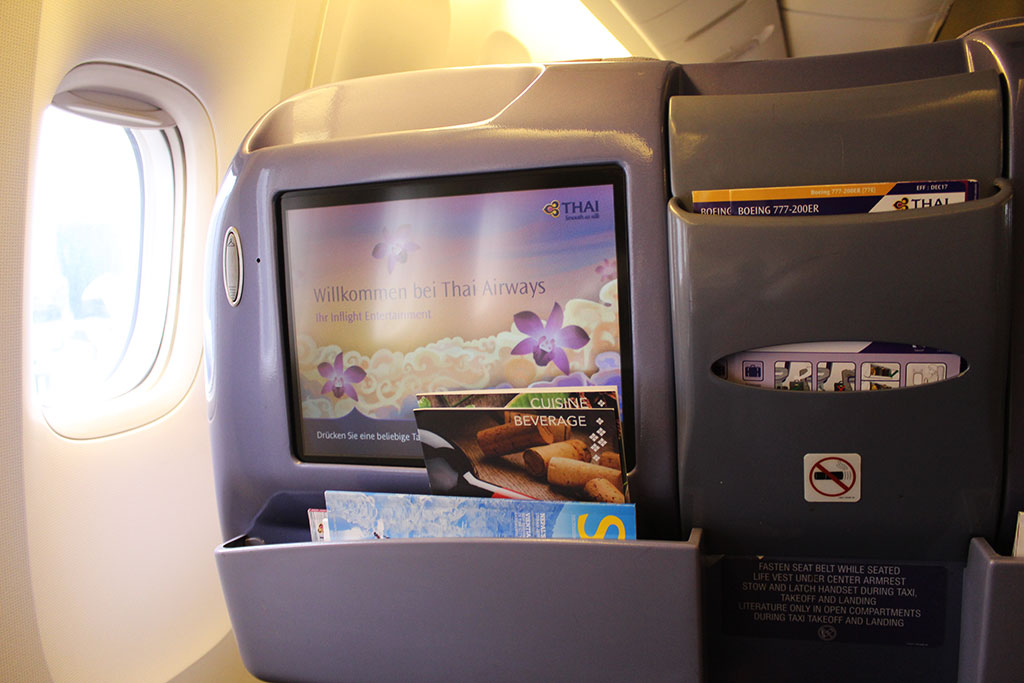 Bottomline
Considering the amazing ground experience (esp. the spa) and pretty good flight experience, I'm totally satisfied with this redemption as I get a value of almost Rs.1 per Air India Mile which exceeds my valuation.
Cardexpert Rating: 4.5/5 [yasr_overall_rating]
This flight was possible because I accumulated decent Air India Miles using SBI Air India Signature Credit Card last year. Eventhough this card got devalued in various rounds since its launch, it still helps me get invaluable business class experience like this.

If you like this review, you may also want to check out my other Air India Miles redemption: Air India Business Class on 787 Dreamliner from Chennai to Singapore.

Have you been on Thai Airways business Class or planing to fly anytime soon? Feel free to share your thoughts in the comments below.