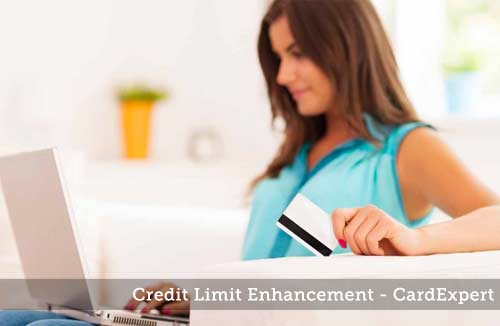 If you've applied for a new credit card, you would have probably got a low credit limit initially. But as soon as you start using your card and repaying on time, banks will have an idea as how much you spend and how much credit limit you can handle. So banks review & increase the limits every few months once based on your usage. However, we can't wait for automatic limit enhancement call if there is a need for high volume purchases. So you can try out any of these ways to increase your credit limit once your card is 6 months old.
7 Proven ways to Increase your Credit Card Limit:
#1 Show your Increase in income:
If your income has increased considerably, forward your last 3 months salary slips or IT returns to the bank and let them know that you're now getting a better salary and so to review your credit limit. This works most of the time and you can expect a decent increase, provided your usage is equally good.
#2 Show Your Reduced Liabilities:
You might have taken a personal/home loan when you've applied for the credit card. Most people doesnt know that such loans/EMI's are one of the important factors influencing your credit limit as explained earlier. If you've closed any of your loans, forward the loan closure papers to bank and request for a better limit stating that you're now paying less/no EMI and so you have higher spending power.
#3 Show Better Limits on other Cards(if any):
If you happen to get a far better limit on your other credit cards, let the bank know about it. For example, if your credit limit with ICICI is Rs.50k and you've credit limit of Rs.2 Lakhs on your HDFC credit card, forward your HDFC statements to ICICI requesting for a equal/better limit. However, don't do this if the difference is less, like Rs.25k or so.
#4 Upgrade + Limit Enhancement:
Ask the bank if you are eligible for the next level of cards(premium) than your existing card. If you are eligible, request for a limit enhancement along with your credit card upgrade. Don't forget about the yearly fees of the new card in this case.
#5 Spend more on your Card:
The first & foremost reason for anyone to avail more limit is that the existing limit is not sufficient. So you must be spending as much as you can on that card and payback on time to prove that you are worth handling more limit and also that you can transact more. If you've taken EMI/loans on your card and paid them all, its a great plus.
Banks love customers who spend more and pay bills on time. Spend a lot on your card for 3-4 months and tell bank there are more to come in future for which you need a better limit to handle it.
#6 Use the Credit card for foreign Travel:
Banks love people who travel abroad. That's because they earn a lot on foreign currency markup fees for every transaction you make outside India. Also, if a customer has the ability to travel abroad, his net worth has to be pretty decent and so obviously deserves a better limit.
#7 Wait for an Increase to happen Naturally:
Hope you know the fact "Great things happen to those who wait". It applies to credit card limits as well. If you use above 6 steps, you are likely to get 25%-50% limit enhancement, but if you leave it as it is, you can expect close to 100% limit increase. This happened to one of my friend recently, he had 80k limit for about an year with decent spending & repay pattern and he got an offer to increase it to 1.55 Lakhs.
As said, this is the best way to increase the limit  to greater numbers, however, you got to wait for the automatic algorithm to do this work. Its worth the wait though 🙂
What not to do while asking for Credit Limit Enhancement:
Never forget the fact that a bank is a place that will lend you money if you can prove that you don't need it. So never ask for a limit increase saying that "i lost my job, i need to pay bills, i ran into debt.. etc" those will show your needy behavior and might raise a flag on your a/c. Don't be desperate, just ask in a calm tone.
Those are the handy tips to increase your existing credit card limit. Understand that a higher limit can easily tempt you to spend more and lead you down to a dangerous road. Try not to change your spending habits just because you've got lot of plastic money at your disposal. As a thumb rule, use credit cards only to reap its advantages and only if you're sure that you can pay back on time.
Related: 7 less known Reasons to have a credit card in India
Got anything to say? drop your comments below.