I've mentioned earlier in the full review of ICICI Bank Jet Sapphiro credit card that it's the only card worthwhile to hold with ICICI bank, hence I recently upgraded my ICICI platinum card to Jet Sapphiro (Amex) credit card to make use of their limited period promo: Double JPMILES offer, which is valid until: May 31, 2017 (April 30th 2017)
Double JPMiles Offer:
With double JPmiles offer, you get 2X welcome JPmiles than usual. By default you get 10,000 welcome miles and now you can get 10,000 miles extra as activation bonus + one complimentary jet airways base fare waived ticket as usual.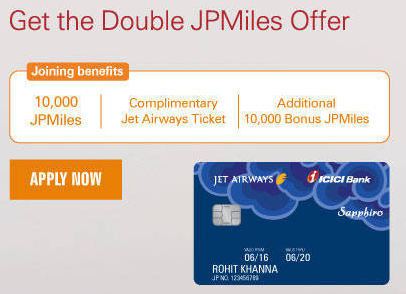 So the numbers looks like this on spending Rs.1 Lakh in 90 days of card setup date.
Joining fee: Rs. 5,000+tax
Bonus JPMiles = 25,000 Miles (Welcome bonus: 10,000 Miles + Activation bonus: 10,000 Miles + Regular earn rate: 5,000 Miles)
You also get: Complimentary base fare waived Domestic ticket.
Apart from the above privileges, you also get unlimited complimentary domestic airport lounge access (Amex lounge program) across India. So, the joining fee is well worth it and not to mention, it is one of the 7 Best Jet Airways credit cards in India.
Note that you get the activation bonus of 10,000 miles only after making 1L spend in first 90 days of Card setup date. It was added to my account nearly after 4 months.

The Upgrade Process:
I called up customer care and asked for upgrade to Jet Sapphiro Amex Card and know what? I called up second day to know that they have taken the upgrade for a normal Sapphiro Card. These Phone Banking Exe's do silly mistakes when i clearly requested for Jet card. Glad i came to know in a day, so then i asked to replace it with Jet Sapphiro.
It takes 2-3 days for the new card number to reflect on account. At one point of time, i had 4 cards reflecting on the account due to wrong upgrades, anyways they cleared it smoothly over call and i got the card in approx 10 days from the date of request.
The Card: ICICI Jet Sapphirro American Express Credit Card
The Card looks like this. Isn't it looking awesome? Yes, That's exactly how i got fooled as well. LOL 😀 . The quality of the card is poor and the type of embossing does not meet my expectations, even the debit cards are better these days. It looks OKAY from a long shot, but wish it has some premium feel.
Important Info: Amex co-branded cards comes with a pin that you can't change online/IVR, can be changed only by requesting a new PIN via Post.

Redemption of JPMiles:
Earning over 50k JPmiles with this card is quite easy so finding way to get maximum value per JPmiles is going to be a great hunt. Some of the best ways to redeem JPmiles are
Last minute Domestic Ticket
Domestic Ticket during Peak/Festive season
Long Haul International First/Business Class tickets
That being said, i'm yet to plan where/when to redeem the JPMiles that i'm gonna accrue in coming months. I've been ignoring it for quite sometime as my Amex Platinum Travel card gives me good amount of Indigo vouchers which is more than enough for my domestic travel and didn't have a need to look into Miles Game. But its time to test the waters now.
I'm upgraded to ICICI Wealth Management:
Interesting Fact in this Card upgrade process is that my ICICI Savings a/c got upgraded to "Wealth Management" from "Privilege" banking somehow. I still wonder what triggered this upgrade as i'm not actually eligible for it. Maybe opting for this card would have done the magic?! Have you experienced such account level upgrades when you opt for Premium cards with ICICI?
Meanwhile, Wealth management support comes very much handy these days. It has a toll free number to connect to the Phone Banking Officer without too much of IVR process and a single person is able to handle everything from credit cards to savings a/c queries. Loving it so far.
So, ICICI Jet Sapphiro Amex Credit Card with Double JPmiles offer is a great Jet card from my perspective. Isn't it the easiest way to accrue 25,000 JPmiles? Where would you redeem the miles if you have them? Feel free to share your thoughts in comments below.