A family trip to Mahabalipuram was a long pending one and when I came across the new Four Points by Sheraton at Mahabalipuram, I knew this is where I need to stay and was waiting for the right opportunity.
One fine day, Trujet airlines ran a sale with which you could get a flight ticket for just ~500Rs one way. As soon as I noticed it, I felt it's the right time to take my parents fly out from our native Salem -> Chennai. While we could reach Mahabalipuram by road easily, my mom is quite interested in looking at our house and farm from the sky, hence booked 4 tickets return at this rate, of-course on points. 🙂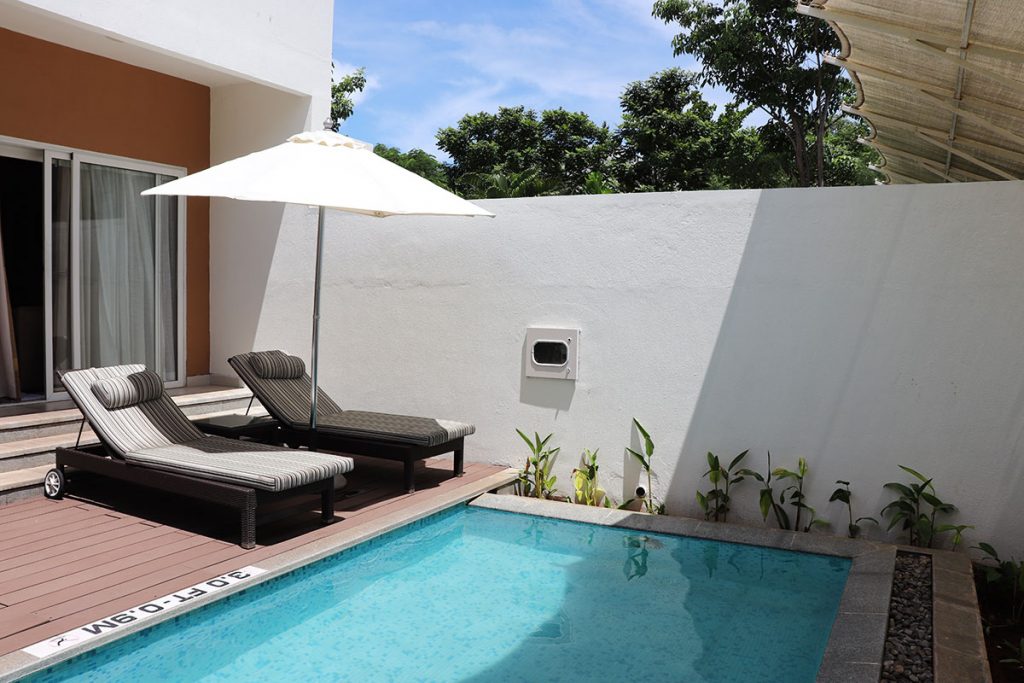 Speaking about the property, it was earlier called as Confluence and recently got added to Marriott portfolio and rebranded as four points by sheraton. It has the biggest convention center in the state with a huge hall along with beautiful lawn access.
Booking
Revenue rate: ~Rs.8,000/night
I Paid: 7500 Marriott Points / room / night
So I booked 2 rooms with Marriott Bonvoy points and later upgraded one of the room to suite with plunge pool. It was a paid upgrade that costs about 4K INR and the other room was auto upgraded to villa for being a Marriott Bonvoy Gold member.
Check-in & Welcome Amenity
Check-in was quick as we planned everything beforehand over call and we were quickly taken to the suite & villa on the electric cart. The property is not that big to use a cart all time, but it's best to use them for transporting luggages.
They were generous with the welcome amenity: Fruits, local Sweets, chips and chocolates – you get enough snack for a quick bite as soon as you check-in or to have with your evening coffee.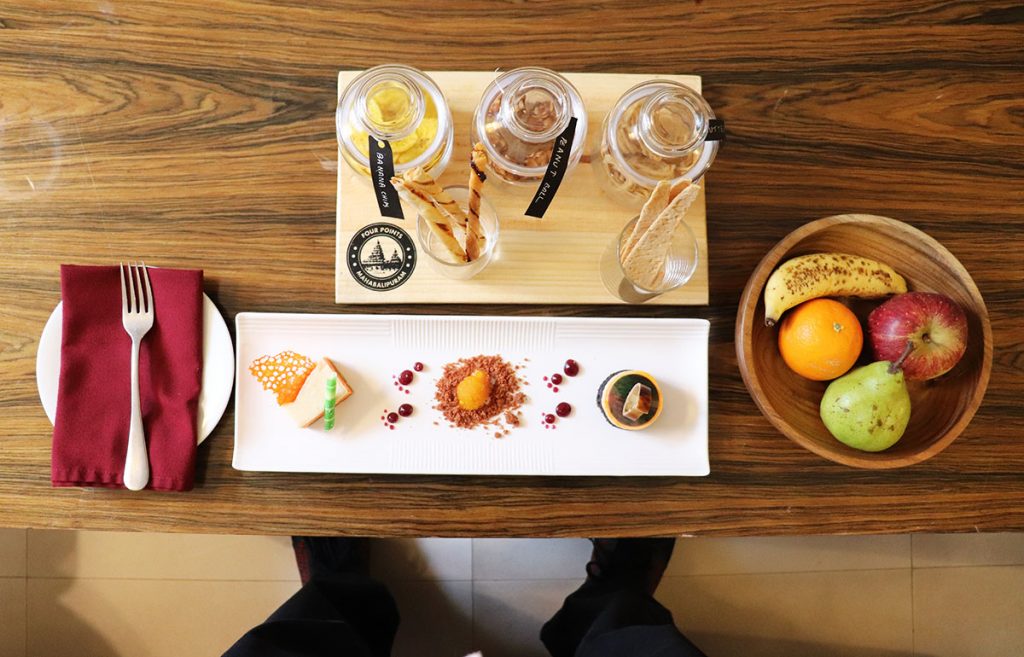 The Suite
Basically the suite and villa look exactly the same except that the suite has a plunge pool. Staying in a hotel with private pool access is something that was on my wish list for a while and with this stay I ticked off that & we totally enjoyed it.
The suite has a living room, a bedroom and 2 bathrooms. The room interiors don't feel modern enough, especially those doors but they're good and well maintained. The private pool is wide enough than a typical plunge pool so you can actually swim here.. a bit. Here are some pics,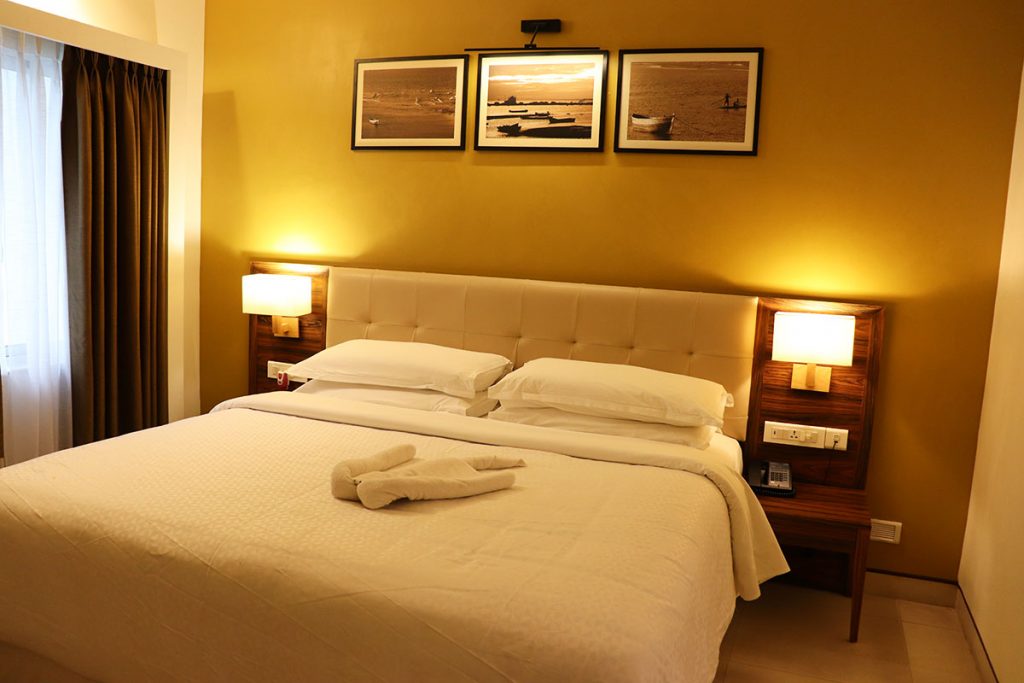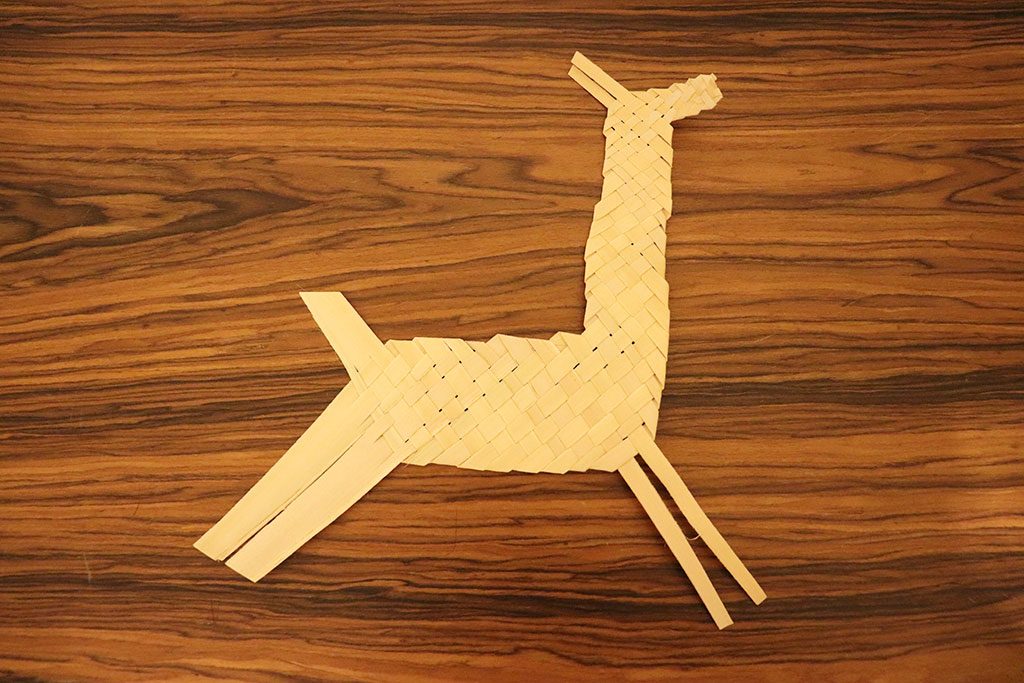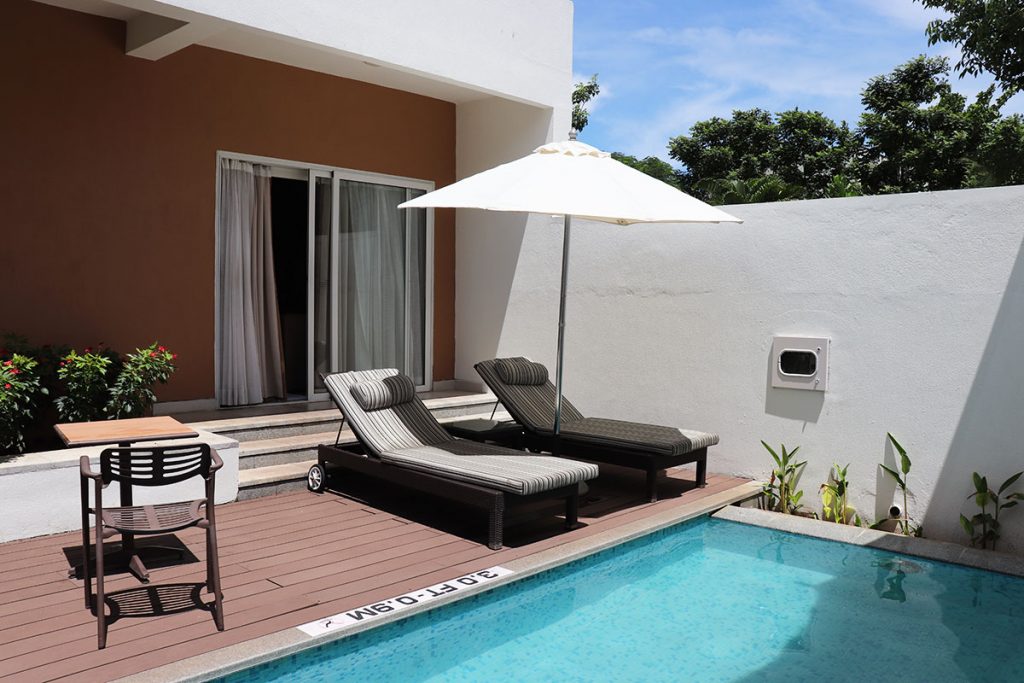 The Property
Expect a big swimming pool, lots of trees around, quick service, decent rooms and a peaceful atmosphere. Weather wasn't that pleasant but good enough for a walk.
I hardly noticed 2 other families during our stay but that's expected, as it's a weekday, so the entire property was silent.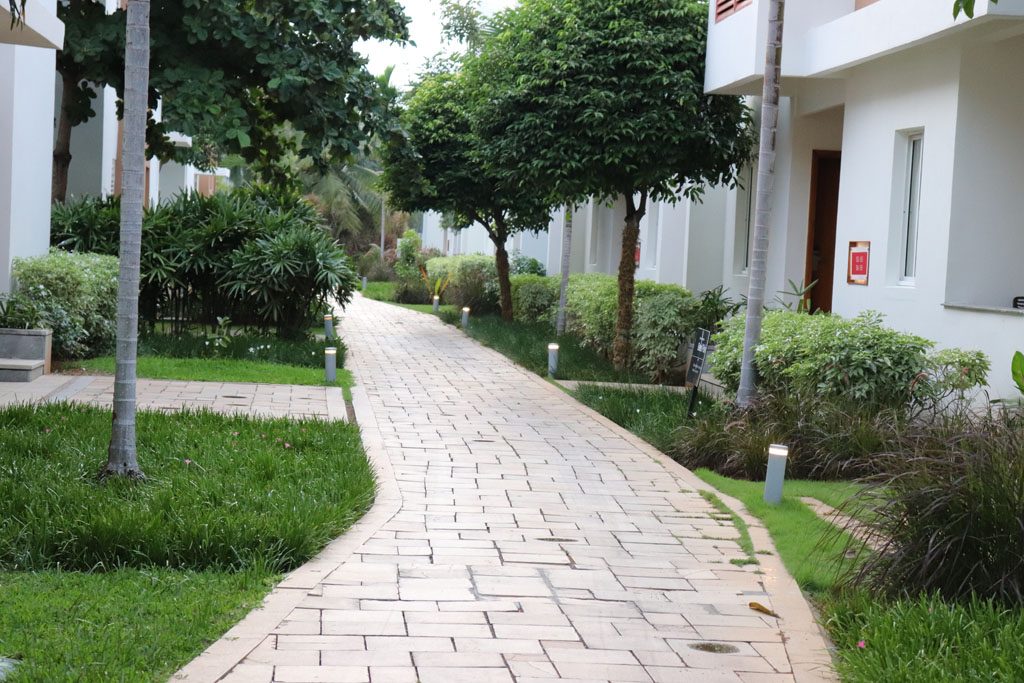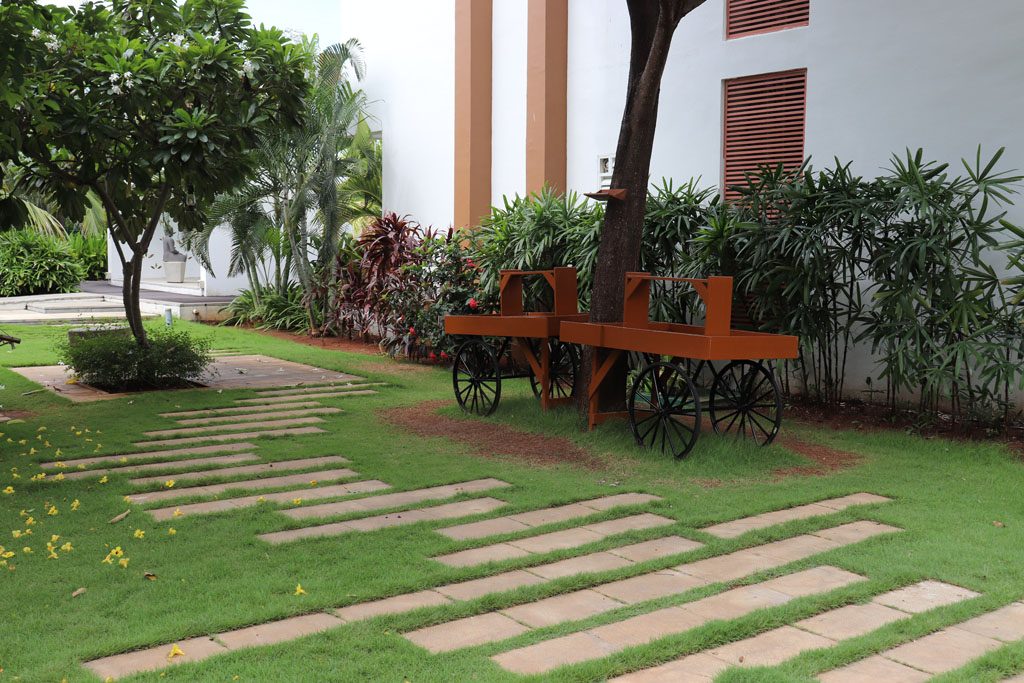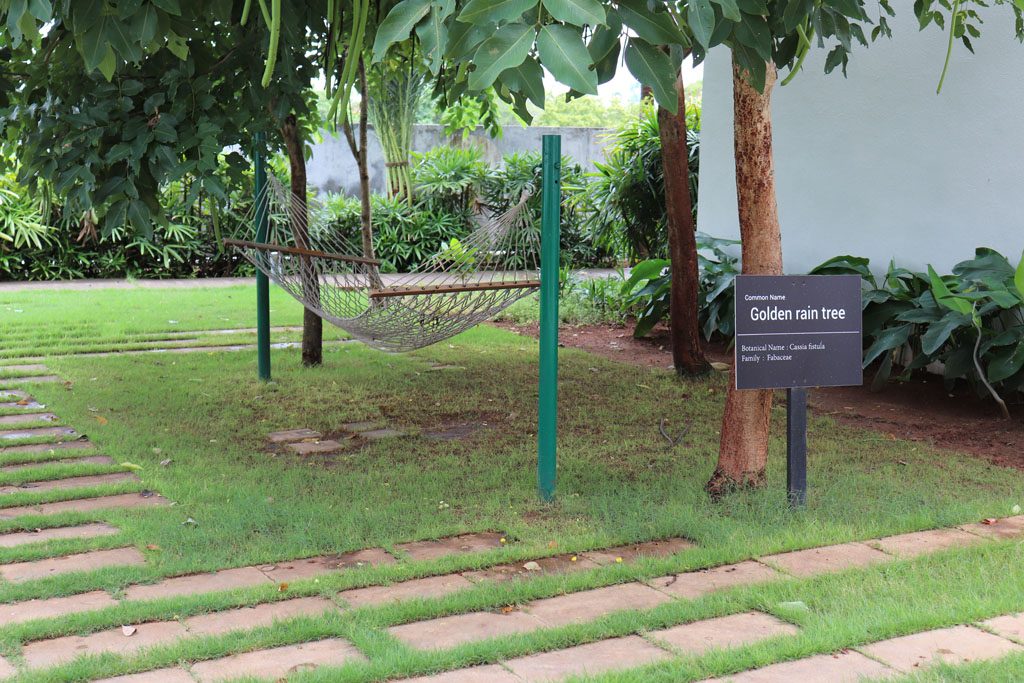 The Food
As food is not part of the points package, it was a paid one but we were offered sweet 50% off on breakfast: not a usual offer but I think the gold status and paid suite upgrades helped. Well, we actually didn't use the 50% discount because we cleared up the entire food bill (except odd rs.100) for all meals using the Marriott dining vouchers that I received from 2018 Diwali promo.
Speaking about the food, it was all tasty and we were given very good attention in the restaurant, because as you know, there are not many around. We were also given complimentary cakes during our last meal at the property, a nice send of gesture. Here are some food pics: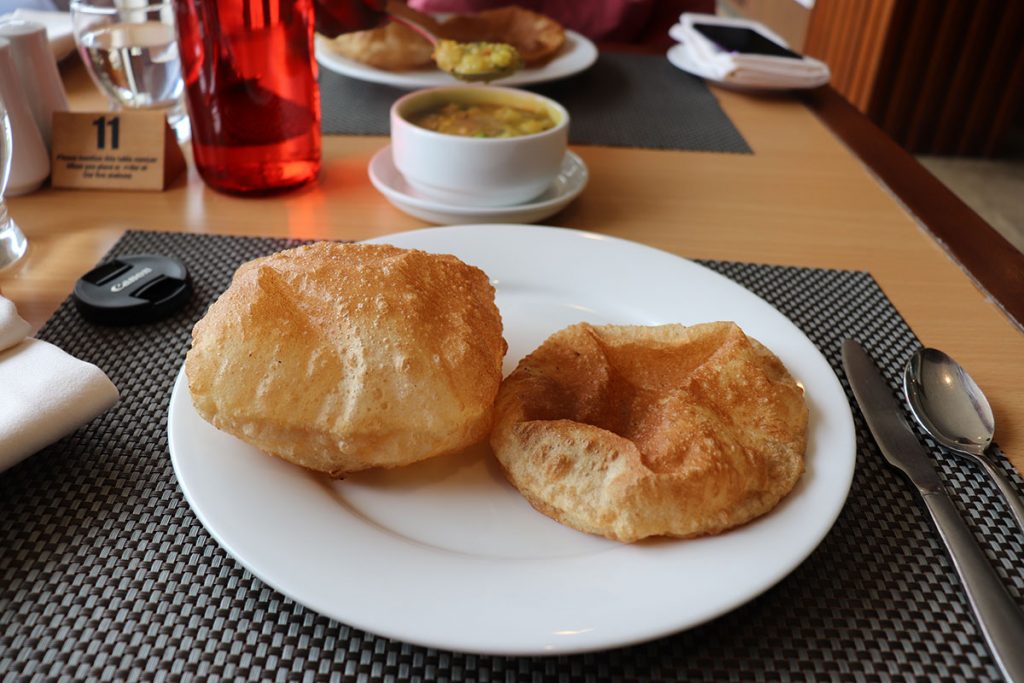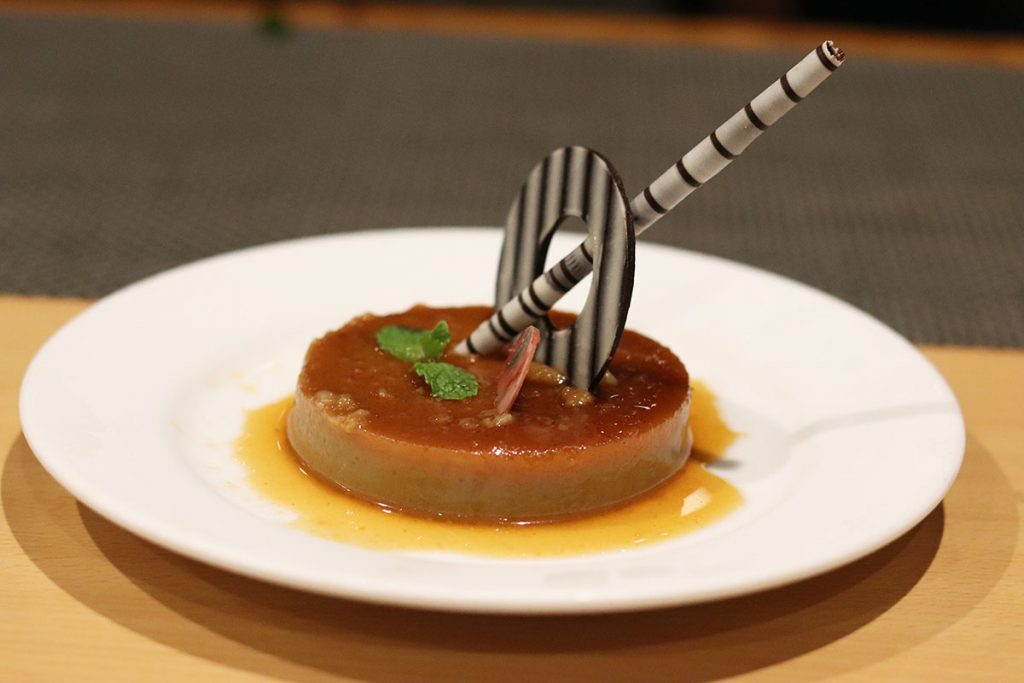 They've the habit of offering some complimentary garlic bread before every meal – and that was the best one I've ever tasted in recent times after those I had on Srilankan Airlines business class (pending review).
Sightseeing
They've a complimentary pickup & drop off from hotel to Mahabalipuram sight seeing places and to their private beach (which has paid activities) but we were in short of time and so didn't explore it.
You could cover almost all sightseeing places in under 3 hrs. Thanks to our Prime Minister for visiting Mahabalipuram, the town now gets newly laid roads all around. I wish Prime Minister or at-least chief minister visits every part of the country for that matter!
I've created a video tour of the property for you, do watch:
Bottomline
It's undoubtedly an amazing property and if you make it on a weekday, you may enjoy it a lot without the crowd. You get almost everything in this beautiful resort from cleanly rooms to beautiful outdoors and tasty food. After a night stay, I felt I could have booked for 2 nights here as 1 day is not enough, especially if you plan to visit sight seeing places as well.
And all of that coming from Marriott Cat 1 is unbelievable. This is a gem as I don't know if there is any other Marriott resort property on 7500 points ever – if you know, let me know. The only missing part of the property is that it's not a beach resort. If you've more points or cash to splurge, you should visit the all new Sheraton Grand, Mahabalipuram or Intercontinental, or maybe even Taj Fisherman's cove which again is a very good beach resort around this area.
Cardexpert Hotel Rating: 4.8/5 [yasr_overall_rating]
With this redemption, I got more than Rs.1/ Marriott Bonvoy point which is 2X more than my valuation (50 ps/point). As AMEX started running bonus points offers on Marriott transfers, it's the best time to get an American Express Credit card if you don't hold one already. Here are some first year free AMEX cards to start with:
Have you been to any Marriott resort that gave you exceptional value on points? Feel free to share your experiences in the comments below.