Standard Chartered Bank used to be one of the yet another amazing bank that used to run very lucrative Diwali spend based promotions on their credit cards but now the returns are going down year on year. SC 2019 Diwali promo is similar to that of 2018 promo with slightly lower return on spend, as below,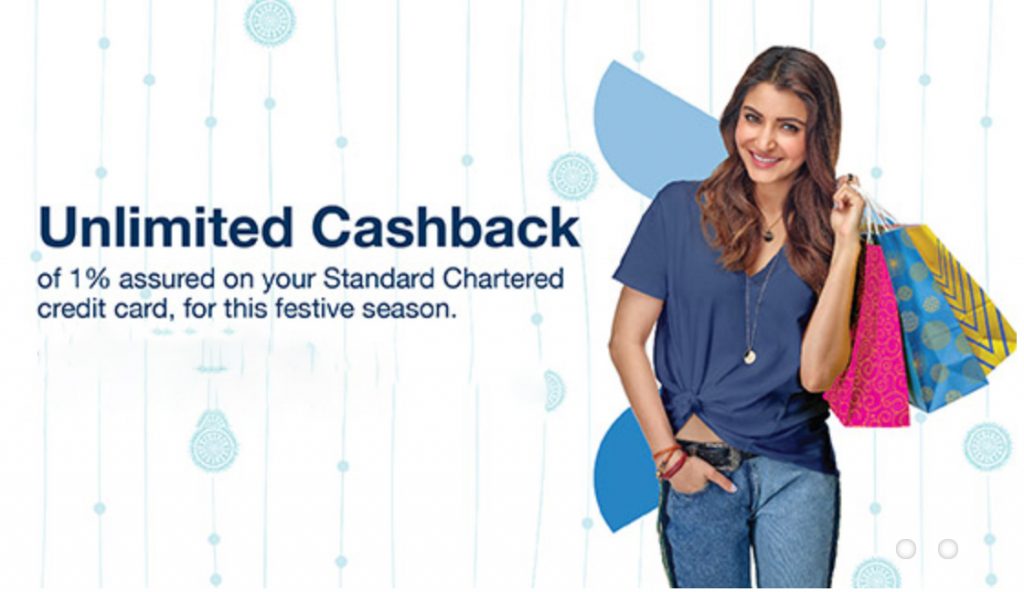 Standard Chartered Diwali Cashback Offer Details
Offer period: 1st Oct to 31st Dec, 2019
Target: Spend X Amount (monthly, for 3 months) to Get 1% Cashback
Upper Cap: Limited to Credit Limit per stmt cycle.
Customer cannot make payments in excess of their credit limit and utilize the same for making purchases using his/her credit card
Excluded Spend Types: E-Wallet, Recharges, insurance spends
Fulfilment: 31 March 2020
To Enroll: Please check your email/mobile (or) send SMS as UNLIMITED to 57575
Remember, you need to spend the Rs.X amount every month for 3 months to be eligible for the offer. See the illustration below. Check out Offer T&C for illustration.
Speaking about the target, one of my friend received Rs.5000 as monthly target on his SC credit card which has very low spends.
Bottomline
Its a decent promo as you can save about 1%+3.3% on all your spends done during Oct-Dec 2019 if you hold Standard Chartered Ultimate credit card, the redemption ability at that rate remains questionable again. But for Non-Ultimate card holders, its not a great offer.
While that's all fine, if you notice the trend of SC Diwali offers in past 3 yrs, you would see that the returns dropped from 3.3% to 1.5% and now 1% and it's clear that these promos are not going in right direction.
Anyway, something is better than nothing! What's the monthly target you've received? Feel free to share your thoughts in the comments below.