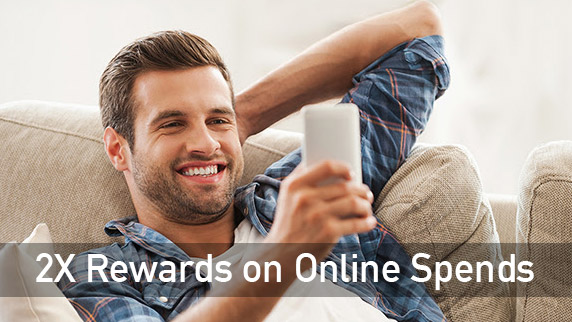 As we saw the amazing Double Rewards offer on Amex Platinum recently, I was pretty sure something similar would be sent to others as well. And as usual Amex did not disappoint us, here is that expected offer sent out for Amex Reserve & Travel cards. More details here:
Amex 2X Rewards Online – Offer Details
| Offer Info | Description |
| --- | --- |
| Offer | Get 2X points on all Online Spends (domestic only) |
| Offer Period | 1st May – 31st May 2020 |
| Eligible Cards | Amex Platinum Travel, Amex Reserve & Amex Jet cards |
| Offer Type | Only if communicated via email/SMS |
| Min. Spend | Rs.10,000 (cumulative) |
| Max Cap | 1000 RP's per card "account" |
| Fulfilment | 31st Aug 2020 |
| How to Enrol | Check email for enrol link |
| Source | Email – Read T&C |
Note: Transactions going through an aggregator (like Paypal, Paytm, PayU etc.) may not trigger Membership Rewards points since it entirely depends upon how a merchant submits its transactions to American Express.
To maximise the benefit you should be spending Rs.50,000 ; so you get 1000 regular MR points + 1000 Bonus MR Points.
If you read the T&C, you would also notice that you could earn quite good number of Intermiles even on Jet cards, but well, who has it?!
Overall a decent offer I should say but not that attractive as the one sent for Plat charge, which also gives you the ability to get 2X value on redemption.
Bottomline
While its a good move to reward online spends at this stage on their premium cards, it could have been 3X or more instead of 2X, as redemption value is low for non-travel redemptions.
Also as you can see, MRCC and Amex Gold Charge cards are excluded from this promotion which is sad indeed.
Now that we've Amex offer, we need to wait and see what HDFC & others has to offer.
Remember: You need to enrol for the offer to earn 2X rewards. And the good news is spends from 1st May are considered as well.
I've received the offer on Plat reserve. Did you receive the Amex 2X Rewards offer? Feel free to share your thoughts in the comments below.