International spends are somewhat a dreaded thing. Reason is plain and simple- You are charged 3.5% extra over and above your actual transaction value in the name of Mark Up fees. Now there are a lot of credit cards in the US and other parts of the world who have already cards in their arsenal having no mark up fees at all. Unfortunately, Indian Credit Card industry is yet to see such changes.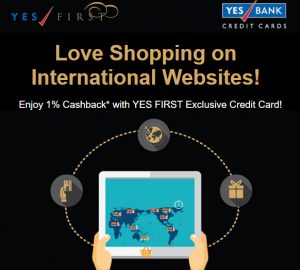 Having said that, there is the IndusInd Bank Exclusive Signature Debit Card which is my personal favorite for international spends as, it offers 0% mark up fees. Among the credit cards, Yes Bank First Credit Cards are the best as they charge only 1.75% as mark up. Now for some limited days they have launched an offer wherein you can earn some extra cash of 1% flat.
Yes Bank Cashback on International Spends offer:
This offer is valid from 24th April, 2017 to 20th June, 2017.
There is no minimum spend requirement for earning 1% cashback.
Maximum cashback that can be earned in the offer period is ₹1000.
You still continue to earn at normal reward rate. In my case it's 10 RP/₹100 spent internationally on the Yes First Exclusive Credit Card. This amounts to reward points worth 2.5% of the transaction value.
The spends made even on the add-on cards too will be considered for 1% cashback and reward points earning.
Even though the mail that I got says, "Earn 1% cashback on your Yes First Exclusive Credit Card", when I checked their terms and conditions, no where did they mention Yes First Cards. All they mentioned was Yes Bank Credit Cards. This means that this offer might be for ALL Yesbank Credit Card holders. However, in those cases the mark up fees will be 3.5% as per most of the Yesbank Credit Cards.
How it benefits you:
Say you have a Yes First Exclusive Credit Card. Then you spend roughly 1.75% +ST which comes down to approximately 2% as mark up fees. But at the same time you earn 2.5% as reward points and 1% cash back. That way you can see that you benefit a lot.
So you save: 2.5%+1%-2% = 1.5% ( with Yes First Exclusive Credit Card)
NOTE: One thing you have to understand that even though the IndusInd Exclusive Signature Card allows 0% mark up, it is a DEBIT card. As a result, you cannot dispute a transaction. Whereas, credit cards allow you to dispute a transaction and hence, you are much more safe.
If the merchant website allows PayPal then definitely IndusInd Exclusive Signature Debit card should be used as PayPal offers you protection anyways. But, if you have to divulge card details to the merchant (and you are not confident of the order or the merchant) it is always advisable to use Credit Cards.
Other Similar offers in the past on International Spends:
Do you like to do international spends? If so, what cards or hacks you use? Will this offer benefit you? Please share your views in the comments section below. We all share and learn from each other.