Looks like HDFC understood Credit card business better, as they do always. Here comes a new offer from HDFC in partnership with VISA: Get Flat 1% CashBack on Foreign Currency markup fee on International Spends done with HDFC Credit Cards (VISA Variant Only). This promotion is laser targeted towards the foreign tourists and it has nothing to do with vast majority of its customers.
Foreign Currency Markup Fee on International Spends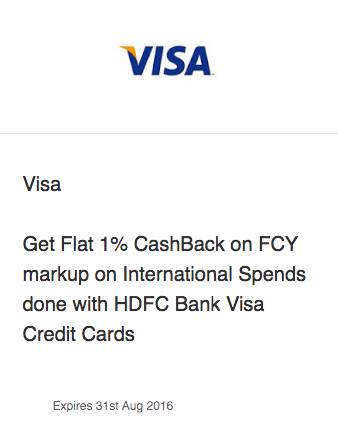 FYI, Foreign Currency markup fee is a pure profit to the bank and most bank these days take 3.5% of all transactions you make on a foreign currency say, USD. In most developed countries, there are credit card with 0% markup fee but as India is still developing and as there are no competition in this aspect, its left unnoticed. More details on the offer below.
Terms & Conditions for 1% Cashback:
Get Flat 1% CashBack on FCY markup on International Spends done
This offer is valid only on International POS Spends
Offer is Not valid on Online International Spends (Spends done on International websites)
CashBack will be credited to eligible customers 60 Days from the Promo End Date.
Max CashBack per Card is Rs.1000.
Offer is valid only FCY Transactions; not valid on DCC Transactions
Offer is valid from 01 Jul 2016 – 31 Aug 2016
I'm using HDFC Business Regalia primarily for its lower markup fee (2%), but as this promotion doesn't help me as all i make is online txn and nothing much to do with POS txns. However, if you're planning for a trip abroad this should certain help.
Lets see the math if you spend, say, $1000 on HDFC All Miles in a foreign country.
$1000 = 67,000 INR (approx)
Foreign Currency markup fee (3.5%) = 2,345 INR + Service tax
Cashback (1% on Markup fee) = 23 INR
This 1% concept is not clearly mentioned as it makes NO sense as per the match above. I believe they're talking about 1% as a whole out of 3.5% markup fee which is Rs.670 (makes some sense). As HDFC customer care guys are clueless always, true numbers of this offer can be known only if you happen to use it.
Have you utilized this offer? Feel free to drop your comments below.