Its bit off topic but its worth the share as i believe most of us around playing with air-miles and premium cards would also be interested in luxury on wheels. Its quite an innovative service by OLA to introduce luxury experiences on a tap and i do appreciate it. But does it really work the way it is advertised? I always wanna try and i did it not once but twice and ended up in disappointment.
Ola Lux – What's it all about?
As they say: Ola Lux will feature the likes of Toyota Camry, Mercedes, BMW and Audi among-st others.
HIGH END LUXURY CARS: A superior fleet with high-end luxury cars from the best car makers worldwide.
OLA'S BEST DRIVERS: Our top drivers trained to deliver a great ride experience every time, every ride.
AUTO CONNECT WI-FI: Get connected automatically to the complimentary wifi for seamless browsing on the go.
Availability: Ola Lux is currently available in key areas in Mumbai, Delhi NCR and Bangalore.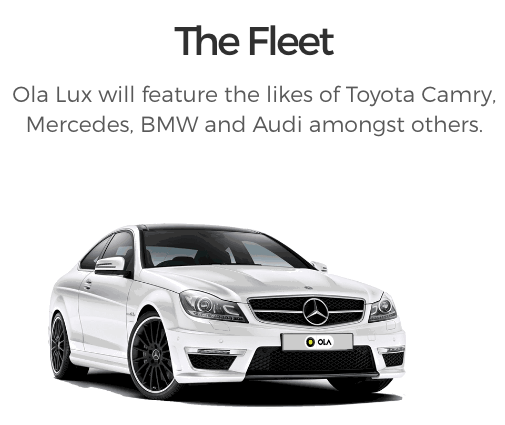 Ola Lux Review – My Experience with Ola's Luxury Cars
I tried Ola Lux twice, both in Mumbai and here is how it went:
#1 A Ride on Camry:
It was a rainy day and i was leaving to Mumbai Airport, T2 Terminal from Taj Santacruz sometime in mid 2016. While booking, the app says that i'll get "White Camry" but a not so popular SUV arrived. Seriously? How could they change the car just like that! Driver said that the Camry was in service for some reason and i didn't mind raising a complaint with Ola as it was a bit busy day.
Costs me ~Rs.400 for a 8Km ride with ZERO luxury
#2 A Ride on BMW 3 Series
This time too, i was leaving to Mumbai Airport, T2 Terminal from Grand Hyatt around May 2017. I was happy to see that a "Blue BMW 3 Series" is on the way to pick me. App showed that its very near to me and so came out of hotel looking around for my BMW. But i could hardly spot it and so called up the driver. OMG, its standing just in front of me at a little distance and i'm looking at its left side.
First impression, it was a very old car in a dull "blue" color and i was looking again and again to re-confirm if its really a BMW. Okay, anyways got in expecting some good "luxury" inside. But hey, it had a bad odour inside and also the interiors looks so dull. Atleast the driver/owner could use some air freshener inside.
Costs me ~Rs.500 (A Rs.200 coupon saved me a bit)
What i felt: Even a typical sedan would have been much better than this at half the price.
Am not sure if i am unlucky to have bad experience twice but what i think is, these cars are mostly used ones and are in not so good condition to resell, hence the owners end up placing it on Ola Lux or similar services to make some money out of the Old machine.
Have your tried Ola Lux? How was your experience? Do share in comments below.