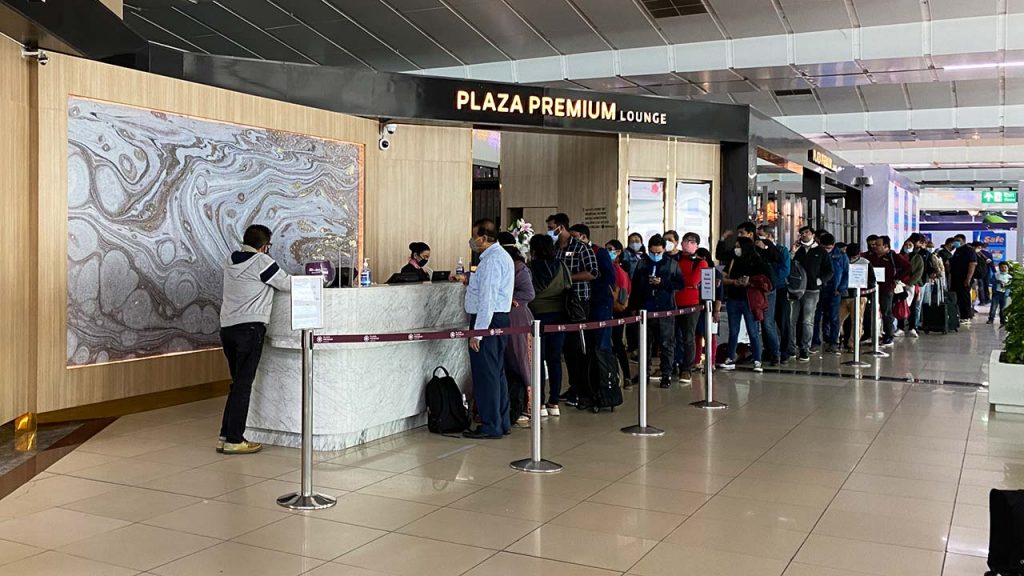 The Plaza Premium lounge at Delhi T3 airport is one of the busiest lounge in the country – no doubt. But is it the busiest in the world? I don't know but "I think so" after my recent visit to the lounge in Early Feb 2021!
As far as I know and what I hear from others, the lounge is almost always crowded since 2018 or so. I've personally not seen occupancy less than 80% in recent times and so I used to access other lounges, especially the Vistara Lounge (before 2020).
Even Amex Lounge was having 100% occupancy (for more than a hour) during my last visit, an year ago.
But now as both Amex & Vistara lounges are no longer operational, the plaza premium lounge has got to a whole new level of crowd.
Note: You still have access to business class section of the lounge if you fly Biz or CV Gold/Plat, Priority Pass & likely premium Amex cards too (as heard from some).
I recently visited the lounge in early Feb 2021 while I was flying out of Delhi T3 and I noticed that there were about 40+ passengers in queue waiting to access the lounge.
What's the cause?
I could spot 3 major causes:
So many new card with complimentary access: As you can see from the list of best credit cards for 2021, there are so many new entry level cards that's giving complimentary access to lounges. That's good for cardholders but it affects the lounge experience.
Peak hours: While I was entering I saw 5+ in queue (lounge was full even then) but while leaving it was 40+. So too much crowd is usually seen during peak hours but I've never heard from anyone since 2018 saying this lounge is free during non-peak hours".
Ignorance: While above 2 reasons add up to an extent, the sheer Ignorance by the airport operator to give better customer experience is the major reason I could possibly think of.
Whatsoever the reason be, I still don't find what's stopping the airport from adding a new lounge given the fact that the existing lounge is said to be running on grand revenue.
Queues like this in Delhi airport not only gives bad experience to the travellers, but also prevents the flow of money at various levels and of-course poor utilisation of the massive airport space in T3.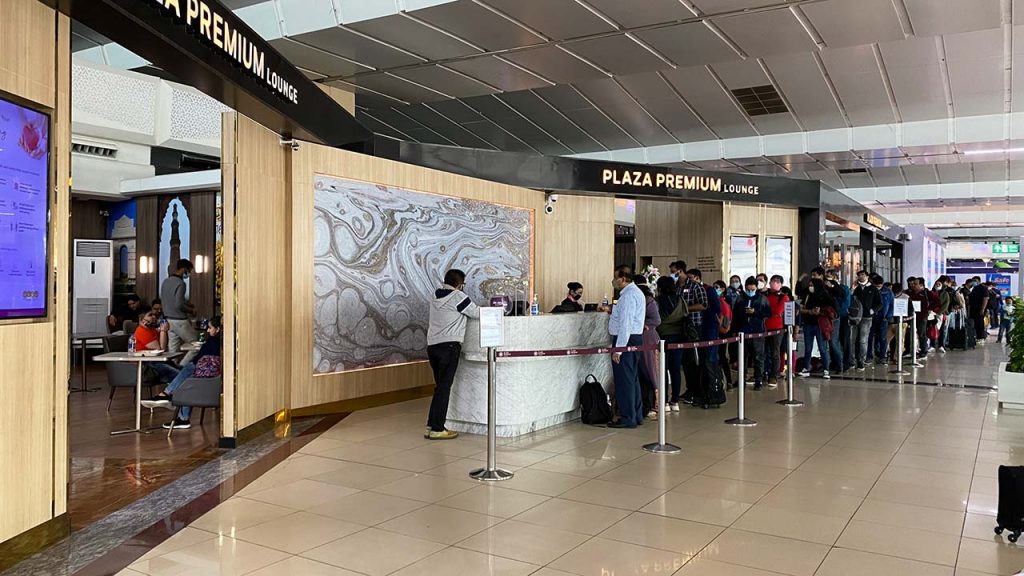 I still wonder how this is still not sorted out since 2018. Maybe the decision makers are using the Air India lounge comfortably? Could be!
What Can be done?
Open a new lounge altogether, likely somewhere at the other side of terminal.
Re-opening the Vistara and Amex lounge (with more capacity) would help too.
Forget about the capacity issues, at-least considering the size of the airport we should be having a 2nd lounge at other end of the airport if customer experience is a priority for the Airport.
Speaking of 2nd lounge, most airports in metro cities (MAA, BOM, BLR) have 2 lounges and its a surprise to see Delhi have just one (excluding the Airline & Amex lounges).
Maybe Delhi Airport need to learn a thing or two from Bangkok Airport (BKK) where you can see about 4 lounges right next to each other in the same area – most accessible by cards. They seem to care for the travellers!
For those who're not aware of how big the Delhi T3 terminal is, it took me well over 10 mins of continuous walk to go from the plaza premium lounge to the Vistara gate.
Bottomline
While the queue numbers are hitting 40+ easily during COVID times, I wonder where the numbers would be when travel gets back to normal. I couldn't even imagine!
For now though, if you're visiting the lounge and if you see the crowd, consider leaving the lounge and take seat in the common area or better spare some time doing window shopping.
Of-course you do deserve more time at the lounge, but it's worth thinking about the hungry passengers who're eagerly waiting outside primarily for a quick snack before the flight.
And with that let's hope the airport comes up with a new lounge soon!
Have you been to the Plaza premium lounge at Delhi T3 recently? Feel free to share your lounge experience in the comments below.