Below content maybe outdated. Checkout the latest review of this credit card here: HDFC Diners Club Miles Credit Card Review
HDFC Bank has recently added a new credit card to its portfolio under Diners Club network called "ClubMiles". Design front, the card looks identical to the HDFC Diners Premium Card with the only difference being the card numbers printed are gold in colour. Having a look at the features and benefits, its a nice card that comes with 2.6% reward rate when redeemed for Airmiles/hotel points. Lets have a look into it in detail.
Joining Fee/ Annual Fee: Rs.1,000+GST (you can get it for free/LTF)
Eligibility: Salary Rs.50k/m (or) Rs.6L ITR (lesser than diners premium)
HDFC Diners ClubMiles Reward Rate:
Earning: 4 Points on Rs.150 spend (same as Premium)
Redemption on HDFC Diners Voucher: 1Point = Rs.0.50 (1.3% reward Rate)
Redemption on Airmiles: 1Point = 1 Airmile/Hotel Point (2.6% reward Rate)
So the only major difference i see between Diners Premium and Diners Clubmiles is airmiles redemption that gives 2x value on Clubmiles than premium. So HDFC created a new card just for 1 differential benefit, Seriously?! They could have gone with this easily by placing one line in their redemption page of diners premium for Airmiles.
Anyways, it might be different scenario for the Bank as its easy to trick customers with the "miles" name on card. It always works for banks that way, as i've seen my friends holding HDFC Allmiles thinking its a premium travel card! Great strategy for banks to target travellers.
Note: All 10X points and other offers are valid on Diners Clubmiles like any other Diners card. Its still a reward points card, so we may expect this card on most 2x/5x/10x promotions. The max cap on bonus points is same as Diners Premium for all.
Diners Reward Points Transfer partners: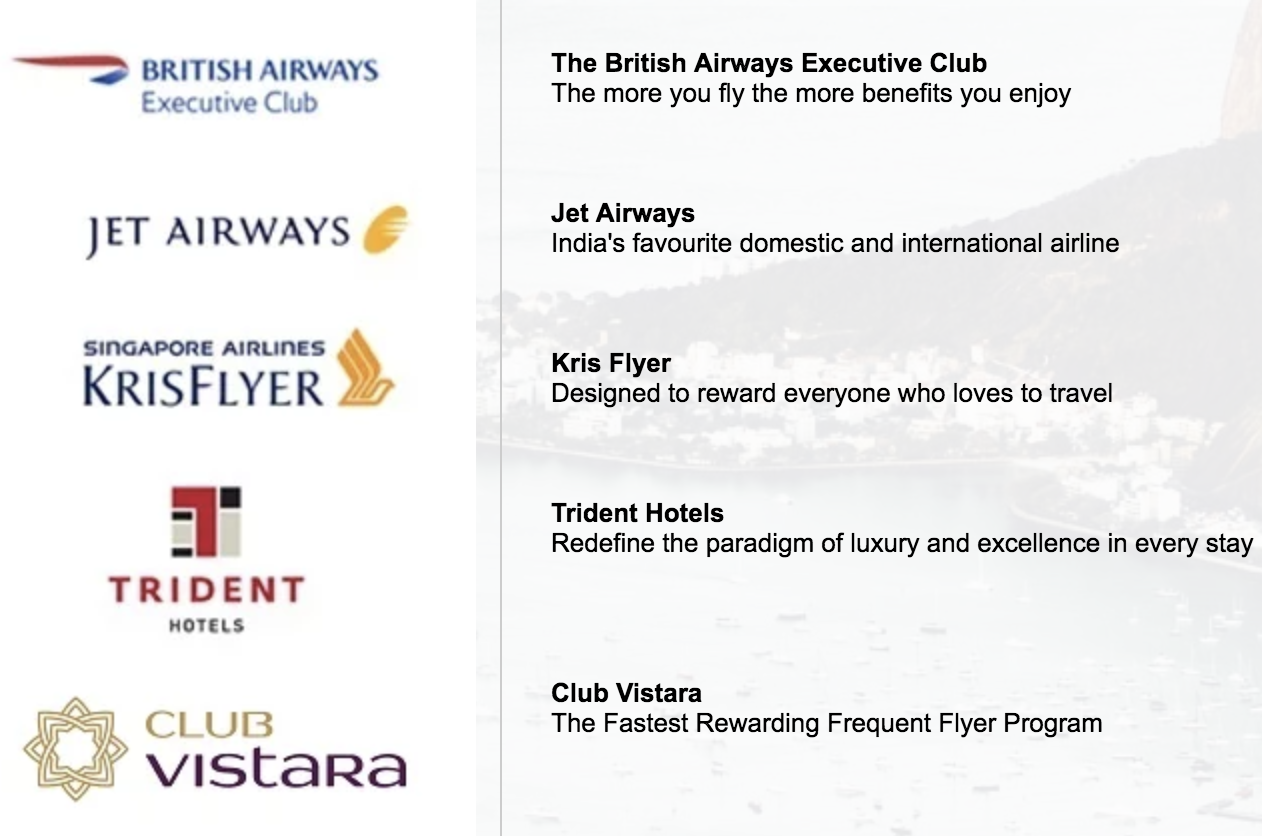 All these transfer partners are also available with other diners cards which was added very recently to their transfer program. The intention to add Hotel loyalty program is good, but Trident?! I explored Trident loyalty program benefits and its not so exciting. Just with 10 hotels in the country, its very tough to make functional use of this benefit.
It looks like Trident is working hard to promote their loyalty program recently as they also got in tie up with SBI cards like elite and prime as well. But Hyatt, Starwood, IHG .. Where are you guys?!
So who needs Diners ClubMiles Credit Card?
If you're stuck with Diners Rewardz and unable to upgrade to premium due to eligibility criteria, now you may get ClubMiles which seems to be easier due to relatively low income criteria.
If you're stuck with Diners Premium and unable to upgrade to Diners black, you may now get Clubmiles as it gives 2X more value on Airmiles redemption.
Note: If you are the person who spend less on 10X partners and redeem your points for JPMiles, you can get better reward rate with HDFC Jet Airways co-branded cards instead of Clubmiles.
Bottomline:
HDFC Diners Clubmiles stands between Diners Premium and Diners Black and is for sure a great credit card for travellers who can't get hands on Diners Black. With 2.6% reward rate on transfer partners, it can certainly be put in the list of premium credit card for travellers.
And not to forget, Diners Club Credit cards acceptance is still a concern, especially in foreign countries. In domestic, the acceptance is far better even in non-metro cities.
I still wonder why HDFC is not working out on a whole new card for years. What's your take on HDFC Diners ClubMiles credit card? Feel free to share your thoughts in comments below.