Update: Please check out the latest review of this card here: SBI Prime Credit Card Review (2019)
SBICard recently launched a new credit card and is positioned a bit below its premium credit card SBI Elite but infact has better features, the most important of which is Priority Pass benefit with 4 Free Visits (international only). It comes with a lot of lifestyle benefits, available on both MasterCard World & Visa Signature variants and is a contact-less card.
Joining/Renewal Fee: Rs.2,999+Tax (Renewal Fee Waived on 3 Lakh spend)
Welcome e-gift Voucher: Rs. 3,000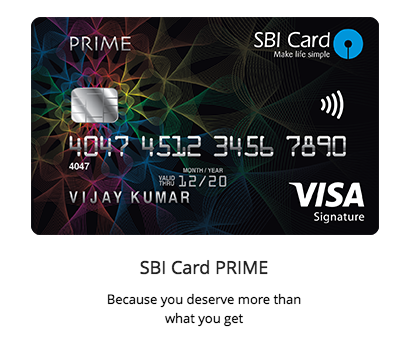 SBI Card Prime Features and Benefits – Review
Welcome Gift on SBI Card Prime
Welcome e-gift Voucher worth ₹ 3,000 from any of the following brands: Bata/Hush Puppies, Marks and Spencer, Pantaloons, Shoppers Stop and Yatra.
Gift Voucher code will be sent to your registered mobile number within 15 days of request
For Bata/ Hush Puppies, Marks and Spencer, Pantaloons, Shoppers Stop, you can redeem your e-Gift Voucher by showing the code at the respective brand store
For Yatra, you can redeem the code online at the time of purchase
I would prefer "Pantaloons" voucher anytime or "Yatra" if there is any upcoming travel.
Reward Points
20 RP per Rs.100 spent: Standing instructions of Utility Bills payments (5% Value)
20 RP per Rs.100 spent: All spends on your birthday (5% Value)
15 RP per Rs.100 spent: BigBasket, Reliance Fresh, Reliance Smart, Reliance Footprint, Reliance Trends and Sahakari Bhandar stores (3.75% Value)
10 RP per Rs.100 spent: Dining, Groceries, Departmental stores and Movies (2.5% Value)
All other spends: 2 RP per Rs.100 (0.50% Value)
1 Reward Point Value – Rs.0.25 (can be adjusted as statement credit)

Lots of slabs, but the good one i see is first two with 5% value with no upper cap (as i believe). Also you get decent value on departmental store spends. This should simply replace your Standard Chartered Manhattan credit card as SBI Card Prime is now one of the best credit card for families with Groceries & Departmental store spend benefits.
The very important point to note is that you can adjust these reward points for statement credit as you do with Elite card, which is a great benefit.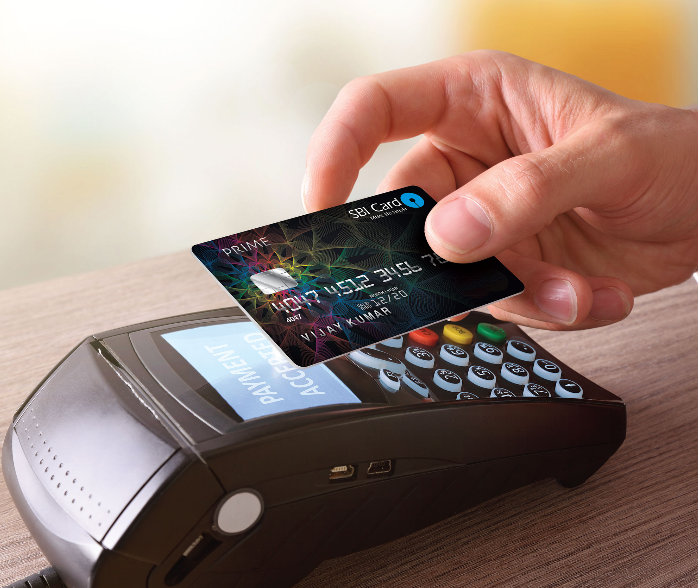 Milestone Benefits
Spend Rs.50,000: Get Rs.1,000 Pizza Hut e-Voucher (every calendar quarter)
Spend Rs.5 Lakhs: Get Rs.7000 worth Yatra/Pantaloons Voucher.
Airport Lounge Access
International: 4 complimentary visits per year to International Priority Pass Lounges, outside India (max. 2 visits per quarter)
Domestic: 8 complimentary visits per year to Domestic VISA/Mastercard Lounges in India (max. 2 visits per quarter)
Both for Primary Cardholders only
All banks are now pushing Priority pass to be used only for Intl visits. This is because Bank might need to pay a higher amount from their pocket for your Priority Pass visits, wherein Mastercard/Visa maynot demand a higher amount for their lounge access as its a part of their core benefit.
By the way, do you know that SBI Elite card now has 6 free Priority pass visits from July 1st 2017? 🙂
Club Vistara Membership
Enjoy Complimentary Club Vistara Silver membership
Get 1 complimentary Lounge Access Voucher and 1 Upgrade Voucher
Earn 9 Club Vistara Points for every ₹ 100 spent on Vistara flights
Good move. Upgrade voucher gives a lot of value.
Other Features
Enjoy complimentary Trident Privilege Red Tier Membership & other benefits linked to it.
4 complimentary rounds on Green Fees
How to get the best value out of SBI PRIME Credit Card?
As you can see, its a power packed credit card with a lot of features stuffed inside. From milestone benefit to lounge access, SBI Card prime has everything you need under single roof and that too with a renewal fee waiver of just 3L spend which is very much acceptable. So how can you maximize the value? Lets consider a spend of 5 Lakhs in a year:
Spend on categories with 5% value as mentioned above, You save -> Rs. 25,000 as Reward points
You get ->Rs.4,000 worth pizza Hut vouchers (provided quarterly spends are reached)
You get ->Rs.7,000 worth yartra/Pantaloons voucher (5L Spend)
Total Savings: Rs.36,000 on 5L spend which is ~7% Reward Rate
Ofcourse, you can't always spend on 5% value categories, but yes, if not 7% you can get value as good as at-least 3~5% considering the milestone benefit and spends being spread out across other categories.
Cardexpert Rating: 4.5/5 (as of 2017)
Bottomline
The time has come to get rid of the monopoly in the market (HDFC) as SBI Card prime will serve as an easy replacement for the HDFC Regalia Credit Card in most aspects.
Also, considering HDFC's poor customer care experience, SBI would serve the needs far way better. Just that HDFC partner offers are good for now, but its just a matter of time and i believe SBI will top the premium credit card market in coming Years.
Great move SBICards! Lets welcome SBI Card Prime with Warm Hands 🙂
P.S. If you have any problem with you existing SBI Card, just send an Sms as PROBLEM to 9212500888 and you'll get a call back from them within 24 hours.
I'm sure that this will adversely affect the spends on HDFC Regalia, what do you think? Feel free to share your thoughts in comments below.