Ever since Yesbank has arrived in the credit card sector, it has been turning out to be one of the most aggressive bank when it comes up to matching rival bank's offers. With their top of the line Yes First Exclusive Card, they have directly taken HDFC Infinia and Citi Prestige Like cards head on. One of the prime reasons for holding HDFC Diners Black card in India is the generous 10X program.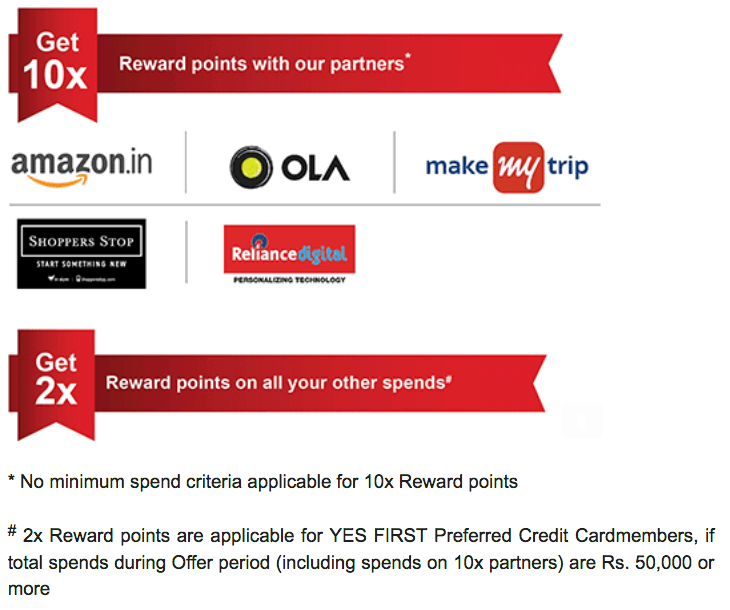 What if I told you Yes Bank has now decided to take Diners Black head on? Too good to be true right? This is precisely what has happened. Yesbank has introduced Festive Privileges offer that gives you an opportunity to earn  10X points with partner merchants and upto 2X points with non-partner merchants.
Yesbank's Festive Privileges Offer:
Offer Period: 10th October 2017 to 31st October 2017
10X RPs on spends done on partner merchants. No minimum spend criteria.
2X RPs on spends on non-partner merchants (Any other spends online/offline channels besides the partner merchants) IF the total overall spends during the offer period (Partner/non partner merchant transactions) crosses ₹1 Lakh (₹50,000 for Yes First Preferred Cards)
List of Partner merchants: Amazon, MakeMyTrip, OlaCabs, Shoppers Stop and Reliance Digital.
Maximum points that can be acquired during this offer period is 1 lakh Bonus RPs. Understand that Bonus rewards points is the extra points, that is 9X and 1X that you are getting over and above the normal earning rate. So, if your bonus RPs somehow exceed 1L RPs, in that case the max cap of bonus RPs is 1 Lakh and you also earn the regularly earned points.

Example: A person spends 1 Lakh  by Yes First Exclusive card on Shoppers Stop (Standard RP- 10,000, Bonus RPs- 90000) and 2 Lakh on non partner merchants (Standard RP- 20,000, Bonus RPs- 20,000). No see that the total bonus RPs is 90,000 + 20,000 = 1, 10,000 RPs. In this case the bonus RPs will be limited to 1 Lakh only. Therefore he will earn a total of Standard RPs (10,000+ 20,000) +Bonus RPS (1,00,000)= 1,30,000 RPs

Spends will be considered for this offer both for Primary as well as Add-On cards.
No codes or any app/website specific spends are necessary for these RPs
Fulfillment: 31st December 2017
What does this mean?
Yes First Exclusive Base Rate Earning capability is 2.5%. With these offers, you'll earn a cool 25% value back with partner merchants and 5% with non partner merchants.
In total you can earn a max of 1 Lakh bonus points. That means you can earn bonus RPs worth ₹25,000 over and above the normally earned RPs that you earn.
There is no coupon code that is applicable for getting these RPs, as a result you can club the offer with all existing coupon codes for the websites. This is specially good for MakeMyTrip as HDFC Diners Used to put a restriction of using coupon code for getting 10X and 5X points back then, therefore the site specific discounts could not be availed if you used the Diners Black or HDFC Coupon Codes. This is not the case here. You just earn extra for any bookings that you do now.
The offer also includes, offline partner like Shoppers Stop for all those who love Offline Shopping.
Just as Uber has partnered with HDFC Diners Club as 10X merchant, it's good to see now Ola Also grabbing some lime light along with Yes Bank.
In a Nutshell, it is a great offer and there is no restriction on kind of items that you buy from any of these merchants. I am quite sure, you'll even get 10X points for Railway tickets that you buy from MakeMyTrip. It cannot get any better than this.
We've been recommending yesbank cards for quite sometime knowing how aggressive they can become in coming years. Just incase if you've missed it, check out: Why Should you Apply for an YES Bank Credit Card
Are you excited to know about this offer? Will you be making the most use of it? Do let us know your strategy for spends during diwali with Yes First Exclusive/Preferred or any cards you hold. Sharing is caring. Happy Diwali in advance to all our Readers..