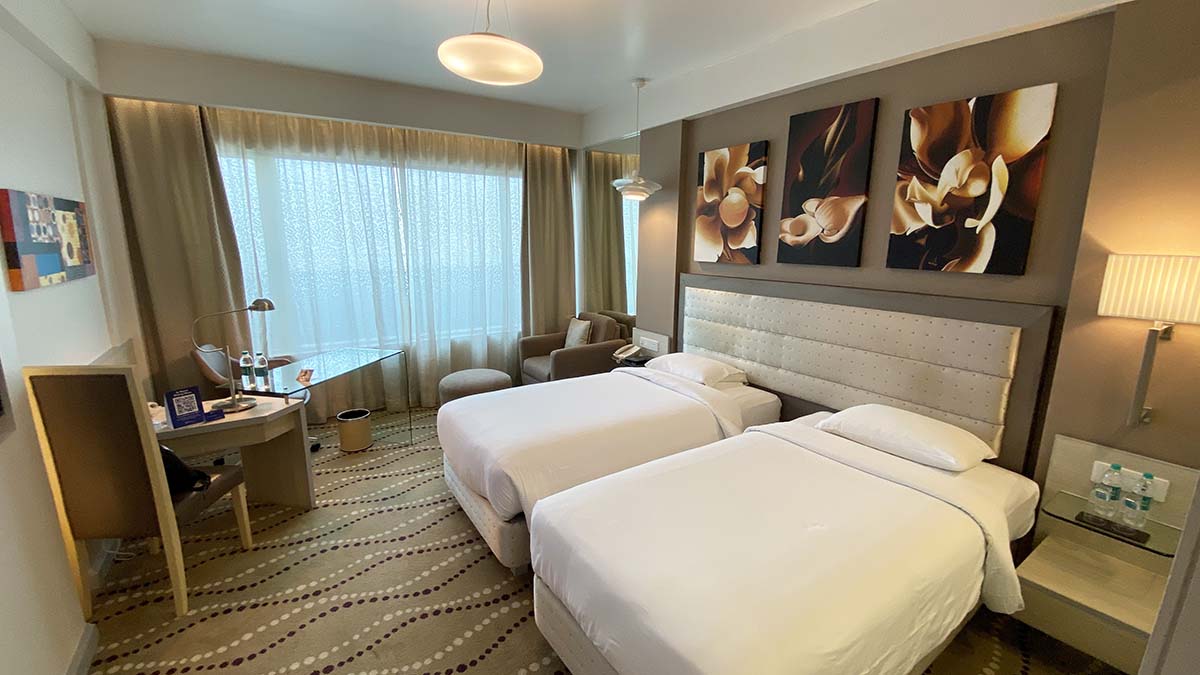 I had a chance to visit Radisson Blu Bangalore outer ring road recently and here's a detailed review of the stay in one of their Business class room. Well, it's actually two of their rooms, more on that later.
Booking
Revenue Rate: ~6,500 INR (Inc GST)
Most of the business hotels in Bangalore are selling at ~50% cheaper rates these days compared to pre-pandemic level and Radisson blu is no exception.
I redeemed my old/unused Intermiles (came about 35ps/point) for the booking and opted for a Business Class room with breakfast, assuming that I could grab an upgrade to Junior Suite given that I'm Radisson Gold member through Amex Platinum.
FYI, Business lounge was closed by then.
Check-in & Lobby
The lobby was big enough for a hotel of this size. The actual lobby is in the first floor but they also have a small lobby in ground floor as well.
The check-in was smooth but my request for complimentary upgrade was denied. They didn't care about the membership tier but they were open for a paid upgrade. Hmm!
Room
So I ended up in a Business Class room. But ..
"Where is my welcome amenity? Some fruits, cookies?"
Well, I was politely denied of it as well saying that "Sir, you're staying the room that we usually sell for 12K INR but now as the rate is reduced and so .. ". Hmm, another disappointment!
The room felt FRESH, overall neat and good but well it had a large window with "frosted glass".
"Business Class room with no views?"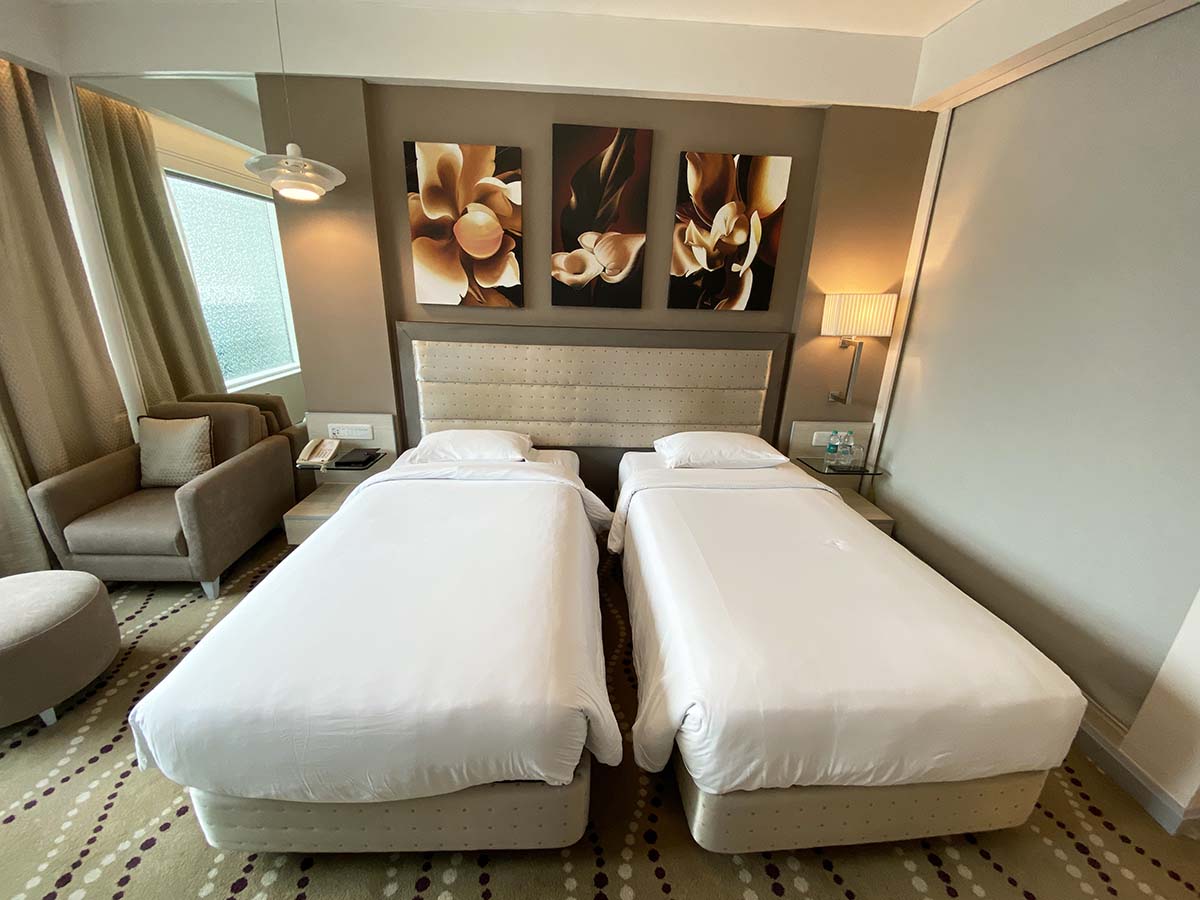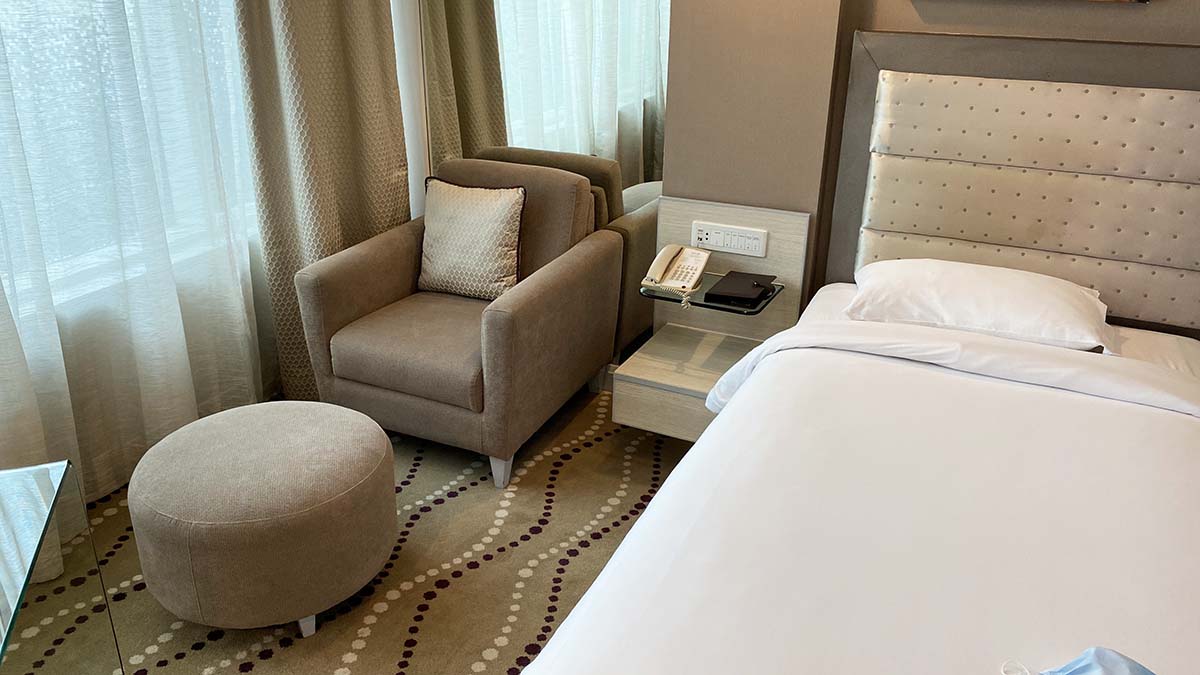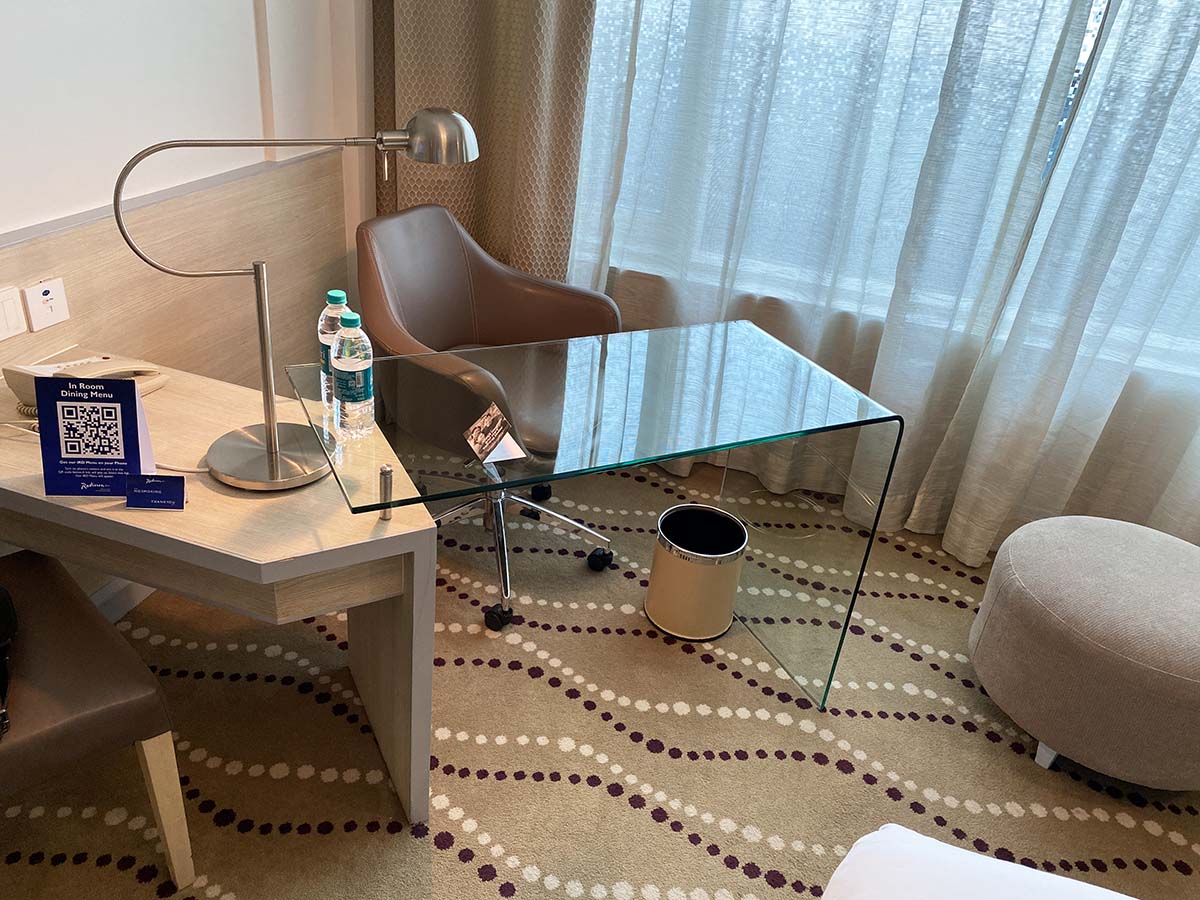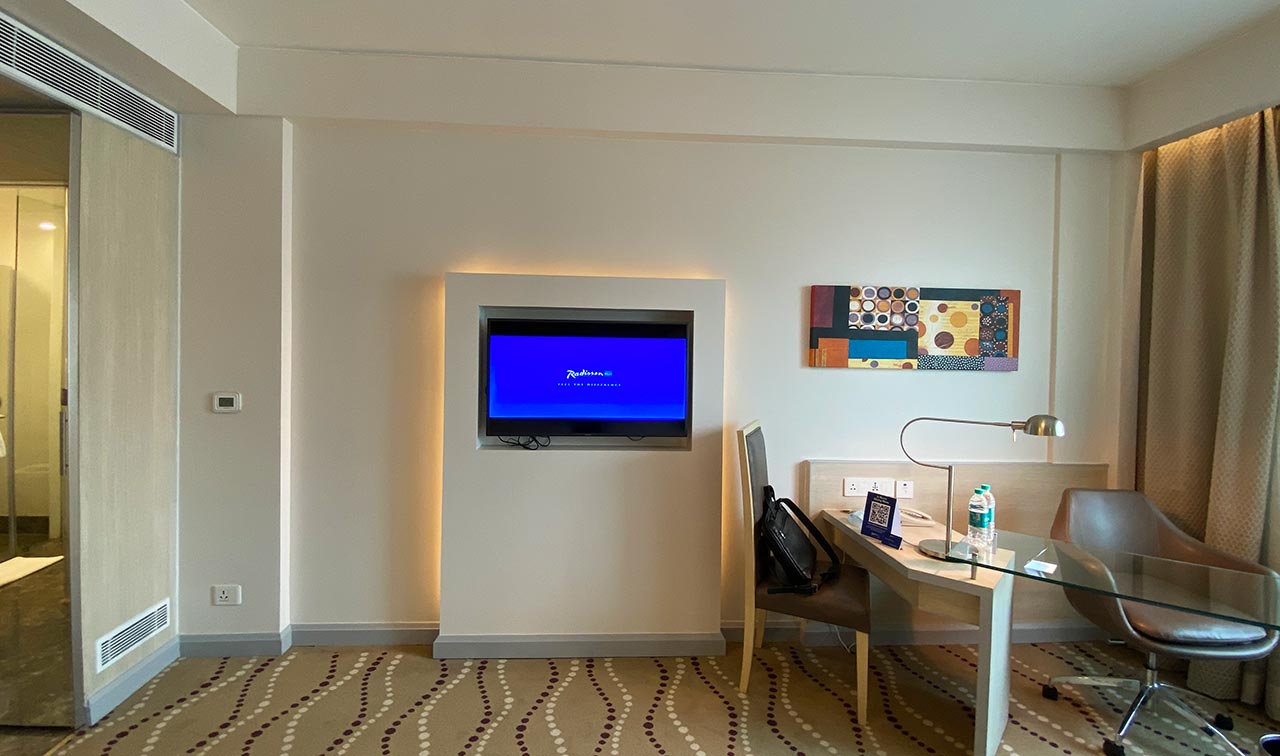 I kindly requested for a room change. So they moved us to another Business Class room that had decent views.
But well this time I had to settle with a room with poor vibes. I could see stains on the headrest, lot of stains on the rug, faulty chair, foul smell and what not!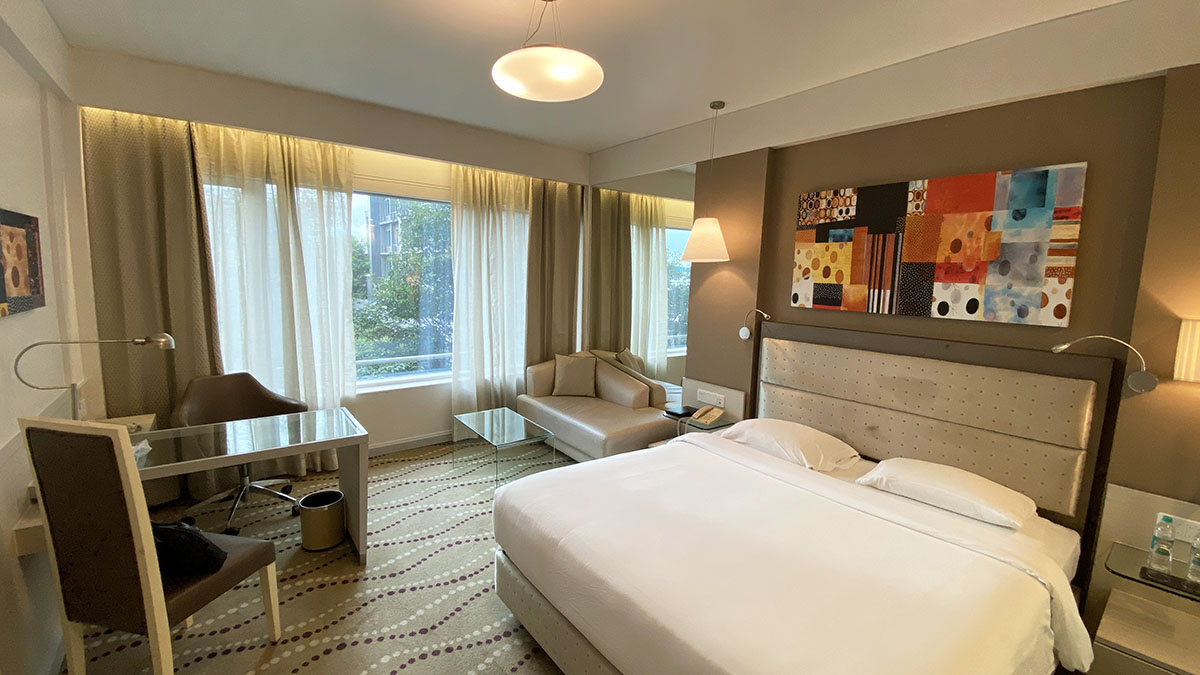 It's perhaps the worst room I've ever seen at this price point. But I felt tired to ask for another room change. So just complained all these and they were able to fix things to an extent.
Also those nice couch and the beautiful glass coffee table sort of helped to stick to it.
Property
Its one of the biggest property in the area and they have a huge basement for car parking (self, no valet parking for now).
One thing I liked about the overall design of the property is that they have all major restaurants (3 of them) in the same floor, adjacent to each other.
Food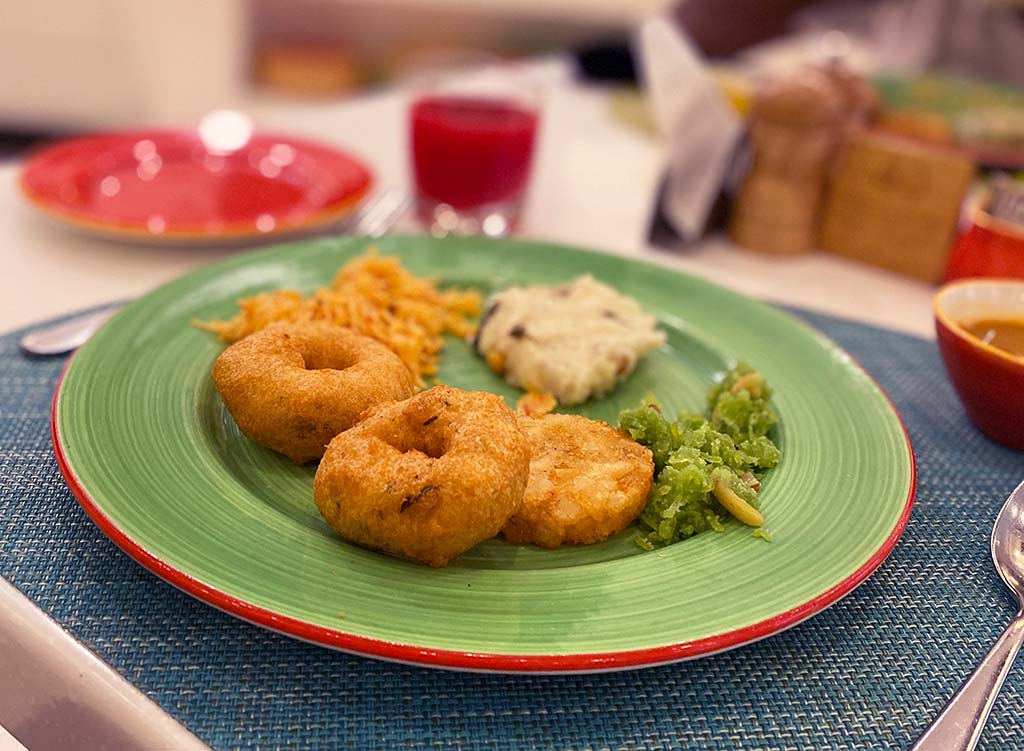 We had Al la carte in the Chinese restaurant (Shao) for Dinner, and for breakfast/lunch Buffett we went to Melange (usual one).
Food at both the restaurants were really tasty and unique.
And the service too was pretty good. For ex, the restaurant was about to close and someone was taking feedback. I mentioned about non-freshness of the pasta but I was still "Okay" with it.
But the guy to my surprise was like "no no, you're paying for it, you should have the best, let me check on that" and left. He then came up with a bowl of fresh hot pasta. Nice!
Overall very good experience at the restaurant all the time.
I did save 30% on the bill each time as I was making use of the Eazydiner offers on IndusInd Cards via PayEazy.
Final Thoughts
Except for the room quality of the changed room, it was all good and few things were even beyond my expectations, especially the food.
Overall it was a good experience and I may return to the property again as its in the main area of Marathahalli, on the outer ring road. But hmm, I prefer to have better roads in bangalore.
During my stay they had about ~50% occupancy and during the day of check out they had about 100% occupancy and was asked to check out by 12:30 itself.
Anyway, it was a short and nice trip and I did make use of the Amex shop small offer wherever possible, like once in woodlands and other in a fuel station (this one yet to get fulfilled though).
Have you been to the hotels in Bangalore outer ring road? Feel free to share your experiences in the comments below.